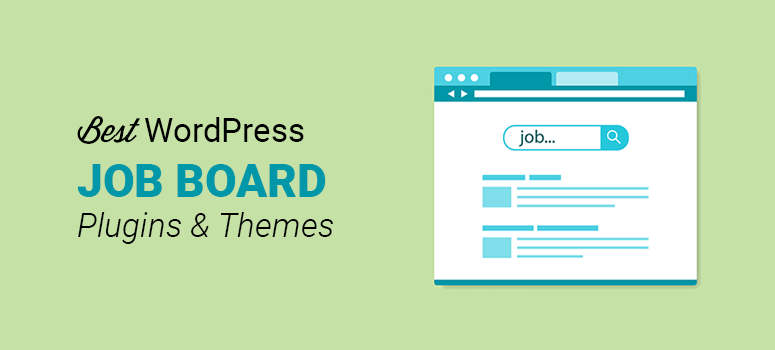 Do you want the best WordPress job board plugins and themes? Job board WordPress plugins and themes can be used to build a job portal or search engine for job listings easily. It helps you post new job openings and you can also allow other employers to add jobs on your blog.
In this article, we'll share the best WordPress job board plugins and themes so you can spend less time searching for the right tools and more time putting them into action.
Creating a Job Board Using WordPress
WordPress is the best website builder in the world. Many of the biggest brands use WordPress for their websites. It's super flexible and offers all of the amazing features you'll need to build your own job board.
You'll find 2 kinds of WordPress websites: WordPress.com, which is a hosted platform; and WordPress.org, which is a self-hosted solution. You can view our side-by-side comparison on WordPress.com vs. WordPress.org for more details.
We recommend you use WordPress.org. It's a complete solution with access to all the most incredible features you need to succeed.
But, first, you'll need a domain name and web hosting.
Bluehost is our recommended hosting solution. It's one of the top web hosting companies, and also WordPress core's official hosting partner.
For our users, they're offering a free domain name, free SSL certificate, and a massive discount on web hosting.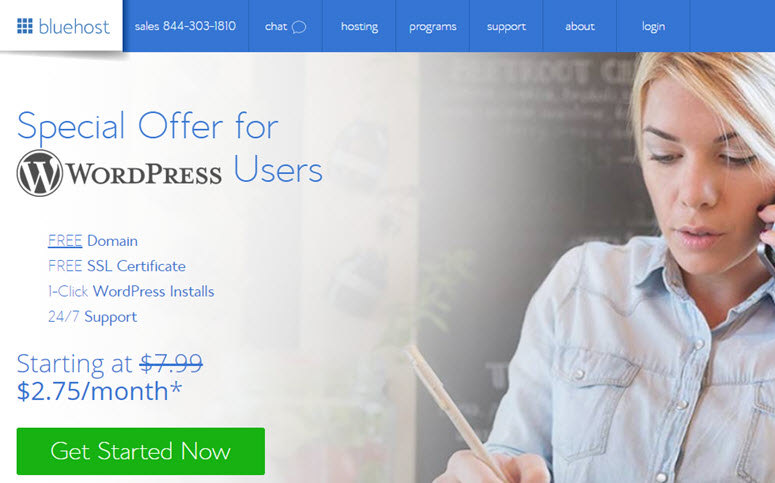 Click Here to Claim This Exclusive Bluehost Offer »
Upon purchasing web hosting, you should follow our guide on how to make a website with WordPress.
Now, let's take a look at some of the best WordPress job board plugins and themes that you can install on your site.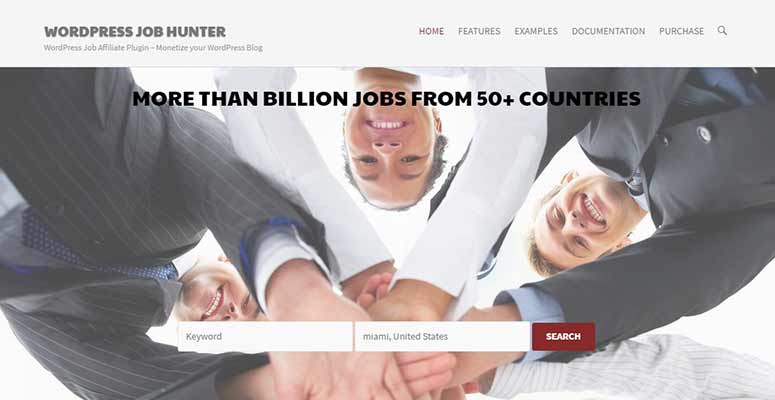 WP Job Hunter is a WordPress job board plugin suitable to display jobs on your website or blog. You can also make money online by allowing paid job listings. It comes with a job portal widget that you can drag and drop in any of the widget-ready areas of your site to easily display jobs wherever you desire.
It includes many custom and automated integrations that'll make the setup process easy for you. It supports the most popular social media platforms, including Facebook, to add like and share features. WP Job Hunter also integrates with Google Maps to display the locations of the jobs to your users.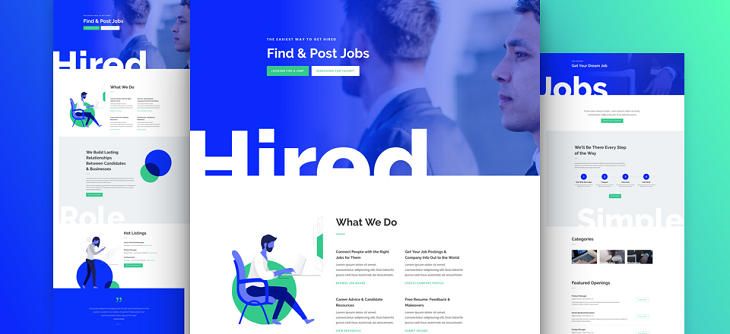 Divi is one of the best multipurpose themes that let you create a job board website with ease. Divi comes with hundreds of full site packs, including the Job Recruiter Layout Pack, which includes layouts for Candidates, Employers page, Listing page and a few others.
Divi comes in 2 flavors: Divi Theme and Divi Builder (plugin).
Divi Theme is best for users who want to make customization by using one of its 100+ full site packs that come along with the theme.
The Divi Builder plugin works with any theme, is best for users who want to use it alongside other themes.
It is also packed with features like Inline Text Editing, Global Elements & Styles, Responsive Editing and much more. Divi provides 800+ pre-made designs, so you will never run out of options.
To make your job portal look feature-rich by using Divi you can add job listings with map location and descriptions.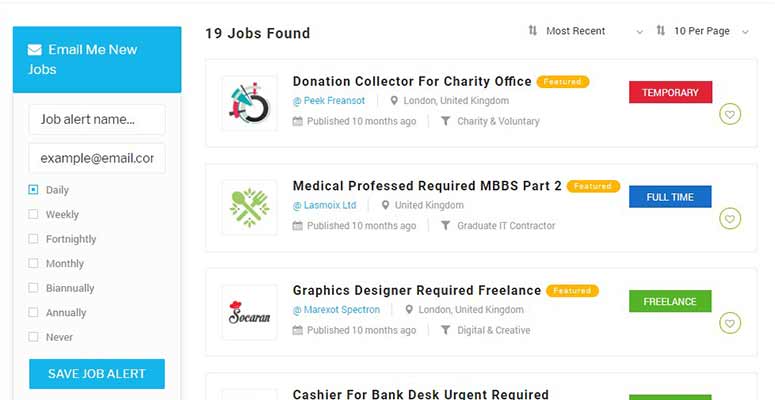 JobSearch is a premium WordPress job board plugin. It features job alerts, application tracking, a resume builder, social app logins, and more. It comes with an effective search tool that makes the job searching effortless for your users.
It offers employers the ability to post complete details for each job, and candidates can shortlist the jobs of their choice. Your users can apply for jobs using social media platforms like Facebook and LinkedIn. It's a translation-ready plugin and fully supports WooCommerce.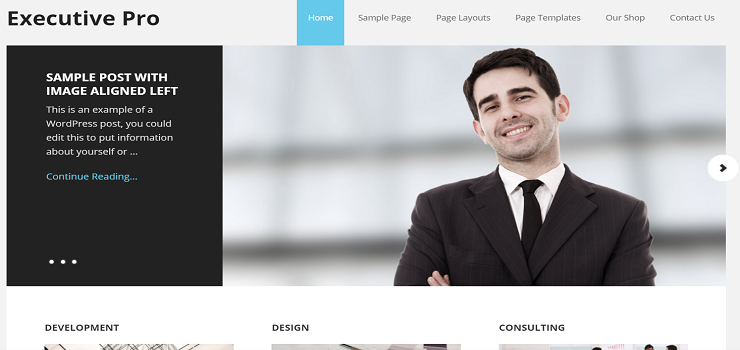 StuioPress themes are powered by Genesis Framework which is highly optimized for speed and SEO. Executive Pro is designed with an understanding to serve multipurpose websites. It is powered by Genesis Framework which is highly optimized for speed and SEO.
Executive Pro comes supports features like custom menus, custom headers, footer widgets, multiple layout options and much more.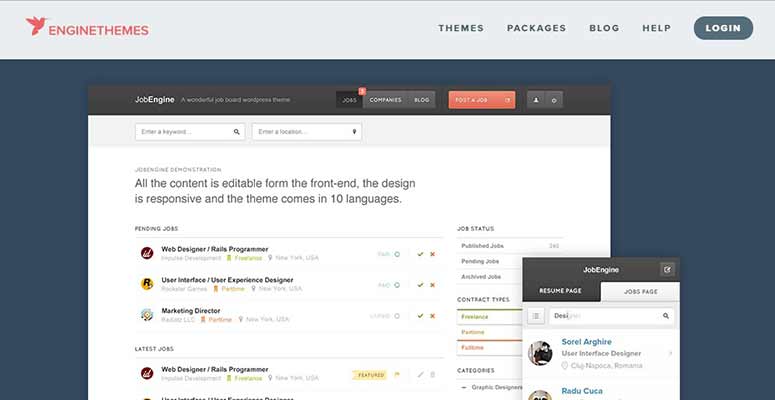 JobEngine is a simple WordPress job board theme. It has all the features that you need to create a job portal. It's highly customizable and flexible, allowing you to add new job listings easily. You can also allow employers to add their jobs on your website. For this, you can create multiple packages and charge them for each listing.
It supports featured listing templates, payment gateways, multiple color schemes, custom theme options, sidebars, built-in landing pages, and more. It allows you to easily create a multilingual website.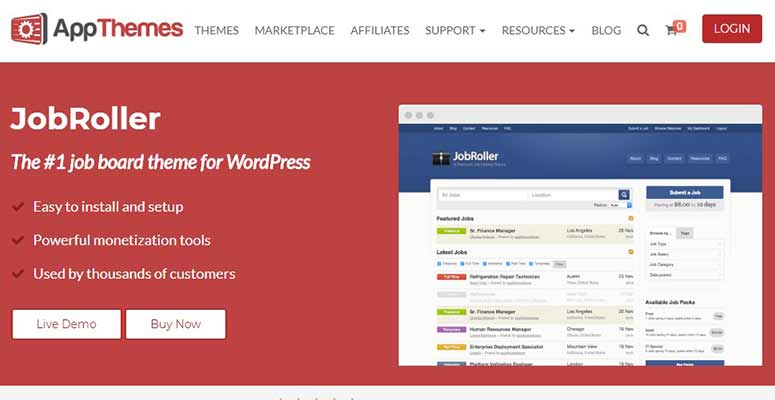 JobRoller is an excellent job board theme for WordPress websites. It ships with multiple sections for featured job listings, monetization options, landing pages, and an Ajax-based search filter.
Furthermore, it's easy to set up and includes custom theme options. JobRoller allows you and your users to create an account, upload job listings, manage a CV bank, and more. It's a powerful WordPress theme for the job portals with simple, tidy layout.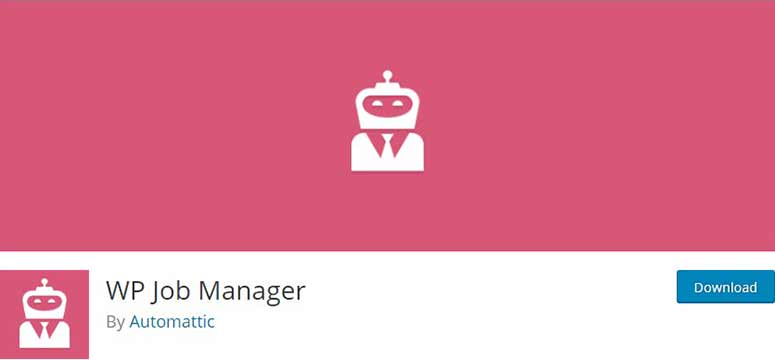 WP Job Manager is a flexible WordPress job board plugin with amazing features. It allows you to easily create a job board with needed pages, user registration form, and job listings. It offers a custom dashboard for your users to upload new jobs, manage listings, and more.
It comes with multiple addons. It integrates your job board with Facebook, WooCommerce, Indeed, and other useful apps.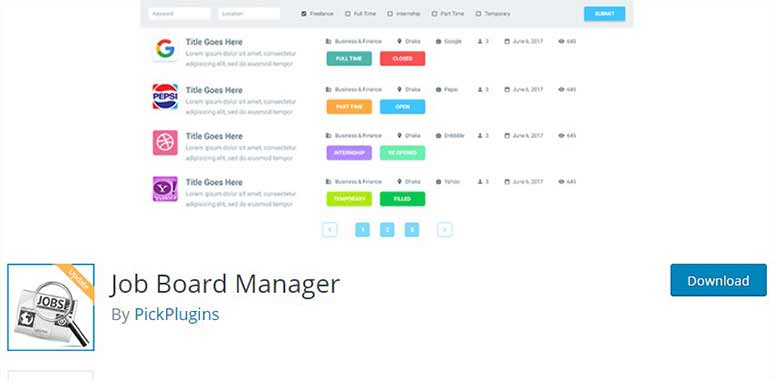 Job Board Manager is a free WordPress job board plugin that can be used to launch your job portal quickly. It features company profiles, Geo locations, custom widgets, and premium addons. It allows you to add the job listings on multiple pages and posts using shortcodes.
Moreover, you can add new job listings, create paid listing sections, manage job alerts, and more. It supports Schema.org rich snippets, a job application dashboard, WooCommerce stores, and breadcrumbs.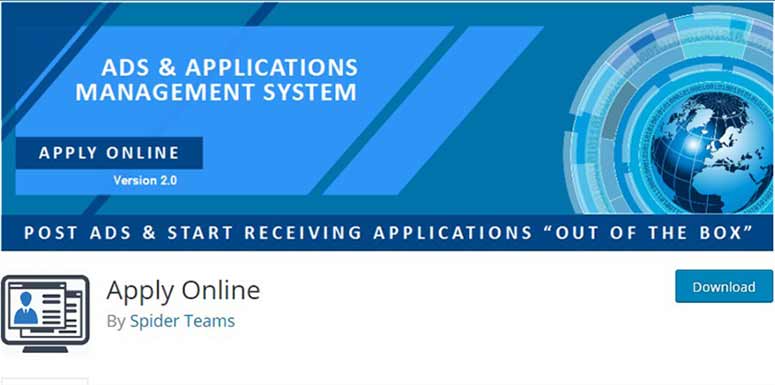 As the name suggests, Apply Online is a WordPress job board plugin that lets users apply for jobs online. It's suitable for classified ads management, accepts job applications, allows users to apply for jobs online, and sends email alerts.
It comes with search filters, job listing categories, online job application forms, and custom job ads. There's no facility to add paid listings, so you'll need to use a companion plugin that offers paid subscriptions. You can also create a contact form to receive applications from employers for custom listings.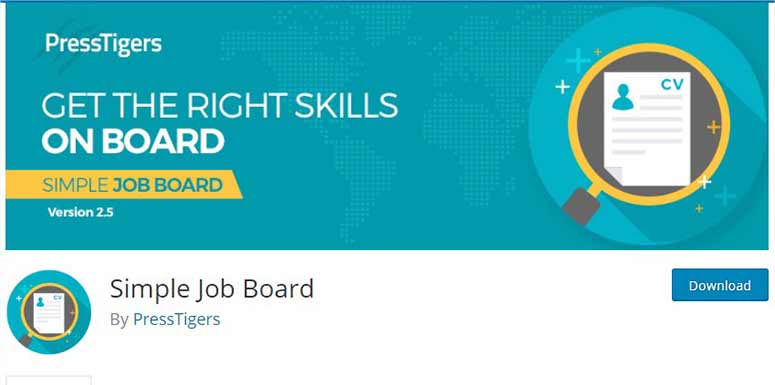 If you're looking for a simple, easy solution to add a job portal onto your WordPress site, then try Simple Job Board plugin. It gives you a full control of your job listings. The plugin's not bloated with features. You'll need to manually create job listings, add categories, and more. It doesn't allow your users to create an account or add paid listings, so you'll need to create a form on your website to accept offers from employers.
With all the limitations comes flexibility as it gives you access to add complete details for job listings, show custom application forms to candidates, and more.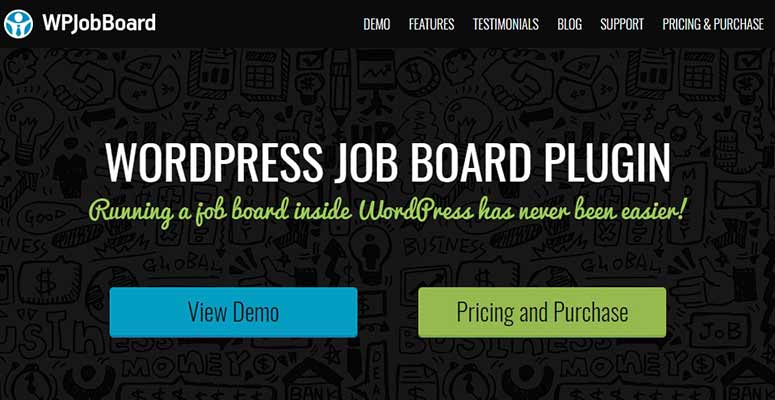 WPJobBoard is a powerful WordPress plugin to create a job board on your blog. It comes with a custom portal for employers to look at the new applications and select the best candidates. It has a front-end panel that allows users to upload files like CVs, add new job listings, and more.
It's bundled with a free job board theme that can be used to easily create a job portal website. It's also fully flexible with the best WordPress themes. It supports payment gateways, memberships, discounts, coupons, and deals.
We hope this article helped you find the best WordPress job board plugins and themes. You may also want to see our expert pick of the best VPN services for WordPress users.