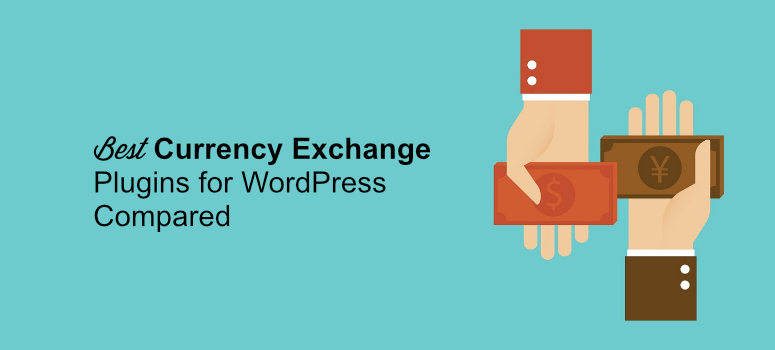 Are you looking for a good currency exchange plugin for your WordPress website?
By installing a currency exchange plugin on your eCommerce website, it becomes easy for you to do business internationally. That's because it allows your customers to view the price of your products in their own currency, which improves user experience (UX).
In this tutorial, we'll tell you about the best currency exchange plugins that you can use on your site. But before we do that, let's have a quick look at why you should use a currency exchange plugin in the first place.
Benefits of Using a Currency Exchange Plugin
If you're running an online business that has international clients, having a currency exchange plugin on your website is a must. Here are some benefits of using a WordPress currency exchange plugin.
Expand your business: By using a currency exchange plugin, you can reach out to a larger customer base from various countries. It can help your international customers convert your price into their own currency without having to manually do the calculations.
Reduce confusion among buyers: A currency exchange plugin can streamline international payment acceptance for your business. This will reduce purchase friction among users. That means you'll never lose customers due to confusion over pricing.
Business exposure: With a bigger user-base, your business will also get a lot of exposure, which can be really helpful for growing your business. International exposure can even lead to higher traffic which can boost your SEO efforts
With these benefits in mind, let's check out some of the best WordPress currency exchange plugins that you can choose from.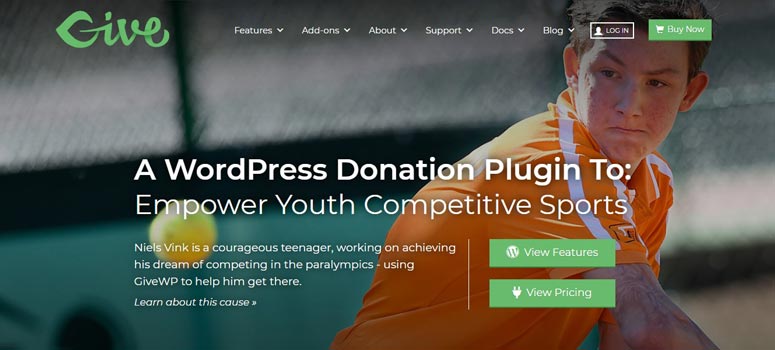 GiveWP is a robust fundraising platform that lets you collect donations in any currency you want. You can add various payment options for your donor, including Apple pay, Google Pay through the Stripe payment gateway, and more. GiveWP's currency switcher feature lets your donors donate money in their own currency. They can also set the currency in the form through which they will donate the money. This makes it easy for them to pay the exact amount they want without any confusion.
GiveWP also lets you keep track of your donors and their contributions. You can even generate donation tax receipts for your donors with its powerful donor management options. To make it easy for donors to make recurring payments, you can let them control the frequencies and amounts they want to donate.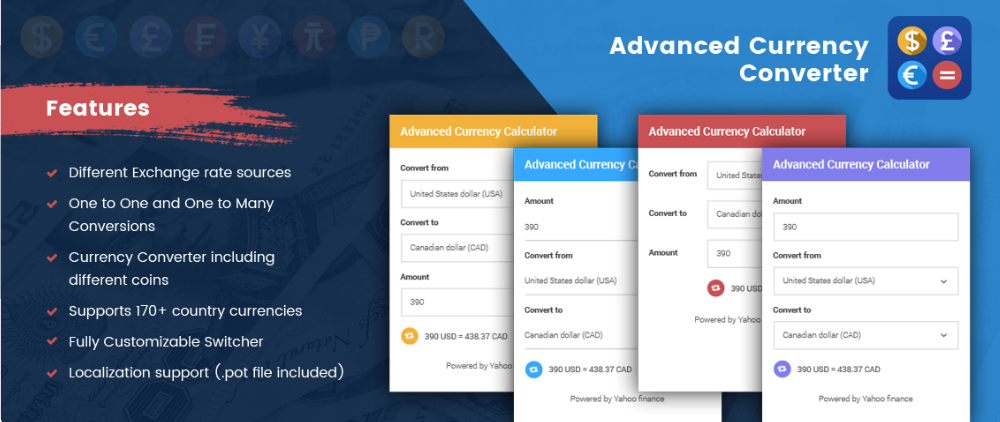 Advanced Currency Converter is a powerful currency exchange plugin that helps you display the exchange rates between different currencies. With this plugin installed, you'll never have to worry about updating your exchange rates because it's automatically fetched from an open-source API.
Advanced Currency Converter supports over 170 different currencies across the world. The plugin is easy to handle, supports translations, and is super light-weight too.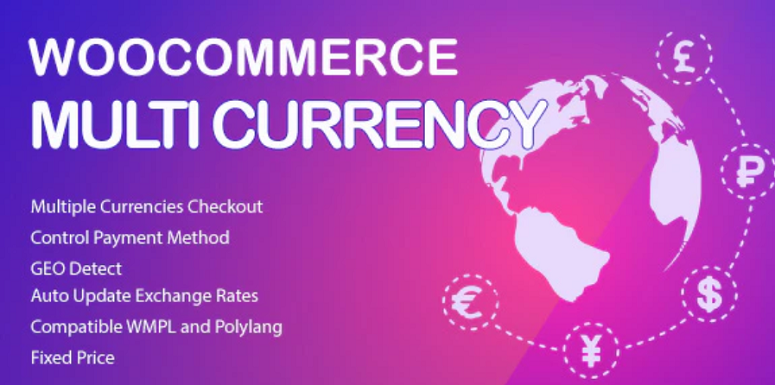 WooCommerce Multi Currency is a powerful currency exchange plugin that helps you accept payment in different currencies. You can use it to set the exchange rate manually. However, it has the option to set it automatically as well.
When a customer lands on your website, the plugin will automatically detect their geolocation and display the price in their native currency. To keep you updated about the exchange rates, it will send you an email every time there's a change in the exchange rate. You can also easily configure how the price is displayed on the front-end of your website.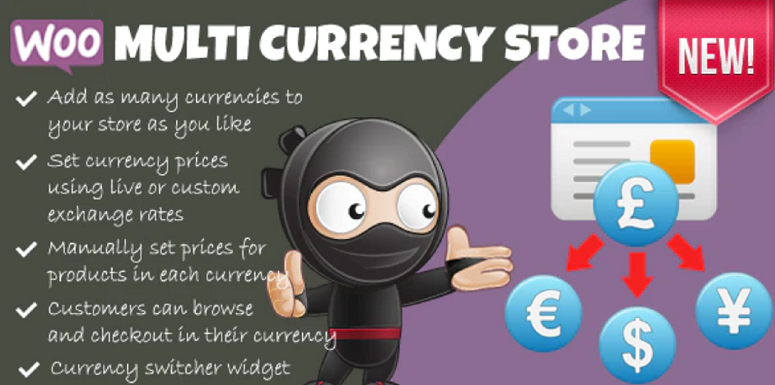 WooCommerce Multi Currency Store is yet another powerful currency exchange plugin that will help you turn your single currency website into a multiple currency store. It lets you add an unlimited number of currencies to your store. With its flexible customization options, you can easily change the converted prices. This can be done using the formatting rules.
It also helps your website detect the geolocation of your users so that the currency can be automatically displayed in their native currency. To keep track of your sales, you can view the number of sales you have made per currency. To make your site even more helpful to users, you can also add a live exchange rate option to your site, too.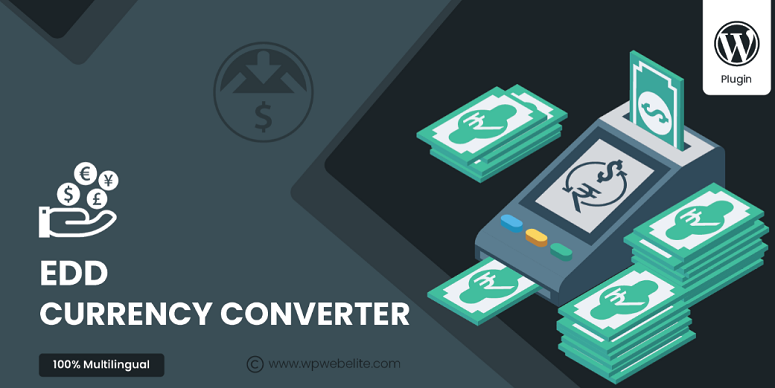 Easy Digital Downloads Currency Converter is another amazing currency exchange extension that works with the Easy Digital Downloads plugin. With this extension, your customers can easily convert any product price to their native currency.
The plugin will automatically detect the geolocation of your users and display the currency based on their location. Users can also select the currency of their choice from a drop-down menu that you can add. You can easily manage your site's currencies with the drag and drop functionality that the extension offers.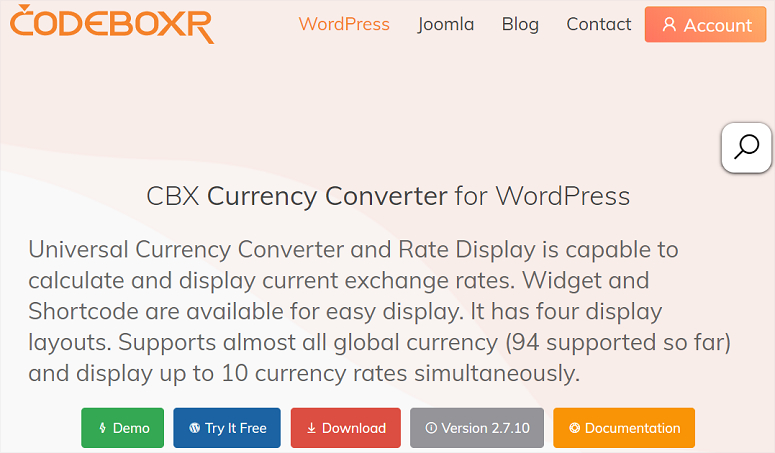 CBX Currency Converter for WordPress is yet another amazing currency converter that you can try out. With this plugin, you can easily calculate and display current exchange rates to your customers. The Ajax-based results displayed by the plugin helps your customers get the results without even having to reload the page.
The plugin supports 94 different currencies and lets you select a default currency on your website. It offers you the flexibility to select the number of decimal points you want to show after the currency. This helps your customers get the exact value. The plugin is super responsive and is compatible with other WordPress plugins, as well.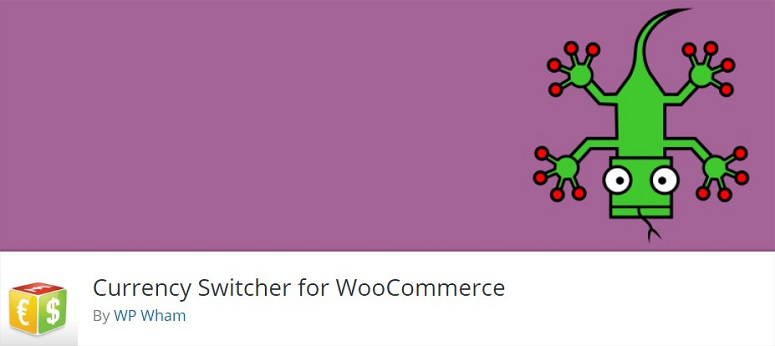 Currency Switcher WooCommerce is a free currency exchange plugin that lets you offer the price per product based on the geolocation of your users. It will automatically detect the IP address of your customer and switch the currency of your products to the customer's native currency.
You also have the option to add a currency switcher to your website widget. As the admin, you can change the order of your currency from the admin panel.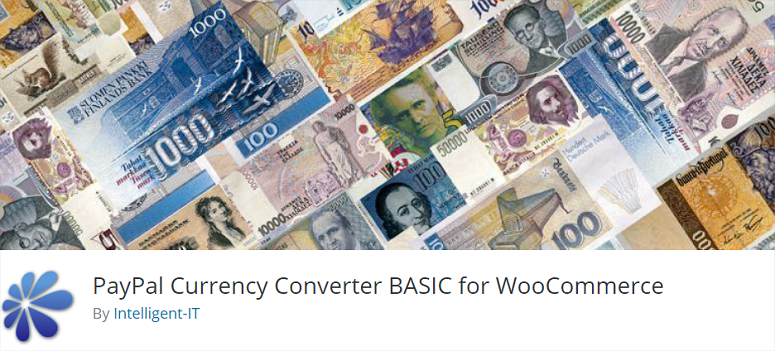 PayPal Currency Converter BASIC for WooCommerce is another free currency converter plugin that you can try out. With this plugin, you can convert any given WooCommerce shop currency to another currency. It also lets you enable PayPal payment gateway within WooCommerce at the time of checkout.
You can even add your custom currency and desired custom exchange rate. This plugin is compatible with the latest versions of WordPress and works wonderfully alongside other plugins too.
These are some of the best currency exchange plugins that you can try out. We hope you find this article helpful.
Since you're looking for currency exchange plugins, we thought you might also be interested in reading about the best PayPal plugins for WordPress. If you have an online store or any other website that needs to accept payments, these plugins will make things a lot easier for you.