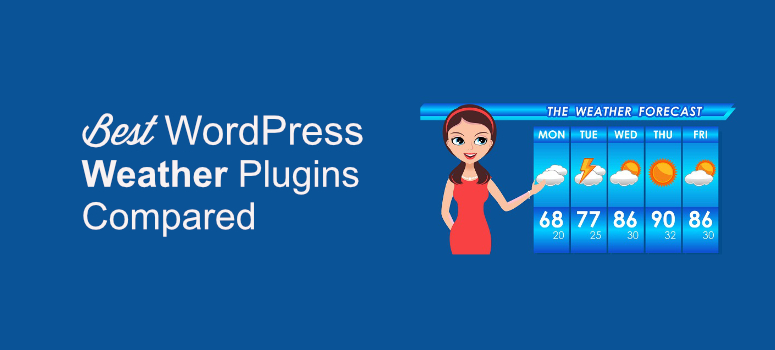 Are you looking for a good weather plugin for your WordPress website?
With a weather plugin, you can show weather forecasts on your website from your location or other areas. This can be a great option if you manage events that will be held outdoors.
In this guide, we'll tell you about the best WordPress weather plugins that let you add a weather widget to your website. But before we start, let's find out if your website would benefit from a weather widget.
Does Your Website Need a Weather Widget
Not every website needs a weather widget. For example, if you have a fashion store, it doesn't help your customer's experience to display the weather forecast.
However, adding a weather widget can be extremely effective for some niches. Here are a few examples of websites that would benefit from a weather widget:
Event Sites: If you have an event website that requires people to walk-in and be physically present, it would be helpful for your visitors to know the weather forecast for a specific day. This will help them decide what to wear or what kind of weather to expect while traveling to your location.
Outdoor Activities: A weather widget can be extremely relevant if you have a website that organizes and manages outdoor activities like hiking, skiing, mountaineering, and more. The success of such activities is directly connected to the weather conditions where the event is held. Anyone who participates in outdoor events would reasonably want to know the weather forecast.
Travel and Tourism: Travel and tourism-related websites definitely need a weather widget. This helps people plan their vacation so that they can fully enjoy their time. It will also help people pack their luggage more effectively before visiting their destination.
News Portals: Displaying a weather widget in your news portal can make your website more relevant because people often check out these sites to learn about the weather for the rest of the day.
Weather widgets are a great way to make your site more engaging, not to mention professional too. If you're interested in more ways to engage your audience, check out: 8 Most Powerful Gamification Plugins for WordPress.
Now let's look at the best WordPress weather plugins that will let you add a weather widget to your website.

Elfsight WordPress Weather Plugin is a powerful tool that can help you display the weather forecast of any location on your website. It lets your users check the weather simply by adding the name, the zip code, or the coordinates of the location. It gives the exact details about the humidity, temperature, pressure, and other weather-related elements.
You can also use this plugin to display the weather forecast for the next 12 hours or for the entire week. The plugin lets you take control of the appearance of your weather widget, too. You can add custom colors or themed backgrounds to make it more visually appealing. The plugin also supports more than 50 different languages.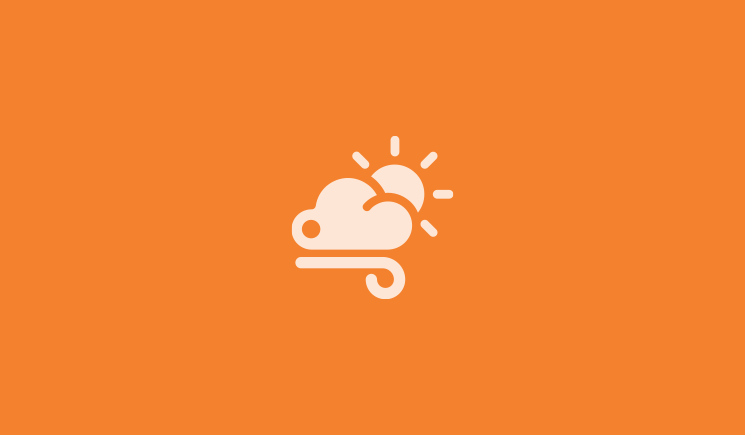 Location Weather Pro is a robust weather WordPress plugin that lets you add unlimited weather widgets to your website. You can use it to get up-to-date weather information which can help your visitors know what kind of weather to expect.
You can display humidity in percentages, wind speed in mph, use weather icons and text to write the weather condition, and do a lot more. It's compatible across browsers and is widget ready. You can also show the weather in Fahrenheit or Celsius.
Location Weather also has a free WordPress weather plugin. It's a minimalist and lightweight plugin that can help you display real-time weather forecasts on your website.
You can set a default location or let the plugin autoselect the location. It also allows you to set a widget title, show/hide date, and do a lot more.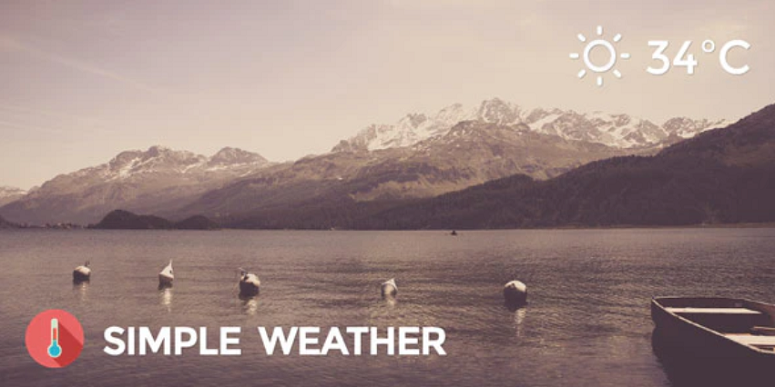 Simple Weather is another WordPress weather plugin that lets you display the weather forecast of any place on your website. You can use it to choose a country and city for which you want to display the weather.
You can also add a description like sunny, mostly cloudy, thunderstorms, and more to explain the weather conditions more clearly. To keep your report updated, you can also select the frequency in which it should update the weather report. The plugin offers great flexibility in terms of customizing your weather widget as well.
That means you can improve user experience (UX) with your weather plugin while making sure the widget matches your brand and style.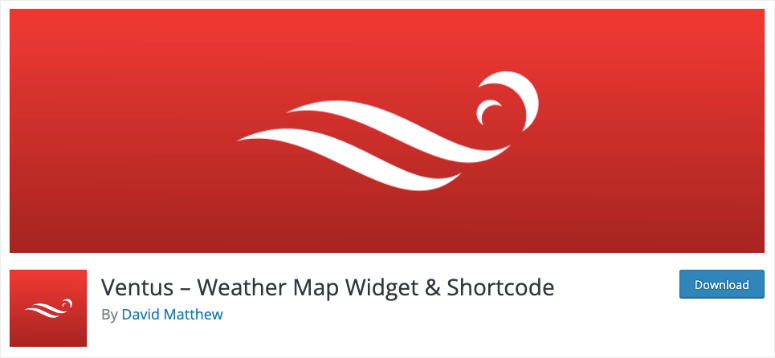 Ventus is a free WordPress plugin that lets you easily embed the windy.com widget on your site. You'll find this widget under Appearance » Widgets. You can also embed it using a shortcode.
This is a lightweight plugin so it won't slow down your site.
You get overlay options of either clouds, CO concentration, currents, radar/lightning, rain, sea temperature, snow cover, standard temperature, waves, wind or wind gusts. Also, you can choose between Celsius or Fahrenheit as the temperature scale.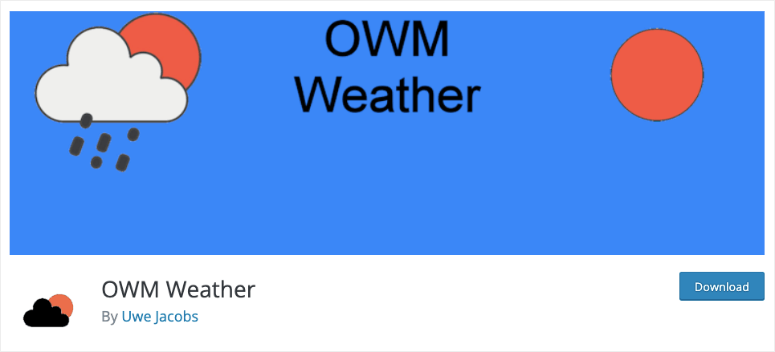 OWM Weather is an extension of the discontinued plugin WP Cloudy. If you were already using WP Cloudy, you'll find this easy to use as many of the settings are the same.
The plugin is easy to use and flexible. You'll can create unlimited different weathers using Custom Post Types and the Open Weather Map API.
These are some of the best WordPress weather plugins that you can choose from. We hope you found this article helpful.
And if you're planning to use these plugins on your travel blog, we also have a collection of great travel themes that you can check out.
You could also take a look at Thrive Suite – it's the most powerful platform to create, optimize, and grow your website. You'll get premade themes, a drag and drop builder, and powerful conversion optimization tools all under one roof.
On that note, if you want to target your visitors and get them to buy, sign up for a newsletter, or subscribe to a package, you'll want to check out OptinMonster. It's an innovative platform with highly precise targeting and personalization options (without the technical side of things).
You may also want to see our other resources:
These guides will direct you to the right tools and plugins to optimize your site for speed, engagement, and conversions.