Are you looking for a WordPress theme that's built with a split scrolling feature? Themify Split is a fully responsive WordPress theme that lets you feature any content with a visually appealing split effect. In our Themify Split review, we'll show you its features and help you to decide whether it is the best WordPress theme for your site.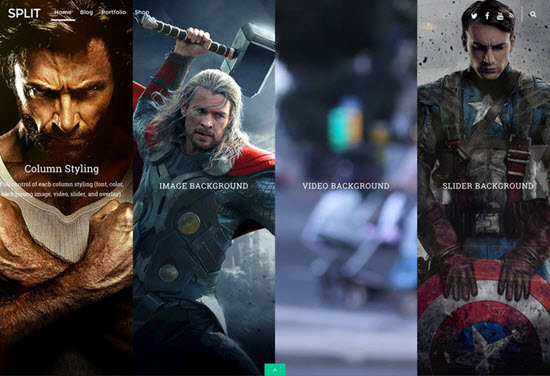 About Themify Split
Themify Split allows you to create a cool splitting effect as you scroll from one row to the next. You can create a split effect on any content whether it is full-width video, image, or text on any row on your site.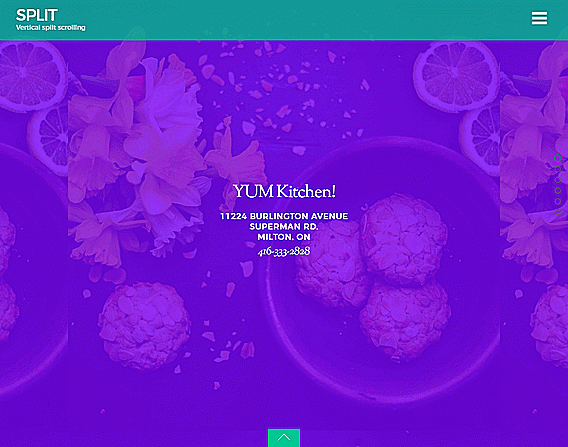 The theme is also bundled with Themify Builder, a drag and drop builder that lets you create a blog or website without having to touch a single line of code. Unlike most other themes, you can easily create a design that looks exactly like the demo site in just a single click using the demo importer.
Let's take a detailed look at its features below.
Split Scrolling
You can enable split scrolling in the Themify Custom Panel, which you can find below the text editor on every post.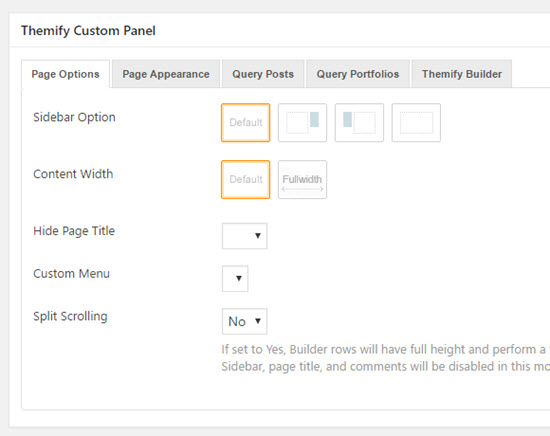 On tablet devices, the split scrolling will have a full section scrolling effect in order to improve performance. You can create a custom split layout using Themify Builder.
8 Split Scroll Layouts to Choose From
You can easily get a stunning split scrolling effect by importing any of the predesigned layouts. You can import the layout with just a single click.
By default, Themify Split is shipped with 8 different split scroll layouts. They are:
Restaurant
Personal
Wedding
Product
Portfolio
Shop Page
Agency
Super Heroes
Once you activated the theme, you'll be asked to choose a demo design as an optional choice. If you don't want to import the demo layout right away, you can import it later by navigating to Themify Split » Themify Settings » Demo Import.
Once any layout is imported, you can replace the text and images to make it unique. In addition, you can find 9 different skins to choose from, which helps you to change the color palette instantly for the entire site with just a click. To choose the right skin for your site, navigate to Themify Split » Themify Settings » Skins.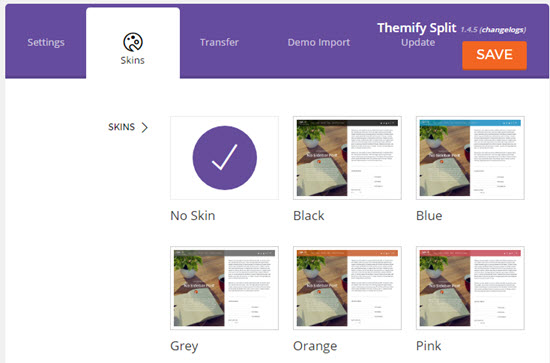 Custom Post Type- Portfolios
Just like most other Themify themes, Split also comes with a Portfolios custom post type. After installing the theme, you'll be prompted to install the Themify Portfolio Post plugin.
This plugin gives you the ability to add portfolios to your site as a new post type.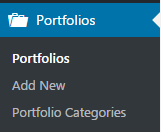 Similar to post and page editors, Portfolios editor page also comes bundled with the drag and drop builder.
Column Styling Feature
With Themify Builder, you can style each column any way you like with the row styling feature. You can customize the background type whether it is image background, video background or slider background. You can also customize other design elements such as font, border, margin, etc. of each column for each row on your site.
Tons of Different Layout Options
Split supports right sidebar, left sidebar or full-width content area. You can choose from 7 different post layout options. They are:
List post
Grid 4
Grid 3
Grid 2
List large image
List thumb image
Grid 2 thumb
You can choose your preferred post layout by navigating to Themify Split » Themify Settings » Default Layouts.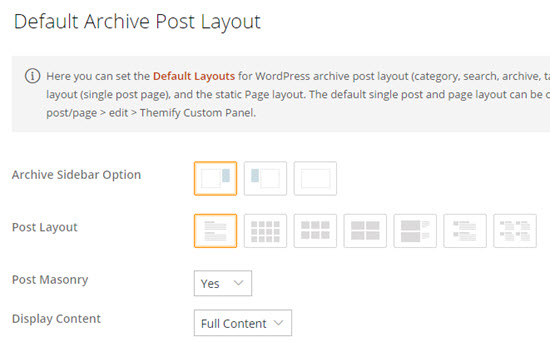 Documentation and Support
Themify Split's documentation walks you through the entire list of features. All of the tutorials are well explained with beautiful screenshots and videos.
Whenever you need any help, you just need to scan through the documentation. Everything is listed in a step by step method.
Themify offers support through their forums. They are well-known for their fast response time.
Themify Split is available for a one-time fee of $49. When you purchase the Themify Split theme, you'll get a bonus theme to download for free.
If you want to access the Photoshop files as well along with the theme to create design customization, you need to pay a one-time fee of $69.
You can use the Themify themes on unlimited sites. To access all the Themify themes, you can join their Theme Club for just $79.
Our Score
Themify Split lets you easily build a WordPress site with an eye-catching split scrolling effect. The theme is also shipped with Themify Builder, a drag and drop tool that lets you create a custom layout with ease, so you can build any type of layouts without having to hire a developer.
If you're concerned about the page speed of your site, you can disable unnecessary animation effects in Themify Settings. If you usually crop images manually, you can disable image script settings as well, which can help to improve the loading time.
We give Themify Split 5 out of 5 stars. Here is the breakdown of our review scores:
Get Split Now »