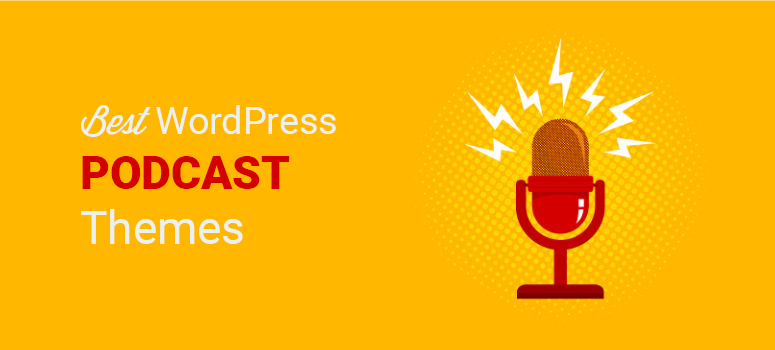 If you're looking for the best WordPress themes for podcasting, you've landed on the right post. We know exactly what a successful podcaster's website needs. From eye-catching design to embedded audio feeds, the right theme can make all the difference.
That's why we're going to share our picks for the best WordPress themes for podcasting.
Quick Look: Top 5 Best Themes for Podcasting
| Theme | Price | Unique Feature | Released By |
| --- | --- | --- | --- |
| 1. Pepper+ | $129 | Grid layouts and modules. | Artisan Themes |
| 2. Music | $59 | You can embed a music player. | Themify |
| 3. Podcaster | $39 | Unlimited episode archive pages. | Themestation |
| 4. Monochrome | $360 | Uses the Genesis framework. | StudioPress |
| 5. Tusant | $69 | Feature-rich | SecondLine |
Before you start, don't miss this article on the best and popular WordPress theme shops.
Let's take a look at the best WordPress themes for podcasting that you can use.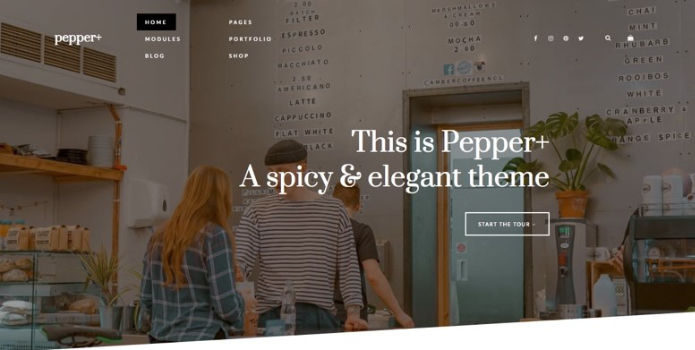 Pepper+ is an easy-to-use responsive theme designed for those who're interested in building a website, regardless of their experience. There are both pro and newbie tools available out of the box to help you design a clean, elegant site for podcasting.
Many of the features allow you to flesh out your page without digging into the code. Simple drag and drop modules let you set up a live podcast along with the ability to add the podcast from the previous week on the same page.
Combine those features with their ad-friendly interface and extensive sidebar menu, and it's easy to see why Pepper+ is our top theme for podcast websites.
Get Started with Pepper+ Today!

The name, Music, accurately sums up the focus of this WordPress theme. It works well for all forms of artists, writers, musicians, and podcast hosts.
You can build a single page parallax website, or a multipage platform depending on the size and scope of your business plan. If you want to feature old podcasts, you can do so with ease as this theme comes out of the box with a music player that lets you upload custom tracks for your viewers.
Music also comes with pre-designed templates and artist pages to make your building experience fluent and easy. Save time and develop a professional-looking page in no time.

Podcaster comes with its audio and video players; however, you can also use oEmbed.
Choose between light or dark versions of the theme's design, and customize the header with the images of your choice. It also features a nifty parallax scrolling feature for your home page.
It's optimized to work with BluBrry PowerPress and Seriously Simple Podcasting.
Get Started with Podcaster Today!

Monochrome is a premium WordPress theme for people who want to build their website from the ground up with a suite of amazing tools. It starts with the general theme and text of your site. You can add new text, change colors and fonts, adjust headers, and more; all while watching it change in real-time.
You can use the deluxe toolkit to add modules for your podcast. It allows you to record a live podcast or even set up pages for backdated podcasts for listeners who may have missed a show.
On top of that, it's mobile and tablet responsive with the ability to translate your text. It's easy to see why podcasters can't get enough of the Monochrome theme.
Get Started with Monochrome Today!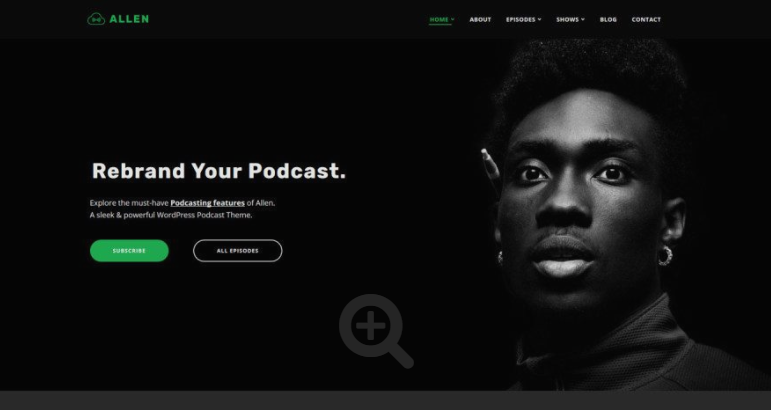 Tusant is a WordPress theme by SecondLine Themes, which is built specifically for podcasting websites. If you have a website in which you want to stream online audios or videos, you'll find Tusant extremely helpful.
A few features of Tusant are:
Display your podcasts anywhere in your website
You can display your podcast episodes in multiple layouts
Tweak every single aspect of your theme using the built-in page builder settings.
Get Started with Tusant today!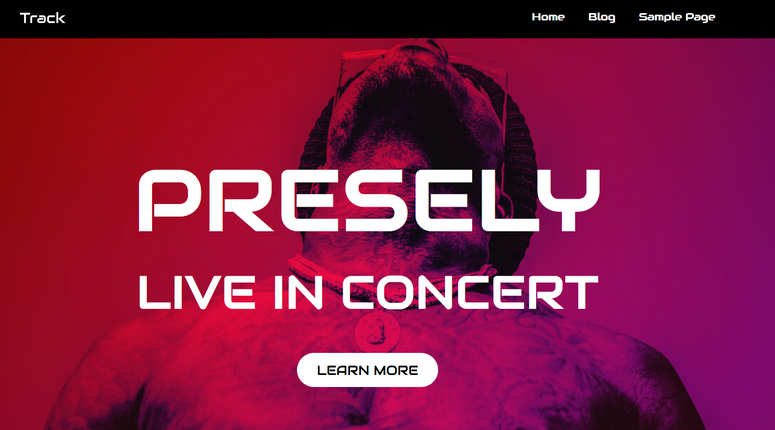 SeedProd is the best drag and drop theme builder and page builder for WordPress. It lets you easily create a custom theme for your podcast website, without editing any code.
You can get started with one of the 9+ theme kits that include a matching design for every page of your site. Simply toggle a switch to choose which pages to add or remove. There are also 150+ templates to create high-converting landing pages.
Plus, you can use the ready-made page blocks to create a site that looks and functions exactly how you want. Choose from blocks like images, videos, social profiles, testimonials, and much more.
SeedProd seamlessly integrates with all popular podcasting plugins.
Get started with SeedProd today!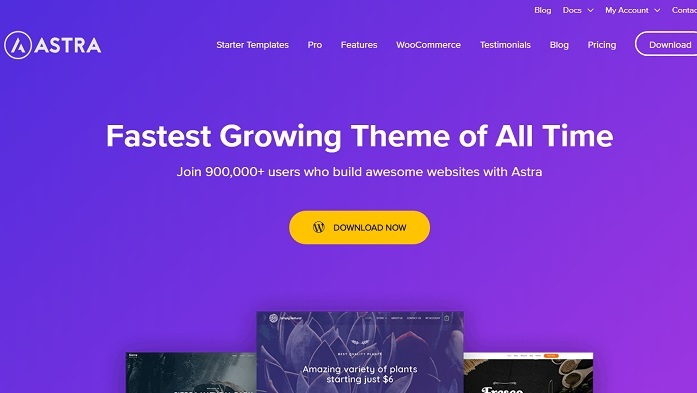 Astra is an all-around WordPress theme built with performance in mind. You can easily use it for starting a podcasting website because it comes with a solid integration with popular podcasting plugins.
With the ability to work with most page builders, you can easily design the most stunning podcast pages. The live customizer feature will let you design your preferred header, archives page, sidebar, and even the footer.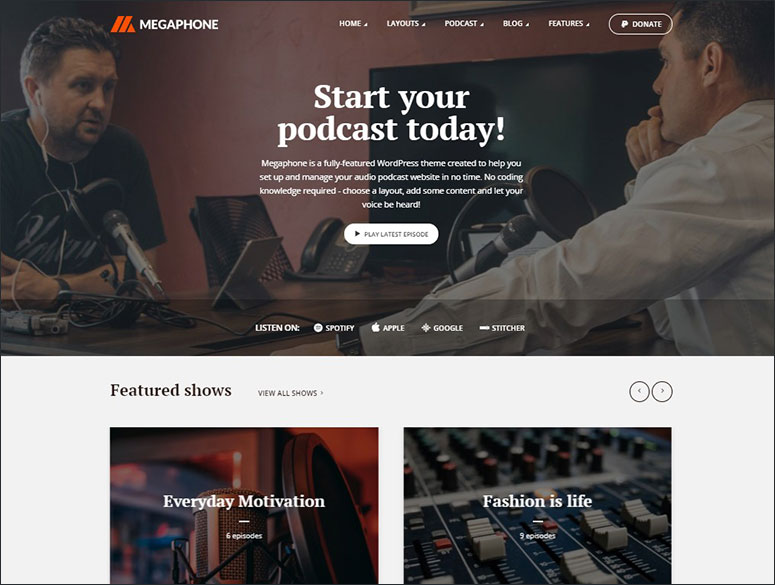 Megaphone is an audio podcasting WordPress theme. It comes with a sticky audio player that stays on every page and allows your visitors to play audio and navigate through episodes quickly and easily. The audio player seamlessly integrates into popular audio hosting platforms like SoundCloud, Spotify, Stitcher, etc.
With this theme, you can also use popular podcasting plugins like Seriously Simple Podcasting, Libsyn Publisher Hub, PowerPress Podcasting, and more to record your podcasts. The Megaphone theme manages the order of your podcasts and lets you display episode numbers and match them with post titles.
It integrates with other popular WordPress plugins to add more functionality to your podcasting website. The theme is easy to set up and is optimized for SEO.
Get Started with Megaphone Today!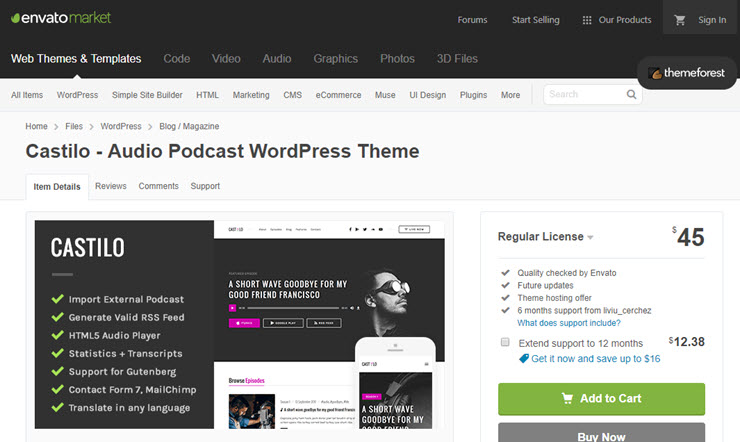 The media-rich header area is the crown jewel of the Castilo theme. With the right image or video, you can create a truly eye-catching website that visitors won't be able to click away from.
We also really appreciate the statistics feature in the backend. Get reports on your total listeners, listening sources, total listens, and more!
Get Started with Castilo Today!

If you have an idea that you want to translate to a website, Nayma is the superior choice for new designers. The theme comes out of the box with their Artisan collection of pre-loaded templates. You can pick the one that's closest to what you want to build, install it with 1 click, and edit it to your liking.
You can also design your podcasting site from scratch with a whole host of designer tools that don't take years of coding experience. Build your pages using serious power with minimum effort and no learning curve. The easy-to-use modules make placing, designing, and publishing your new website a breeze.

Elegant is the name of the theme and the way your site is going to look when you're done installing and tweaking it. The theme removes all of the cumbersome animations and graphical effects and instead focuses purely on content.
If you want to build a podcast website without frills, this is the right choice, regardless of your skill level. You can quickly put together a site that works on desktops, smartphones, and tablets. You can also tweak it in real-time and make sure you're making the changes you intend to make, which saves you even more time.
Get Started with Elegant Today!

Ultra is a powerful theme by Themify, but they beefed up Ultra for those who're looking for a little more from their WordPress theme. This cheap premium theme comes with a whopping 40+ pre-made designs that you can customize on your own.
It seamlessly blends with your existing plugins and comes with 12 additional plugins out of the box that can help you develop a podcast website plus. You can add a detailed blog, image gallery past podcasts, and much more with Ultra.

If you're looking for a dark, simple, and intuitive WordPress theme for your brand website, then the Tracks theme can help you create the perfect site. The tools provided allow you to create whatever kind of site you want, allowing you to edit from header to footer, and everywhere in-between.
Use a preset layout, or create your custom layout in a few minutes with a drag and drop builder. It lets you set things up the way you want them to look. Create a custom search bar and incorporate other plugins that you may have been using previously to bring together your past work and make your future podcasts available to a broader audience.
Get Started with Tracks Today!

Satchmo is a theme designed specifically for podcasters looking to build a professional, reputable website in a short time. It gives you a full suite of customization features, but that's hardly the most exciting part of this WordPress theme.
It also supports various podcasting plugins like PowerPress and Seriously Simple Podcasting, making it ideal for people who are already familiar and invested with those plugins. Furthermore, there's an MP3 player that lets you upload custom MP3 files so you can upload all of your podcasts in one place.
Get Started with Satchmo Today!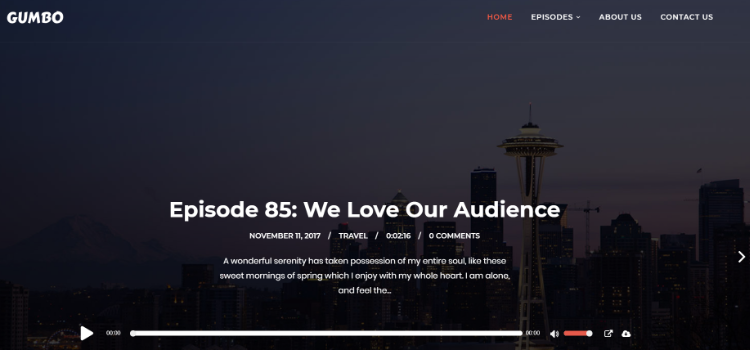 Gumbo is another excellent podcast theme for people who want to build their brand but don't have much coding experience. This latest creation from Secondline Themes is designed to help you bring your ideas to life with its host of tools and resources that allow you to create without coding.
You can translate your videos from websites like SoundCloud and YouTube. If you already have an existing audience from your videos, you can transfer your content seamlessly. Combine those features with their mobile and tablet compatibility right out of the box, and you're looking at one powerhouse of a theme for podcast creators.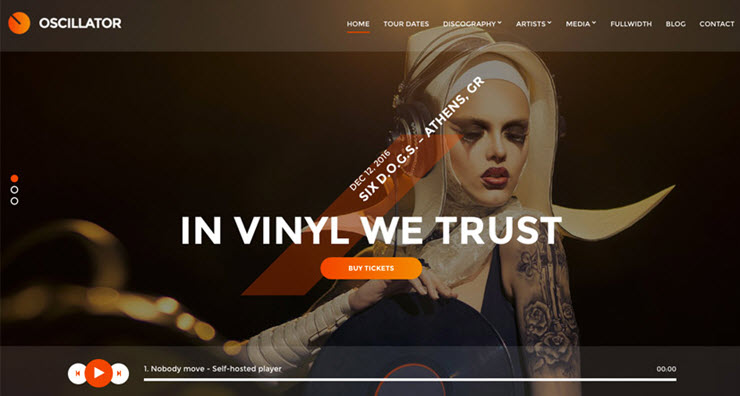 Oscillator is a theme meant for artists and musicians, but it also works well with podcasts too! Combine flashy images and designs with bold and classic headers, footers, and fonts, and you're working towards creating a website that will have people coming back for more.
Instead of uploading music to the music player, you can upload your podcasts directly to the plugin responsible for this aspect of your site. Once they've been uploaded to the MP3 player, you can allow users to download your previous podcasts for natural listening experiences.
Oscillator also includes a range of tools to help you develop high-quality content and rank for Google. You'll get a bonus of an SEO-optimized website with all your audio files. It's the best of both worlds.
Get Started with Oscillator Today!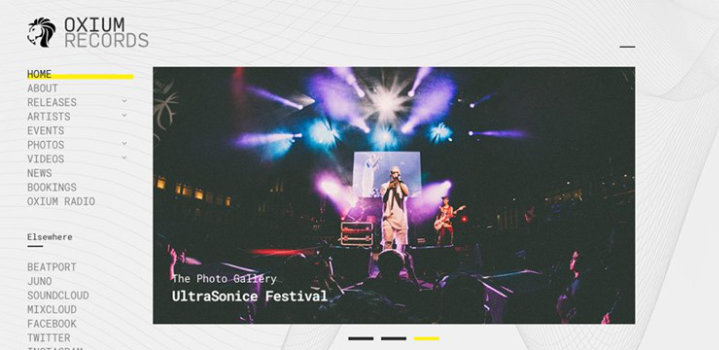 Oxium offers podcasters something in a theme that most others fail to deliver on. Besides uploading your audio files to the included player, you can create custom playlists based on topics, hosts, length, and more. Create your playlists the way you want.
Once you create your podcast playlist, you'll have full reign over the theme's website builder that lets you add new modules in a single click. Design a website that's professional, fun, or somewhere in-between. Oxium will not hold you back in the creativity department.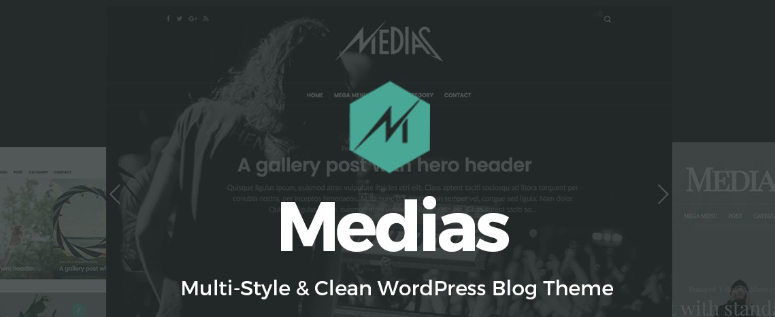 Medias is a little more laid back and made for those looking for a simple, yet intuitive theme. The general look is either a light theme or dark, but you can change all of the variables within the design with a few clicks.
When you create new content on Medias, you'll have 4 post types to choose from, including standard post, audio, gallery, or video. It doesn't matter how you upload your podcast (whether it's audio or video), you'll have no problem delivering fresh new content to your viewers.
Get Started with Medias Today!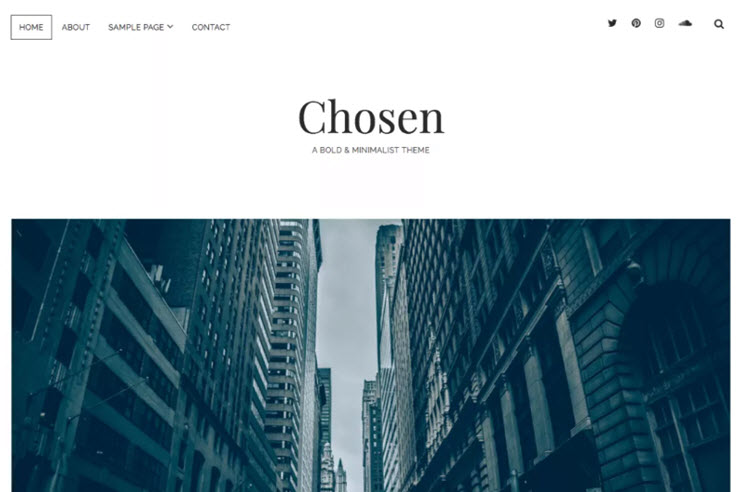 Chosen is an ideal choice if you want to create a page that draws in listeners and keeps them there. You can build an engaging website or personal blog with information about yourself, guests on your podcasts, future topics, and more.
You can upload your podcasts and integrate an eCommerce store if you want to sell merchandise that relates to your brand or affiliate brands. Chosen doesn't stop there; its customization features are vast and allow you to pick and choose how you want your website to look. It's your page, so they make sure it feels that way.
Get Started with Chosen Today!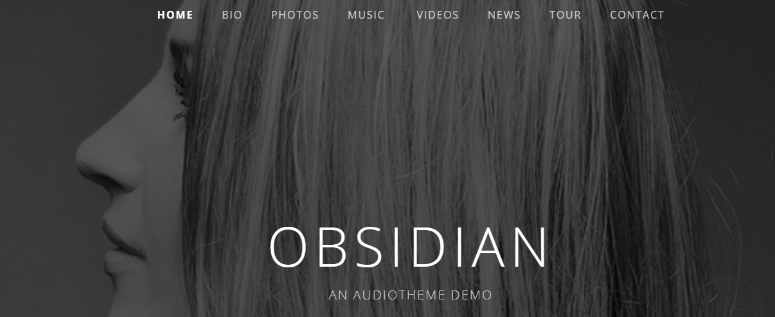 Obsidian gives you complete control and gives you all the tools you need for success. Besides the modern-yet-classy volcanic ash color scheme, you'll be able to add a whole host of music/podcast-themed pages right to your site.
You can create a schedule so that viewers know when your next show is airing and where they can watch it. It's also possible to create a discography of all of your past podcasts by subject, year, guests, and more.
The icing on the cake is the ability to go through and tweak existing templates to make them fit your brand, your style, and your podcast.
Get Started with Obsidian Today!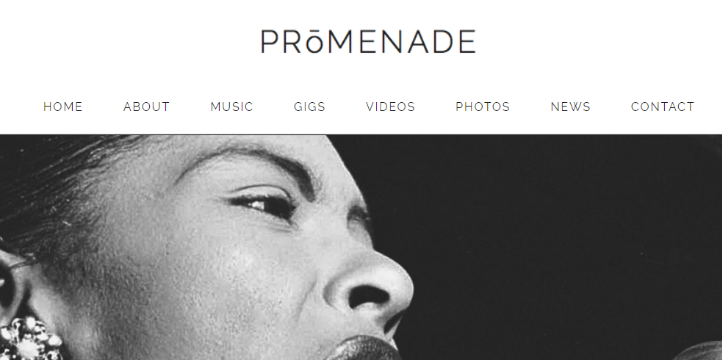 Looking for something elegant, minimal, yet responsive to your artistic decisions when crafting your site? The Promenade theme is a perfect choice.
You can upload all of your content and highlight important pieces for your viewers with just a couple of short clicks. It's great for people who want to let their viewers know when they upload a new podcast.
Promenade also comes with various custom fonts and header/footer styles that allow you the freedom to build your site, your way.
Get Started with Promenade Today!

Dixie is a WordPress podcast theme for a wide range of podcast creators. It doesn't matter if you're an experienced coder or a complete newbie, Dixie has you covered.
This theme was created specifically for people who operate podcasts, as it supports the most important podcast-themed plugins on the market: PowerPress and SeriouslySimplePodcasting. On top of that, you can upload your MP3s, or even import your videos and audio from SoundCloud, YouTube, MixCloud, and more.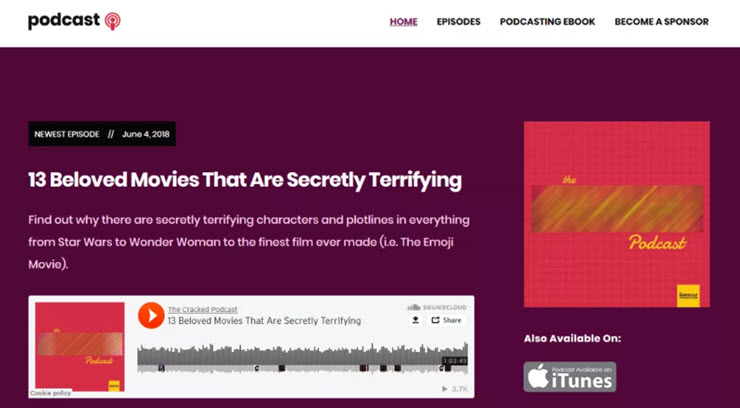 It doesn't get much more obvious who a theme is for than having a name like Podcast. The Podcast theme is specifically for audio streamers looking to create a secure website to feature their brand, past podcasts, and future podcasts as they're released.
You can make small adjustments to the design by choosing from 7 different color palettes and adjusting the sidebar/header/footer area to your liking. All-in-all, if you want something basic that gets the job done, Podcast is the answer.
Get Started with Podcast Today!

Challenger is a new theme with a slew of features that make it the ideal choice for the budding podcaster. You can create your site in a few minutes with Challenger's easy-to-use interface system. It lets you click, drag, and drop exactly the way you want.
This theme also comes with 4 sections for widgets and over 50 social media icons. It gives you the ability to customize your header and add optin features to get the viewers to sign up for your mailing list. You can use Challenger to grow your audience and upload your content in real-time so your listeners can have the best experience every time.
Get Started with Challenger Today!
We hope this article helped you discover the best WordPress themes for podcasting.
If you enjoyed this post, you might also like our list of the 27 best themes for affiliate marketers.