Themify Music is a WordPress theme built with musicians and artists in mind. It features full-width video background for the homepage and allows you to embed a music player and album playlist with ease. In this Themify Music review, we'll help you to decide if it is the best theme for your site.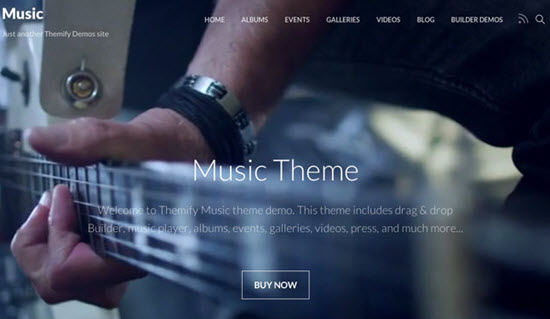 About Themify Music
Themify Music comes with custom tailored features for musicians that help them to promote their music albums, tours, concerts, and events. It is shipped with the Themify builder, a drag and drop builder that lets you create a website the way you imagine.
With Themify Music, you can easily embed videos on your site and even feature them in a lightbox. The theme makes it simple to embed a custom playlist onto your website for visitors to listen to and purchase.
Let's take a detailed look at some of its features below.
6 Custom Post Types
The Themify Music theme is bundled with 6 custom post types that are built specifically to promote your music albums and events.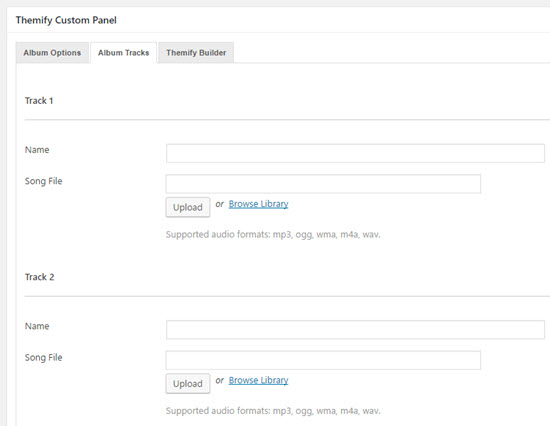 Events: List your concerts, tours and any other events on your website using the Events post type. You can categorize them and tag them. You can also include a Google Maps view of the venue and sell the tickets right away.
Galleries: Showcase the photos from your recent events or photo shoots. You can display them in a 6-column masonry gallery or 2, 3 or 4-column grid layouts.
Videos: Embed your videos from a popular video sharing site like YouTube or upload them directly to your site. You can either have it play directly or feature it inside a lightbox. You can display the videos in a slider or use 2, 3 or 4-column grid layouts.
Albums: Embed a custom playlist onto your website and let you visitors listen to and enjoy it. You can also sell it right from your Albums page.
Press: Showcase in which magazines you get featured in your homepage and other pages.
Portfolios: Just like most other Themify themes, Music also comes with the Portfolios post type to feature your portfolio items.
Widgets
Themify Music gives you many widgetized content areas. Besides sidebar, you can add widgets to social widgets and three footer widgets.

It also comes with many custom widgets. They are:
Feature posts
Event posts
Flickr
List Categories
List Pages
Most Commented
Recent Comments
Social Links
Twitter
Full-width Video Background
If you're after a Themify theme that lets you add full-width video background, Themify Music could be the best bet for you. In order to display a full cover video background, you'll need to turn on the Themify builder and then, select Options » Styling. Then, choose the background type as video.
Footer Music Player

Footer music player is another unique feature that comes with Themify Music. It is compatible with desktop or mobile devices and automatically plays music when a visitor browse through your site. The theme allows your visitors to select which albums to play.
Other Useful Features
With Themify Music, the possibilities to create a stunning WordPress website are endless. Below are a few more features you can make use of.
Ajax Navigation: It helps your visitors to load new pages without having them to click on the next page link.
Parallax scrolling effect: The theme supports parallax effect that moves the background content at a different speed than that of foreground content during page scrolling.
Hook content: Add content to your theme without manually editing the template using the hook content feature.
Documentation and Support
The documentation of Themify Music walks you through the entire list of features. All tutorials are well explained with beautiful screenshots and videos.
Themify offers support through their forums. They are well-known for their fast response time.
Themify Music is available for a one-time fee of $49. When you purchase the Themify Music theme, you'll get a bonus theme to download for free.
You can use the Themify themes on unlimited sites. To access all the Themify themes, you can join their Theme Club for just $79.
Our Score
Themify Music is built specifically for artists and musicians that allow them to easily embed videos and music player. It is bundled with several useful custom post types that are tailored to promote your events and music albums.
Themify Music might not be the right choice for you if you're looking for a minimalistic WordPress theme for artists. In fact, it is a heavy theme that is built for adding lots of interactive content with little effort.
If you're concerned about its page load time, it is better to disable playing videos and audios automatically. To boost the page loading time, you may also want to enable script minification by going to Theme Settings.
Similarly, you can disable ajax navigation and image script settings for faster page rendering.
We give Themify Music 4.8 out of 5 stars. Here is the breakdown of our review scores:
Get Music Now »