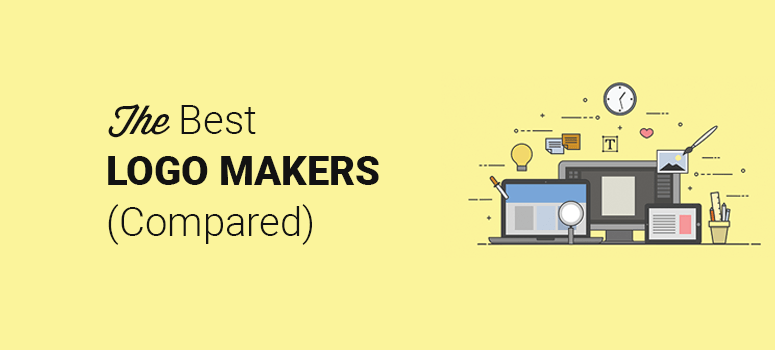 Are you looking for the best logo maker for your business logo?
If you're a website owner, startup or a small business with a limited budget, you might not want to spend a hefty amount of money on your logo.
Fortunately, there are several online logo makers that let you create a professional logo for your business.
In this article, we'll share our handpicked list of the best logo makers that let you easily design professional business logos.
How to Choose the Best Logo Maker App
Once you've decided that you're creating your logo on your own, the next step is to choose the best logo maker that meets your needs. Since you can find dozens of online logo makers, choosing the right one can be intimidating.
Here's what you need to look for in a logo maker software.
Text Logo: Ability to create a unique text-based logo. The logo maker must provide you with a wide variety of text designs, styles, and font.
Built-in Templates: Unless you're a designer, you might not want to start building your logo from scratch. Make sure your logo designer app comes with several built-in templates.
High-Resolution Download: The logo maker software should let you download a high-resolution logo in any format (jpg, png, etc.) This comes in handy for using the logo in your marketing materials.
Let's take a look at the best logo makers that you can use.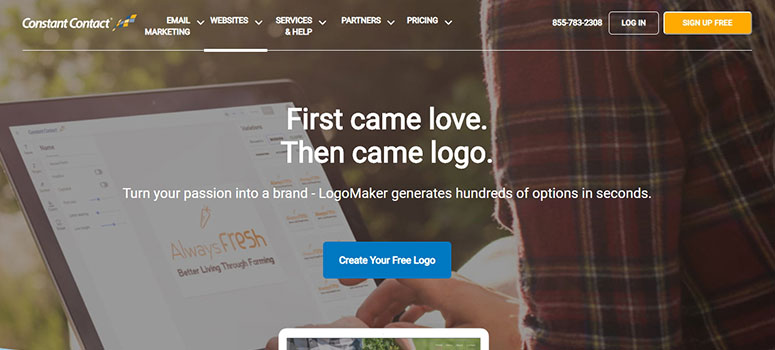 Constant Contact LogoMaker is a free logo creation software that comes bundled with the A.I. powered website builder.
It allows you to customize every aspect of a logo that includes color, font, size, and icon. LogoMaker is a flexible service and works like a charm for beginners who don't want to invest in hiring a professional logo designer.
Although the LogoMaker service is offered as part of their website builder, they let you download the logo in high-resolution to use anywhere, such as your website, marketing materials, T-shirts, printing materials, etc. Constant Contact LogoMaker supports multiple file types, which means you'll get your desired image format for the logo.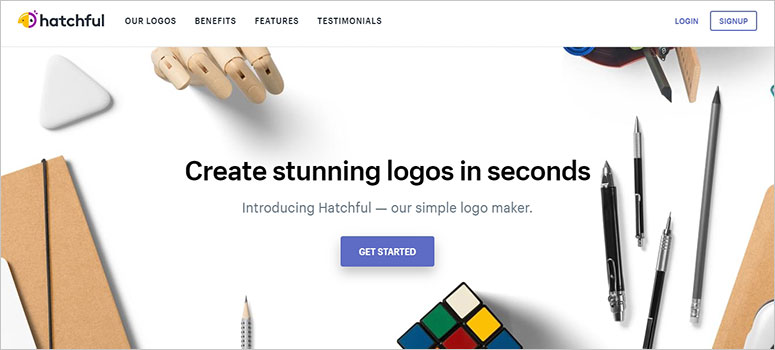 Hatchful is yet another free logo maker built by Shopify. It lets you create professional and stunning business logos without any prior graphics designing experience.
It also comes with 100s of built-in logo templates that you can customize for text, font, icon, colors, and size using their design studio. Hatchful also lets you download the logo in different sizes for social media, business cards, merchandise.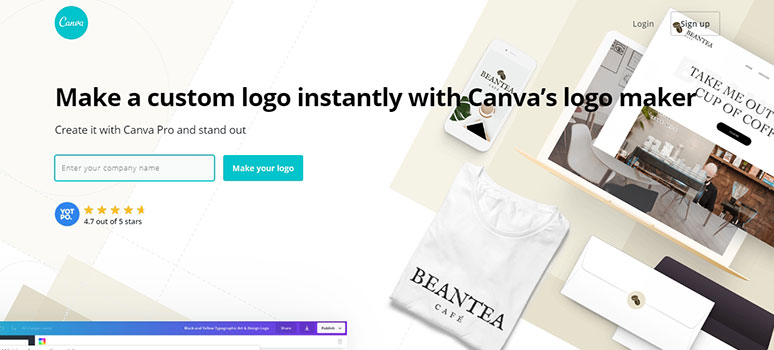 Canva's Pro Logo Maker is a premium logo creation software for business and eCommerce sites. It comes with 1000s of professional logo templates, unlimited icons, illustrations, and more.
With Canva's Logo Maker, you can generate stylish custom logos that you can edit and download in high-resolution. Canva also lets you share the logo with your team to view and edit from anywhere in the world.
4. Tailor Brands: Best Logo Maker for Small Business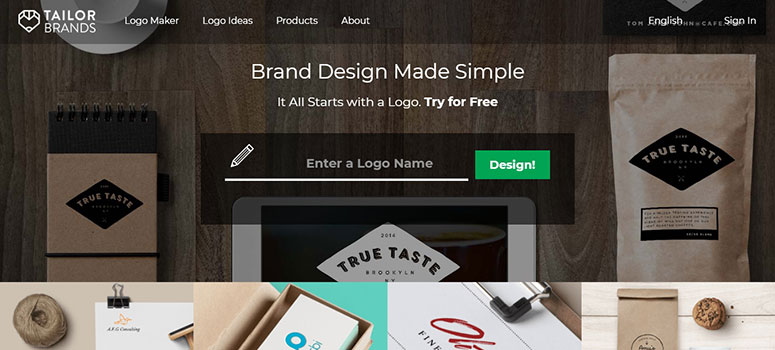 Tailor Brands is a professional logo making service for brands and businesses. It lets you create a custom and high-resolution logo for your website or social media.
In addition, they also offer ad design service that lets you create compelling ads to promote your work.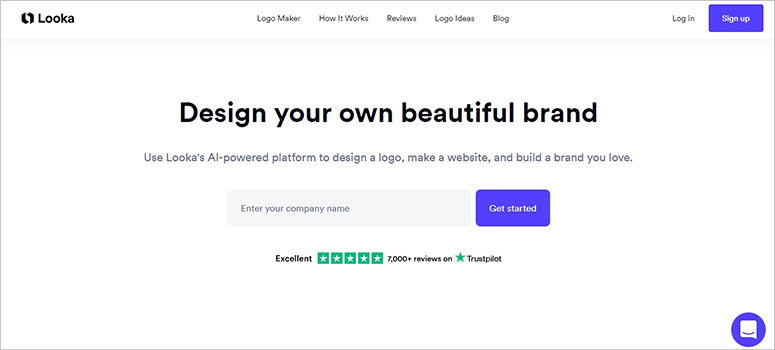 Looka is another A.I. powered online logo design software to build your brand identity. It comes with a frontend logo editor where you can pick a logo template, and change the colors, fonts, and text.
It lets you download the complete set of logos for social media, business cards, etc. Looka also offers various addons to enhance your branding experience.
6. Designhill: Reliable Logo Maker Service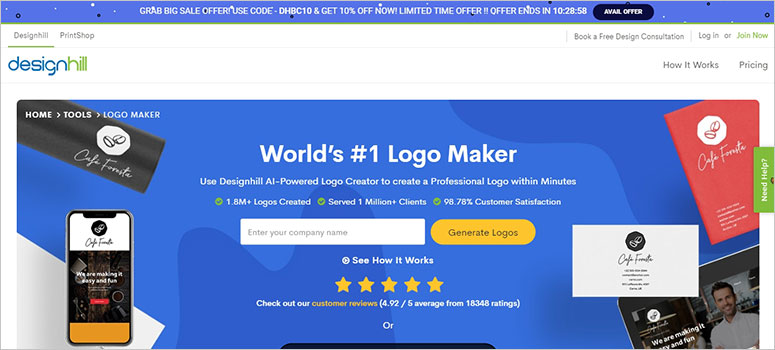 Designhill is a popular logo maker service to design your custom logo in a few clicks. It's trusted by 1M+ clients and has 98.78% customer satisfaction rate, making them a reliable option to design a logo.
You can start by entering your company name and select logo styles, colors, and icons. Next, it will let you browse 100s of templates to select from, make changes, and preview the final logo.
7. Ucraft Logo Maker: Logo Design App With Free Royalty Icons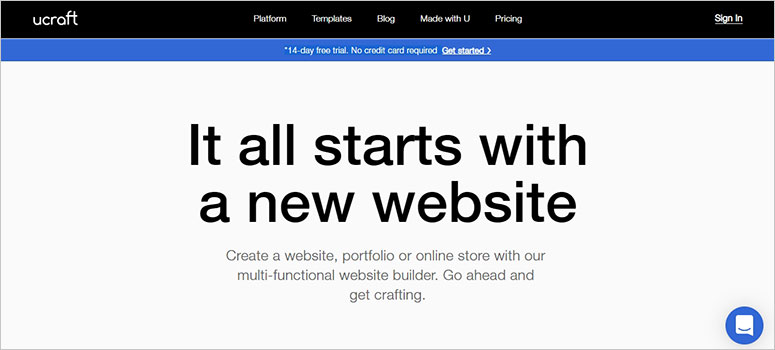 Ucraft is a powerful online logo creator to design your business logo. It's free to use and comes with 2M+ royalty free icons to make a unique logo in a few clicks.
It's highly flexible and lets you customize shapes, text, icons, and colors easily. You can download its high-quality logo in SVG and PNG formats.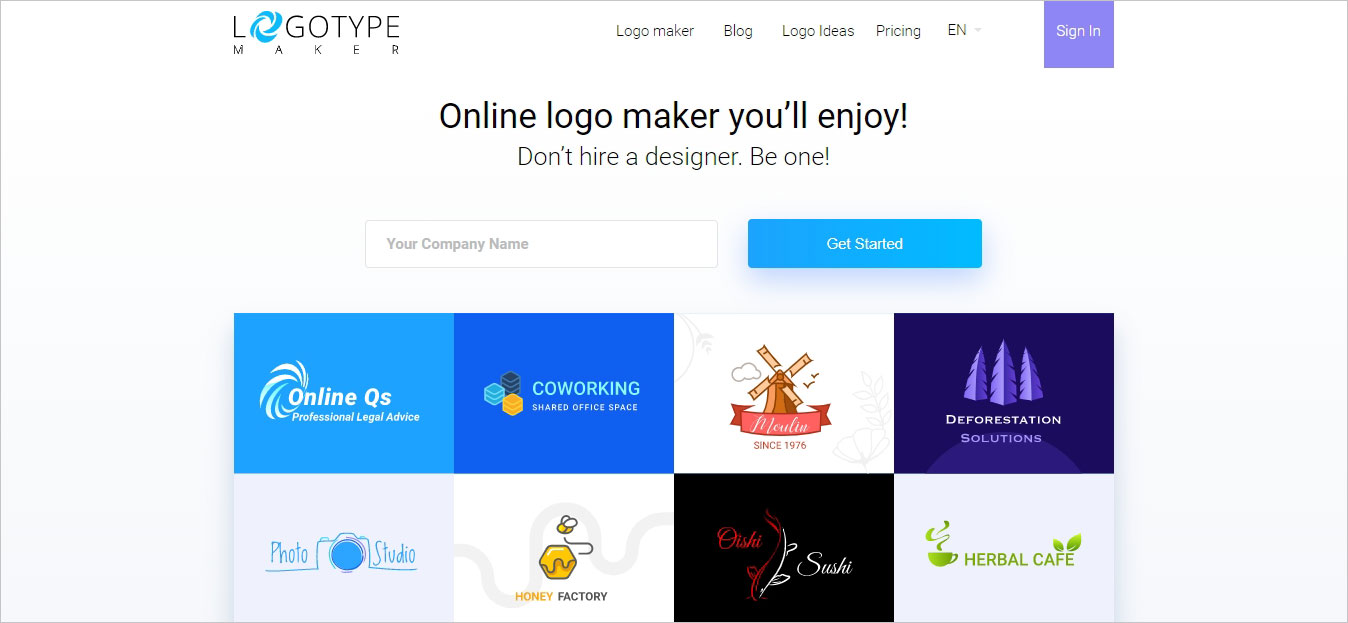 Logotypemaker is an online logo maker and logo generator for small business owners and entrepreneurs. With Logotypemaker, you don't have to hire a professional designer and lets you create your unique logo right away.
It comes with a variety of logo templates and an A.I. based logo editor. With Logotypemaker, you can use customize shadow effects, fonts, clipart, and also upload your custom images.
9. Logogenie: Logo Design Software With Best Customer Care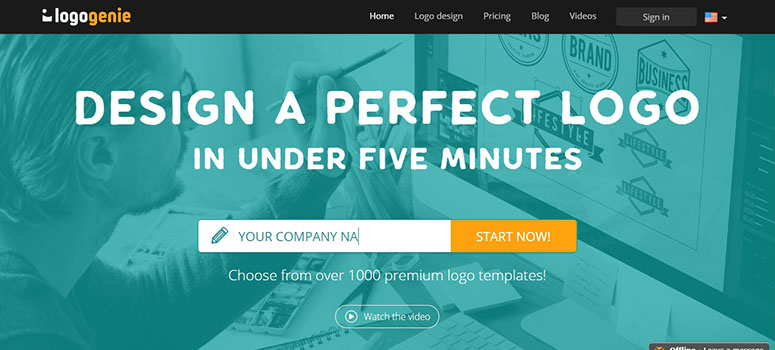 Logogenie is a premium logo design software that comes with several logo design tools and 1000+ professional logo templates. It provides instant customer support with live chat and email.
It lets you create a fully unique logo in 3 simple steps. Enter your brand name, select the icon, and customize your logo for colors and styling effects.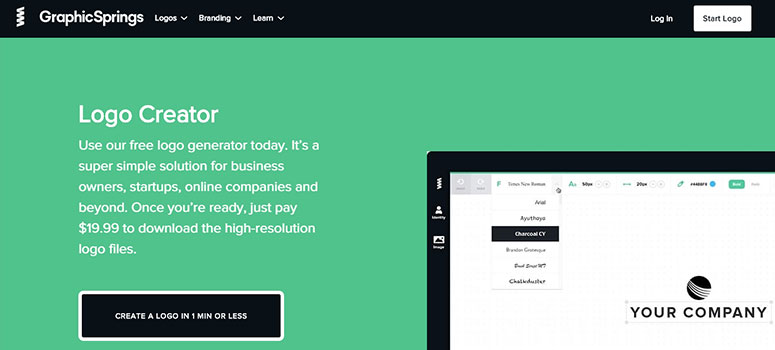 GraphicSprings is another premium logo creator for small businesses, startups, and online stores. It lets you design a professional logo even for beginners who don't have graphics designing experience.
You can generate the logo for free, but you'll need to pay $19.99 to download a high-resolution. The paid logo is perfect for your business cards, social networks, and website.
We hope this article helped you find the best logo makers that help you design your business logo. You may also want to check out our guide on best web design software.