Are you looking for a theme with infinite content scroll feature? Sometimes you may want to load all your posts with images and videos on the main page. In this Themify Infinite review, we will show you features and help you decide whether this theme is right for your site.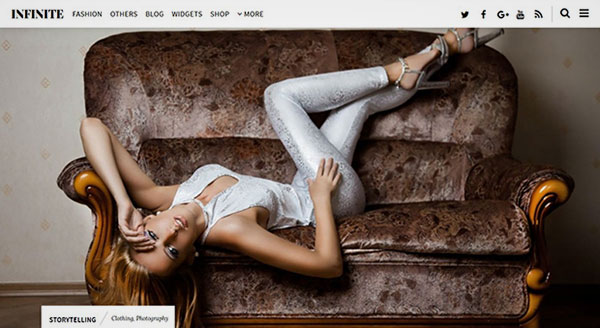 About Themify Infinite
Themify Infinite is a WordPress theme that offers full page content, so your posts appear beautifully on any screen size. Your users can scroll down to as many posts as they want to read and it's also functional to your product pages. The name Infinite defines the core feature of an infinite scroll in this theme.
This theme includes the Themify Builder, multiple post layouts, WooCommerce, amazing menu, two types of navigation, and more.
Features of Themify Infinite
Themify Infinite has tons of unique features to build a perfect fashion, photography, or travel blog. It comes with full-width images and videos, amazing menu with thumbnails, progress bars, and layouts. Just like any other Themify themes, Infinite also comes with Themify builder. This drag and drop builder lets you design your posts and pages, changes your responsive breakpoints, animation effects and more that you imagine it to be.
Let's take a look into features of Themify Infinite, so you can decide if it is the right choice for your needs.
Infinite Scroll
This theme has the infinite scroll on all pages that includes the home page, internal pages, and product pages. The content loads only when the user scroll down.
It is an amazing feature that makes your site faster when it's loaded first in the browser. However, there is a progress bar at the bottom when scrolled to the last to display new content neatly.
Post Layout
Having multiple post layout helps in making an easy choice to display content on your site. You have the option to display post featured thumbnails with content in different ways.

These post layout include list view, grid 4, grid 3, and more. You can change these settings anytime to get the best result.
Responsive and Retina Ready
Themify Infinite is a mobile responsive theme that works great on all screen sizes. The retina ready feature displays sharp images on all mobile devices. It's optimized for better search engine rankings and your users enjoy a great display of your site on any browser or mobile.
Theme Skins
Theme skins are available in this theme as a core feature. There are multiple color skins available for the top bar of your site.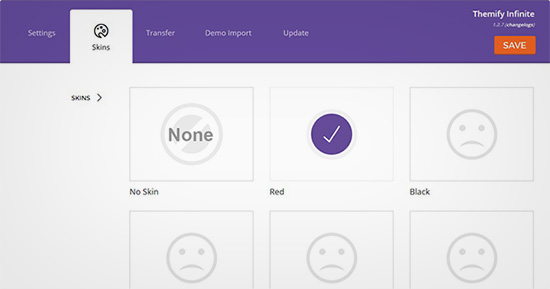 If you have a color theme for your site logo, then this option of Themify Infinite will help in choosing the theme skin. In case you have a simple black color logo or text so you can select No Skin option that will display the top bar in default white color.
Mega Menu
Themify Infinite has a unique and magazine style menu that gives you many options to add in it. You can add widgets, tags, Twitter, products, tags, and more in the menu.
This multi-column menu will help create powerful navigation for your site. You can also display your recent posts and much more.
Customization
By default, there is a customizer in WordPress that you can use to make quick changes on your site. However, Themify Infinite comes with its own built-in customizer that has great features to edit the theme settings.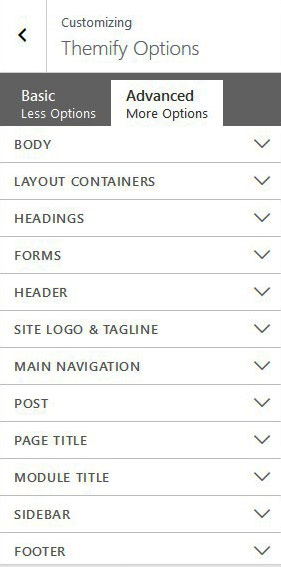 If you click on the Advanced options, you'll see a detailed panel to customize your site. Few of the important options are discussed below:
Header: You can edit the inner background image, fonts, and links.
Headings: Swift and super control over headings to change the color, font size, font family and other styling options on all pages and posts.
Main Navigation: Full styling options for menu including link styling, dropdown styling, and container styling.
Sidebar: Customize your sidebar's font, widget styling, link styling, container styling and more.
Documentation and Support
The documentation of Themify Infinite has a long scroll that walks you through the installation of theme and list of features. All tutorials are well explained step by step with screenshots.
In case you need any assistance you just need to check out the documentation provided, and you will get to know the solution for your query.
Themify offers support on their own forums and emails. You can post your questions to these forums for a quick response.
You can purchase Themify Infinite for a one-time fee of $49. It comes with a buy one get one offer, so you can download another theme for free. You are allowed to install the theme on as many sites you'd like.
Themify themes comes with one year support and updates. To access all the Themify themes, you can join their Theme Club for just $79.
Our Score
Themify Infinite is a WordPress theme for photographers, fashion bloggers, clothing and modelling and more. With its infinite scroll, it can engage your visitors for a longer period.
You can add full size (1200px X 600px) photos or videos as featured images for your posts. The content will load only when the user scrolls down, so it makes your website faster for a good user experience.
We give Themify Infinite 5 out of 5 stars. Here is the breakdown of our review scores:
Get Infinite Now »