DreamHost is one of most well-known and established shared hosting service providers in the industry. In this DreamHost hosting review we will try to look into the features and services offered by the company.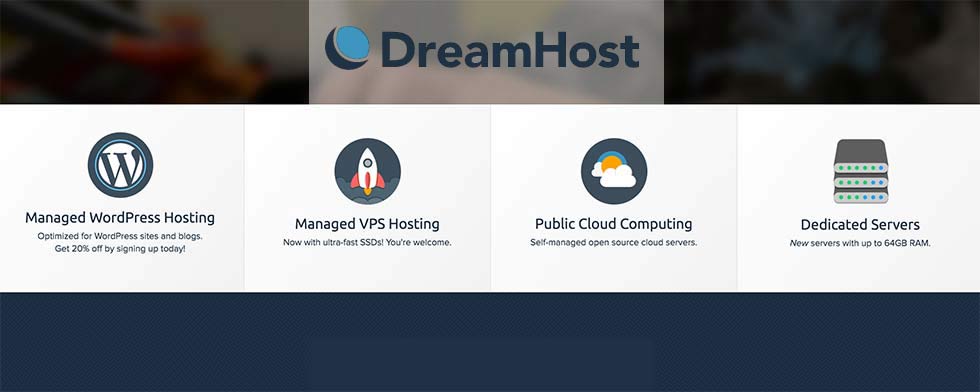 About DreamHost
DreamHost was founded in 1997, that's an year before Google was founded. The company was called New Dream Network back then. It was before Yahoo! bought GeoCities.
One of the company's founders, Sage Weil started webring service which was later acquired by GeoCities.
Back in the day it was hard for a company to think about providing web hosting service for everyone. Webring and later Dreambook (a guest book service) provided a steady flow of referral traffic to the company. Remember it was a time when there was no WordPress and hosting a site was not as easy it is today.
Dreamhost has grown and maintained a successful hosting business for the last 18 years. It currently hosts around 1.5 million sites, blogs, and applications. DreamHost has offices in Brea and Los Angeles, California.
Hosting Plans
Dreamhost is offers web hosting plans for customers of all sizes. They are also a domain name registrar and offer domain registration and parking services as well.
DreamHost offers shared hosting plan starting from $8.95 per month. It also offers virtual private servers, and dedicated servers.
The company offers a managed WordPress solution called DreamPress2. Users on DreamPress 2 can use the new Hip Hop Virtual Machine, which is Facebook's faster replacement for PHP.
Pricing
Dreamhost's hosting packages are slightly more expensive than many other popular shared hosting service providers. But you will see why it costs more in the features section.
Their shared hosting plan starts at $8.95 per month paid for 2 years. You can also pay for an year at $9.95 per month or on a montly basis at $10.95 per month. No matter what payment cycle you choose you will get the same features. There is no beginner, medium, or large levels.
DreamPress 2 (DreamHost's managed WordPress solution) starts at $19.95/mo paid for one 1 year. You can choose to pay monthly at $24.95/mo. There are no other levels on this plan. The good part is that they will not charge you extra if you start getting huge load of traffic. It will automatically scale up.
Their cloud hosting service has two packages. DreamCompute starting at $10/month and DreamObjects 2.5¢/GB per month. Dreamhost's dedicated servers start from $149/mo.
Features
DreamHost offers a robust set of features to attract customers. They understand that a lot of their users have limited knowledge of the technology but greater need for a reliable web hosting.
Unlimited Bandwidth
Unlimited Disk Space
Unlimited Domains
Unlimited Sub-Domains
Unlimited Databases
New SSD (Solid State Drives)
Unlimited Email Accounts
Web Based Control Panel
1-Click Installers for popular web apps including WordPress
97 Day Money Back Guarantee
Free Domain for as long as you host the site
I think this host is absolutely amazing for beginners and intermediate users. I really really recommend it because of the speed, user friendlyness and uptime!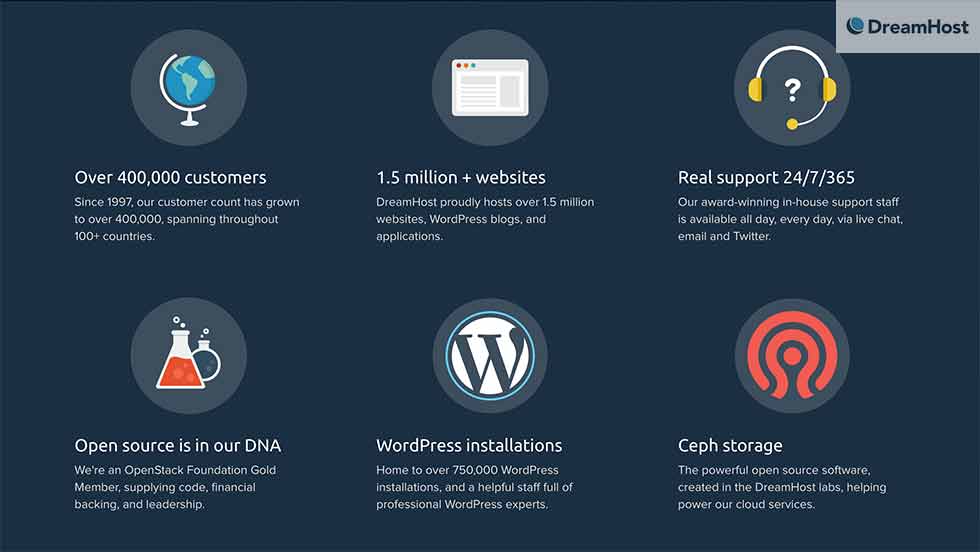 Ease of Use
Many users may not know how they would use all these features? A good web host needs to make it extremely easy for users to manage their hosting account and take full advantage of all the features.
Web Based Control Panel
DreamHost does not uses cPanel dashboard. Instead, they have their own web based control panel. Many of their customers like it better than cPanel. It allows users to manage their hosting account without using complicated command line tools.
1-Click WordPress Installer
DreamHost offers 1-click WordPress installers with the hosting plan. This feature allows users to quickly setup their own WordPress based website. Apart from WordPress, DreamHost also offers many other popular open source CMS and web based apps for 1-click installer.
Documentation and Support
Help and documentation is available throughout the dashboard. Users can switch on help menus for detailed explanation of each feature. There is also an extensive Wiki with detailed instructions about each hosting feature. Live chat is available 24/7 to users who need help quickly.
Considering the number of features offers by DreamHost, we think their custom control panel is quite easy to use and very beginner friendly.
Customer Service
Customer service is a crucial pillar of success for any business today. Hosting websites is a technical service, which means it needs a much higher level of customer service to keep and maintain clients in the long run.
Whenever I've needed support I've got the answer I needed within a few hours although UK/US time difference affects the wait. One thing I love is that you can reply to their automated emails and support will get back to you directly
DreamHost offers different tools to address the customer service aspects.
24/7 Live Chat Support
Discussion Forums
Ticket based support
On Demand Phone support (add-on service)
DreamHost does not offer phone support for all the customers. However, it is available as a paid add on and users can request a call back when submitting a support ticket.
Live Chat support is fast and usually there is not much waiting for an agent. Support tickets are answered fairly quickly.
Our Score
We think DreamHost offers a very reliable platform for hosting your websites. Their prices may be slightly higher than competition, but there are no hidden charges and no multi-level plans.
We were also impressed with their custom control panel and quick support. We would rate DreamHost as an excellent choice for hosting any kind of website. We will give Dreamhost 4.6/5 stars.