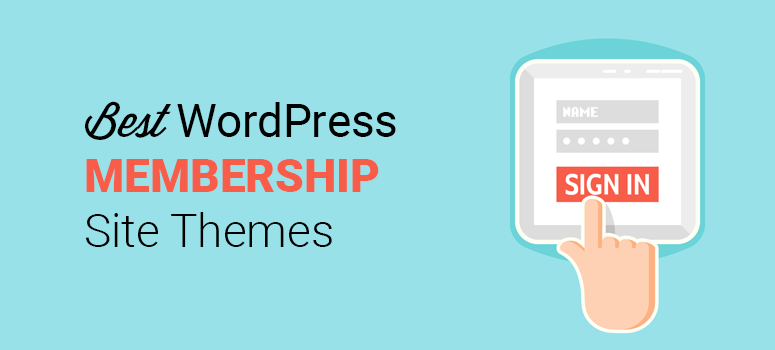 Looking for the best WordPress themes for membership sites? You've come to the right place. We know that, with the perfect theme, your membership site can maximize its earning potential. With the right set of features, you can increase memberships, up engagement, and create a business you can be proud of.
That's why we've handpicked the 25 best WordPress themes for membership sites. Each one is fully responsive, so it'll look great on any device.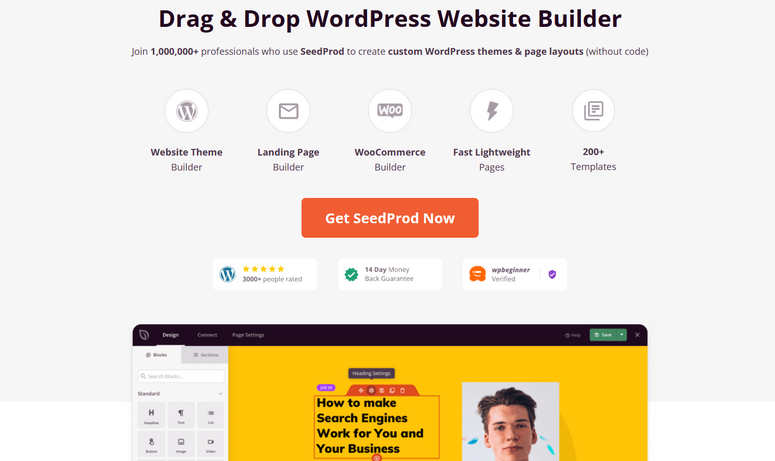 SeedProd is a game-changer for those looking to have complete control over how their membership site looks and functions. It's a powerful drag and drop theme builder plugin and landing page builder, all-in-one.
SeedProd comes shipped with complete theme kits. With these theme kits, you can give every page of your site a matching design in one click. 
There are also over 200+ professionally designed page templates to easily create custom login pages, checkout pages, sales pages, coming soon pages, and much more. Plus, it comes with a ton of ready-made page blocks you can add to your pages like email optins, countdown timers, testimonials, and pricing tables, just to name a few.
SeedProd also seamlessly integrates with MemberPress, the best membership plugin for WordPress.
Get Started with SeedProd Today!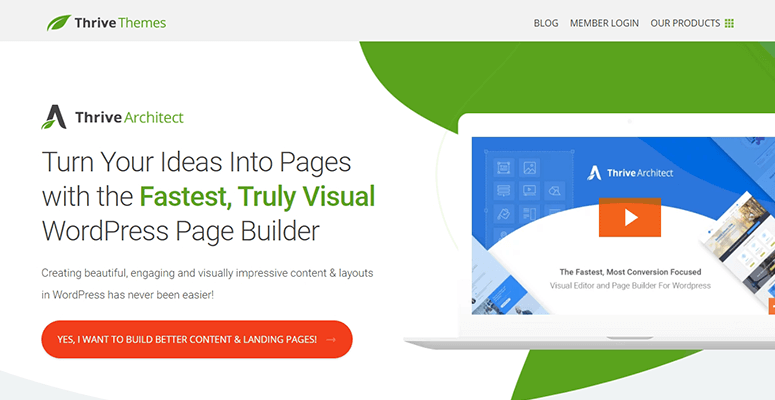 Thrive Themes is one of the most popular WordPress themes in the market that comes with a built-in theme builder.
You can choose from premade themes and templates to design a website you'll love. You can make a stunning website in the fastest time possible.
Thrive is not just a membership theme, it's a suite of powerful website tools to turn your website into a full-blown online business.
You can create a conversion-focused website complete with stunning landing pages, sign-up forms, evergreen marketing campaigns, online courses, quizzes, and more.
Get started with Thrive Themes!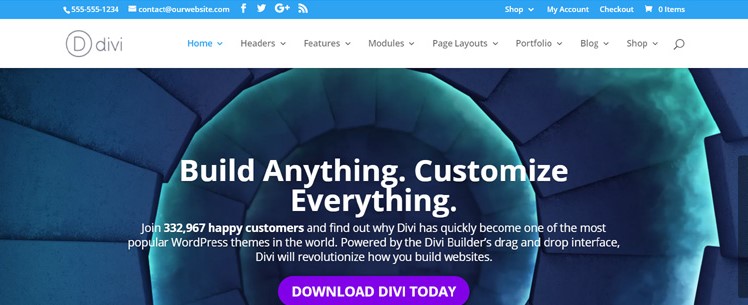 The first theme we're going to look at is a jack-of-all-trades theme called Divi. This intuitive theme is perfect for WordPress veterans and newbies alike with its collection of premade Divi theme layouts as well as the ability to build your own theme using their tools from the ground up. You should also check out the highly customizable Divi child themes.
Divi comes with a host of mix-and-match features, allowing you to freely dip into their 46 different elements, pick what you like, and customize them to fit your site and your brand.
The fast loading times and instant updates as you tweak and edit your website make this theme an excellent choice for those who want to try something brand new and give their membership site a custom feel in a short amount of time.
Read our complete Divi theme review.

Are you looking for a large collection of professional, handcrafted themes? If so, Themify Ultra is right up your alley! This premium responsive theme comes with a whopping 60 custom demos for you to choose from that will instantly spruce up your site. It also includes one-page WordPress theme demos.
The excitement doesn't end there! After you've picked a preselected layout you can go in and make it your own. There's nothing like being able to add your own touch to an already brilliant theme, and Themify Ultra allows you that freedom.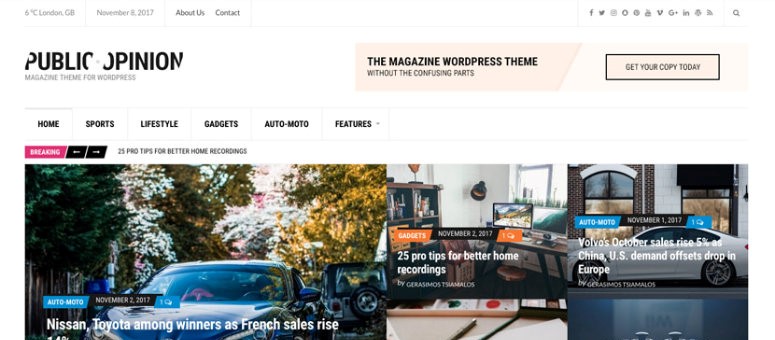 Public Opinion, as the name implies, is a WordPress magazine theme set designed for webmasters who have newspaper/magazine-themed web pages. The customization options are vast, giving you the chance to build your magazine brand from scratch.
You can choose from 30 different color options, use an array of layouts that match the style your readers enjoy, and it also gives you just the right amount of space to include advertisements for additional revenue and promotions.
Once you've finished your layout, you can add unique widgets based on the core design of your site. Finally, you'll get the option to add your own modules so it's truly a custom creation.
Get Started with Public Opinion Today!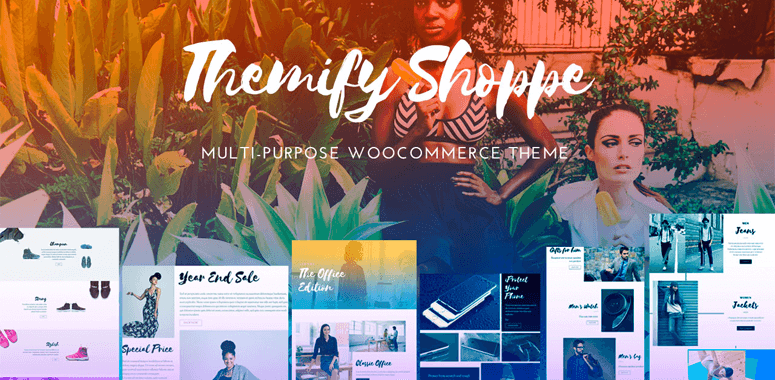 Setting up your first eCommerce website doesn't have to take a specialist when you have this amazing membership theme at your fingertips. They proudly boast that Themify Shoppe allows you to build your website shop and theme in mere minutes.
You can use Themify Shoppe to tailor your customer's experience and keep them coming back for more. It's a breeze to add things like a wish list, quick-look features, and even an Ajax cart for speedy checkouts.
Combine those amazing tools with the ability to tweak and build upon existing layouts, and it's no wonder why Themify Shoppe made it onto our list of the best WordPress themes for membership sites!
Get Started with Shoppe Today!

Themify Float is what some would call the "futuristic" version of the Themify's membership themes. The centerpiece is the ability to use parallax images throughout the design templates.
When you combine the flexible platform options with the varied header, footer, and panel options, you're left with all the tools you need for a stylish, custom theme.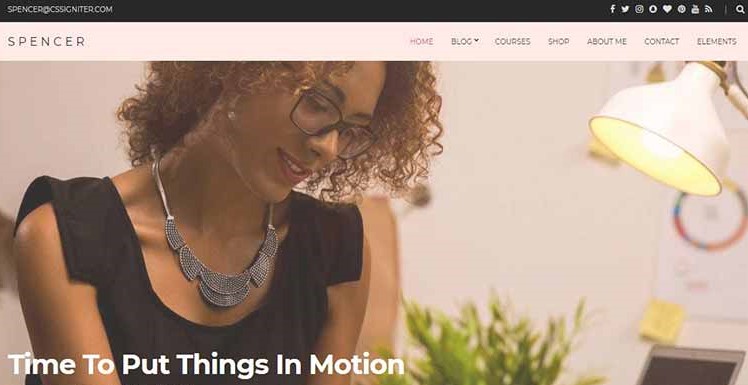 Spencer is a membership grade theme for WordPress that'll help you build an attractive, easy-to-use website while featuring powerful messages. You can customize your theme to match mobile and desktop screens seamlessly with an intuitive drag and drop interface.
It's a breeze to create a customized sticky menu that's always there and ready for your customers to use. Navigation has never been easier. You can also change the color and module locations for a website that perfectly fits your style.
The most attractive feature of this theme is the ability to deliver your call-to-action in a number of ways. You can use powerful widgets and tools to help boost conversions and turn your bounce rate around.
Get Started with Spencer Today!

Themify Elegant is a WordPress theme that allows you to take out all of the complex graphics and animations. This theme allows you to create a website that is simple and elegant.
The focus point of content with this theme is the text and singular pictures. You'll have no problem making all of that stuff look great. It's easy to create beautiful typography with wonderful-looking fonts that take advantage of whitespace on the page.
You can add your own portfolio, news blocks, and actual content with drag and drop modules for a one-of-a-kind look regardless of what type of membership website you're operating.
Get Started with Elegant Today!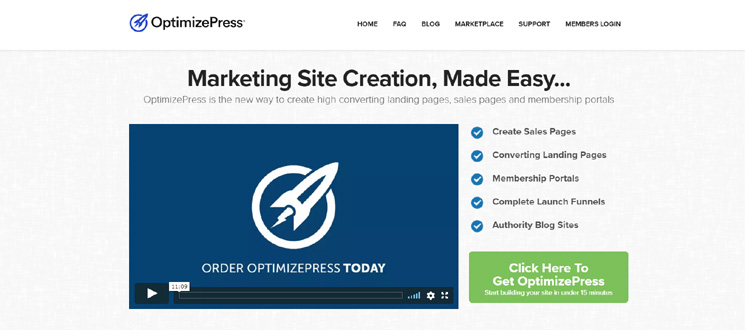 Looking for website conversions? If so, OptimizePress is designed to help you make the most of your business if you have an eCommerce store or work as an influencer.
OptimizePress boasts a stunning 300+ templates to choose from with the ability to make tweaks so you can feel confident that your website reflects your brand effectively. There're a number of ways that they allow you to create opt-ins that are designed to convert.
Add your own premium plugins to the theme to help build your lead lists and grow an effective brand footprint over time. Create easy options for your customers to sign up for your email newsletter and more!
To learn more, you can check our complete OptimizePress review!
Get Started with OptimizePress Today!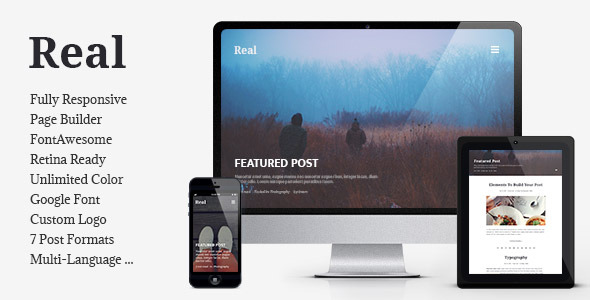 Real from Theme Forest is a fully-loaded WordPress theme that comes with a variety of great features designed to help you build a unique website. It comes with a page builder featuring 20 different modules you can simply drag and drop for your own customization.
Create your posts with regular text content, videos, images, galleries, and more. You can even gate off content to paid subscribers so they get a tangible bonus for signing up with your newsletter and website.
Installing Real with your current WordPress website is a breeze and the features included in this package truly make it a quality package for new business owners.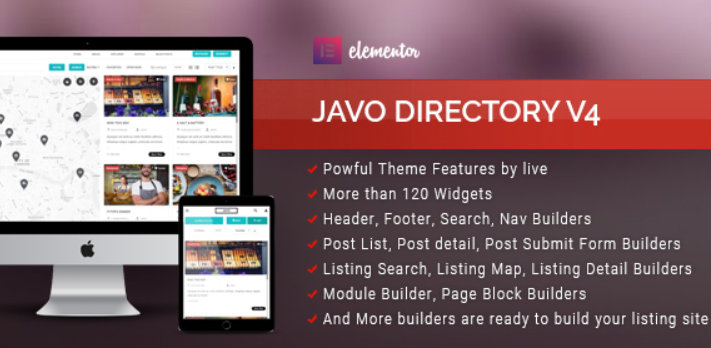 Javo is the perfect theme for those who want to build unique websites with a variety of options. It comes preloaded with over 110 widgets ranging between Java and Basic widgets, giving you full control over your page.
There are over 100+ templates included with this theme. Combine blocks and Java elements to build your page into something that not only attracts viewers but keeps them there too.
Build maps and listings for easy access to physical locations or places that work with your company. Create custom colors, markers, and notes to engage your audience with informative and eye-catching maps.

Whether you want to build an eCommerce site or an influencer brand page, Mesmerize was created to help you get more done in less time. It can also be used to create a website for mobile apps and software.
This extremely flexible theme comes with 5 different header types, 30 content boxes, plus the ability to add video, adjust gradients on your website, and much more. All of the customizing is done via an intuitive drag and drop feature that will have you creating your website in minutes, depending on your experience.
Get Started with Mesmerize Today!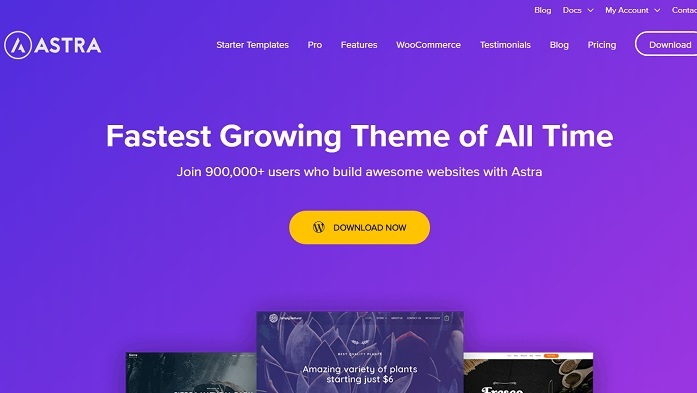 Astra allows you to create a professional-looking membership website. This theme comes with the flexible page builders like Elementor and Beaver Builder. This not only allows to create a website without coding but also helps in crafting creative landing pages.
It is 100% mobile responsive and is designed for performance and speed. On top of these amazing features, Astra provides amazing customer support which goes a long way in helping you design your dream website.

Building a content site without proper coding experience used to be a drag. Now, with PixelGrade Hive, you can easily craft your blogging website in minutes with a user-friendly interface, the ability to customize your home page so that it reads like an old-school newspaper, a magazine, or anything in between.
PixelGrade Hive works with new developers to help build intuitive websites with unique ways to list your content with columns, images, breaks, and more. You can take it a step further and use their wide range of fonts and colors for a clean, content-rich website in no time!

Interested in the world of Cryptocurrency? Blockchain is a theme that comes with a slew of tools to help you make a website based around virtually anything, but crypto-currency is their specialty.
How so? Well, out of the box Blockchain comes with an easy to use chart that lets you show and explain cryptocurrency rates as they change in real time. It's never been easier to post this information and keep your readers in the loop.
You can also use 7 different custom post types, add and customize unlimited color schemes, add custom widgets, and more.
Get Started with Blockchain Today!

BinderPro is a theme used by people who want to bring their idea for an online magazine to life. You don't need a degree or any coding experience, just the ability to use tools out of the box to turn your idea into a reality.
This theme works with a number of other premium plugins seamlessly, so you can get the full experience without sacrificing quality. Blend those plugins with BinderPro's module system and professional pre-loads that you can edit, and it's no wonder why people are using this theme to build their dream site.
Get Started with BinderPro Today!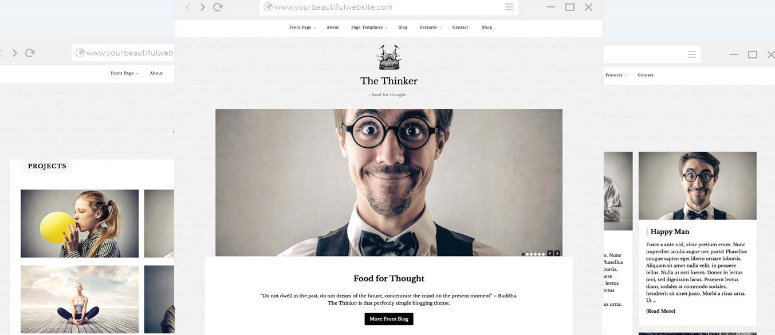 Design Thinker is a theme with one core idea behind it: ease of use. You won't find any flashy extras that require coding, but it offers a strong framework for new bloggers and entrepreneurs who want to get their foot into the door of the online community.
You'll find that Design Thinker includes SEO support right out of the box, so you won't have to spend countless hours worrying about whether or not you added in those keywords properly. The icing on the cake is the fact that this theme comes with an eCommerce option as well.
Whether you want to build a traditional blog with just content or an online shop, Design Thinker is an excellent starting premium theme.
Get Started with Design Thinker Today!

Noozbeat is a theme that gives you complete control of your new WordPress website. It starts with the layout. You'll get full access to a host of easy to use drop and drag tools that allow you to put modules with content exactly where you want them.
You can then tweak your homepage, header, and sidebars (including adding space for advertisers) to make your site stand out from other blog/magazine style websites on the internet.
Once you're done, go through and customize colors and fonts to create your brand, your way. If you want a premium easy to use theme, Noozbeat is a perfect choice.
Get Started with Noozbeat Today!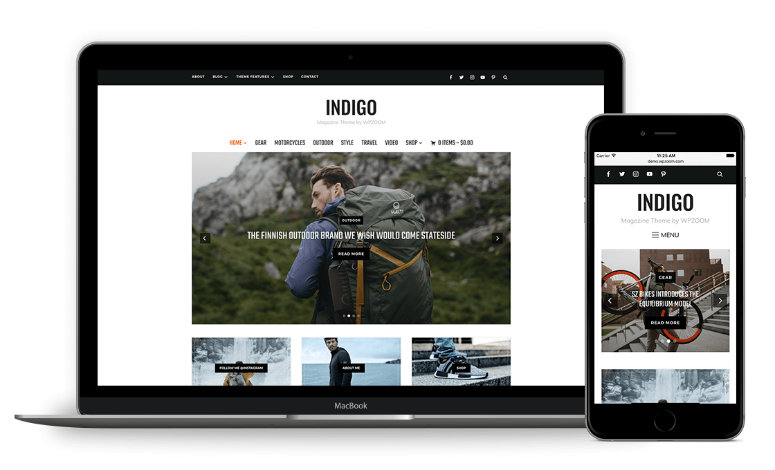 If you're looking for a website theme that fully supports your goal of having a successful eCommerce site, regardless of your niche, look no further than Indigo.
You can start selling products almost instantly from your website once you've created your own template, or use one of many professional looking templates included out of the box. It's never been easier to start your own online store, why not start today and see why most businesses are making the transition between brick and mortar and eCommerce.
Get Started with Indigo Today!

Do you have a story that you feel like you need to deliver to a greater audience? If so, Pixelgrade Silk is the premium theme you need for a silky-smooth, classy blog.
The site you build will be optimized for both speed and SEO, meaning you can rest easy knowing that you're drawing in an audience with your keywords, and they are having a quality experience on your website. Use the simple out of the box tools to create custom pages with expressive stories for the masses. You can even include widgets to make social sharing and newsletter conversions a breeze.

If your niche involves you finding jobs for others, we have what you need with the Specialty theme. This theme comes with a fully responsive layout that gives you access to all the tools you need to build a wonderful, professional job board.
You can add search features for those looking for specific jobs, create subcategories, upload stories to your blog, and more. Specialty gives you full control of your website without the use of complicated coding and micromanaging.
Get Started with Specialty Today!
That's a wrap! We hope this article helped you discover the best WordPress themes for membership sites.
To set up a successful membership site, you can follow our tutorial: How to Create a WordPress Membership Site.
You'll need a membership plugin for this and our top pick is MemberPress. You can also check out Wishlist and MemberMouse.
After creating your membership site, you may also want to check out the following guides:
These resources will help you market your membership site, generate leads, and increase signups and revenue.