Do you want to create advanced sliders with photos, videos, and other content? With the right WordPress slider plugin, you can go beyond the basics and create eye-catching sliders on your site. In this article, we'll compare some of the best WordPress slider plugins, and help you decide which one is the best option for your site.
1. Soliloquy

Soliloquy helps you to create beautiful responsive WordPress sliders easily.
Soliloquy is the fastest responsive slider plugin ever created for WordPress. It uses a hybrid technique called dynamic asynchronous ajax preloading for boosting performance and speed.
For more details, you can check out our Soliloquy review.
Pros
Free version: If you want to test Soliloquy before purchasing its premium version, you can install Soliloquy Lite from the official WordPress plugins repository.
Speed: In a WPBeginner test, Soliloquy was found to be about 2x faster than its competitors.
Lightweight plugin: Soliloquy is a lightweight plugin and puts user experience first. You can easily extend its features by installing the necessary addons on your site.
Beginner friendly: It comes with drag and drop responsive slider builder with an intuitive user interface. The intuitive design helps you to create a slider in just a few minutes even if you're an absolute beginner.
Cons
Advanced features aren't free: Soliloquy does require an investment if you need more advanced features and addons. However, if you don't want to compromise the speed of your WordPress site with a low priced plugin, Soliloquy is the best WordPress slider plugin for you.
2. Slider Revolution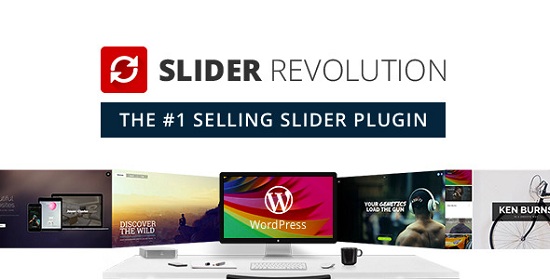 Slider Revolution is the best selling slider plugin in the CodeCanyon market. It's used on over a million sites and has got amazing user ratings of 4.7 out of 5. Since its first release in 2012, it has constantly been improved in terms of usability and features.
For more details, you can read our Slider Revolution review.
Pros
Visual editor: Its powerful visual editor allows you to create beautiful presentations.
Social feed support: The social feed support allows you to create sliders by automatically populating its content from your social media feed.
Addons: Once you purchas the product, you can access its free addons library to further enhance the capability of your sliders.
Cons
Usability: Slider Revolution has got all the essential features you need but oftentimes the vast amount of them can be confusing. To create a slider the way you want, you may need to spend a significant amount of time playing around with it.
Speed: Slider Revolution is not as fast as Soliloquy. It may slow down your site, in turn hurting your search rankings and user experience.
3. LayerSlider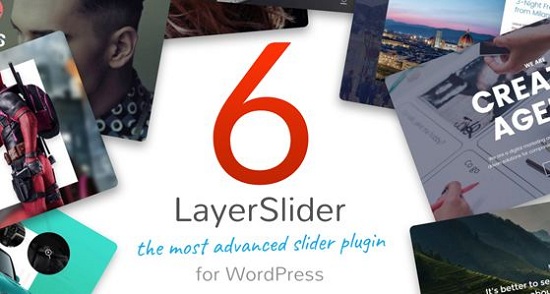 LayerSlider is another popular responsive slider in the CodeCanyon market. It offers more type of animations and transition effects. It also offers premium slider templates to choose from, so you don't always have to create sliders from scratch.
For more details, you can read our LayerSlider review.
Pros
Animate everything: It offers more than 200 mind-blowing transition effects. Beside sliders, you can use the plugin to create landing pages, animation page blocks, or even a full website.
Dynamic content: LayerSlider allows you to pull content dynamically from your WordPress site and build auto-updating news and display featured products from your ecommerce store.
Extensive documentation: Their extensive documentation contains lots of tutorials that help you to walk you through all of their features.
Cons
Complicated interface: Out of the box, the plugin offers too many features that may be too bloated for your needs. As a result, the user interface can be confusing for users, especially for beginners.
Performance: Performance is another drawback of  Layer Slider. Studies show that users will start abandoning your site if it takes more than 3 seconds to load. In terms of performance and speed, it is way behind Soliloquy.
4. Meta Slider

Meta Slider is a freemium WordPress plugin with 700,000+ active installs. It is developed by Matcha Labs, a digital agency that is specialized in WordPress and iOS development. Meta Slider has over 4 million downloads and has excellent user rating on WordPress.org. You can read our full Meta Slider review for more details.
Pros
Free: Just like Soliloquy, Meta Slider also has a free version. The free version includes 4 different slideshow types.
Easy to use: Meta Slider is a simple plugin. Even though its user interface is not well designed, it is much better than Slider Revolution or LayerSlider in terms of usability.
Cons
Slideshow types are similar: Although it offers 4 different slideshow types, all of them are very similar in terms of design.
Poor documentation: The documentation gives you just a basic overview of what you can do with the plugin. It doesn't give any details or examples of different slideshow types.
Which is the Best Slider Plugin for WordPress?
Undoubtedly, Soliloquy is the best WordPress slider plugin out there. In fact, it offers everything you need to create beautiful slides without compromising on speed and performance of your site.
Both Slider Revolution and LayerSlider are feature-rich, but their user interface can confuse beginners when they're just starting out.
If you're looking for a free plugin to get started with, Soliloquy Lite can be a good choice. Unlike Meta Slider, Soliloquy has an extensive documentation, which is an added advantage. You can always purchase its premium version whenever you feel like.
We hope this guide helped you to choose the best WordPress slider plugin for your site.