Are you looking for a WordPress magazine theme for your site? The Poseidon theme is a free WordPress theme available in the WordPress repository that is best suited for blogs, news portals or any other online publications. In this Poseidon review, we'll explain its features and help you decide if it is the best theme for your needs.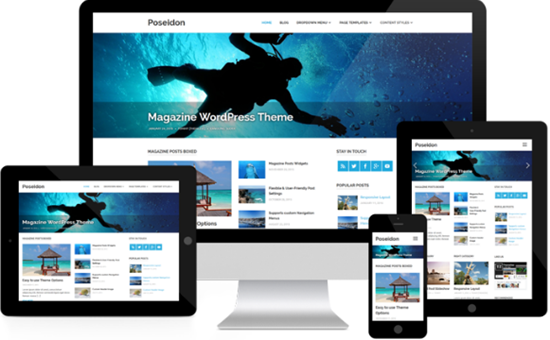 About Poseidon
Poseidon is an easy to use WordPress magazine theme that is perfectly suited for online magazines, news portals or personal blogs.
The theme is released by ThemeZee, a German online premium theme shop founded by Thomas Weichselbaumer.
ThemeZee is focused on creating and supporting various WordPress magazine themes. They've released 40 free WordPress themes in the official WordPress repository.
Features of Poseidon
Poseidon is a light-weight WordPress magazine theme that is optimized for speed and performance. It supports a magazine-styled homepage and lets you create a featured post slider with ease.
Let's take a look at some of its features below.
100% Responsive Theme
The Poseidon theme gives you a completely responsive layout for your site that works great on any device regardless of its screen size.
Create a Custom Homepage Easily
With most magazine themes, customizing the homepage can be a tedious task. However, with Poseidon, you can create a magazine-styled homepage in just seconds. This is because Poseidon makes use of the widgets option to customize the homepage area. Even if you're an absolute beginner, you can easily alter the look and feel of your homepage without any hassle.
Poseidon offers the following custom widgets.
To create a custom magazine-styled homepage, you just need to add these widgets to your Magazine Homepage section.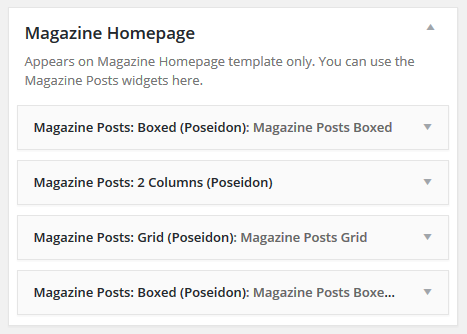 Customize Everything on Customizer
Poseidon doesn't create a dedicated sidebar tab for theme customization on your WordPress dashboard. It uses the default theme customizer option for configuring all the theme settings.
You can find Theme Options by navigating to Appearance » Customize » Theme Options. In Theme Options, you can configure General Settings, Post Settings and Post Slider.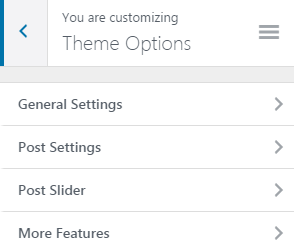 If you want additional customization features, you'll need to get the pro addon. The pro addon gives you advanced customization options such as custom colors, custom fonts, footer widgets, footer navigation, top navigation, and social icon menus.
Post Slideshow
Poseidon allows you to create a beautiful slideshow on your site that helps you feature the most important content. To set the slider, go to Appearance » Customize » Theme Options » Post Slider. You can customize slider speed, choose a specific category for your slider, set the number of slider posts and slider animation effects.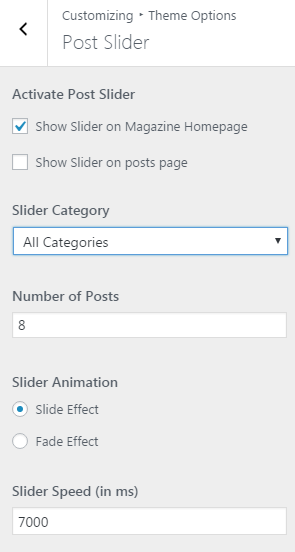 Recommended plugins
The Poseidon theme recommends you to install three plugins on your site. They are…
Custom Archive Titles: A simple plugin to adjust the default texts of archive titles on your site.
WP Theme Changelogs: It allows you to view the changelog before updating a theme.
ThemeZee Toolkit: It includes modules for widgets visibility, header and footer scripts, custom CSS, gallery carousel and infinite scroll support.
Navigation Menu
The free version of Poseidon supports a single menu on your site. With the custom menu widget, you can add navigation menus to your WordPress sidebar.
With the pro version, along with the top navigation menu, you can add social icon menus as well.
5 Beautiful Page Templates
With Poseidon, you can use 5 different page templates on your site.
Default: Template with right sidebar
Magazine Homepage: The homepage template
Full-width Template: Template without a sidebar
Post Slider Template: Template with sidebar and post slider
Featured Image Header: Template with sidebar and featured image header.
The minimum size of featured images must be 1920 x 480 px.
If your existing posts are already using featured images, you'll need to regenerate thumbnails or the image may look distorted.
Documentation and Support
Unlike most free WordPress themes, Poseidon has extensive documentation that guides you on every aspect of theme usage, whether it is installing the theme or implementing different theme functionalities on your site.
Every step is beautifully described with necessary screenshots, so you can easily scan through the tutorials.
Since it is a free theme, its developer doesn't offer support via emails. All support questions must be posted on WordPress.org forums. It seems like they are very fast in resolving support requests in WordPress.org forums, but the support is not guaranteed since it is a free theme.
You can extend the customization features by purchasing the pro version. Poseidon Pro is an addon plugin that adds advanced customization settings for your theme. By purchasing the pro version, you'll also get access to  WP 1o1 video tutorials that teach you the basics of WordPress core.
The pricing for the pro version starts from €59, which is approximately $70 excluding VAT.
Our Score
Poseidon is one of the best free WordPress magazine themes available in the official WordPress theme directory. You can easily build a website similar to the demo site. You can configure the settings by using the theme customizer and custom widgets.
Poseidon could be a great fit for you if you're looking for a magazine-styled theme for your news portal, online publications or personal blogs.
We give Poseidon 4.6 out of 5 stars. Here is the breakdown of our review scores:
Get Poseidon Now »