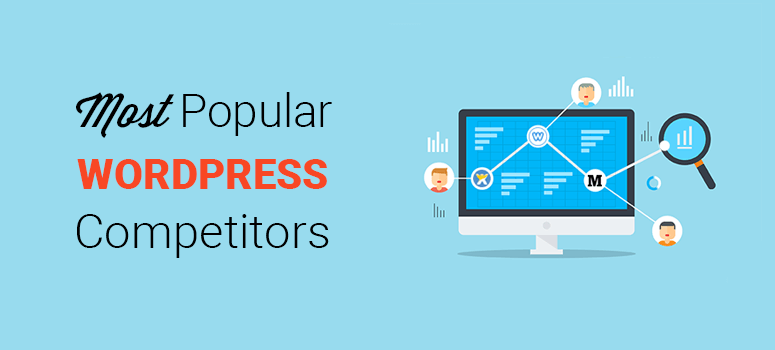 Are you looking for an alternative to WordPress? There're many website building solutions on the market. And although WordPress is the most popular solution, and it's the simplest to use, we understand the need to check out every option before making a final decision.
In this article, we'll introduce you to the most popular WordPress competitors you can use as an alternative to WordPress.
Why You Should Check Out WordPress Competitors / Alternatives
Many top brands use WordPress actively for their websites. It has a market share of 32% which means every 3rd website in the world is built on WordPress.
By WordPress, we mean WordPress.org, which is a self-hosted solution. You should check out our article on the difference between WordPress.com vs WordPress.org for more details.
So, why you should look for an alternative? Well, there're still many other solutions on the market that you can use to create a website or blog. These platforms aren't as popular as WordPress, but they each have their own unique features and functionalities that may appeal to your specific needs.
Related: WordPress Review: MUST Read Before Launching a Site.
If you started your website with WordPress and never used any other solution, then you should also check out these solutions to see how they're different from WordPress. We're not suggesting you migrate your websites, but it's always good to have additional knowledge at your disposal. Either this article will validate your decision to use WordPress, or you'll find something more suitable: either way, you win!
Let's take a look at the popular WordPress competitors.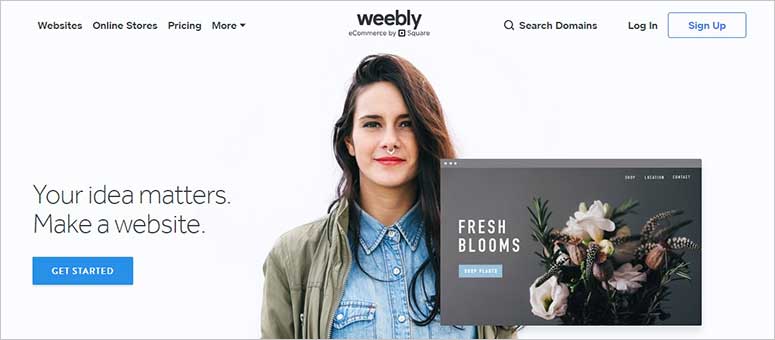 Weebly is a hosted platform. It has a simple drag and drop builder for beginners to quickly set up a site. Weebly has interactive themes, custom fonts, parallax backgrounds, an image editor, and more.
You can also use Weebly to create an online store. It has an eCommerce builder that can be used to launch your shop easily. Weebly's basic plan is free to start, but you'll need to upgrade to their premium plans for more features.
If you're already using Weebly and looking for more features, then check out this article on how to move your website from Weebly to WordPress.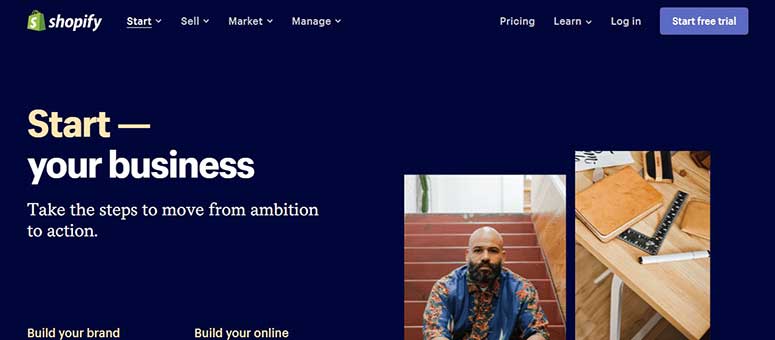 As the name suggests, Shopify is an eCommerce solution. It's comparable to WooCommerce, the most popular WordPress-based platform used to create an online store. Shopify is a simple, easy solution to launch your business on the internet.
It works with all the popular payment solutions to accept online payments. You can add your products and sell them online easily with Shopify. It comes with built-in themes, paid extensions, integrations, and apps.
We recommend you read this article on Shopify vs WooCommerce to get expert insights into the best eCommerce solution on the market.
Also, you may want to check out our complete list of Shopify alternatives and competitors.
Read our complete Shopify review.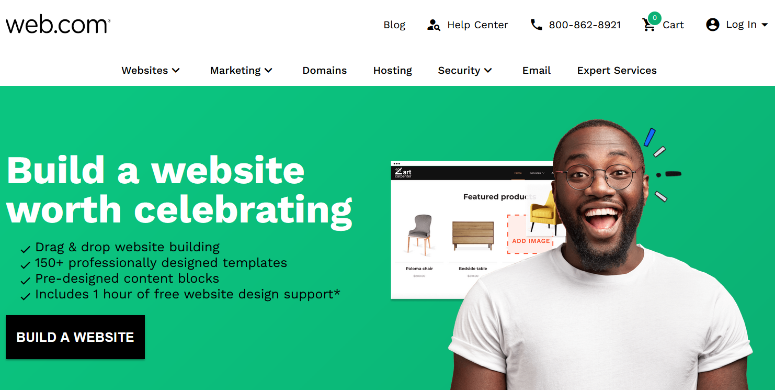 Web.com is a popular website builder for small businesses. Since 1999, Web.com has helped over 3 million customers easily build a website at an affordable price. It comes with a user-friendly drag and drop builder, 150+ beautiful website templates, and pre-designed content blocks to get you started quickly.
It has everything you need to build a DIY website including a custom domain name, built-in hosting, business email address, SEO tools, website analytics, and more.
You can also use Web.com to create a small online store with up to 50 products. It offers eCommerce tools like a built-in shopping cart and inventory and stock controls.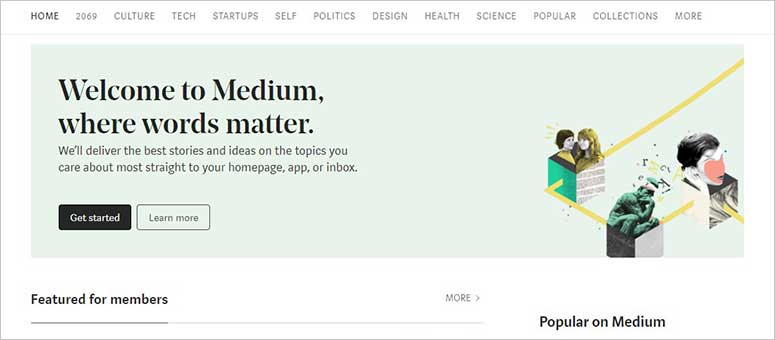 Medium is commonly known among story writers and bloggers. It can also work well as a secondary platform for those bloggers who're running their own blogs on other platforms or writing for multiple blogs. The primary focus of Medium is to build a writer's community and share their amazing content with readers.
It's a modern, responsive publishing platform. There're no templates or extensions which means you'll be forced to use the given design as-is. However, Medium is fully optimized and works great on any screen size. They offer inline notes and responses instead of comments.
Medium is a fully hosted solution which means you don't need to worry about web hosting and bandwidth. For publishers, offer custom domain names to let the users select their own domain for their blog.
If you're already using Medium and want to move to a better platform, then check out our guide on switching from Medium to WordPress.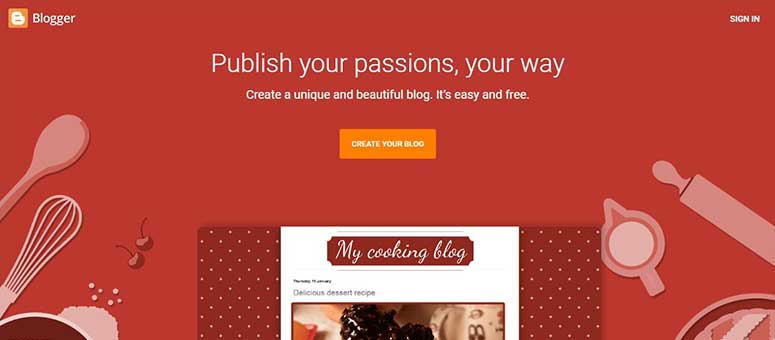 The name tells you everything you can expect from this platform. Many bloggers around the world started their writing careers with Blogger. It's a free solution that's powered by Google.
You should check out our article on Blogger vs WordPress to learn the primary differences between the 2 most popular blogging platforms.
However, if you're already using Blogger and have grown tired of their editor, then you can easily move your blog from Blogger to WordPress.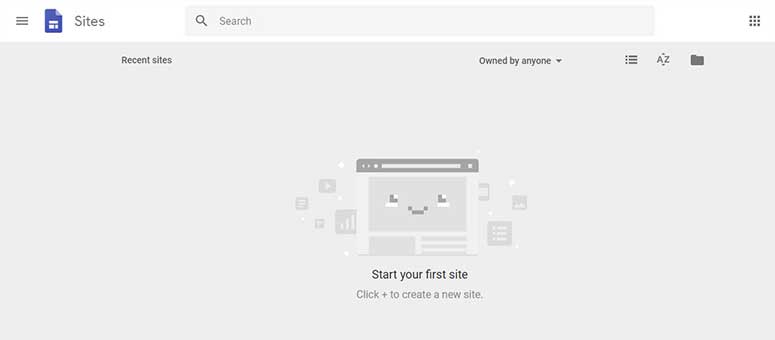 Google Sites is a product of Google. It's a simple solution with fewer options. It isn't a direct competitor to WordPress or other content management systems, but it can be considered an alternative to Weebly, Squarespace, Wix, etc.
It allows you to use a custom domain name for your website. There's no need to add any hosting solution with it. Google Sites is great for small scale websites and blogs.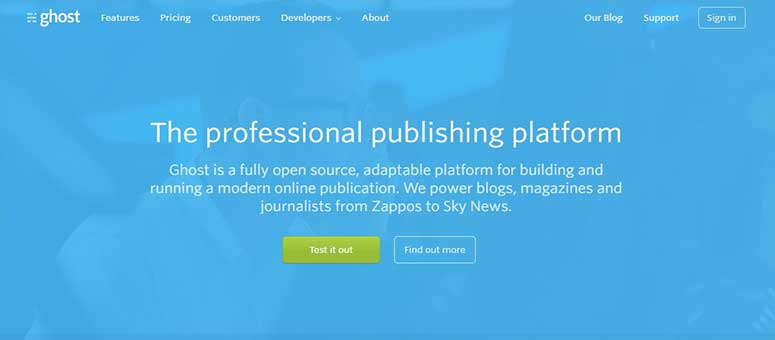 Ghost is a simple blogging platform primarily focused on helping bloggers by giving them an easy-to-use solution. Like many other blogging sites, Ghost don't offer a large list of features. It's based on NodeJS, and they consistently try to improve their editor for the writers using their platform.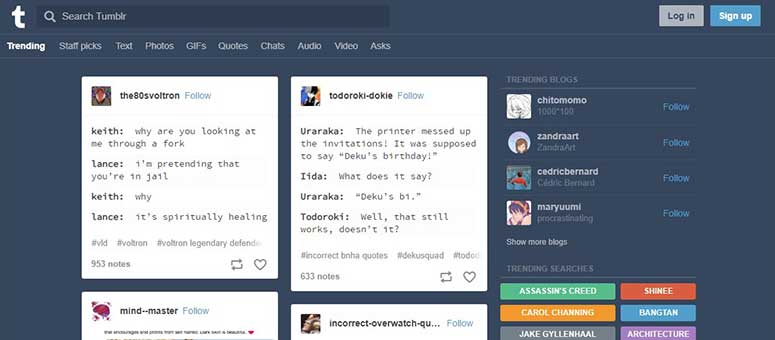 Tumblr is an excellent platform for socially motivated bloggers. It offers themes and templates for customization. Being a hosted solution, it enables you to focus on the writing and design of your blog. Tumblr allows custom domain names and it can be used to create pages. The combination of social media and blogging makes it unique when compared to other solutions.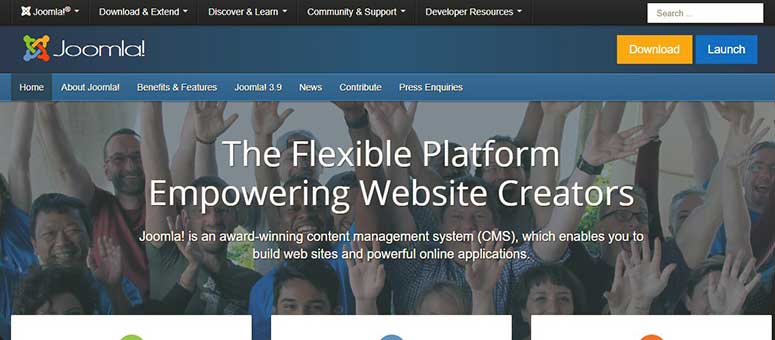 Joomla is one of the oldest and most popular website builders on the market. It's an open source software and works via the support of its community. Many developers and advanced web users prefer Joomla for website production. It can be used to create any kind of website and offers an advanced administration panel to users.
You can fully customize Joomla using their premium extensions and web themes. This CMS software has more features than any other content management system. Joomla is available on many web hosting panels with a 1-click installation option.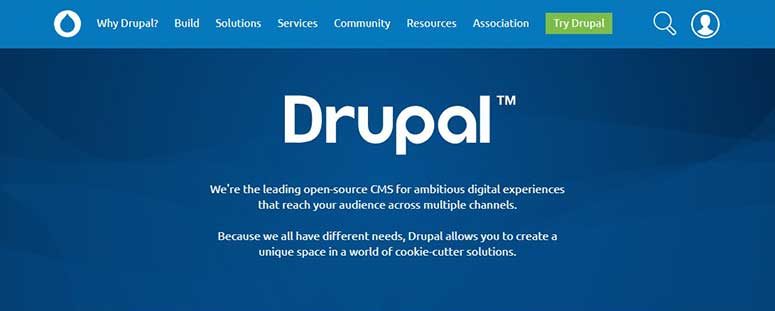 Drupal is one of the most popular content management system and website building solutions. Drupal has a market share of 2.1% of all websites in the world. It has a strong foundation and is used by many top government and private agencies for their websites.
Just like WordPress, you'll need a domain name and web hosting to launch Drupal. Though it's not as easy as WordPress for beginners. The administration panel is difficult to manage and has a steep learning curve. You'll need training and help to learn Drupal which makes it unappealing for most startups.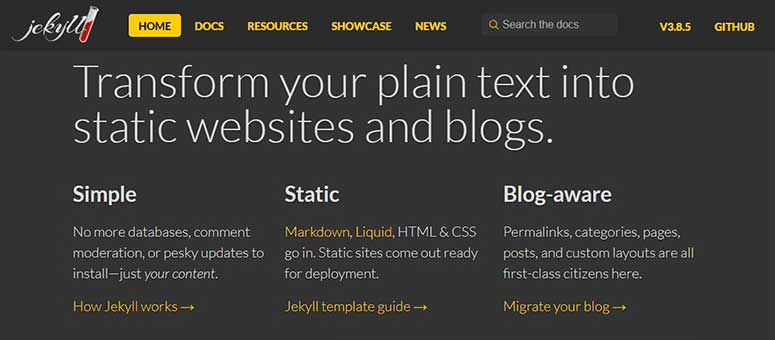 Jekyll is a Ruby and NodeJS-based website builder. Since the technology is different and catered to more advanced users, you'll need to study up before you can create pages and add content. It has no database and the web pages are built on static HTML.
If you have knowledge of modern programming languages and software systems like Markdown, Git, Ruby, etc., then this platform is for you. It has free hosting offered by GitHub Pages. Jekyll is the solution of choice for advanced developers and programmers.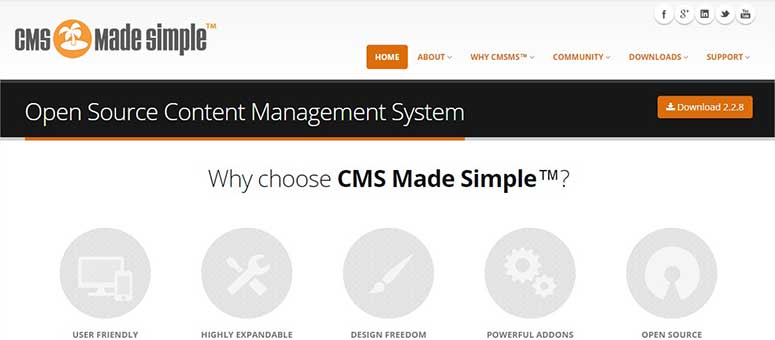 CMS Made Simple lives up to their name. This content management system is fully open source (using PHP and MySQL) and is similar to the other popular blogging platforms, like WordPress.
It offers all the customization tools, themes, extensions, and documentation to start a blog that you need. The guidelines on the blogging site make it even simpler for beginners to quickly launch their blog.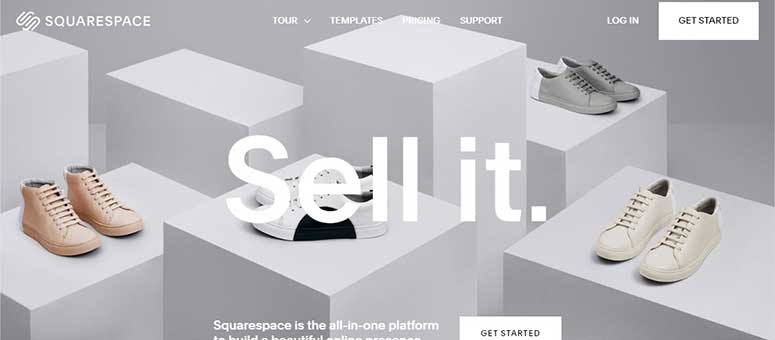 Squarespace is a hosted platform. It's popular among website building solutions like WordPress, Joomla, and others. Squarespace is a premium solution and comes with built-in web templates for the customization of your blog.
You should check out our article on Squarespace vs WordPress for an in depth comparison between the 2 platforms. If you're using Squarespace and want to try something new, then follow our guide to easily switch from Squarespace to WordPress. We bet it'll worth the move!
Don't miss out to check these best Squarespace alternatives.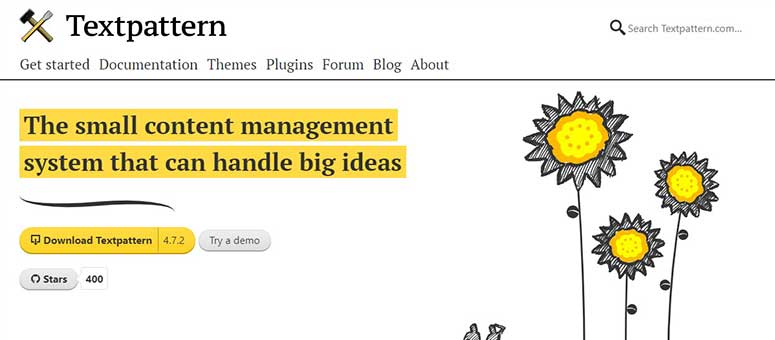 Textpattern is a simple blogging solution. It's not as popular as WordPress or Joomla, but the usage is similar to any other website building platform. Textpattern is easy-to-use and manage for beginners.
Along with other standard features, it has a ready-to-use comment solution and shows statistics inside the dashboard. It uses HTML pages to display your text.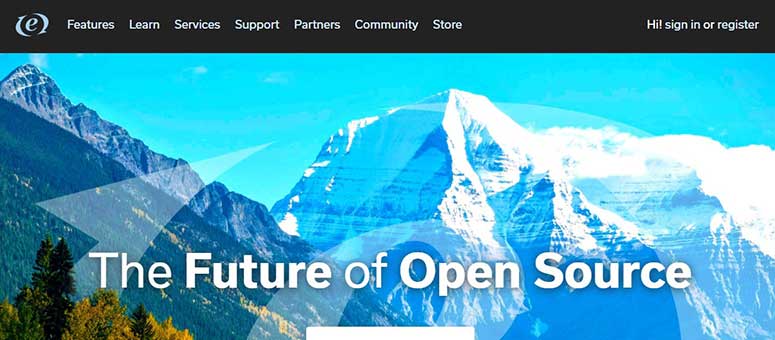 Expression Engine is a premium website builder. This platform works with a combination of PHP and MySQL. It has a free plan to start your site, but all the addons and extensions are paid. You'll need to invest time and money to build a proper website with Expression Engine. It also has a license fee to launch a website or blog.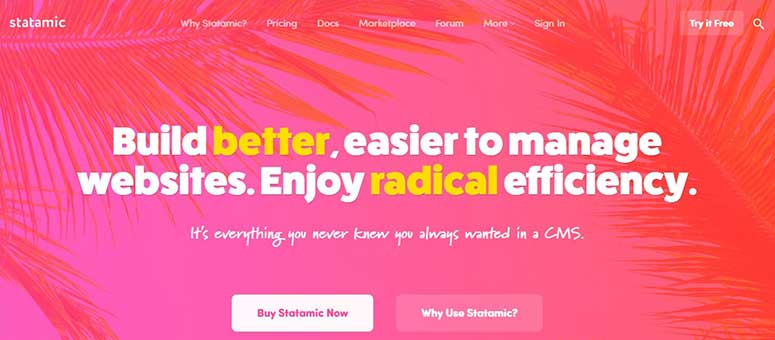 Statamic is a powerful website builder with advanced technologies running in the background. It's usually chosen by technical users who know the processes and want to explore the full possibilities of a CMS software. Statamic creates pages for users with the help of PHP, Markdown, and YAML which is why it's different from other solutions.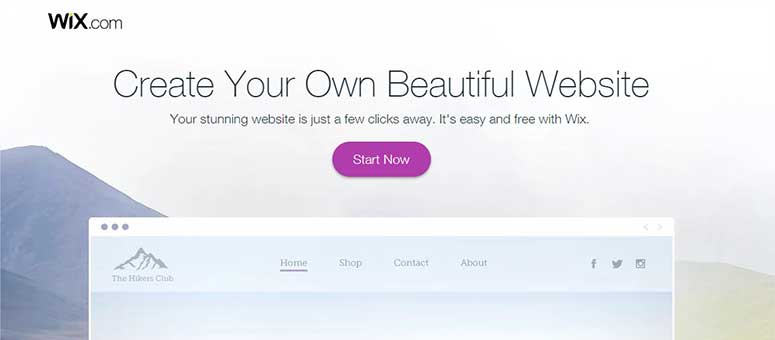 Wix is a simple website builder and a hosted solution. It's used by many beginners who want to start their website quickly. You can use their drag and drop builder to add features, images, and content on your website.
In addition to a traditional website, you can also create a blog or online shop using Wix. For an online store, you'll need to purchase their premium version. The premium plans enable you to integrate online payment solutions like PayPal, authorize.net, etc.
You should check out our article on Wix vs WordPress to read the full comparison. Furthermore, you can take a look at this Wix review to learn more about the features and functionalities of this platform in depth.
If you're a Wix user and not happy with the limitations, then we recommend you switch from Wix to WordPress. For more options, check out our article on Wix alternatives and competitors.
We hope this article helped you learn about WordPress' competitors. If you liked this article, then we also recommend you check out this guide on 100+ interesting WordPress stats and facts and some of the top reasons why you should use WordPress.