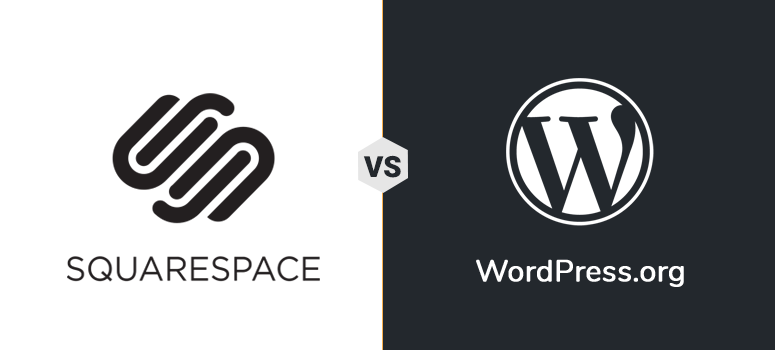 Want to know the differences between Squarespace and WordPress?
Squarespace is an easy-to-use page builder whereas WordPress is a fully-fledged publishing platform. If you're confused about choosing between Squarespace and WordPress, then you're in the right place. In this article, we'll do a head-to-head comparison between Squarespace vs. WordPress. We'll also help you decide which platform is best suited for your needs.
Ease of Use
Both WordPress and Squarespace make it easy for users to build a website without knowing HTML, CSS, or any other code. Let's see which one outperforms the other when it comes to ease of use.
WordPress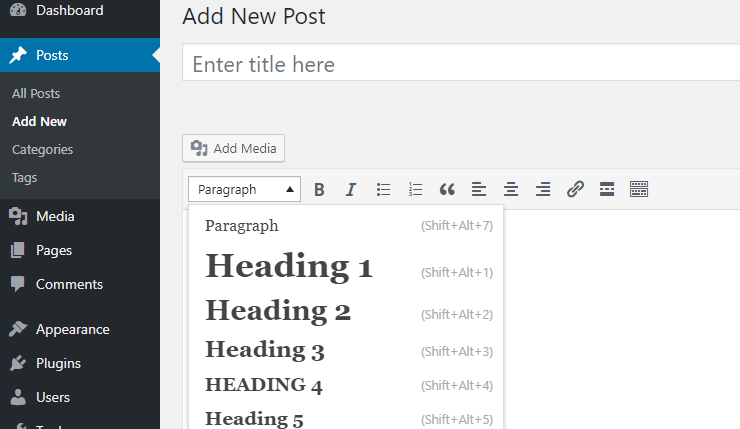 WordPress comes with an easy-to-use interface that allows anyone to build a website without hassle. However, you'll still need to familiarize yourself with various WordPress terminologies. You'll also need to understand the differences between posts vs. pages, categories vs. tags, etc.
If you've never built a website before, then familiarizing yourself with WordPress is a bit of learning curve.
Unlike Squarespace, WordPress isn't shipped with a drag and drop page builder. However, if you want, then you can easily add a drag and drop builder by simply installing a plugin on WordPress.
Squarespace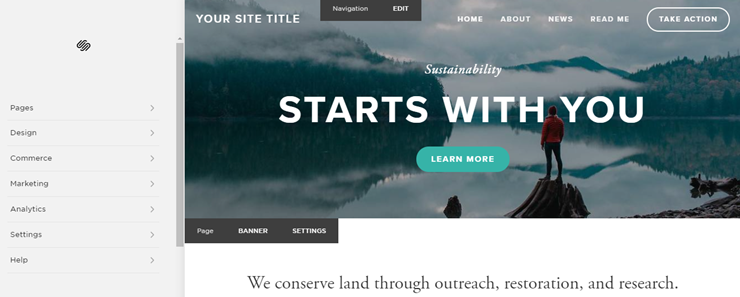 The main feature of Squarespace is its easy-to-use interface. They heavily emphasize the convenience their platform provides to build a website.
Squarespace's Style Editor comes with hundreds of customizable settings, including fonts, colors, and other configurations. To make your website look unique, Squarespace allows you to install multiple templates onto a single website.
Each design is built with customizable content areas, so you can build your website the way you want. Squarespace also includes a curated set of fonts from Google Library. They've also partnered with Typekit to give you an extensive selection of free fonts.
Ease of Use – Squarespace vs. WordPress
Squarespace is the winner in terms of usability.
If you're looking for an all-in-one page builder that comes bundled with all the desirable features to quickly build a website, Squarespace might be a good fit.
WordPress, on the other hand, is a highly-flexible publishing platform. While it's not shipped with a drag and drop builder, it's easy to integrate a builder into your dashboard by installing the right WordPress page builder plugin. Once you've installed a page builder, you can create a WordPress website using the drag and drop functionality.
Cost
Your budget is another important factor you need to consider when choosing a publishing platform. Let's take a look at how much it will cost to build a website on both Squarespace and WordPress.
WordPress
WordPress is a 100% free (open source) software. WordPress not only is free to download, but you can make any changes on it to match your unique requirements.
Just like all websites, you need to own a domain name to start a WordPress site.
A domain name is the address of your website on the internet, like Google.com or IsItWP.com. It's what your visitors type into their browsers to access your website.
In addition, you also need to purchase web hosting to store your content and files of your website. WordPress should be installed on your web hosting account. Once WordPress is set up, you can start building your site from the ground up.
To build a small website, you only need to have a budget for the domain name and web hosting. A domain name usually costs around $14.99 per year and web hosting around $7.99 per month. Altogether, starting a site will cost you as low as $110.87 annually.
The combined cost of domain name and hosting may be quite expensive for you, especially if you're just starting out.
That's why we've worked out a deal with Bluehost to offer our users a free domain name, free SSL, and over 60% off on WordPress hosting.
Squarespace
Unlike many other page builders, Squarespace doesn't offer a free plan for building a website. Their cheapest plan is Personal, which costs you $12 per month if you bill annually or $16 per month if you bill on a monthly basis.
The Personal plan provides you with only the basic features such as website metrics, SSL, security, etc. If you need to integrate an eCommerce storefront, add JavaScript and CSS, add popups, etc. on your Squarespace site, then you'll have to upgrade to a higher plan.
The Personal plan will cost you $144 annually. You can waive off the domain registration fee for the first year. After the first year, you'll have to renew your domain name for $14.99 per year. That means, even if you opt for the cheapest plan, then it will cost around $159 per year to build a site on Squarespace.
Cost – Squarespace vs. WordPress
When it comes to pricing, WordPress is the clear winner. Starting a website is not only cheaper on WordPress, but it also comes with all the features you'll ever need to build and grow your website. By leveraging the extensive collection of free plugins in the repository, you can easily enhance the functionalities of your WordPress site.
Conversely, with Squarespace, the cheapest plan only offers basic features like website metrics. You're not even allowed to integrate a third-party scripts into Squarespace. In case you need advanced functionalities, then you'll have to upgrade to one of their more expensive plans.
Features
Let's compare the features of both WordPress and Squarespace.
WordPress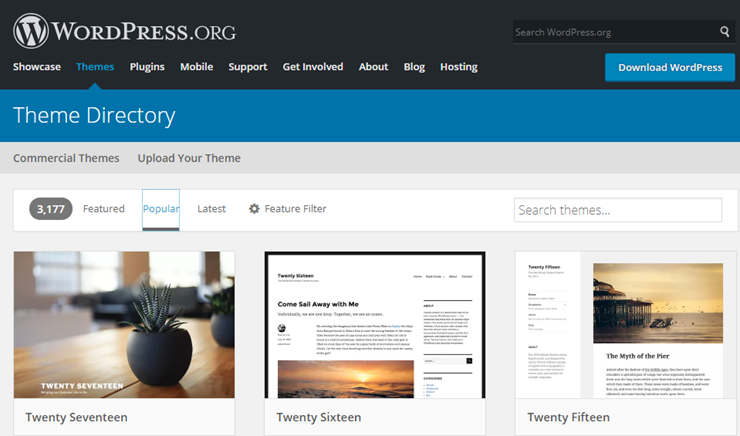 WordPress is a fully-fledged website builder that enables you to build any type of website easily. Out of the box, WordPress comes with all the necessary features to build your website. It's also shipped with a free responsive WordPress theme, which looks great on all devices and modern browsers. To change the appearance of your website, all you have to do is find the right WordPress theme from the free WordPress directory and install it.
Alternatively, you can also use a custom-built WordPress theme or a premium ready-made theme from your favorite theme vendor.
Enhancing your WordPress website with additional features is as easy as installing and activating a plugin. There are thousands of free plugins available in the plugin repository. Below are some free WordPress plugins that you'll find useful for your site:
WPForms – It adds a contact form builder in WordPress
MonsterInsights – It enables you to easily install Google Analytics in WordPress
WooCommerce – It integrates an eCommerce storefront into WordPress
Squarespace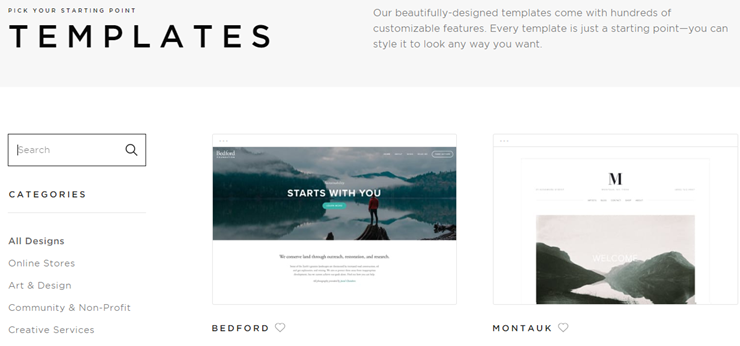 Compared to WordPress, Squarespace gives you only a limited number of templates to choose from. However, even though the selection is limited, all the templates provided are responsive, meaning your site will look great on all devices. Custom CSS templates can be added to any template via their custom CSS editor. To create a custom look to your design, you can easily add or remove content blocks in your template.
To add advanced features like storefront integration, popups, etc., you'll have to upgrade to any of the costlier Squarespace plans.
Features – Squarespace vs. WordPress
If you need a fully-fledged online publishing platform, then WordPress is the best choice for you. WordPress is a lightweight publishing platform that isn't bloated with too many features out of the box. Adding more features is as easy as installing a plugin. Similarly, you can also find an exhaustive collection of free and premium WordPress themes on the web.
Squarespace becomes expensive if you want to add more premium functionalities to your site. Plus it doesn't support any third-party integration with your site.
eCommerce Integration
Both WordPress and Squarespace allow you to integrate a storefront onto your website. Let's see how both platforms differ in terms of eCommerce integration.
WordPress
You can find easily dozens of plugins that let you easily integrate an eCommerce storefront into your WordPress site. The most popular eCommerce plugin for WordPress is WooCommerce. Currently, it powers over 28% of all online stores.
WooCommerce gives you complete control to sell digital or physical goods online. You can also find hundreds of free and paid WooCommerce extensions to enhance your store's functionalities.
Below are some alternatives to WooCommerce:
WP eCommerce: It's another fully-fledged eCommerce solution for WordPress
Easy Digital Downloads: It's a lightweight plugin for adding a digital storefront
Squarespace
Squarespace only offers basic eCommerce functionalities on your site. To add a storefront, you'll have to upgrade to the expensive Business or higher plans. With the Business plan, you'll have to pay 3% transaction fee for all sales. To get rid of the transaction fee, you're forced to upgrade to an expensive plan.
eCommerce Integration – Squarespace vs. WordPress
As an eCommerce platform, WordPress stays ahead of the curve. Running an online store is cheaper on WordPress compared to Squarespace. Plus, it offers more features than Squarespace. With a plugin like WooCommerce, you can build a fully-fledged online store on WordPress.
Ease of Migration
One of the important factors you need to consider when choosing a publishing platform is that how easily you can migrate your content to other platforms. A good publishing platform comes with an easy-to-use export tool that helps you easily move your content to any other platform.
WordPress
WordPress is shipped with an export tool that helps you easily export all your data. Besides your content, you can export your themes, plugins, and even the entire WordPress install.
Squarespace
The built-in export tool feature in Squarespace is limited. You can only export certain parts of your content in an XML file. This includes your pages, galleries, and one blog page with all its posts.
You can't export your product pages, album pages, text, audio, and video blocks.
Ease of Migration — Squarespace vs. WordPress
Squarespace offers limited export functionality whereas WordPress enables you to migrate all your data to other platforms easily.
Don't miss out these Squarespace alternatives.
Squarespace vs. WordPress: Which One Is the Right Choice?
From our comparison, it's clear that WordPress is far more superior to Squarespace.
Squarespace might be a good fit for users who need an easy-to-use page builder to quickly create a website. In all other aspects, WordPress outperforms Squarespace. Check out our step by step guide on switching from Squarespace to WordPress
If you're looking to build a website, then we highly recommend you to start on WordPress. To get started with a WordPress site, you can read our guide on how to build a website from scratch using WordPress.
If you enjoyed this article, you may also want to check out the actual cost of building a website.