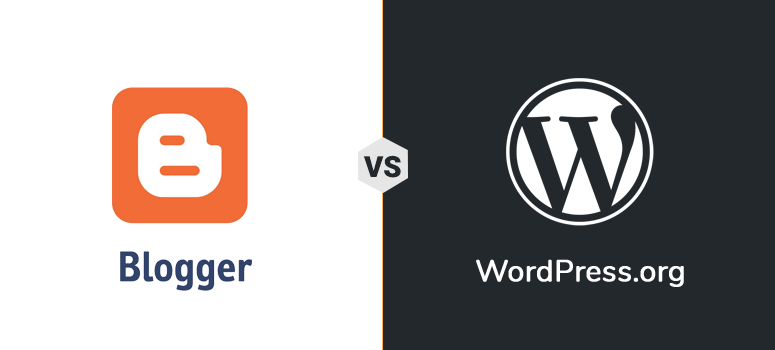 Looking for the perfect platform to start a blog?
If you did some online research, or asked someone with blogging expertise, the suggestions were probably to start with WordPress or Blogger.
Choosing the right platform can be tedious because WordPress and Blogger are among the most popular blogging platforms in use today.
In this article, we will discuss Blogger vs. WordPress thoroughly in terms of their features, ease of use, design options, strengths, weaknesses, and more.
The WordPress vs. Blogger comparison is split up into 10 sections:
1. Overview: WordPress and Blogger as Blogging Platforms
What Is WordPress?

WordPress is the most popular content management system (CMS) in use today and powers over 30% of all websites online. It is an open source / free software that facilitates creating, editing, organizing, and publishing content.
You need a hosting server and domain name to create a WordPress blog. Web hosting is where people store the content and files of their blog, and a domain name is the address of your blog on the internet, like IsItWP.com or Google.com. When you type your domain name into browser's address bar, you'll then be directed to the hosting server where your website is hosted and your website will be shown.
Note: This comparison is between self-hosted WordPress (WordPress.org) and Blogger. If you want to know the difference between the two WordPress flavors, here is our comparison of WordPress.com vs. WordPress.org.
What Is Blogger?

Blogger is a basic blogging platform where you can add content and publish. With Blogger, you can publish free blogs using the blogspot.com sub-domain. Google bought Blogger in 2003 and rebranded it as the Blogger we know today.
With Blogger, your blog is hosted on their servers, so you don't need to find a hosting company. You don't even need a domain name if you'd prefer to use blogspot sub-domain for your blog. For instance, your blog's name on Blogger would be like example.blogspot.com.
2. Ease of Use
Ease of Use – WordPress
The first and foremost thing people love about WordPress is its simplicity.
To start a blog on WordPress, you need to purchase a WordPress hosting plan and a domain name. Then, you install WordPress on your hosting server and connect your domain to it. That's all it takes to set up a blog on WordPress.
After your blog goes live, you can start publishing articles. While a default theme is pre-installed on WordPress, you can change that theme and customize the appearance of your blog by installing the WordPress theme of your choice from the free WordPress themes directory. Make sure to read the reviews of popular WordPress themes before randomly selecting and installing one.
Below is what your WordPress dashboard will look like.

Easy of Use – Blogger
Blogger's setup process is easier than WordPress'. Blogger is already hosted by Google and is a ready-to-use platform so you don't need to find a hosting server for your blog. It also means that your site will be on the same server where all the other Blogger sites are. You will also have the same sub-domain (.blogspot.com) if you don't purchase a domain name.
To start a blog on Blogger, you'll need to have a Google account, but that's the only requirement. Simply sign up with your Google account and follow the steps. You have to give a title to your blog and choose a blog address.
Then, you can start creating posts and publishing them. See the screenshot below to see what the Blogger platform looks like.

The winner: Both WordPress and Blogger are known for ease of use. However, Blogger is easier to set up when the two are compared. If you want an easy-to-use platform that also comes with lots of customization options, then choose WordPress instead.
3. Design Options
Designing a WordPress Blog
When it comes to design options, WordPress is way ahead. You can find thousands of free themes in the official WordPress.org theme repository. In addition, there are hundreds of third-party theme stores and marketplaces where you can purchase premium themes.
In order to install a theme, you can simply go to Themes » Add New. You can directly access the free themes from your dashboard and install them.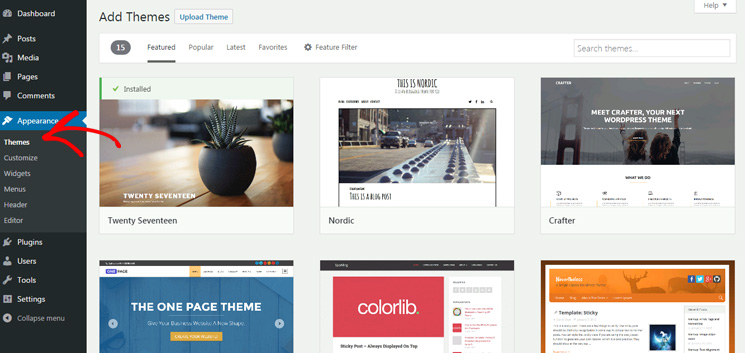 Designing a Blogger blog
Like WordPress, the design of a Blogger-based blog is also managed by themes. However, the downside is, that theme options are limited. There are around 10 types of themes with 3 to 7 variations of each theme.
In order to change the theme, simply go to the Theme menu, preview the available themes, and add the one you like the most.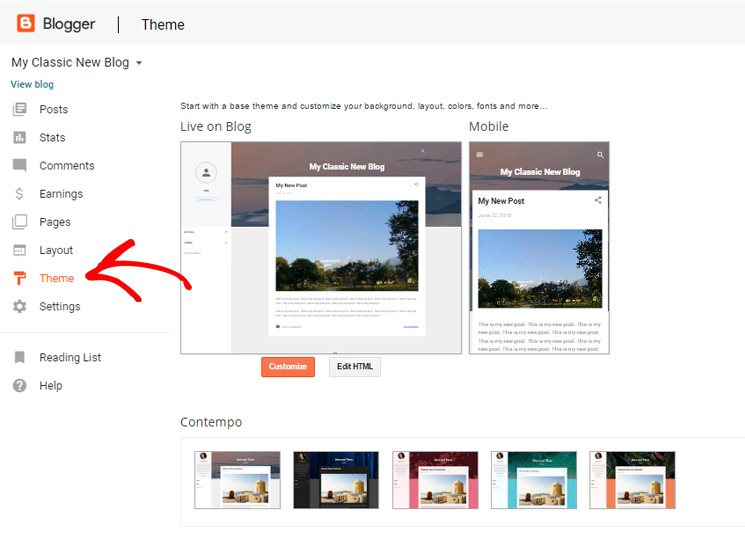 The winner: We can confidently say that WordPress is the winner when it comes to design and customization options. You can easily find a free WordPress theme that best suits your unique needs. There are endless possibilities to customize WordPress themes. On the other hand, with Blogger, the available themes and design options are severely limited.
4. Features and Functionalities
Adding Features and Functionalities on a WordPress Blog
As stated above, WordPress is supported by a huge community with thousands of developers across the globe. Just like with themes, there are thousands of free and premium plugins that add features and functionalities to WordPress sites. There are plugins for almost any feature you can think of; contact forms, lead generation, SEO, etc. to name a few.
With these plugins, you can turn your simple blog into a business site, eCommerce, or any other types of website.
To add plugins on your site, you can simply go to the Plugins menu within the WordPress dashboard. Just like installing themes, you can directly access official free plugins from your dashboard whereas you need to upload premium ones.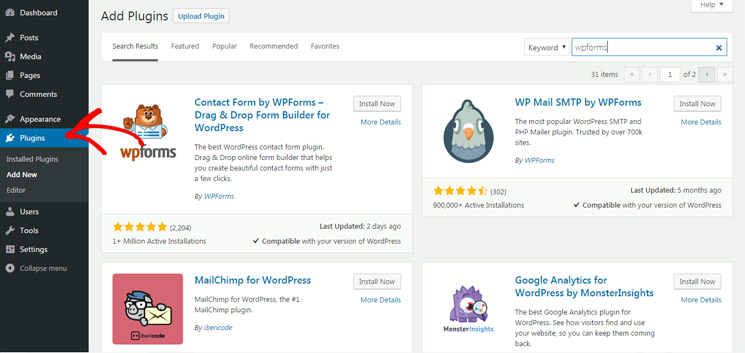 Adding Features and Functionalities on Blogger
Blogger doesn't have the flexibility of WordPress. There is no way to add plugins. However, you can insert scripts of third-party services to add basic features. For example, you can add a Wufoo.com script for adding a contact form. However, using a third-party script has its own limitations unless you get a premium subscription. Of course, you can't extend Blogger's functionalities like you can with WordPress.
The winner: WordPress is way ahead in regard to extending features and functionalities. If you're using blogger and looking for other options, then check out this article on moving a blog from blogger to WordPress.
5. Ownership – Who is the Ultimate Owner of Your Blog?
Ownership of a WordPress Blog
WordPress is free / open source software that you can modify, and use for free. You can create a WordPress blog using your own hosting and custom domain name. This means that you are the ultimate owner of the blog.
You'd also like to check out these best blog name generators.
You have the full control of managing your WordPress blog. You can customize it fully without any limitations. And, when you want to shut it down, you can do so at your own will.
Ownership of a Blogger blog
Unlike WordPress, the ultimate owner of your Blogger blog is not you but Blogger itself. Since you are using Blogger's platform, you are liable to its terms and conditions. You cannot do much customization and, even worse, Blogger can shut down your site without your consent.
If you're serious about blogging, then Blogger.com can't be considered a reliable platform.
The winner: With WordPress, you own your blog whereas, on Blogger, you're liable to Blogger.com's Terms of Service. WordPress is the clear winner here.
6. Monetization Options
WordPress Monetization Options
If you're looking to monetize your blog, then WordPress is the best choice. You can add Google Adsense, affiliate links, and advertisement banners easily on your blog.
Moreover, you can create an eCommerce page on your WordPress blog easily and sell your products to make money. There are multiple eCommerce plugins for WordPress that let you enable eCommerce features on your WordPress blog.
Blogger Monetization Options
You can monetize a Blogger-based blog by adding Google Adsense and affiliate links. Since Blogger is a Google-owned service, Google Adsense is a built-in feature in Blogger. However, since Blogger is a free platform, most advertisers undervalue the blog, especially if you want to sell direct ads with no third-party services like Google AdSense in between. This could be a serious blow to your earning potential. Plus, Blogger doesn't provide built-in eCommerce integration.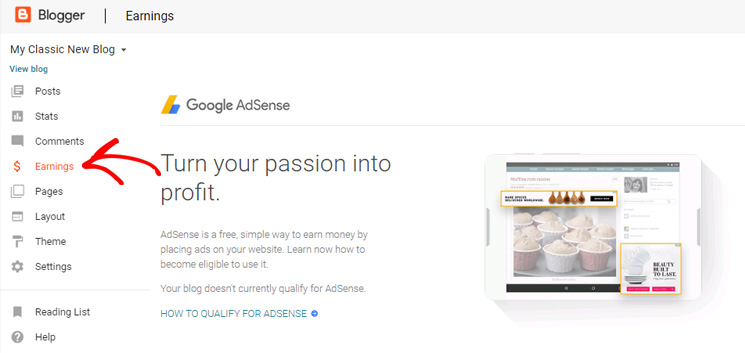 The winner: WordPress is the most reliable platform if you want to monetize your blog. Conversely, your earning potential with your Blogger.com blog will be low, since most advertisers undervalue it.
7. Security
Security Aspects of a WordPress Blog
Providing security to your WordPress site is not rocket science thanks to the wide range of WordPress security plugins.
In addition, you'll also have to manage backups yourself using a WordPress backup plugin.
You should also read out the ultimate WordPress security guide for more details.
Security Aspects of a Blogger Blog
With Blogger, you don't need to worry about managing your server's resources, backups, or any other aspect regarding security. You can create a blog, publish posts, and have a peaceful sleep as you know Blogger.com takes the responsibility of securing your blog.
However, it's advised to make a regular backup of your Blogger.com content, since Blogger can retire your blog at any time without your consent.
The winner: Blogger is the winner here. Securing your WordPress blog is your sole responsibility while Blogger.com takes the responsibility of securing your blog. However, it's advised to make a backup of your blog, no matter which platform you're on.
8. Support
How to Get WordPress Support
WordPress' community is huge. The spirit of community is alive and well, helping WordPress users, sharing knowledge, and contributing to the WordPress software.
Related: Best 24/7 WordPress support services to manage your site.
You can visit the official WordPress.org support page for some fundamental tutorials, documentation, and support forums. Additionally, you can find a huge number of resources online like IsItWP and WPBeginner to help you with your WordPress issues.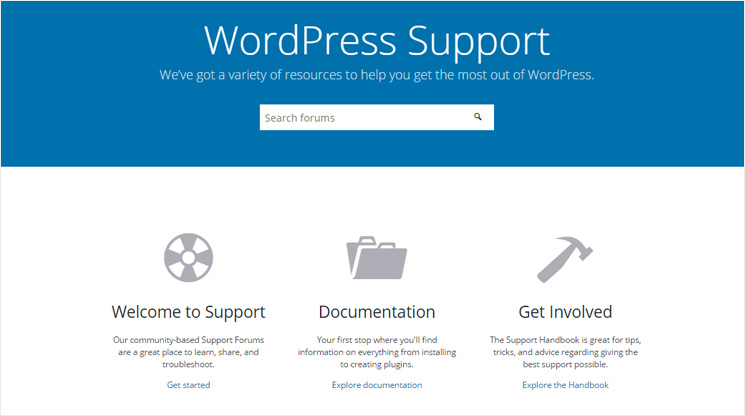 How to Get Blogger Support
Unlike WordPress, Blogger has limited support options. If you click on the Help icon, you will find some articles on how to use Blogger. That's about it, sadly.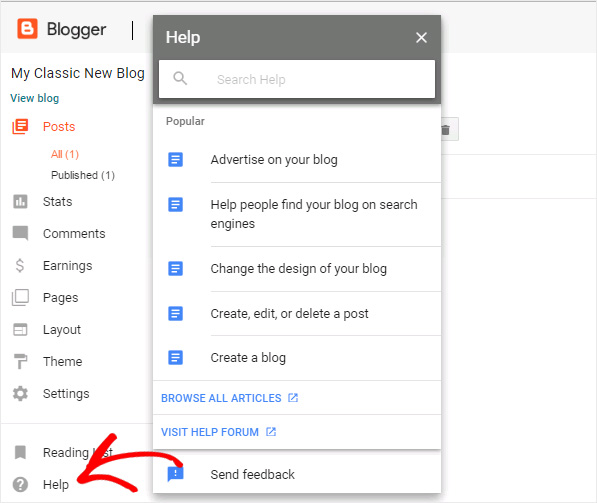 You can also find a few more articles and support forums on Google's support page.
The winner: WordPress is the clear winner when it comes to support.
9. Cost
How Much Does It Cost to Set Up a WordPress Blog?
Although WordPress' software is free, you need to buy a domain name and hosting to set up your WordPress blog.
A domain name costs around $14.99 for a year. However, if you choose Bluehost, then you will get a free domain name along with your web hosting. The basic Bluehost plan costs $2.75 per month, which is quite a fair price for all the flexibility your WordPress blog can offer.
Click Here to Claim This Exclusive Bluehost Offer »
You may also want to check out other options that include Hostinger and Siteground. Find more here: The Best WordPress Hosting Companies .
How Much Does It Cost to Set Up a Blogger Blog?
You can set up a Blogger blog completely free of cost if you are happy with a shared sub-domain (eg. example.blogspot.com). You can use it free forever with a blogspot.com subdomain.
If you want to change it or remove the sub-domain, you need to buy a domain from third-party domain registrars like Godaddy or NameCheap. To run a blogger blog, you only have to pay for the annual domain registration fee.
The winner: Starting a Blogger blog is free whereas you need to spend about $110 per year for running a WordPress blog. Considering the huge potentials a WordPress blog offers, the cost is fair.
Learn more about how much it costs for running a WordPress website.
10. Ease of Migration
How to Migrate a WordPress Blog
The process of migrating a WordPress blog to another hosting or other CMS platforms is quite easy.
If you look for tutorials online, you will get a plenty of articles, tutorials, and video tutorials on how to migrate a WordPress blog,
How to Migrate a Blogger Blog?
You can migrate a Blogger blog to WordPress or other platforms by exporting your database. However, it's not as easy as WordPress migration.
With better migrating options, WordPress is the winner here.
Evidently, WordPress is the best blogging platform in existence. When compared with Blogger, there is a slight learning curve to set up your WordPress blog, but we're sure you're up to the challenge! Plus, we have tons of articles on this very site to guide you on how to start a WordPress blog.
If you want to make a professional blog, then WordPress is your go-to platform. It offers all the flexibility you need to customize your blog. Plus, you can build any type of website on WordPress with a minimal effort.
On the other hand, Blogger is a basic blogging platform that comes with limited customization options. It's best suited for hobby bloggers who don't want to spend a dime for building a blog.
If you want to learn how to start a WordPress blog, here is the complete guide for beginners.