During maintenance of a multi-author WordPress site, it can be difficult to make sure that all users are aware of the maintenance. Some of your authors may have been informed and simply forgot or got the date wrong. Luckily there is a way to stop everyone from making any changes to your site by setting up a read only state.
You start by installing the Code Freeze plugin. As soon as you activate this plugin it will set your WordPress site into a read only state where no changes can be made. On every page inside the admin area there is a warning notice to let your users know site is on a lock down.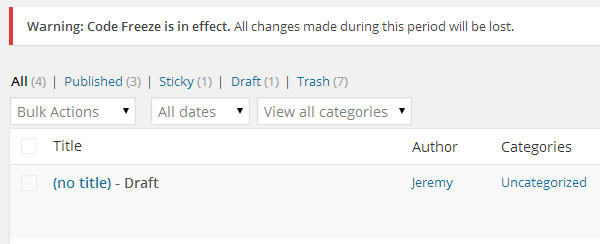 This plugin works out of the box so there are no settings to change. Once it is activated, there is only one thing you (or another user with administrator privileges) can do, which is to the Code Freeze plugin. This is a very easy to add and very powerful plugin for making sure that no changes can be made by any user.
I hope this article helped you keep your site under control during maintenance.
If you liked this article, then join ThemeLab on Twitter and Google+.