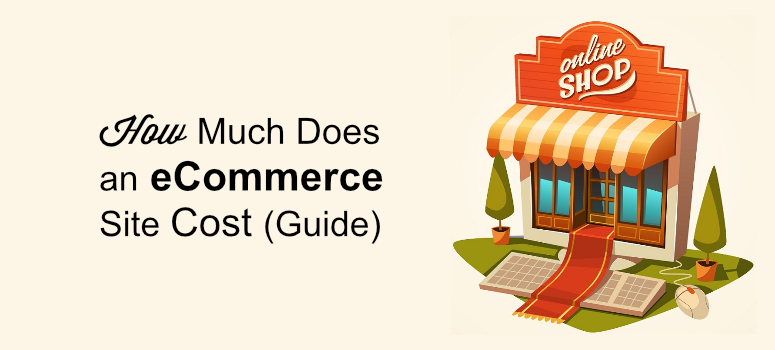 If you're planning to set up an eCommerce site, you must be wondering how much it's going to cost you for the entire setup.
A decade ago, building an e-commerce website used to be a costly affair not just in terms of money but also in terms of time. Back then, in order to create an eCommerce store, you'll need to hire an experienced developer who will charge a reasonably fair amount.
But today, there are several tools available on the market which has made creating a website relatively cheaper and easier.
eCommerce Site Setup Cost Breakup
So let's take a look at how much it would cost for you to build your eCommerce site today.
For easy reading, we've divided this post into 4 smaller sections:
Domain Name
Hosting (Shared or Managed)
Designing
Plugins and Extension
1. Domain Cost
Building an eCommerce website is much like building any website or blog. Technically speaking, this address is called the domain name of your site.
A domain name is a URL that your users will type in the address bar to go to your store. To claim exclusive ownership of your website, you'll first have to register your domain name.
Here's a quick guide to help you find a good domain name for your eCommerce site.
There are several platforms available on the market where you can register your domain name. Some popular names are:
You can find more options to register your domain name here.
Now, what does it cost you to register a domain name? The price of your domain may vary depending on the extension you choose. Your domain pricing can start as low as $1.99/month and go up to a more expensive range if you opt for top-level domain extensions.
But the good news is that you can even get your domain name for free. There are many web hosting options, like Bluehost that let you register a domain name for free along with a web hosting plan.
However, you can't randomly select a hosting if you don't know which hosting offers you the best service. If you're confused about which eCommerce hosting service to choose, here's a guide to help you.
Domain Cost: Free – upward from $1.99/month depending on your extension
2. Hosting Cost
The next important thing you need is a hosting service where you can host your eCommerce site. It's your hosting where you store the content and files of your website.
The term web hosting often refers to the company that rents out its servers to host your website and provides internet connectivity to ensure your website is available online around the clock and without any interruption.
There're a number of good web hosting companies that you can opt for. But we recommend you go for Bluehost WooCommerce plan if you've just started out.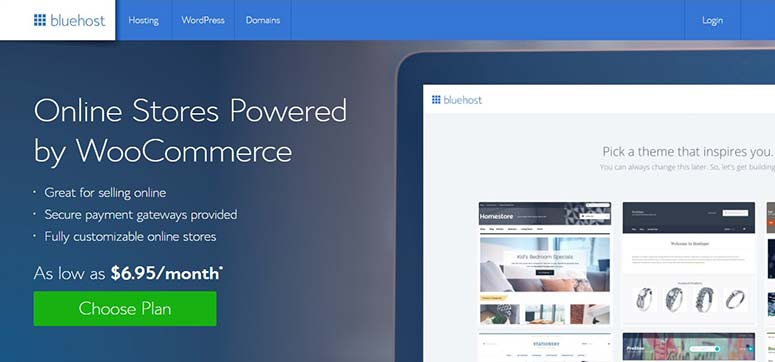 This is a great option for you because it comes with:
A free domain name: No more paying extra money to register your domain.
WooCommerce pre-installed: The WooCommerce plan comes pre-installed with WordPress and WooCommerce which makes it easy to start an online store.
SSL certificate: To secure your online payments.
Dedicated support: To assist you 24/7 in case you face a problem with the site.
The entire process of setting up your eCommerce website (beginner-level) powered by Woocommerce will cost you around $3.95 per month. But if you opt to add ons and a higher plan, the price might go higher.
Hosting cost: $3.95 per month
3. Theme / Design
With thousands of stunning WordPress themes for WooCommerce, it's easy to select one theme that best suits your eCommerce store. You can choose a theme and customize it to your liking on your own without any professional help. The best thing is you have options to make this happen without spending a single penny.
Here is a list of WooCommerce themes that are designed specifically for online stores.
Price: Free – upwards
4. Plugins and Extensions
The next important step is to work on your website's appearance and functionalities. The beauty of WordPress is that you can extend its features the way you want by installing plugins. Let's take a look at a few plugins that you definitely need for managing your site with ease.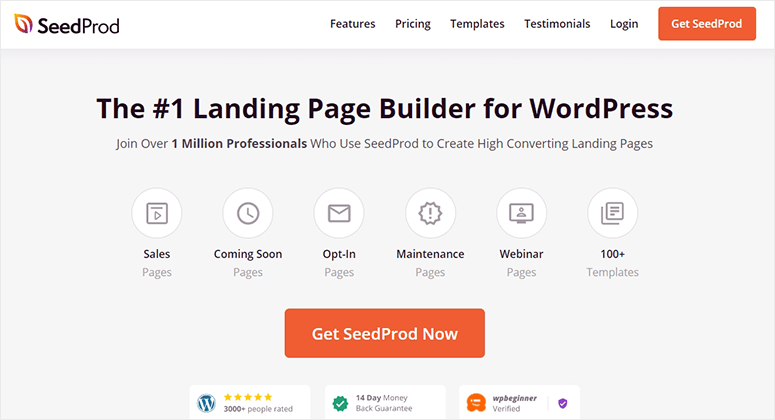 The first plugin that you need to install on your site is SeedProd. It's the best drag and drop landing page builder plugin that comes with an easy coming soon page and maintenance mode functionality. You can use SeedProd to kick-start your email list even before the site is launched.
By adding a coming soon page, you can get your users excited about the launch. And guess what, you can also get a headstart with your SEO from day 1 even before launching the site. This plugin works wonderfully with all modern themes and looks stunning across devices.
Plus, SeedProd offers custom WooCommerce landing page blocks like a shopping cart block, custom checkout block, add to cart button, product grid block, and more. This makes it easy to promote products on your landing pages and increases conversions.
Price: $39.50 per year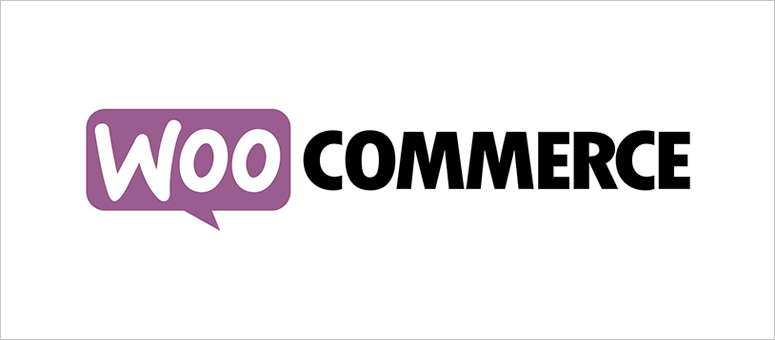 WooCommerce is the most popular eCommerce solution available in existence. With this plugin, you can set up a complete eCommerce shopping cart store within minutes. By installing this plugin, you can:
sell physical and digital products
sell services and subscriptions
accept donations
integrate into different payment options like PayPal, Stripe, and more
add any eCommerce features with the help of addons
and much more.
Price: Free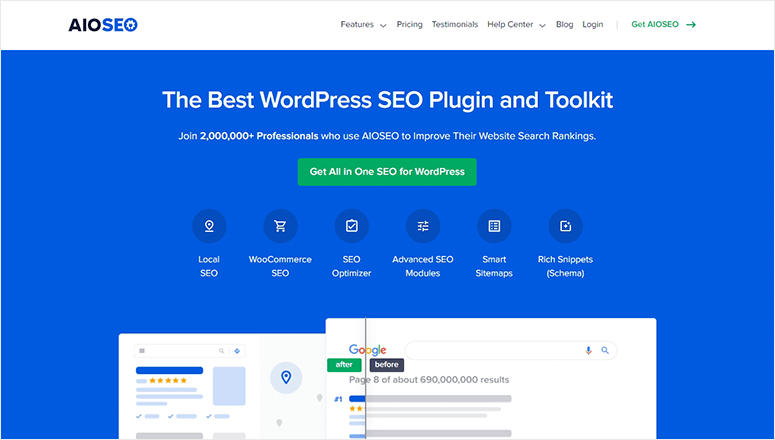 All in One SEO is one of the most popular SEO plugins for WordPress. With this plugin, you can ensure your eCommerce store is discoverable by search engines. Just add your focus keyword and All in One SEO takes it from there. It tells you
what errors you need to fix
what your keyword density is
indicates if your title is longer or shorter than needed
if the meta description has to be optimized further
and does a lot more to ensure you have a perfect eCommerce storefront.
Price: Free – Starts at $49.50/year

When it comes to setting up a successful business, customer satisfaction needs to be your topmost priority. And what can be a better way to know about your experiences than to add a contact form to your site? That's when WPForms comes in
WPForms is a powerful drag and drop form builder plugin that lets you build good-looking and responsive contact forms for your site in less than 5 minutes. If you don't know how to create a contact form here's a guide you can follow.
To make designing your forms easy, it offers tons of appealing pre-built templates that are ready to be used as they are or can be customized too. It also has multiple advanced features like its best-in-class survey reports, payment forms, user registration forms, smart conditional logic, post-submission forms, and so much more.
Price: Free. The pro version starts. at $49.50/year

OptinMonster is a lead generation software that helps you convert your visitors into subscribers and customers. With this plugin, you can easily create eye-catching opt-in forms that convert. Its behavior detection technology is helpful in letting you display the right campaign to the right visitor at the right time.
OptinMonster's exit-intent technology shows a targeted campaign to abandoning visitors and encourages them to complete their order before they leave
Read our full review on OptinMonster here.
Price: $9/month – $49/month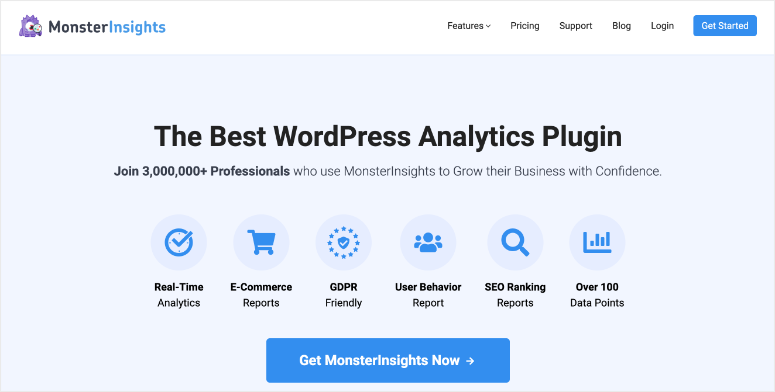 MonsterInsights is the best Google Analytics for WordPress. If you want to check how your website is performing, this plugin is the best option for you. It lets you check your website statistics right from your WordPress dashboard without having to log into Google Analytics.
You can also enable eCommerce tracking with just a few clicks.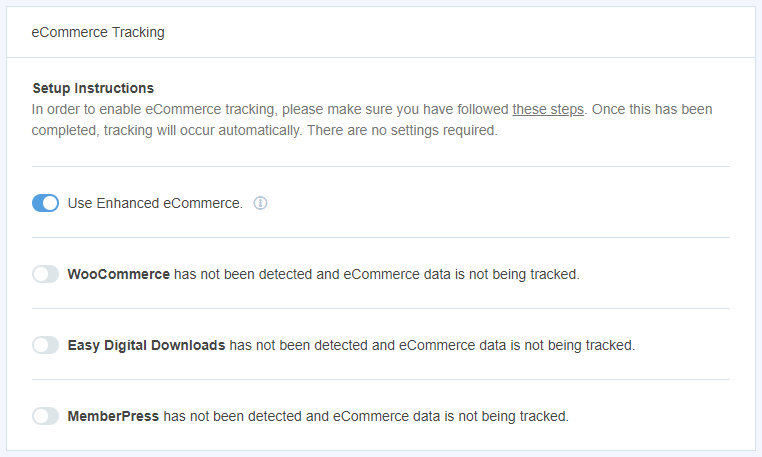 We all know how impactful email marketing is for any kind of business. It can help you connect with your customers, build an email list and drive more sales and revenue. With Constant Contact, you can do all of that very easily.
It comes with beautiful templates that look amazing on all screen sizes. Using the drag and drop feature, you can customize your templates. It also lets you integrate it with your favorite web apps so you can:
grow your email list quickly
update contacts between your Constant Contact account and other online applications
make your website and marketing channels more engaging
Price: $9.99/month

One of the best ways to ensure that your website is clean and secure of any vulnerable threat is to add a security plugin. The best security plugin that we recommend is Sucuri.
Sucuri keeps your website clean and secure 24*7. It helps you fix hacks and secure your eCommerce store from any attacks in the future.
Price: $199.99/year – $499.99/year
How Much Does an eCommerce Site Cost for Better User Experience
With all the available tools, building an eCommerce store isn't a tedious task. When you're starting out with a limited budget, all you have to do is to get WooCommerce hosting from Bluehost for as low as $3.95 per month.
With that hosting plan, you'll get everything you need to get your WooCommerce site up and running, including reliable web hosting, a free domain name, free SSL, and more.
But as your business grows, you might want to add more features by installing more plugins on your site. So depending on the number of plugins and extensions, the cost of your eCommerce store will vary.
For more details, here's a step by step guide on setting up an online store.
You may also want to check out our guide on the best WooCommerce reporting plugins. This will help you add analytics and conversion tracking features to your eCommerce site.