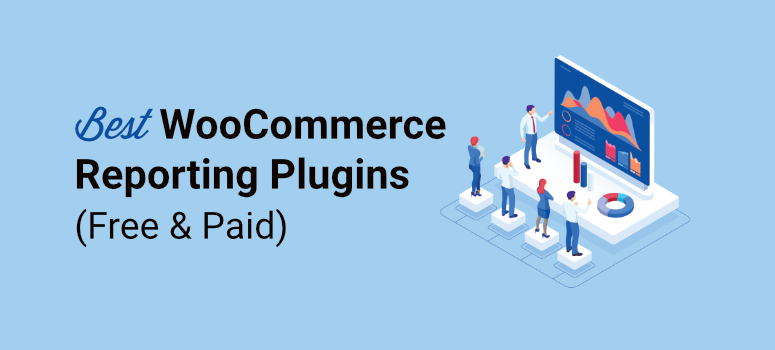 Are you in search of a user-friendly yet powerful WooCommerce reporting plugin for your online business?
A WooCommerce reporting plugin allows you to add analytical data and tracking features on your WooCommerce site. You get real-time reports and information about your customers, website visitors, abandonment rates, and more in a few clicks.
These reports help your monitor the performance of your online store so you can take better business decisions in the future.
In this article, we have handpicked the best WooCommerce reporting and analytics plugins that help you grow your online business.
Before that, let's learn why you need to use a WooCommerce reporting plugin for your site.
Why Do You Need a WooCommerce Reporting Plugin?
If you run your own WooCommerce site, it is important to know how well it's performing. You should be able to learn more about customer behavior and which marketing channels are most profitable for your business.
This is where WooCommerce reporting plugins come in handy and there are plenty of options in the market.
With the right WooCommerce reporting plugin, a WooCommerce seller can track leads and customers, get advanced statistics to improve site performance, and fix issues.
Besides that, you can use a WooCommerce reporting and analytics tool to analyze the sales reports which give you a better understanding of which campaigns are performing the best. This helps you make informed decisions on how to improve your marketing efforts.
Now, let's take a look at the best WooCommerce reporting plugins available in the market.
Best WooCommerce Reporting Plugins
Below, you'll find paid and free WooCommerce reporting plugins. Each plugin comes with a unique approach to collecting data and providing reports for your WooCommerce site.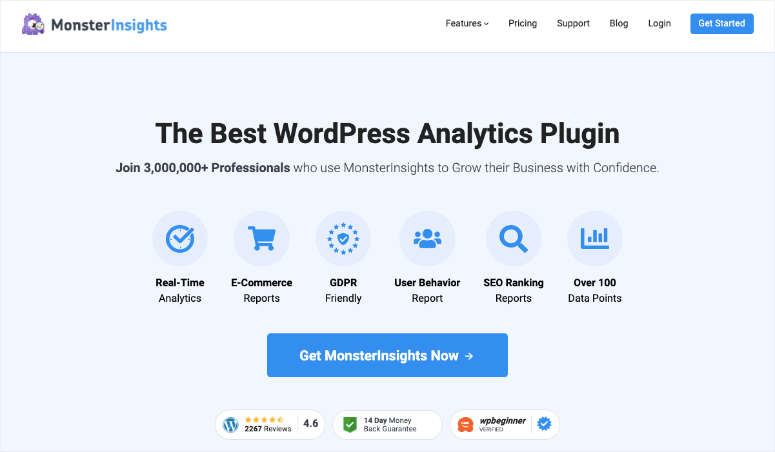 MonsterInsights is the most popular Google Analytics plugin for WordPress. It comes with powerful eCommerce addons to track the performance of your WooCommerce stores.
When you activate the plugin on your site, it takes a few clicks to connect to Google Analytics. Then it automatically fetches your data and displays it in neat reports with actionable insights inside your WordPress admin.
MonsterInsights comes with a WooCommerce Addon to track the behavior of your WooCommerce visitors and provides you with detailed reports on exactly how they interact with your online store.
With MonsterInsights eCommerce report, you can get key metrics like revenue, average order value, conversion rate, transactions, referral sources, and most popular products. You'll also be able to find out which products are generating a lot of revenue and you can find similar products to promote in your store.
Besides that, it helps you find the main referral and conversion sources. You can view the most used channels that your customer come through to visit your WooCommerce store and buy products.
With such detailed insights and reports, you can make data-driven decisions to drive WooCommerce sales.
Features:
R

eal-time stats in WordPress dashboard

Track high traffic resources
Integrates with popular plugins including Yoast, WPForms, and MemberPress
Ads Tracking
Enhanced eCommerce Tracking
GDPR Compliant
To learn more, check out our MonsterInsights review.
Pricing:
MonsterInsights is a freemium tool. It has a free version and also premium versions with more advanced features which starts at $99.50 for a single site license.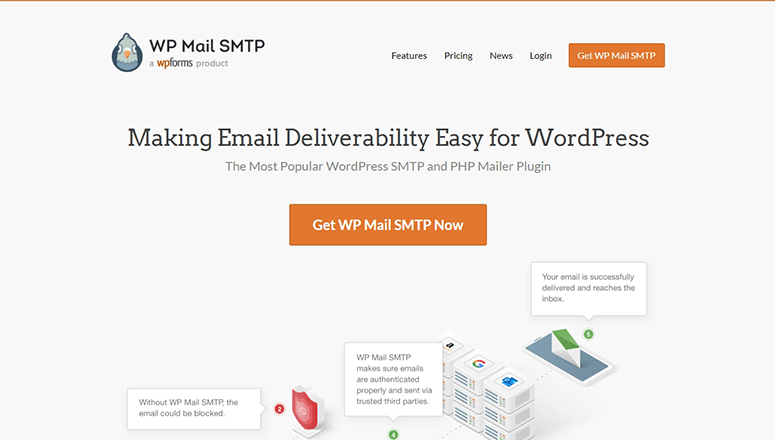 WP Mail SMTP is the #1 SMTP plugin that ensures all of your emails reach their destination. It provides you with all necessary configurations to ensure fast and secure email delivery by tracking the emails your site sends out.
Being a WooCommerce store owner, you'll send customer receipts of the purchased product, confirmation emails, user account details, product details, and many more.
By tracking these email activities you can deliver the best user experience. Because if your emails aren't being delivered to your customers, you may lose your potential customers.
The best part about this plugin is that you can view all of the email reports within your WordPress dashboard.
Features:
Ensure WordPress emails are delivered without hiccups
Manage email deliveries with detailed logs
Receive admin notifications via email or Slack
Easy email configuration and setup
White glove set up available
Pricing:
WP Mail SMTP is available for free in the WordPress repository. Premium plans start at $39 per year including the email logs feature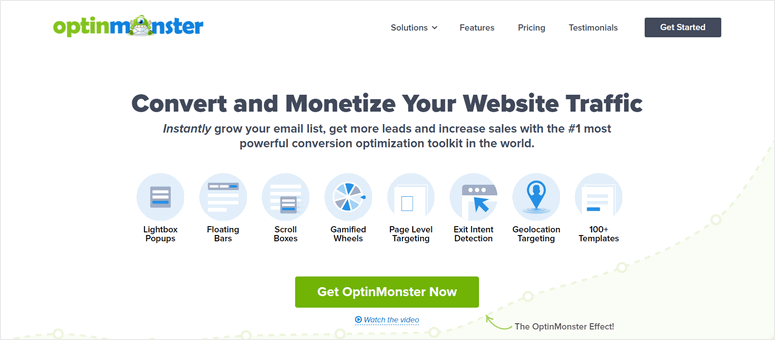 OptinMonster is the best lead generation tool for WordPress. It offers powerful features that help you convert your website visitors into customers and subscribers.
OptinMonster's drag and drop builder lets you create stunning campaigns like popups, floating bars, welcome mats, and more for your WooCommerce site. You also get access to 50+ pre-designed templates so you don't need to build one from scratch.
You can easily customize the campaign template to match the requirements of your eCommerce store. And the best part about this is that you don't need to edit a single line of code.
Its advanced targeting features let you display your popups to the right people at the right time. You can even track your audience activities such as which product page they're viewing, the source of the visitors, geographic location and so much more.
Most importantly, it comes with a built-in dashboard so you can easily monitor your campaigns. It automatically tracks the number of visitors, conversion, and conversion rate for each campaign. There are also options to see the top converting campaigns, pages, and more.
Plus, OptinMonster seamlessly integrates with Google Analytics you can get deeper insights on your conversions, impressions, transactions, and other important reports. This way you can keep track of all your marketing campaigns and find out which are driving in more sales revenue. 
Still not convinced? You can check out our guide on the best OptinMonster alternatives.
Features:
High converting campaign templates
Targeting rules and triggers to capture leads
Exit-intent technology to reduce cart abandonment
Retarget visitors based on previous interactions on your site
Built-in analytics to view campaign views, conversion rates, and more
Google Analytics integration for detailed reporting
Connect with email marketing services and make customers sign up
Track and manage subscribers in one dashboard
Pricing:
The pro plans start at $9 per month.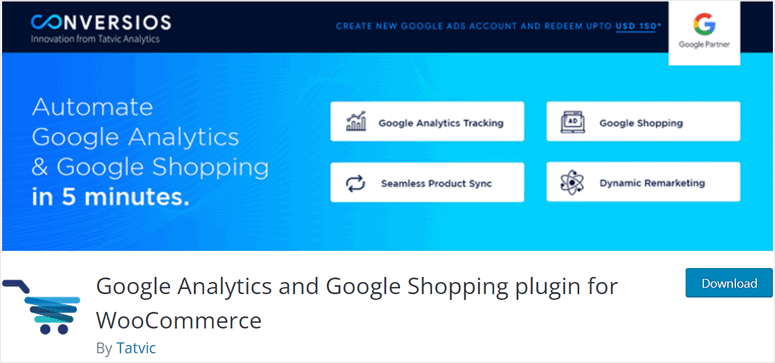 Conversios has a Google Analytics and Google Shopping plugin for WooCommerce to help you track your store's performance.
The tool covers all stages of the purchase journey so you can track and analyze every stage, from product views to thank you pages. It supports four main reporting features: shopping and checkout behavior, and product and sales metrics.
This plugin allows you to track the actions of all customers in your WooCommerce store. It acts as a convenient bridge between WooCommerce and Google Analytics, but with some minor additions.
You can access new reports in Google Analytics for behavior in-store, during checkout, product performance, and sales efficiency.
For example, the checkout behavior report lets you see the different stages of the checkout process when customers leave. This will help you identify issues that are preventing customers from completing their orders. You can then take action to make the process smoother and reduce cart abandonment.
Features:
Monitor the effectiveness of existing advertising and SEO campaigns
Receive notifications about customers who have added items to the cart
Track the entire customer journey – from visiting the homepage to paying for the selected order
Monitor field of logistics to eliminate stale items
Contact customers using integrated email marketing tools
Pricing:
Free.
Get Conversios Google Analytics and Google Shopping today!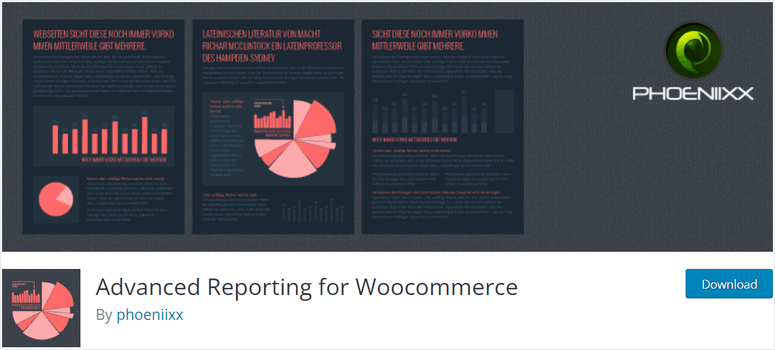 Advanced Reporting for WooCommerce is a WordPress plugin that comes with a full set of features to analyze your eCommerce business.
There's a free version with basic features to track product impressions, product additions to cart, and product clicks and get the reports by email. If you cannot find certain features then there are various paid add-ons too.
Before purchasing this plugin, you can test out its fully-functional free demo.
However, this plugin is not compatible with the child theme. But still, it is a perfect solution for those who need to get as much data as possible at a reasonable price.
Features:
Export reports in CSV formats
Extra paid add-ons
WooCommerce store performance report on a single dashboard
Analyze data for a single product
Tracks the number of returned items
Pricing:
The free version is available in the WordPress repository. Pro plans start at $39 per year.
Get Advanced Reporting for WooCommerce today!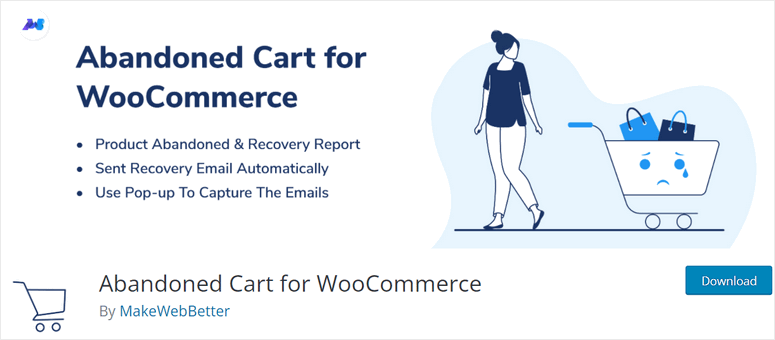 Abandoned Cart Reports for WooCommerce is a simple plugin that allows you to see abandoned carts in your online store.
As the name suggests, the plugin gives you detailed information about your store's cart abandonment rate, including account information (for registered users) and IP address (for anonymous visitors).
The plugin starts tracking the user's shopping cart as soon as they add an item. It then creates basket abandonment reports so you can track their journey and reach out to potential buyers again. The plugin marks the interaction as 'interrupted' 15 minutes after the user leaves the cart without making a purchase.
If they come back later and make a purchase, the transaction will be reverted. This is a simple tool, but very useful if you want to keep track of lost opportunities.
Features:
Detailed Abandoned product report
Send email notifications to logged-in customers and guest customers
Track WooCommerce abandoned orders
Capture customer email on checkout
Disable tracking for specifies user roles
WPML support
Pricing:
You can get started for free. Plans start at $69 per year for 1 site plan.
Get Abandoned Cart Reports for WooCommerce today!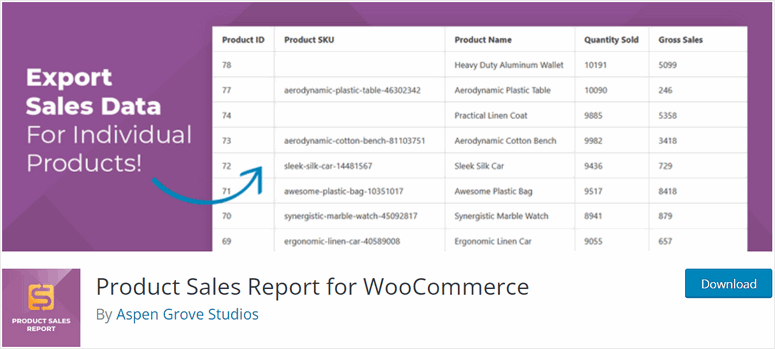 Product Sales Report for WooCommerce is a one-stop solution for e-commerce website owners who want to analyze everything from key sales metrics to fine details about user behavior.
The WordPress plugin is created by Aspen Grove Studios. It generates reports on the basis of numbers and total sales of WooCommerce products sold over a specified date range.
Generated reports can be easily downloaded in spreadsheets or other formats like CSV, HTML, XLS, etc so that you can easily share them through email as well.
The best part about using Product Sales Report for WooCommerce is that rather than boring-looking reports, you can style your reports with custom CSS and branding.
Features:
Add customizable product-specific input fields
Save different reports
Attach reports to email messages
Include products with no sales optionally
One-click report generation and downloading
Pricing:
Offers both free and paid plans. Premium plans start at $199 per year.
Get Product Sales Report for WooCommerce today!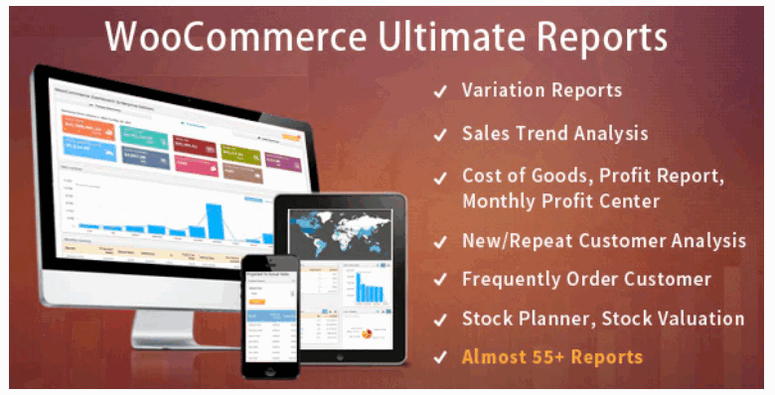 WooCommerce Ultimate Reports is another great plugin that helps you get access to a detailed report of your online business. It works exclusively with WooCommerce, so it can be easily integrated into WP and does not require additional configuration for data collection and full-fledged work.
The WordPress plugin is very easy to use and developed by WooPro. You can see where your orders come from, the stats of the coupon, and even see the details of the refund.
Besides that, the plugin has a very neat interface that clearly shows the data you really need. You can also export the data to Excel, CSV and PDF.
Features:
Detailed stats
Collect data into a single dashboard
8 different crosstab reports
Sales trend analysis
Daily sales report
Set permission to user roles
Pricing:
WooCommerce Ultimate Reports license costs $40.
Get WooCommerce Ultimate Reports today!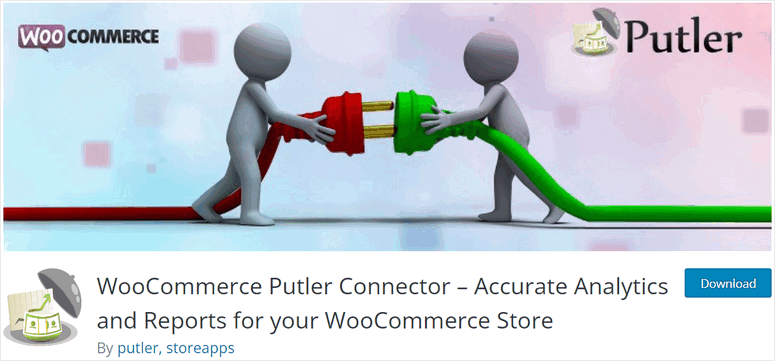 Putler is a powerful plugin that combines all the popular tools for managing an online store, tracking sales statistics, controlling transactions, and so on.
Creators of this plugin guarantee to provide up-to-date and correct information necessary to adjust advertising campaigns and improve the product.
All thanks to advanced Putler WooCommerce reports, users of this plugin also claim to notice an increase in sales, profit in business, and the number of unique buyers.
Unlike other analytical systems, Putler combines information from several sources and creates accurate reports on their basis.
Features:
PayPal and Stripe for tracking payments
Integrates with Easy Digital Downloads
Google Analytics to collect data about store visitors
Integrates MailChimp for email marketing
Pricing:
Putler WooCommerce offers custom quotes, however, the basic plan starts at $20 per month.
Get Putler WooCommerce plugin today!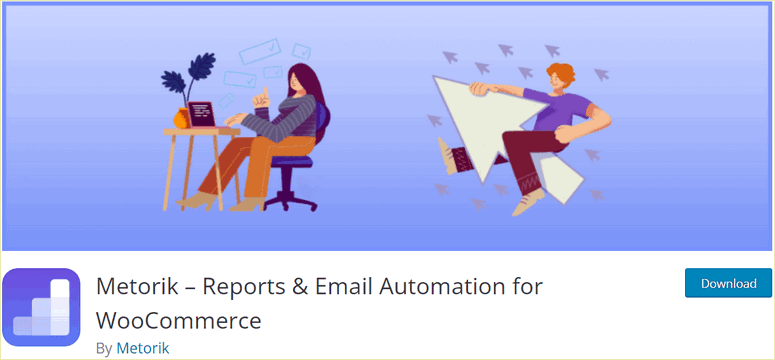 Metorik is a WooCommerce analysis and reporting plugin created by Bryce Adams. It offers a different and aesthetic interface that is easy to navigate.
For large stores, Metorik will offer significantly better performance by generating large reports in just a few seconds. The reports are great and do a good job of quickly highlighting the data that matters.
Metorik offers a variety of reports to help you better understand both your store and your customers. All your reports are instantly available so you can jump straight to the data that matters instead of trying to analyze it yourself.
Features:
Integrates with popular help desk systems to simplify customer support
Manage orders and customers directly from the Metorik interface
Delivers emails to slack channel too
Provides product, variant, and category reports
Email integration
Pricing:
Starts at $20 per month for 100 orders per month.
Which is the Best WooCommerce Reporting and Analytics Plugin?
After comparing all the plugins, we can say that MonsterInsights is the perfect reporting plugin to track your WooCommerce stats, website visitors, top pages, demographics, and more. It offers advanced eCommerce tracking and you can easily check analytics from your WordPress site dashboard.
We hope this article helped you find the best WooCommerce reporting plugin to track the behavior of your customers.
Also, if you're interested in growing your WooCommerce store, here are other resources you might want to check out:
These posts will help your secure your WooCommerce site and add more functionality to your online store.