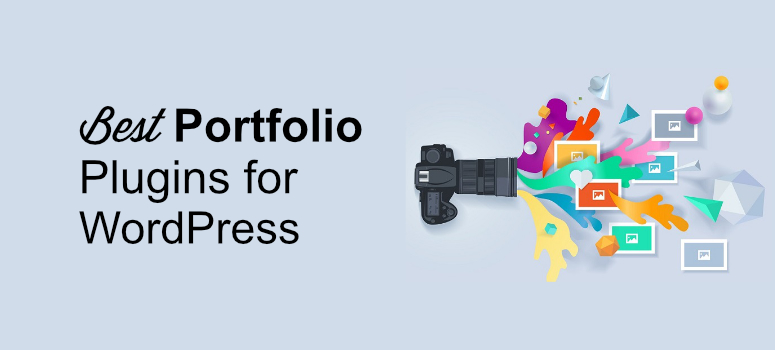 Looking for a good portfolio plugin for your WordPress website?
The best way to improve your business as a creative person is to showcase your work and let people know about your expertise. Displaying your work in a stylish and professional way is a great way of marketing your skills online.
And the best way to do that is to create an online portfolio.
In this post, we'll talk about the best portfolio plugins that will help you build an online portfolio for attracting more clients. There are hundreds of WordPress portfolio plugins that can let you create an online portfolio.
But not all plugins offer the same features. Therefore, it's important that you know how to choose the right portfolio plugin for you.
Let's turn our attention to a few things you should look out for when selecting a portfolio plugin.
How to Choose a Good Portfolio Plugin
To get the best out of the plugin you choose, it's important that you check if it offers the following features:
Various portfolio layouts: By selecting a plugin with good layout options like masonry, grids, sliders, and more for your portfolio, you can present your work in different styles. This makes your portfolio appear more dynamic and professional.
Support for unlimited rows, columns, and portfolios: This will help you display several pieces of your work on the same page. That makes it easy for your clients to view all your work without flipping through separate tabs.
Easy integration with WordPress themes: The portfolio plugin you choose should integrate well with any theme that's installed on your website. This gives you the flexibility to pick the theme of your choice.
Compatibility with different plugins: Plugins help you extend your website function. So its important that the portfolio plugin is compatible with different plugins. Otherwise, you'll be restricted from extending your website features.
Portfolio plugins help you create a neat and professional-looking portfolio within minutes. Plus, you won't need to write a single line of code. This is true even if you're someone who has never used a portfolio plugin before.
That means you can save a lot of money because you don't need to hire a developer to create your portfolio.
Now, let's check out some of the portfolio plugins that you can choose from.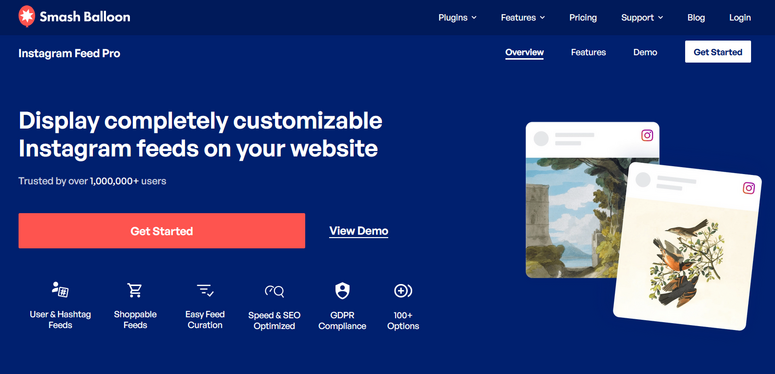 Smash Balloon Instagram Feed is a powerful portfolio plugin that can help you display your creative work from Instagram on your WordPress website. The plugin is super responsive and highly customizable, so it's easy to use even without any technical skills or knowledge.
It offers various layout options and lets you display multiple Instagram feeds on your website without any restrictions. It also lets you create shoppable links for your feeds so that monetizing your site is easy. This plugin is compatible with all WordPress themes and works brilliantly alongside various plugins, too.

Envira Gallery is a powerful and responsive gallery plugin that can be a great resource if you're into photography. With this plugin, you can display your work in the form of a gallery. It lets you protect your work by adding a password, watermark, and other security measures. Plus, you can use its intuitive drag and drop builder to create your galleries within minutes.
The plugin also supports eCommerce, so you can sell your work to generate more income. It's also easy to organize your photos in albums, sort them with tags, choose cover photos, and more.

WP Portfolio makes it quick and easy to create any kind of portfolio for your website. This can be an image portfolio, website portfolio, or a gallery portfolio.
It offers various demo websites for all of these portfolio options, and you can get started by importing them with just a single click. The plugin works great with page builders like Visual Composer, Elementor, and Beaver Builder. With a lot more features this plugin is one of the best on the market.

NextGen is another amazing portfolio plugin that lets you showcase your work in the form of a gallery. It offers easy ways to manage, display, and sell your work right from your WordPress website.
NextGen lets you add social sharing options, image deep linking and commenting, add a full-screen lightbox, and a lot more. You can also expand its features by using extensions.
You can learn more about NextGen Gallery in this detailed review.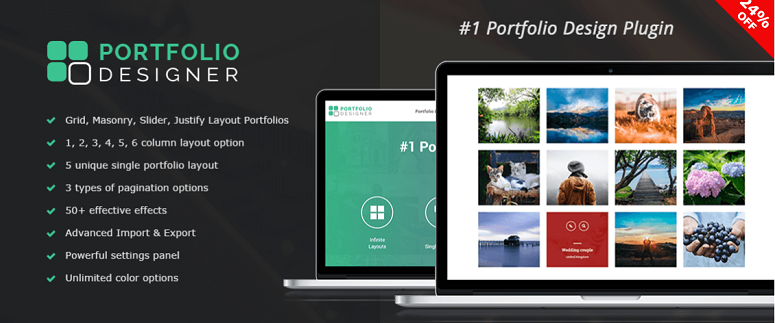 Portfolio Designer is another portfolio plugin that offers everything you need to create a clean and professional portfolio. It comes with various layouts like Grid, Masory, Slider, and others. You can also have 50+ different effects to make your images look stunning.
Apart from that, it has 3 different pagination options, unlimited color options, and a lot more. The plugin is fully responsive and looks stunning across all screens. It also features a robust image resizing feature that you'll love.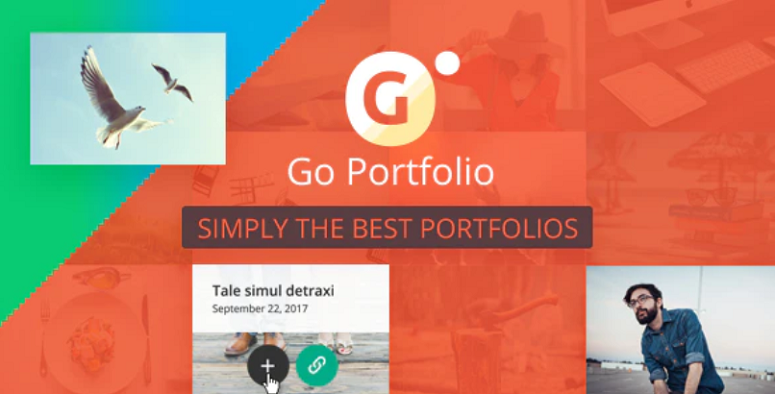 Go Portfolio is an amazing portfolio plugin that offers 38+ starter templates, responsive layouts, easy admin settings, and a lot more. You can also use various media elements to promote your website.
To make designing your portfolio easy, Go Portfolio offers support for page builders like Visual composer. It also offers 4 default styles, 2 filtering styles, unlimited custom post types, and a lot more.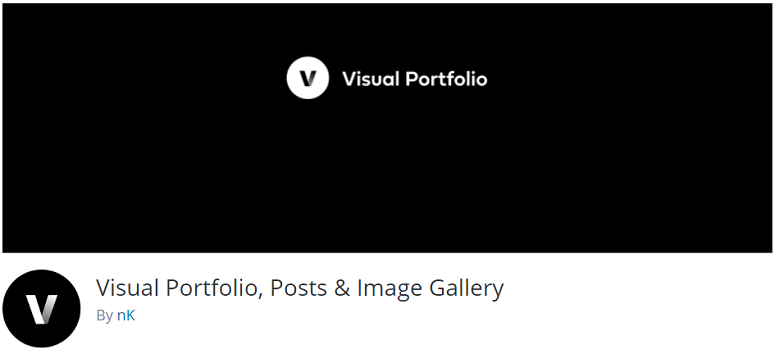 Visual Portfolio is a free plugin that offers really cool features for building your portfolio. There are 5 predefined layouts, 4 stunning hover effects, infinite scrolling, and a lot more.
It also offers easy options to add filters and popup galleries to your portfolio. Visual Portfolio supports videos from YouTube and Vimeo, too.

WordPress Portfolio Plugin is another free portfolio plugin that you can check out. Even though it's a free plugin, it's loaded with amazing features to help you build a professional-looking portfolio for yourself or your clients. With this plugin, you can create multipurpose gallery layouts, build slider presentations, list product catalog items, and more.

With Grid Kit, creating a portfolio is incredibly easy. It lets you build multipurpose gallery layouts, group your galleries into albums, build slider representations, and do a lot more.
You can also showcase your sponsors or clients logo, display your team members, and list your product catalog items as well. Basically, it lets you do everything to create a great portfolio that attracts clients.

Image Photo Gallery Final Tiles Grid is another powerful yet free portfolio plugin that offers robust features for your online portfolio. You can use it to add beautiful lightboxes and hover effects to display your work.
This plugin offers 2 responsive layouts to showcase your images. It's super easy to adjust the margins between your images to make them look more organized. You can also add different filters and hover effects to make your images look extra nice.
These are some of the best portfolio plugins that you can use for your website. Since you're building a portfolio, we want to help you make it look as professional as possible. That's why we recommend that you read this list of the best portfolio themes you can choose from. These themes can instantly give your portfolio the professional look it deserves.