Looking for a WordPress education theme to set up your online learning management portal? WPLMS Learning Management System is a beautifully designed e-learning suite to manage courses, students, and teachers. In this WPLMS Learning Management System review, we'll show its features and help you decide if it is the right e-learning WordPress theme for your needs.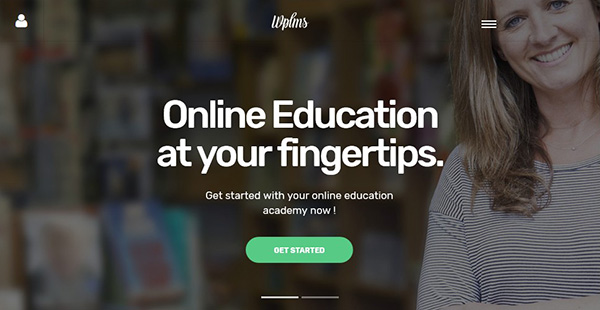 About WPLMS Learning Management System
WPLMS Learning Management System is an education theme for WordPress by ThemeForest. It's a project of VibeThemes who serves a great portfolio at Envato Market. It is a complete online education suite that let you create training centers, coaching centers, tutors academy and student management system.
This learning management suite is a complete package for taking your education system online. The WPLMS Learning Management System is flexible and scalable.
Features of WPLMS Learning Management System
WPLMS Learning Management System comes with multiple theme designs. All these designs are different and stylish. The theme is bundled with amazing menu options to set up your courses and their categories.
You can set up 4 columns layout to display courses and other useful material. It has a complete management system that allows the students and teachers to set up their accounts online on your education site.
Once you activate the theme, it adds multiple custom post types on your WordPress backend to control the education portal.
Let's check out the features of WPLMS to see if this WordPress theme is right for your online education business.
Getting Started with WPLMS Learning Management System
WPLMS Learning Management System needs to be set up. You can follow the step by step instructions on the launch page, and it will take you through a process to create your education portal with WordPress.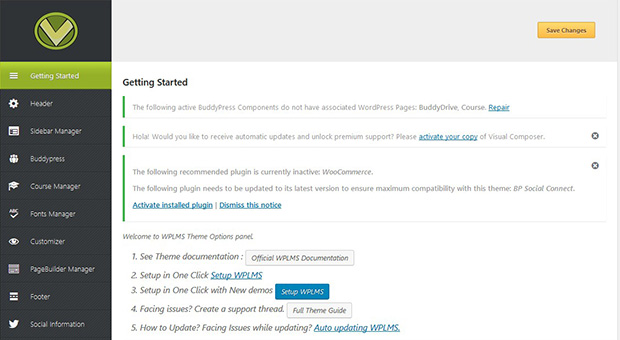 Here are the few general theme settings for your online education site:
Header: It allows you to add your logo, favicon, manage other header settings, header content and more.
Sidebar Manager: You can add new sidebars, select a sidebar for every page, and import or export sidebar settings.
Course Manager: Settings include course pages, admin permission, quiz locking, assignment locking, and other instructions.
Fonts Manager: You can add Google fonts, fonts for live theme editor, and custom fonts from your computer.
Customizer: WordPress default customizer can be used to customize the theme settings. It also let you import or export your customizer settings from other WordPress installations.
PageBuilder Manager: It lets you manage sample layouts, and import or export layouts from other WordPress installations.
Footer: The footer settings include top footer columns, bottom footer columns, footer logo, and copyright text.
Social Information: In the social information section, you can add social icons, icons type, enable tooltip on social icons, and show in-built sharing buttons in theme.
Miscellaneous: You can lock site links, set logo redirects to pages, set up default commission for instructors, and more useful settings for your online education theme.
LMS – Courses, Certificates, Quizzes
The theme gives you an option to add courses, certifications, quizzes and more on your online education site. It is a complete learning management system for educational centers, coaching centers, corporate training centers, tutors, and others related to online education.
WPLMS has a wide range of settings to set up a commission for instructors, add certificate templates, add payments, and more useful features for a learning management system to deal with students and teachers.
Teachers can set up assignments, questions, and quizzes for students from their account in the education portal. It allows the students to login and solve quizzes, submit assignments, and answer the questions.
Other Features
Events: You can create professional events with time, date, venue, author and other details. These events can be tracked within an online portal. Event records will also be saved in the backend.
Forums: You can add forums on the online education website to discuss your topics. The forums have a creator role who can monitor replies and check out fresh discussions. This creator has access to look over all activities in the forums.
Popups: Simply add popups to display important information or announcements on your entire site.
Testimonials: Manually add testimonials received from your students, instructors, and other users of your education portal.
Documentation and Support
The detailed documentation takes you to a step by step process that let you set up your online education website easily. It comprises useful screenshots and videos that help users to easily get started with WPLMS Learning Management System.
To download this theme, you need to visit WPLMS Learning Management System on ThemeForest and buy its regular license for $64. You can use it to as many sites you need.
The regular license comes with a 6 months support from VibeThemes, theme updates and more. You can extend the support to one full year by paying an additional $19.50.
Our Score
WPLMS Learning Management System is the best online education theme for WordPress. You'll get a variety of template options with this theme.
It comes with a set of recommended plugins that make your education website robust and flexible. The setup can take a few minutes but you'll get a complete online education system ready where you can incorporate courses, students and teachers.
Also, check out this article on best WordPress LMS plugins.
We give WPLMS 4.4 out of 5 stars. Here's the breakdown of our scores.
Get WPLMS Learning Management System Now »