Are you looking for a WordPress theme that can turn your site into a beautiful site using WooCommerce? Themify Flatshop is a fully responsive WordPress theme that lets you feature any content with a visually appealing parallax effect. In our Themify Flatshop review, we'll show you its features and help you to decide whether it is the best WordPress theme for your site.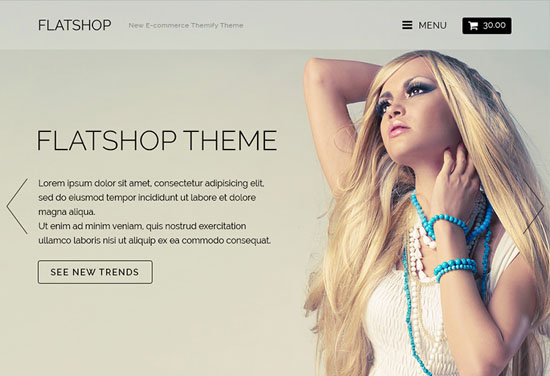 About Themify Flatshop
Themify Flatshop is a multipurpose theme that focuses on creating an easy flowing online product selling store. It is a beautifully designed theme that attracts the attention of your users with its parallax scrolling and fly-in animation effect. You can also customize many things on your site, like the skin color. Flatshop comes with tons of useful features to make this theme the perfect one for your online store.
Features of Themify Flatshop
Themify Flatshop comes with many different unique features for you to create the perfect online product selling store. With Themify Flatshop, you can customize each product individually to bring up the uniqueness of the product. Just like all other Themify themes, Flatshop also comes with Themify builder, a drag and drop builder that lets you design your posts and pages the way you imagine it to be. Flatshop can also be used as a standard blog or static site without the shop.
Here are some key features that make Themify Flatshop theme a great choice for your site.
Widgets
Themify Flatshop gives you many widgetized content areas. Besides a different sidebar, you can add widgets to social widgets and three footer widgets.
With the footer social widget, you can add links to your social media accounts to connect with your users. In the footer, you can add several different widgets like contact details, custom links, and a subscribe box to catch the attention of your site visitors.

It also comes with many custom widgets. Those include:
Feature posts
Flickr
List Categories
List Pages
Most Commented
Recent Comments
Social Links
Twitter
Themify Builder
The theme is bundled with Themify builder, a drag and drop tool that helps you to create any type of layouts without having to hire a developer.
The Themify builder option is available in post, page and portfolio editors. Best of all, it allows you to edit content modules from the frontend of your site, so you don't have to switch between preview tab and page editor tab to review the style.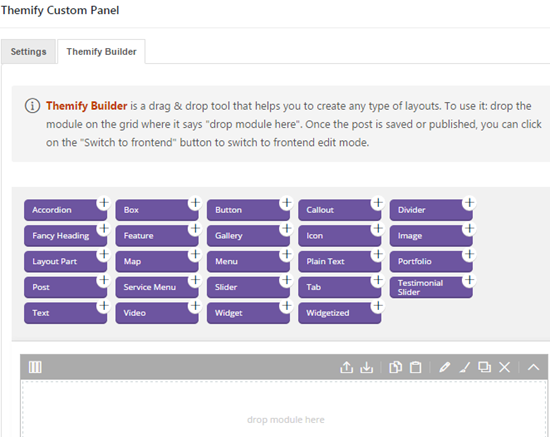 Responsive and Retina Ready
This theme is mobile responsive, meaning your website will be perfectly optimized for every browser, device, and screen size. Having a mobile responsive theme is important since a non-responsive theme can frustrate your users and cause lower search engine rankings. Also, this theme is Retina ready, meaning your images will remain sharp on all devices.
Fullwidth Slider
Themify Flatshop comes with a full-width slider that can be displayed per page basis. Unlimited sliders can be created and set differently for each page. In each of the slides the text alignment, font, color, and background can be customized to your liking.
WooCommerce Shop
Themify Flatshop comes with a built-in WooCommerce Shop making it simpler for you to sell your products and/or services. It also comes with the flexible shipping option making it easier and faster for you to deliver your products anywhere around the world.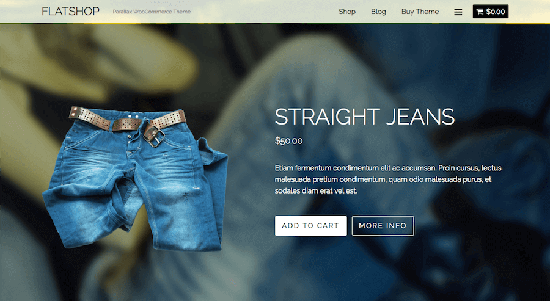 Custom Product Styling: Customize the product styling individually.
Unlimited Shop Pages: Create unlimited shop pages from any specified category(ies).
Product Lightbox: Allows your customers to take a quick look of the product details without redirecting the page.
Parallax Scrolling
You can showcase your products in an eye-catching way using the parallax scrolling effect. The front-page of Themify Flatshop showcases selected products using parallax slideshow on the homepage, the full-width slider, text, and image for the slideshow to make the best user experience.
Slide-Out Menu and Cart
The header is equipped with slide-out menu and shopping cart to keep the design clean and minimal. WordPress custom menus, social buttons, and search form can be added to the slide-out panel. When an item is added in Flatshop, it updates instantly in the slide cart without reloading the page. Customers can click on the cart button to slide out the cart to see all the items.
Infinite Scroll or Pagination
The posts and products on your site will use infinite loading, like Pinterest, so your visitors don't have to click the next page to see more. This feature can be turned off if you're not a fan of infinite scrolling, or it doesn't work well for your site.

Documentation and Support
Themify Flatshop's documentation walks you through the entire list of features. All of the tutorials are well explained with beautiful screenshots and videos.
Whenever you need any help, you just need to scan through the documentation. Everything is listed in a step by step method.
Themify offers support through their forums. They are well-known for their fast response time.
Themify Flatshop is available for a one-time fee of $59. When you purchase the Themify Flatshop theme, you'll get a bonus theme to download for free.
If you want to access the Photoshop files as well along with the theme to create design customization, you need to pay a one-time fee of $69.
You can use the Themify themes on unlimited sites. To access all the Themify themes, you can join their Theme Club for just $89.
Themify Flatshop Alternatives
WordPress is home to thousands of default and third-party themes. So you can choose from a range of the Best Multipurpose WordPress Themes for your site.
To make it easier for you, here are our top 3 recommended alternatives to the Themify Flatshop Theme for WordPress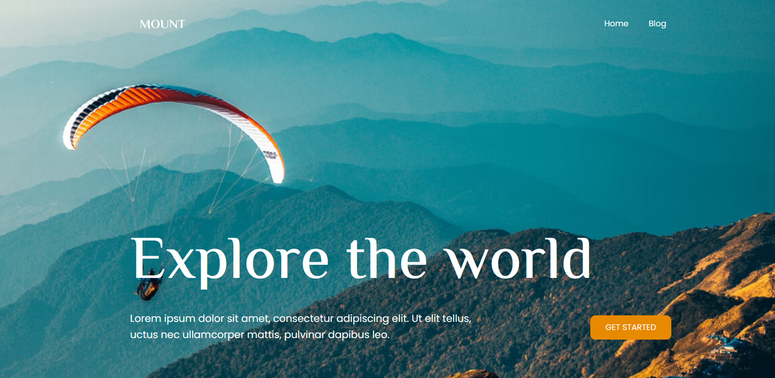 SeedProd is a fantastic multipurpose theme that comes with a theme builder as well.
There are premade theme kits and 200+ page templates that you can use to create a stunning website. Added to that, there are 80+ blocks like contact forms, countdown timers, image carousels, animated headlines, background videos, social profiles, and much more.
It integrates with WooCommerce so you can showcase product grids, display Add to Cart and Buy Now buttons, and so on.
SeedProd also comes with built-in coming soon and maintenance modes to hide your site while it's under construction. It's powerpacked with advanced features and integrations to take your site to the next level.

Thrive Themes is the best WordPress conversion-focussed theme. You'll get premade themes and a theme builder to customize your design.
Plus, there are 100s of theme elements that you can add to your page with the click of a button.
Also, when you sign up for Thrive Suite, you'll also get access to powerful conversion optimization tools like quizzes, online courses, sign up forms, and more. This helps you turn your website into a full blown online business.
Get started with Thrive Themes »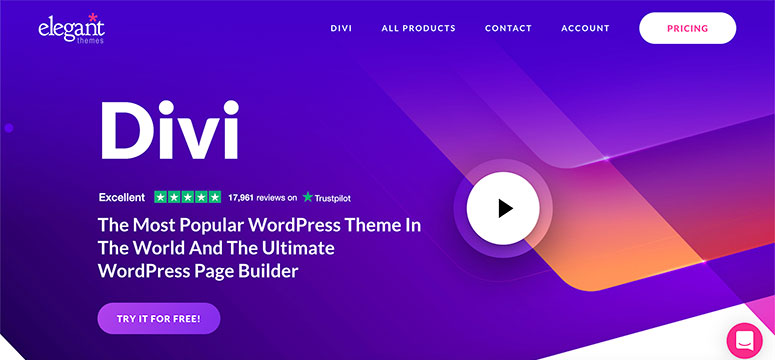 Divi is one of the most powerful and popular WordPress multipurpose themes in the market.
Divi theme comes with hundreds of stunning premade layouts and options to use several layouts from the Divi community. So you can create a stunning site using this theme along with the visual Divi Builder plugin.
There are lots of beautiful content elements to choose from including gallery, portfolio, slider, and more.
Read our complete Divi review.
For more options, see our guide: The Best and Most Popular WordPress Themes.
Next, we'll give you our final verdict on the Themify Flatshop WordPress theme.
Our Score on Themify Flatshop WordPress Theme
Themify Flatshop lets you easily build a WordPress site with an eye-catching parallax scrolling effect. The theme is also shipped with Themify Builder, a drag and drop tool that lets you create a custom layout with ease, so you can build any type of layouts without having to hire a developer.
If you're concerned about the page speed of your site, you can disable unnecessary animation effects in Themify Settings. If you usually crop images manually, you can disable image script settings as well, which can help to improve the loading time.
We give Themify Flatshop 5 out of 5 stars. Here is the breakdown of our review scores
Get Themify Flatshop Now »