Do you want a professional looking, multipurpose theme for your business? Themify Corporate is the perfect theme for your website to promote your services. Read on to learn more about the features and benefits of the Themify Corporate Theme.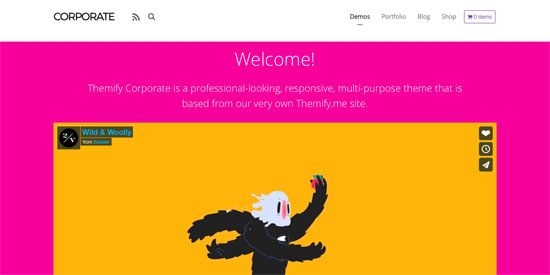 About Themify Corporate
Themify Corporate is a multipurpose, professional theme that focuses on promoting your products and/or services at its finest. It is a beautifully designed theme that attracts the attention of your users with its background video and the bright colors featured on the site. You can also customize many things on your site, like the header and background. It comes with tons of useful features to make this theme the perfect one for your business.
Features of Themify Corporate
Themify Corporate comes with tons of unique features to build the perfect site for your business. It comes with animation, video background, animated progress bars, and Themify icons. Just like any other Themify themes, Corporate also comes with Themify builder, a drag and drop builder that lets you design your posts and pages the way you imagine it to be.
Here are some key features that make Themify Corporate theme a great choice for your site.
Themify Builder
The theme is bundled with Themify builder, a drag and drop tool that helps you to create any type of layout without having to hire a developer.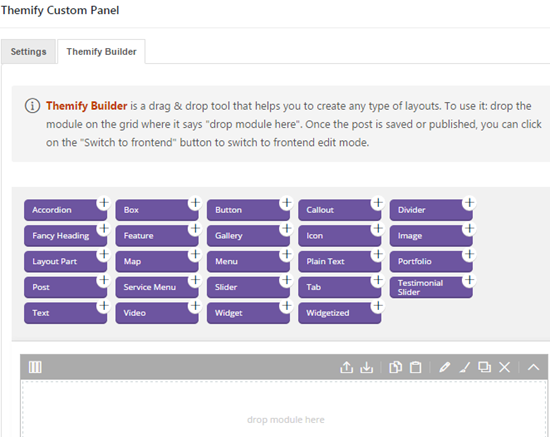 The Themify builder option is available in post, page and portfolio editors. Best of all, it allows you to edit content modules from the frontend of your site, so you don't have to switch between preview tab and page editor tab to review the style.
The Builder is built with the focus on giving users full control on the look and feel of their site.
Demo Import
With Themify Demo Import, you can replicate your website like Themify's default setup within just a few minutes. The only thing you have to do is edit the text with what you want it to say and replace the default images to your own.
Responsive and Retina Ready
Having a non-responsive theme can frustrate your users and cause lower search engine rankings so a mobile responsive theme is important. And Themify Corporate is mobile responsive, meaning your website will be perfectly optimized for every browser, device, and screen size. Also, this theme is Retina ready, meaning your images will remain sharp on all devices.
Video Background
Change your background to be a custom full cover video that continuously plays in the background. This feature allows your content to be viewed while a video is playing in the background. The video background feature makes your site more engaging and attracts the attention of your users.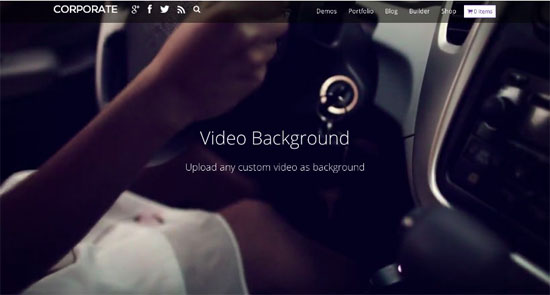 Customization
Themify Corporate allows you to customize the theme to your liking. You can customize different Themify elements using the default customizer option. In the customizer option, you'll find basic and advanced options. In the Advanced option, you can create forms, mobile menu panel and much more.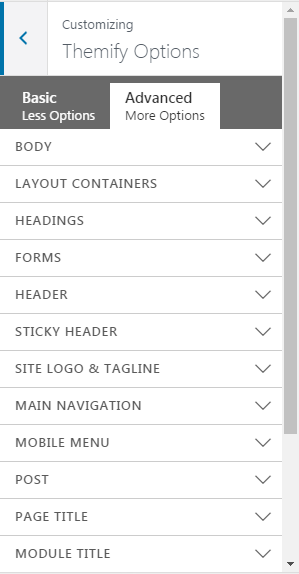 Header: Style the header background, font and color individually for each page and/or post.
Animated Progress Bar: You can present and visualize data in a unique way with these bars.
Themify Icons: It allows you to insert buttons and icons next to word(s).
Animated Background Colors: It allows you to have customizable animated background colors.
Widgets
Themify Corporate gives you many widgetized content areas. Besides the sidebar, you can add widgets to social widgets and four footer widgets.
With the social widget, you can add links to your social media accounts to connect with your users. In the footer, you can add several different widgets like contact details, custom links, and a subscribe box to catch the users' attention.

It also comes with many custom widgets. Those include:
Feature posts
Flickr
List Categories
List Pages
Most Commented
Recent Comments
Social Links
Twitter
Custom Post Types
Post types make it easier to add and control different types of contents to your site. Themify Corporate includes 3 different custom post types:
Portfolio Post Type: Showcase your work and get noticed by creating a portfolio.
Testimonial Post Type: Showcase the testimonials from your clients in a stylish way.
Team Post Type: Each of your team members can connect their social media to their profiles.
WooCommerce Shop
Themify Corporate comes with a built-in WooCommerce Shop making it simpler for you to sell your products and/or services. It also comes with the flexible shipping option making it easier and faster for you to deliver your products anywhere around the world.
Along with the WooCommerce Shop, Themify has added the WooCommerce Menu Cart plugin which adds up the cart total in the main menu.
Documentation and Support
The documentation of Themify Corporate walks you through the entire list of features. All tutorials are well explained with beautiful screenshots and videos. Whenever you need any assistance you just need to skim through the documentation provided, and most likely you'll find solutions in there.
Themify offers support through their forums and emails. For faster support response, it is recommended you to use their forums to post questions.
Themify Corporate is available for a one-time purchase fee of $49. When you make a purchase, you can choose a free bonus theme to download. You are allowed to install the theme on as many sites you'd like.
The developer license is available at $69, including Photoshop files as well. To access all the Themify themes, you can join their Theme Club for just $79.
Our Score
Themify Corporate is the perfect theme for businesses, portfolios, photographers, web apps, or general company sites. With the animations, video background, animated progress bar, and social icons it makes it easier for you to promote the services you have to offer for your users.
We give Themify Corporate 5 out of 5 stars. Here is the breakdown of our review scores:
Get Corporate Now »