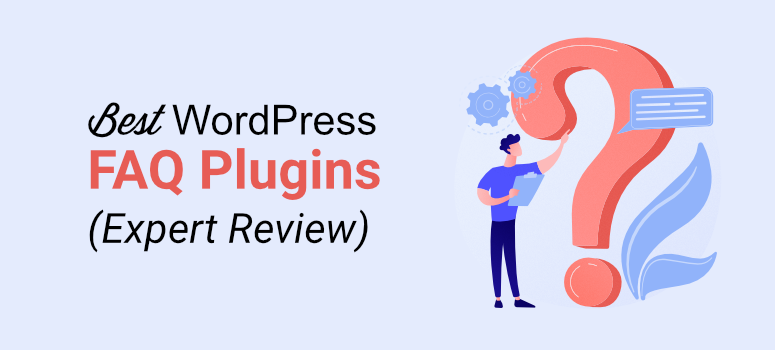 Have you been receiving emails from your visitors asking you the same question about your products, that you have already replied to before? Well, it's fun to answer your client's queries and clear their doubts. But it can be frustrating when you get asked the same questions repeatedly.
A smart solution to tackle this problem is to have a FAQ section on your website. That way, you can list down the most frequently asked questions, answer all of them together and display it on your website for your visitors.
Your visitors can refer to the FAQ section if they ever have a doubt. Moreover, you will no longer have to repeatedly keep answering the same questions over and over again.
Creating an FAQ section or page on your site can be time-consuming and complex. That's where FAQ plugins come in. They make it easy to create responsive accordion style FAQs with custom layouts.
In this article, we will tell you about Best WordPress FAQ Plugins that will let you create an FAQ section for your business and rank on Google for your questions.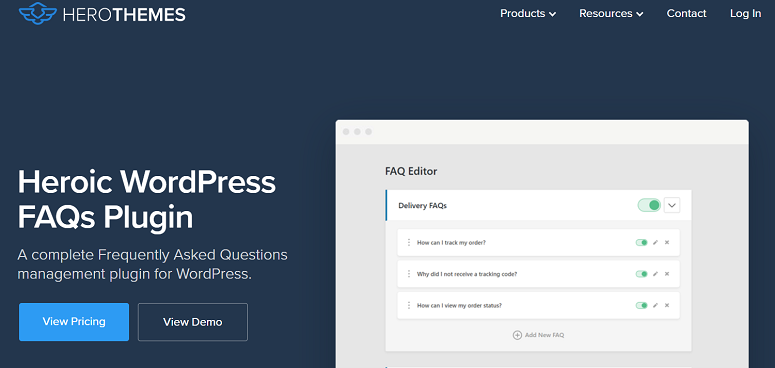 Heroic WordPress FAQs Plugin is one of the most user-friendly plugins with a beautiful design and a gorgeous back-end. You can use this plugin to create your FAQs exactly the way you want them. It requires no coding at all.
Once you install the plugin, you can access it by clicking on FAQ in your WordPress menu. This will launch the FAQ creator.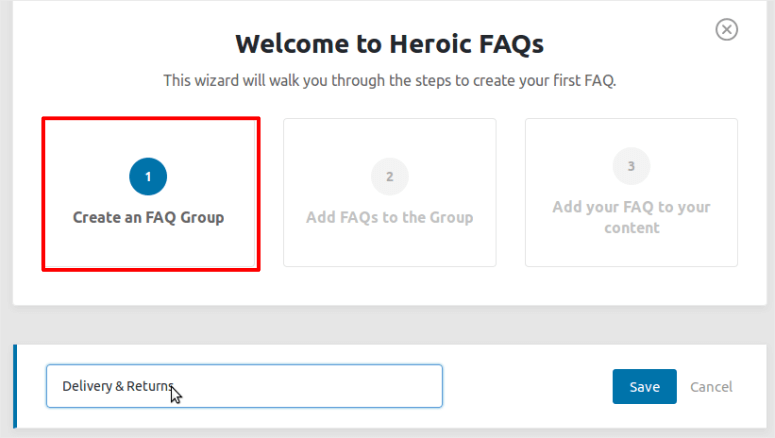 You can create different FAQ categories for different products, services, or processes on your site. The editor is the same as the WordPress native style so there's no learning curve to this plugin.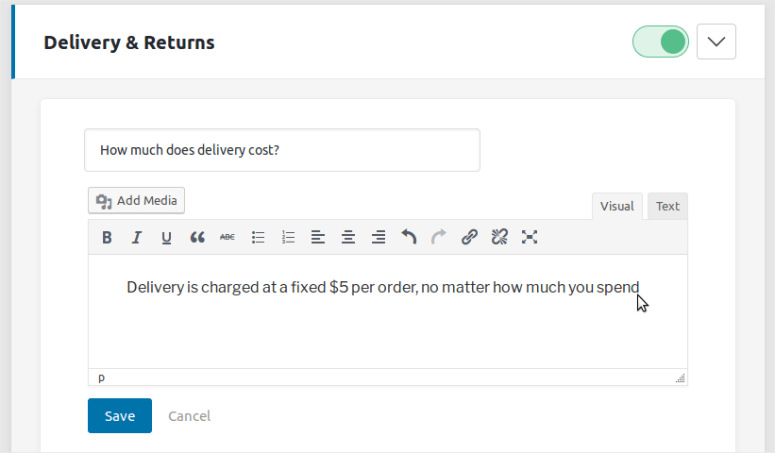 The FAQ configurator opens the possibility to add your FAQs anywhere you want on the site. There's a readymade widget inside the WordPress block editor (Gutenberg editor).
You just have to use the 'Add New' button to create a new page or post. Then search for the 'Heroic FAQ' block and add it to your post.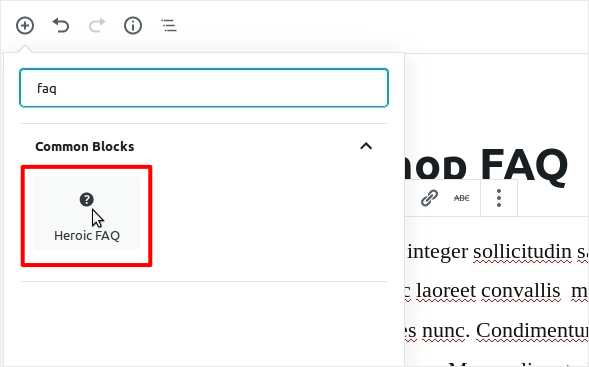 With this plugin, it is easy to customize your FAQs thanks to its drag-and-drop builder. You can change the FAQ layout to accordion, toggle, or list. There are also options to change the icon position, size, and style.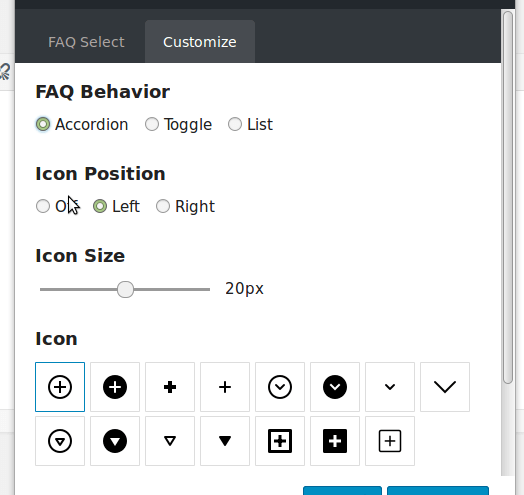 If you're still using the WordPress classic editor, this plugin supports shortcode embeds as well.
The best thing is that it supports images, videos, and animations as well. The visuals can make things clearer for your visitors.
You can test out how your changes display FAQs on your site and then make changes accordingly. You want to make sure your collapsible menus work correctly and reveal the right answers.
Heroic Themes also comes with a Knowledge Base plugin. This lets you create documentation for your product on service.
Ready to get started with this plugin? Head over to Heroic WordPress FAQs Plugin.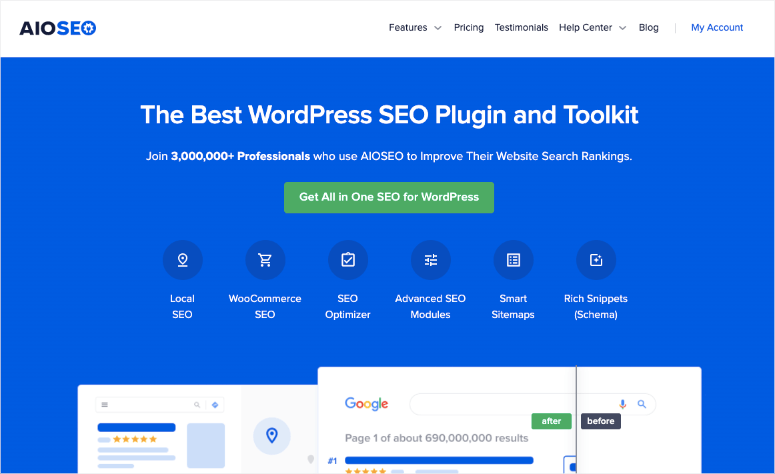 All in One SEO is the best WordPress SEO plugin and toolkit to improve your website search rankings.
It comes with built-in schema markup for FAQs, blog posts, articles, and more. By adding FAQ schema, you can get featured in Google rich snippets such as the People also ask section.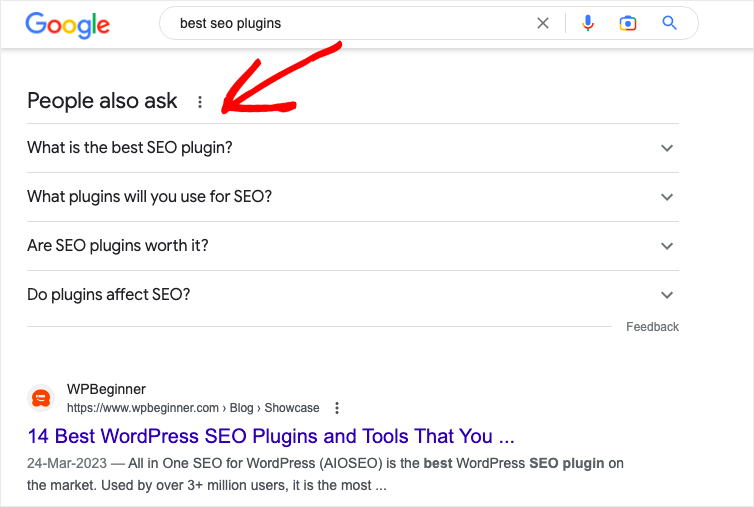 Google will also rank your post for relevant questions asked by their users.
AIOSEO is so easy to use. If you want to add FAQ schema markup to a post, you just have to navigate to the AIOSEO section in the WordPress post editor.
From the top menu, you need to choose Schema and then Generate Schema.

This will open up a page full of schema templates that you can add to your content with just a click. These include book, event, fact check, movie, music, job posting, how to, and more!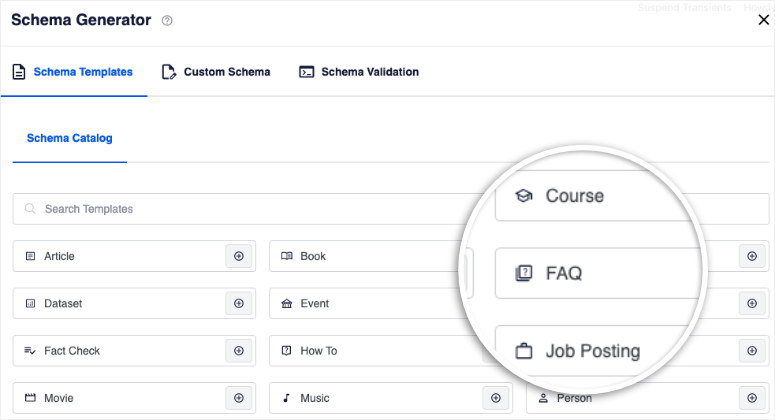 Once you select FAQ, you'll see an option to add questions and answers. All you have to do is copy and paste the FAQs from your content into the schema section here.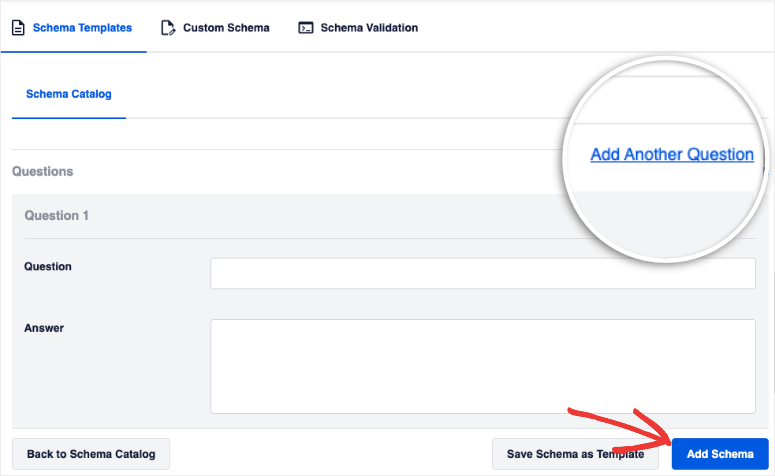 Then you can validate your schema to make sure Google will crawl it.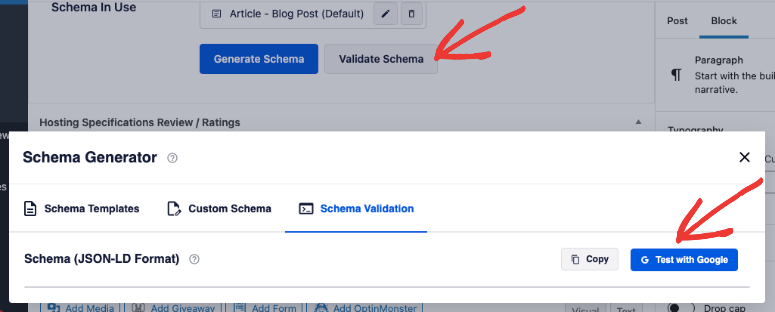 Ready to start ranking for your FAQ section? Download All in One SEO now.
We recommend using these two plugins together. Here's why:
Heroic FAQs will help you create an FAQ section that's visible to users on your website. It will be displayed in a neat layout.
All in One SEO will help you get your FAQ section noticed by search engines. This can help boost SEO and get your posts to rank higher in Google SERPs.
Both plugins are compatible with all popular WordPress themes.
That's all you need to create a beautiful and functional FAQ section on your WordPress site.
Below are more FAQ plugin options that you can explore.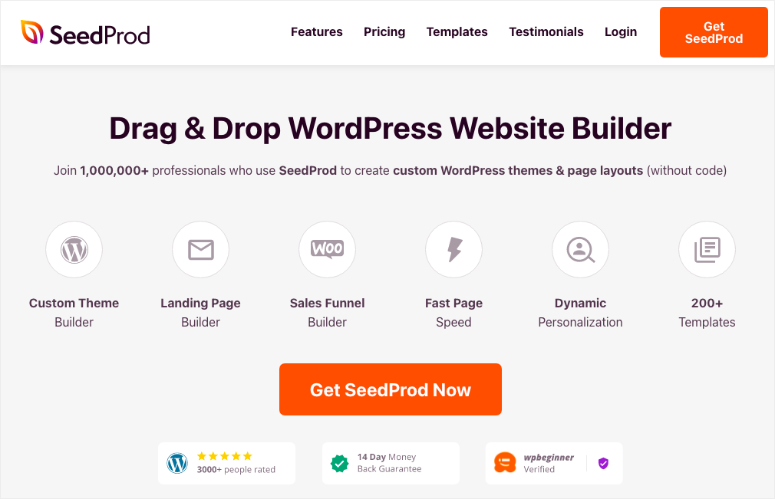 SeedProd is the best website and page builder for WordPress. You can create any kind of page or post you want in the style and design that you want it right inside your WordPress dashboard.
There are templates that you can choose from and an intuitive drag and drop editor to customize every single element – never touching a line of code.
Inside SeedProd, there are smart blocks that let you add entire sections to your page such as FAQs, header, calls to action, footer, and hero sections.
All you have to do is select a template that matches your WordPress website's design.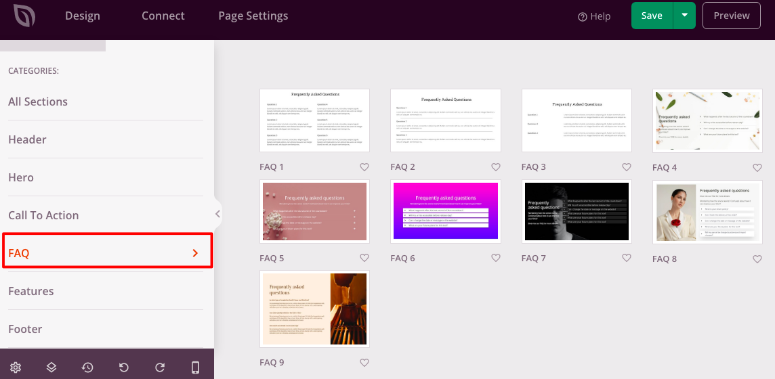 Then you can customize the questions and answers. You can add images, spacers, headlines, and so much more. You can also add columns and rows to your FAQ list, and drag and drop them to change their positions.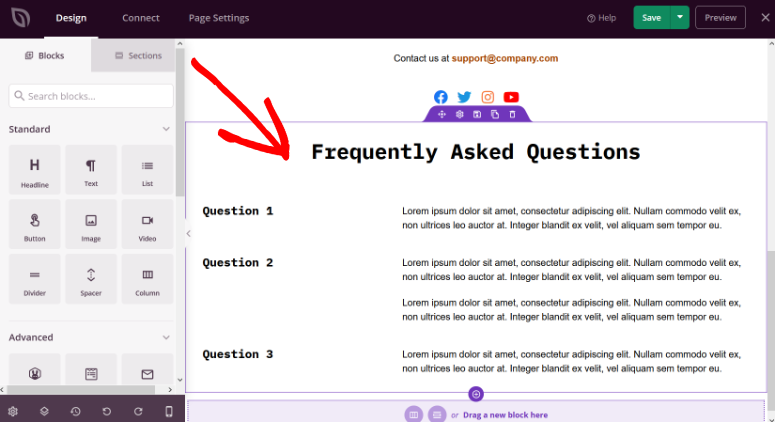 With SeedProd, you can create a dedicated FAQ page. There are tons of styling options for the FAQ block.
You could also create a template for FAQ posts that you can use over and over again to quickly create FAQ posts for your blog. See our tutorial: How to Create a Custom WordPress Layout (Step by Step).
If you want to go above and beyond these customization options, you can also use custom CSS.
All your designs are responsive and will look good on any device. This is a good boost for SEO and user experience.
SeedProd has a free version as well as a premium version with advanced features to build pages and even your entire website. Plus, it comes with a 14 day money-back guarantee.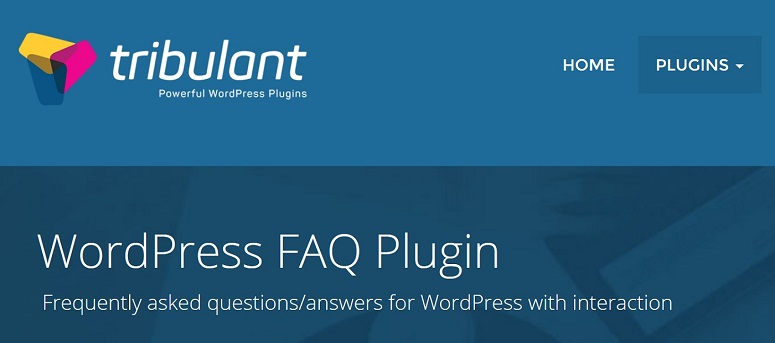 Tribulant WordPress FAQ is a robust WordPress solution that is built with a fully featured administrative dashboard from where you can manage your FAQs. It is super flexible in terms of letting you tweak the plugin settings and adjust it according to your requirement.
Your users can have a clean frontend from where they can flip through the questions with ease. The search form integrated with the plugin, lets your users make a more specific search without wasting their time.
To make your FAQ more helpful to the users, you can accept questions via a web form. They can do this either by registering and logging in to the site or directly from the frontend itself. You have the authority to choose the option of how you want your visitors to submit the question.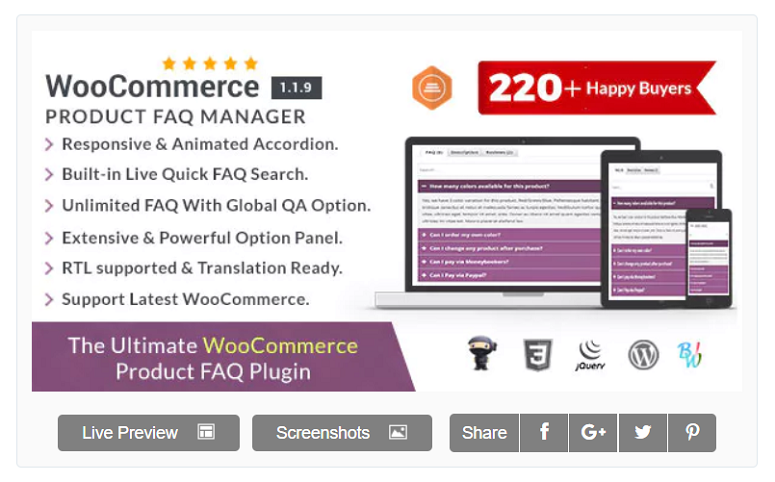 WooCommerce Product FAQ Manager is a complete solution to add FAQs to your eCommerce website. With this premium plugin, you can add FAQs to every product on your site separately. The best thing is that there is no limit to the number of FAQs you can add.
You can also sort your FAQs in any order you want with drag and drop. You can also use 7 beautiful pre-built themes with a custom theme builder section for each. So if you do not like a particular color or font etc, just go ahead and change it.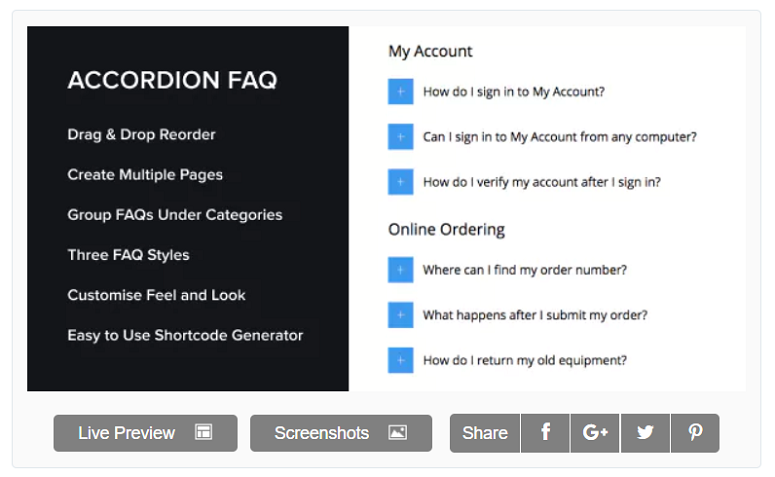 Accordion FAQ WordPress Plugin is the perfect solution to add FAQs to your website in style. Whether you want them in list, block, or accordion-style FAQ, this plugin has all the options for you. All you need to do is to install, activate and simply start using the plugin on your website.
It's super flexible, so you can add a custom style to your FAQs. From changing color options, font, icons, border-radius and more you will have a lot of options to make it look distinct. You can also enable the translation option as well.
The plugin offers full support during the weekdays and covers installation and setup, product features and fixing bugs.

10Web FAQ is yet another amazing FAQ plugin that you might want to check out. It's a feature-rich and SEO friendly FAQ plugin that lets you add FAQs to your website easily. You can even categorize your questions so it's easier for your visitors to find them quickly.
When your visitors type in a question, the answers will be presented in a neat accordion view and users can click on them to read the answers. The plugin supports an unlimited number of categories. With the help of the Order section, you can also change the order of your questions. The order section comes with the drag and drop functionality so ordering and reordering them seems super easy.
You can also add social share buttons to your FAQs, let people add a comment, and do a lot more. The plugin offers great support too. The beautiful themes that come with the plugin can really make your FAQs look great.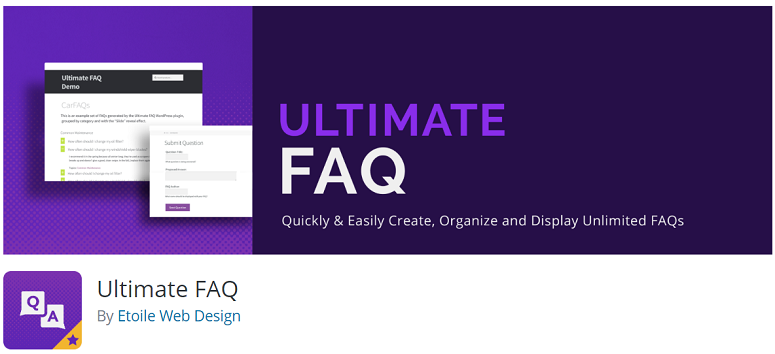 The Ultimate FAQ plugin is an amazing WordPress plugin that simplifies the process of adding FAQs to your website. You can create unlimited FAQs for your site for free.
There are no limits on categories and tags as well. Plus, it's easy to create a great FAQ section for your website.
To make things easier for your users, you can use the AJAX FAQ search form and enable a more specific search on your website. The accordion layout that comes with this plugin lets you present your question and answers in style. You can also create a user manual and even allow people to download your question and answers in a PDF format.
The plugin also lets you style your FAQs. You can use CSS to make your section look more stylish and appealing.
Ultimate FAQ is a free FAQ plugin for WordPress. They also have a pro version with advanced features such as the search function in FAQ forms.
We hope this article helped you find the right WordPress FAQ plugins to create a beautiful FAQ section on your site.
If you want, you can check out this guide on How to Add a Frequently Asked Questions – FAQs section in WordPress.