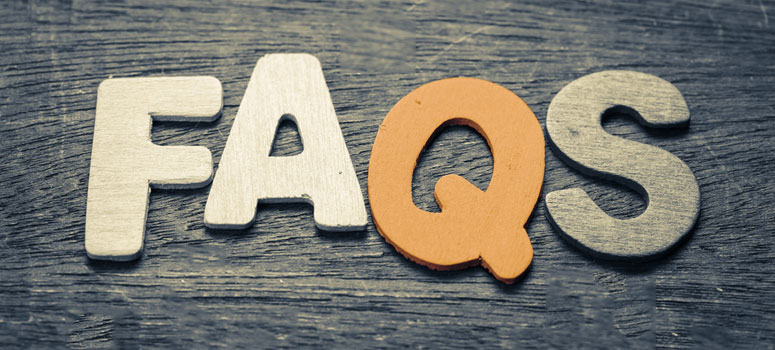 Have you been receiving emails from your visitors asking you the same question about your products, that you have already replied before? Well, it's fun to answer your client's queries and clear their doubts. But it can be intimidating when you get asked the same questions repeatedly.
A smart solution to tackle this problem is to have a FAQ section on your website. That way, you can list down the most frequently asked questions, answer all of them together and display it on your website for your visitors.
Your visitors can refer to the FAQ section if they ever have a doubt. Moreover, you will no longer have to repeatedly keep answering the same questions over and over again.
And what could be better than using a FAQ plugin for that? In this article, we will tell you about 8 Best FAQ Plugins that will let you create an FAQ section for your business.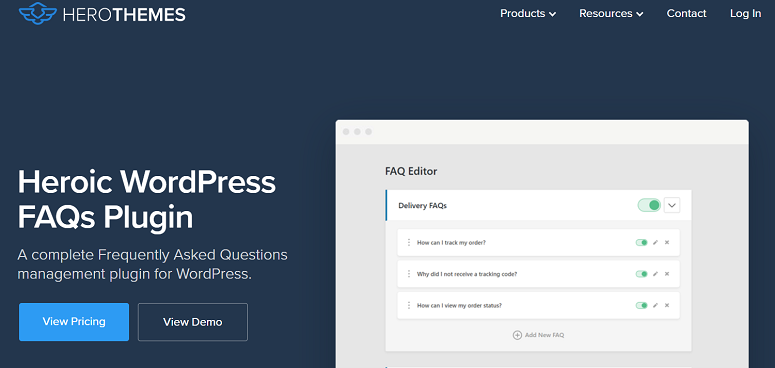 Heroic WordPress FAQs Plugin is one of the most user-friendly plugins with a beautiful design and a gorgeous back-end. You can use this plugin to create your FAQs exactly the way you want it. It requires no coding at all.
With this plugin, it is easy to customize your FAQs thanks to its drag-and-drop builder. The best thing is that it supports images, videos, and animations as well. The visuals can make things clearer for your visitors. The plugin includes 5 predefined FAQ styles, various icon choices, and a visual editor that offers a pleasant editing experience.
The FAQ configurator opens the possibility to add your FAQs anywhere you want on the site. To match the look of your website, you can use its amazing customization options.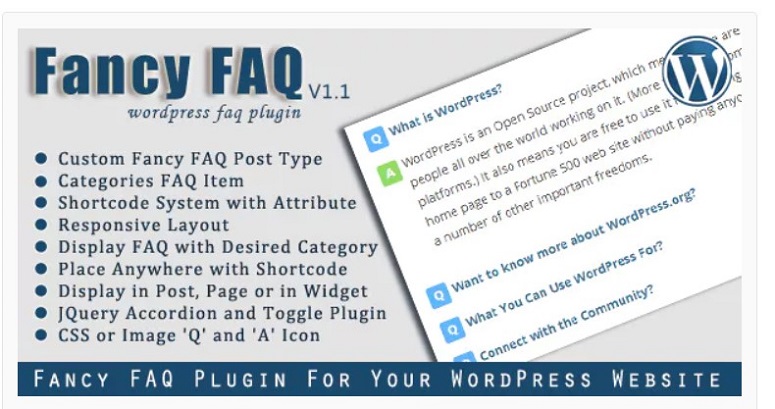 Fancy FAQ is a brilliant plugin that simplifies the process of adding an FAQ section to your WordPress website. The plugin is a complete solution to answering your visitors about all probable queries they might have about your products and services.
The custom post type with category taxonomy makes it easier for you to integrate the FAQs easily. Once you add your FAQs, you can display them anywhere you want on your website. It can be on a specific page, a post or a widget for that matter. This can be done with the shortcode provided to you by the plugin.
This plugin also supports a number of popular plugins, including WooCommerce. So if your website is an eCommerce one, you will still be able to continue offering your products and services without hassle.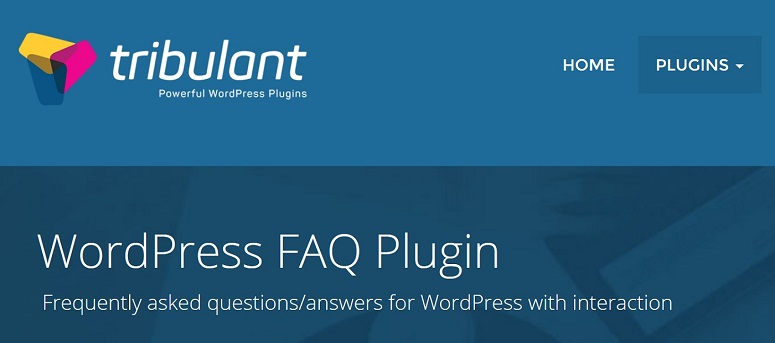 Tribulant WordPress FAQ is a robust WordPress solution that is built with a fully featured administrative dashboard from where you can manage your FAQs. It is super flexible in terms of letting you tweak the plugin settings and adjust it according to your requirement.
Your users can have a clean frontend from where they can flip through the questions with ease. The search form integrated with the plugin, lets your users make a more specific search without wasting their time.
To make your FAQ more helpful to the users, you can accept questions via a web form. They can do this either by registering and logging in to the site or directly from the frontend itself. You have the authority to choose the option of how you want your visitors to submit the question.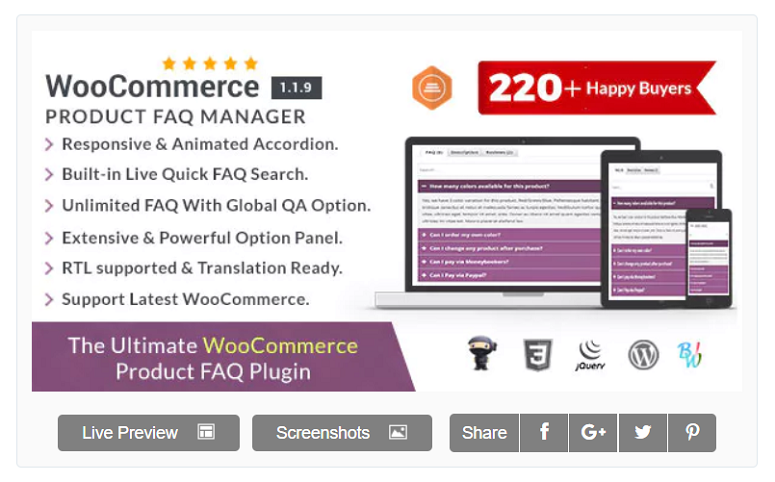 WooCommerce Product FAQ Manager is a complete solution to add FAQs to your eCommerce website. With this plugin, you can add FAQs to every product on your site separately. The best thing is that there is no limit to the number of FAQs you can add.
You can also sort your FAQs in any order you want with drag and drop. You can also use 7 beautiful pre-built themes with a custom theme builder section for each. So if you do not like a particular color or font etc, just go ahead and change it.

FAQ WD by Web-Dorado is yet another amazing FAQ plugin that you might want to check out. It's a feature-rich and SEO friendly FAQ plugin that lets you add FAQs to your website easily. You can even categorize your questions so it's easier for your visitors to find them quickly.
When your visitors type in a question, the answers will be presented in a neat accordion view and users can click on them to read the answers. The plugin supports an unlimited number of categories. With the help of the Order section, you can also change the order of your questions. The order section comes with the drag and drop functionality so ordering and reordering them seems super easy.
You can also add social share buttons to your FAQs, let people add a comment, and do a lot more. The plugin offers great support too. The beautiful themes that come with the plugin can really make your FAQs look great.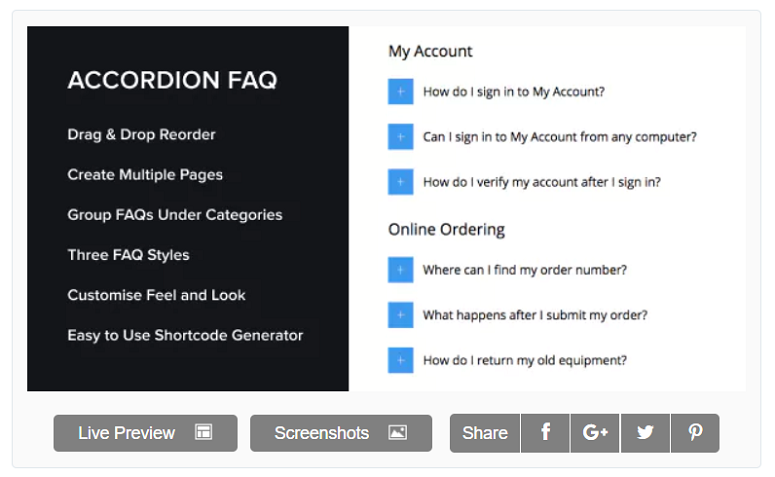 Accordion FAQ WordPress Plugin is the perfect solution to add FAQs to your website in style. Whether you want them in accordion, list or block style, this plugin has all the options for you. All you need to do is to install, activate and simply start using the plugin on your website.
It's super flexible, so you can add a custom style to your FAQs. From changing color, font, icons, border-radius and more you will have a lot of options to make it look distinct. You can also enable the translation option as well.
The plugin offers full support during the weekdays and covers installation and setup, product features and fixing bugs.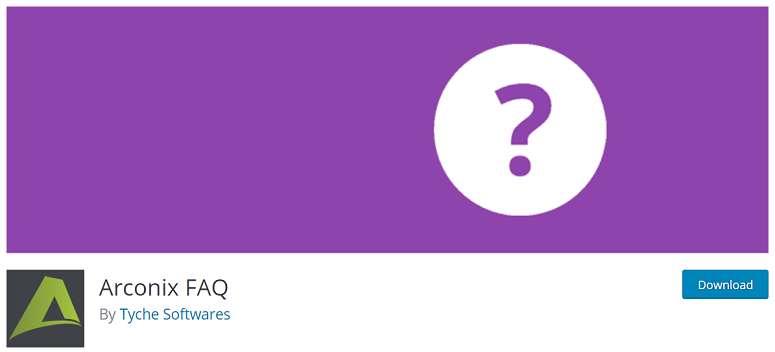 Arconix FAQ is a free FAQ plugin that lets you add a stylish FAQs section to your website. You can use the shortcode to display them anywhere on the site. You can also hide or show them using an animated, JQuery toggle or accordion box.
It also lets you display your question and answers in groups by tagging them at the time of creating them. You can also enable the checkbox that lets you add your FAQ to the top with a link included.
The plugin is easy to use and customize and it already has more than 10,000 active downloads. So check out this plugin now and add a beautiful FAQ section to your website.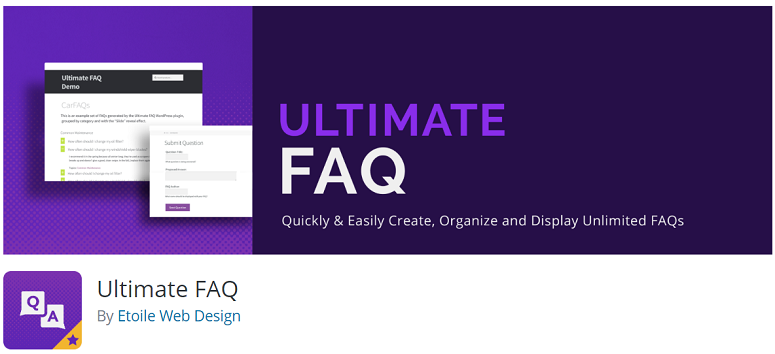 The Ultimate FAQ plugin is an amazing WordPress plugin that simplifies the process of adding FAQs to your website. From adding unlimited categories to creating unlimited tags, this plugin lets you create a great FAQ section for your website.
To make things easier for your users, you can use the AJAX FAQ search form and enable a more specific search on your website. The accordion layout that comes with this plugin lets you present your question and answers in style. You can also create a user manual and even allow people to download your question and answers in a PDF format.
The plugin also lets you style your FAQs. You can use CSS to make your section look more stylish and appealing.
We hope this article helped you find some of the best WordPress FAQ plugins. If you want, you can check out this guide on How to Add a Frequently Asked Questions – FAQs section in WordPress.