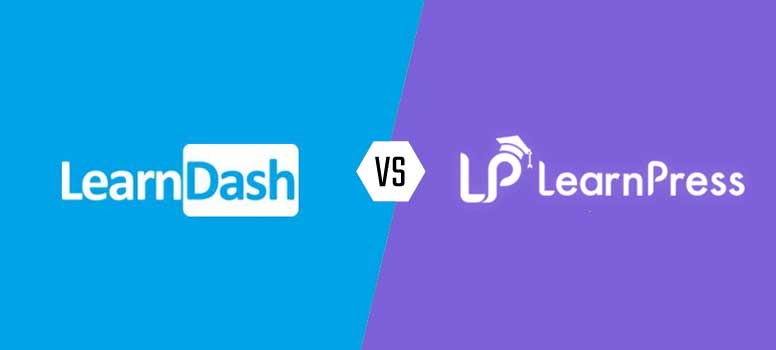 LearnDash and LearnPress are two of the best Learning Management System (LMS) plugins for WordPress. Both of these plugins can help you create beautiful online courses for your users without coding a single line.
But out of the two plugins which one should you pick? To help you out, we've come up with this detailed comparison post where we'll look at both plugins side-by-side.
By the end of the article, we'll tell you which plugin would be your best choice for your LMS.
LearnDash vs. LearnPress – Table of Contents
In comparing LearnDash vs. LearnPress, we'll mainly look at 6 aspects of the plugins.
In the final section, we'll tell you which plugin is better, LearnDash or LearnPress, so that you can pick the right plugin for your next project.
Let's dive in.
1. LearnDash vs. LearnPress – Overview
Both LearnDash and LearnPress are two of the leading LMS plugins for creating online courses.
Here's a quick overview of both.
1. LearnDash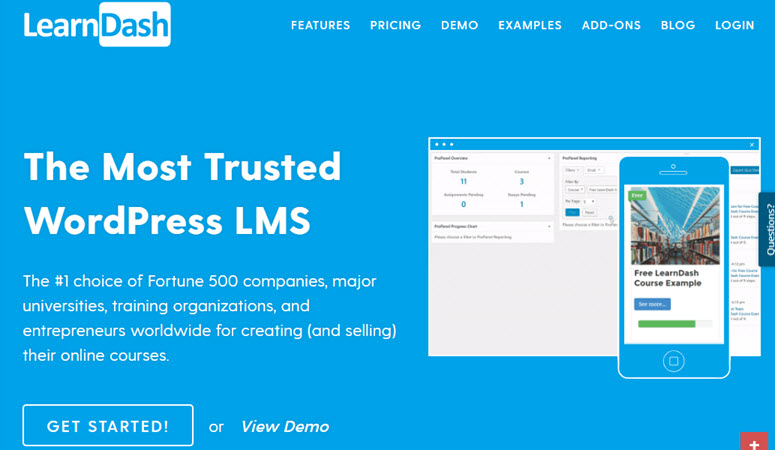 LearnDash is one of the leading names when it comes to creating online courses. It helps you create and sell your courses, deliver quizzes, award certificates, enable downloading reports, manage users, and do so much more.
Basically, it's a one-stop solution for anyone who is into creating online courses for their users.
2. LearnPress

LearnPress is another popular name for easily creating online courses. Like LearnDash, this plugin offers great options for creating, selling, and managing online courses, quizzes, and more.
It works with all WordPress themes and offers various addons to expand the plugin features.
Now, let's look at the features that both plugins offer.
2. LearnDash vs. LearnPress – Features
LearnDash offers great features when it comes to creating your online courses. These features are divided into 4 categories.
Courses
Monetization
Administration
Tech
Under Courses, you have a powerful course builder, advanced quizzing options, drip content to drip-feed your lesson content as scheduled, private or public course-specific forums, special rewards for stellar students, certificates and badges, and much more.
You can also set courses, lessons, and quiz-based prerequisites. And you have the option of creating a grade book.
Under the Monetization tab, you can use any price model you want like one-time sales, subscriptions, and so on. You also have the option to implement a shopping cart to your courses, sell membership access to users, create course bundles, or even create a course marketplace like Udemy.
As for your Administration options, you have control over your courses, learners, and users. It offers options for creating user profiles so that they can track their course activities. You can also trigger an auto email notification to be sent to the admin every time there's a new user or a purchase is made.
You also have the option to send renewal reminders to your users. Plus, you have detailed stats to check user enrollment progress, quiz performance, and more. It also lets you control access to your courses by your users.
Finally, under the Tech tab, it supports various tech tools from the e-learning and WordPress industry.
The best thing about LearnDash is that once you purchase the plugin, you can use all its features right from your WordPress dashboard. It offers almost all the basic features that you might need to create your courses.
In other words, you don't need an addon for expanding these basic features.
Like LearnDash, LearnPress offers a large number of features to create and sell your courses. So with LearnPress, you can create, manage, and sell courses to your users with ease. LearnPress supports BuddyPress to make it easier for your users and instructors to stay connected.
It also lets you send an email notification to the admin or the users (student or instructor) notifying them about various activities, enable auto-enroll for users after they buy a course, select your currency, and offer basic options to set your profile.
The downside of LearnPress, however, is that if you want more features beyond what it offers natively, you will need to use addons. Some of these addons are free while others are paid. Although you don't have to pay anything for the free ones, it involves an extra step of activating the addons on your website.
With the free addons, you can whitelist your courses for students, review courses for your enrolled students, import/export courses, enable offline payments, have BuddyPress and bbPress integration, and add fill in the blank questions to your courses.
For all other features, you have to purchase a premium addon.
Winner
After reviewing all the features offered by both the plugins, we think that LearnDash has an edge over LearnPress.
3. LearnDash vs. LearnPress – Ease of Use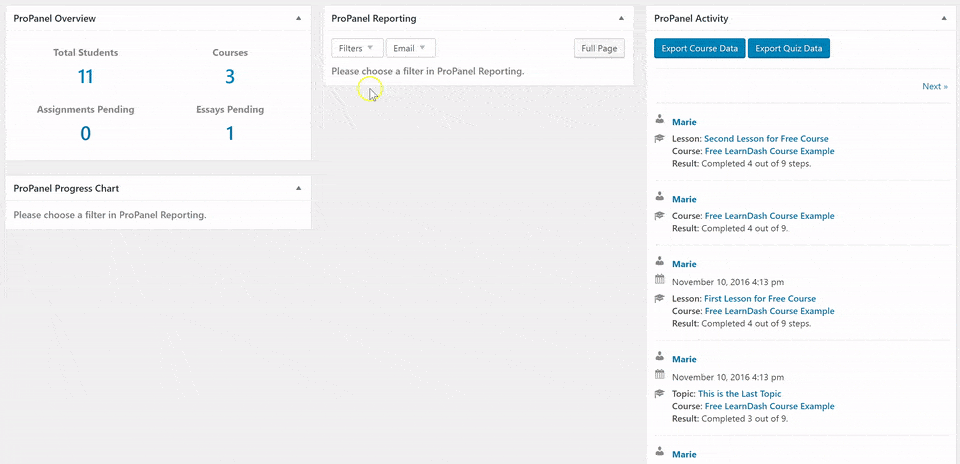 LearnDash is a user-friendly LMS plugin that offers you a dedicated dashboard for creating your course materials, certificates, assignments, lessons, topics, quizzes, and more.
Once you create your course, you can scroll downwards to add more options under the course tab. Here you can add your course price type, sort your courses by title, date, and menu order.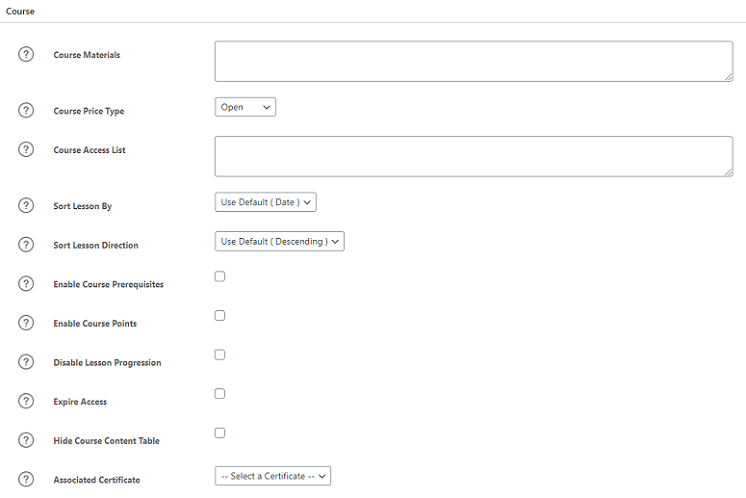 The settings tab lets you enable various options like course auto roll, bypass course limits, and so on. Creating your online course with LearnDash is just like creating posts and pages with WordPress. So if you've used WordPress before, LearnDash won't feel tough at all.
You can also export your reports easily to other platforms.
LearnPress, like LearnDash, is extremely easy to handle. Creating courses, lessons, quizzes, and so on is super easy and can be done right from your dashboard. The Settings tab offers options to select your currency, add course categories, enable the option for reviewing your course before it's published, add payment options, and more.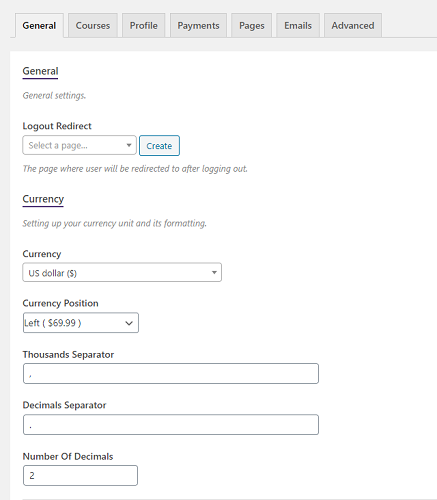 It also offers options for checking your processing orders, canceled orders, and completed orders. Plus, you have an option to get notified via email whenever there's a new order, notify your users when they buy your course, or let them know when the order is processing.
And all of this can be done easily without any coding.
Winner
In terms of ease of use, there's no clear winner between LearnDash and LearnPress. Both the plugins are equally good and can be easily handled by beginners without prior experience.
4. Course Builder
Since you'll be creating the courses with these plugins, let's look at each software's course builder.
With LearnDash, creating your courses is easy. It's more like creating a new page or post on WordPress. To create your course, simply go to LearnDash » Courses » Add New on your WordPress dashboard.
You'll find LearnDash on the left side of your screen. Once the page opens you can start creating your course. Start by adding your title, and then add your details in the description box. You can add a course tag, featured image, and more, just like you would normally do in WordPress.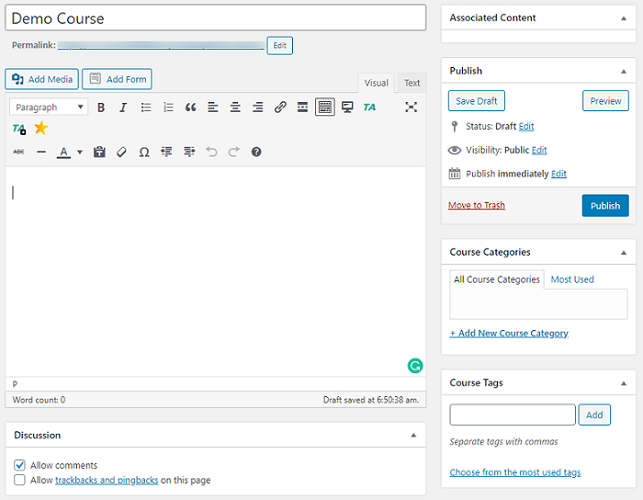 Once you've added your description, you can scroll down the screen and add the course options. You can also select a certificate if you want to associate one with the course.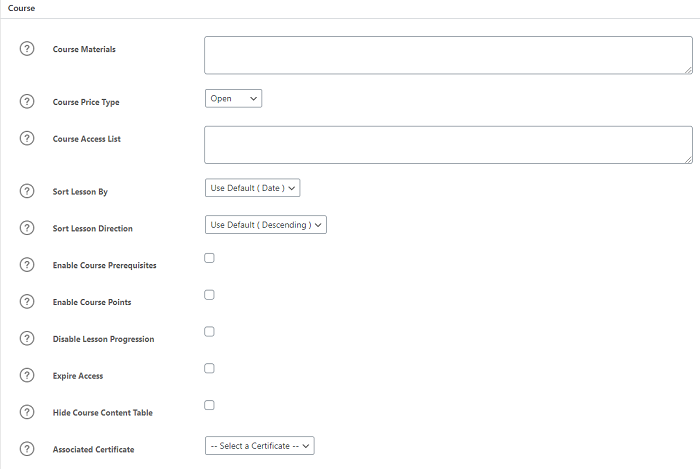 You can look at all your courses by clicking on the Course option on the top of your screen.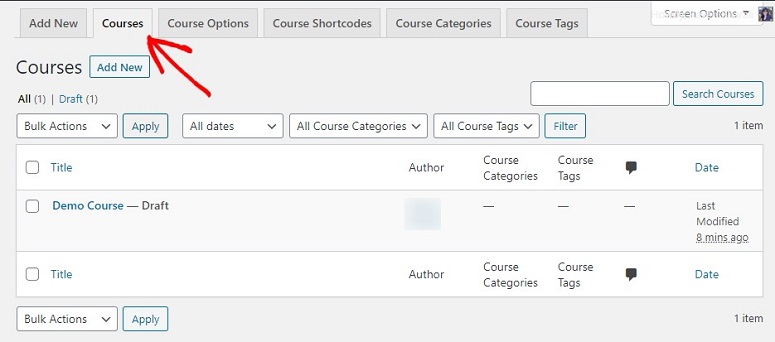 You also have several other tabs here. For example, in the Course Options tab, you can control the taxonomies that you want to use with LearnDash. You can also use the Course Category and Course Tags option to add categories and tags to your course.
With LearnPress, it's also easy to create a course. Just like in LearnDash, you go to LearnPress » Courses » Add New in your WordPress dashboard. Now you can start creating your course.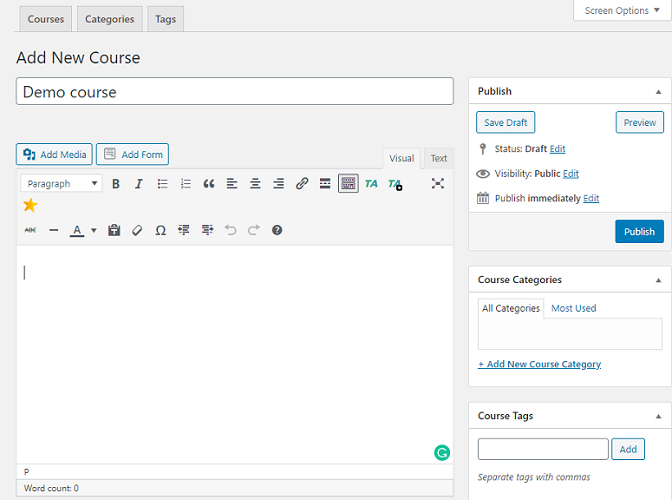 After scrolling down the page, you'll find several options. Under the General tab you'll have options for adding the duration of your course, the maximum number of students allowed, and many other course configuration settings.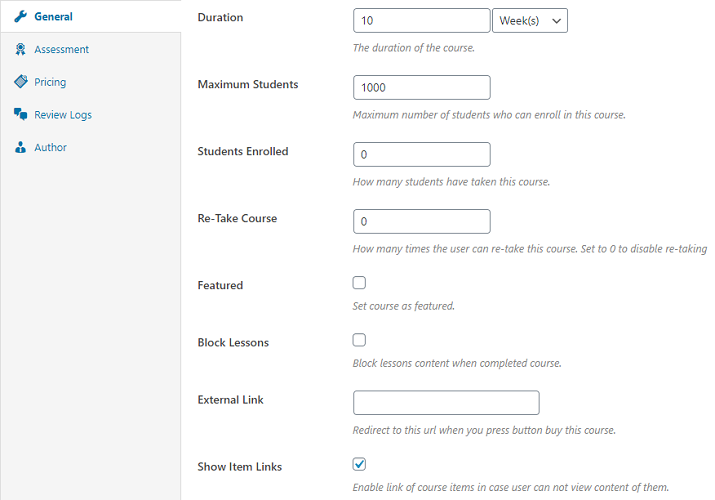 Next, there's a tab called Assessment. Here you can add your course passing score, course results, and more. In the Pricing tab, you can add your course price and add a sale price (if valid).

In the Reviews and Author tabs you can check your course reviews and the author of the course. Just like in LearnDash you can add your tags and categories by using the tabs on the top of your screen.
Winner
After comparing the course builder, we think that both LearnDash and LearnPress offer equally good options for building your course. Both plugins are excellent for creating and launching different courses.
Now let's look at the support options they offer.
5. Support
Whenever you're considering a software or plugin, support is a major factor. It lets you contact someone when you run into problems, have general questions, or simply need to be pointed in the right direction.
Let's see how these two plugins stack up in terms of support.
LearnDash is a premium plugin and has great support options. If ever in doubt, you can always refer to its extensive FAQs section. They also have a very well documented demo section. You can also reach out to their friendly team of experts by submitting a ticket. They are available Monday to Friday from 7 am to 4 pm EST and are always ready to help you with your problems.
Being a free plugin, you obviously can't expect the same amount of support for LearnPress. According to the customer ratings in the WordPress repository, LearnPress resolved only 18 out of 85 issues requested in the last 2 months.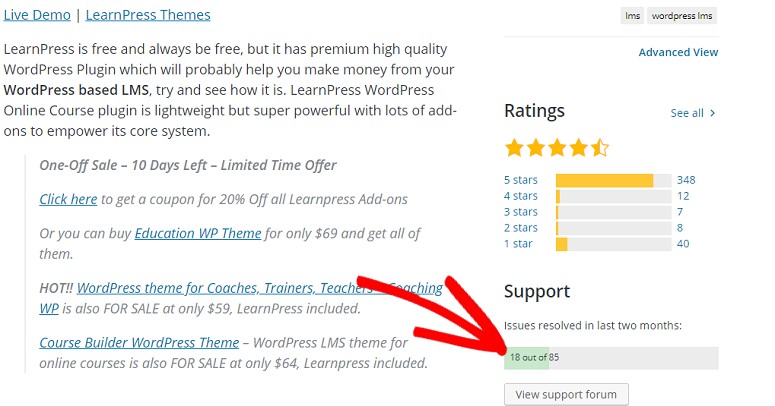 That means it's likely much harder to get a hold of the LearnPress team if you ever want to reach out to them for assistance. Again, being a free plugin, issues with support just come with the territory.
Winner
LearnDash is definitely the winner when it comes to support.
6. Pricing
LearnDash has 3 different pricing plans. The Basic plan starts at $159 and you can use it on a single site. But it offers the option for creating an unlimited number of courses, has an unlimited number of users, lets add course protection, and more.
You also have free support and updates for a period of 1 year. And if you're not happy with the purchase, you can have your money back within 30 days.
The core LearnPress plugin is free. But it offers only limited options for creating, managing, and selling your courses. If you need more options then you have to purchase the premium addons to expand your features.
And if you were to buy all the addons that would give you the same number of features as LearnDash, your total cost might exceed the total price you would pay for LearnDash. So although you might feel like LearnPress is a free plugin, in reality, it's not.
At least not if you want the same number of features.
Winner
LearnDash is the winner here because it is less expensive when you account for all the addons you'd need to purchase with LearnPress to have the same functionality.
Which Plugin Is Better – LearnDash or LearnPress
After analyzing both the plugins and comparing their features, LearnDash is a better plugin than LearnPress.
Not only does it have great features, but it also offers top-notch support to its users. Apart from that, we like how transparent it is with its pricing plan. Unlike LearnPress, it has no hidden costs so users are getting everything they need with no surprises along the way.
And that's it!
We hope this article helps you make the right decision when selecting your LMS plugin. Meanwhile, you may also want to read this article which compares LearnDash with the LifterLMS plugin.
This will expand your options for an LMS plugin and help you make the best decision for your WordPress site.
If you want to find the membership plugin for your website, you can check our guide on MemberPress vs Ultimate Membership Pro.