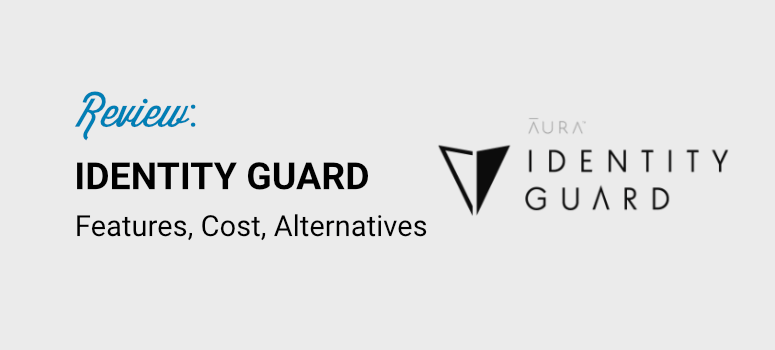 Are you looking for the best Identity theft protection service? Do you want to know if Identity Guard is the right solution for you?
Identity Guard is a popular identity theft protection service for individuals, families, and businesses. It offers powerful features such as data breach notifications, credit monitoring, dark web scanning, and more to keep your online and financial identity safe.
In this Identity Guard review, we'll go over each of the features, pricing, and other factors to determine whether it is the best choice for you and your business.
We'll be doing an in-depth review of Identity Guard, so we've created a table of contents so you can easily navigate this post. Feel free to skip to the section that interests you the most.
Why Do You Need Identity Theft Protection Service?
Every year, 15 million Americans become victims of identity theft. And, the number is increasing day by day. So the chances of it happening to you are high.
Hackers and criminals can steal your personal information to access your bank accounts, credit card details, and more. In many cases, they take all your money and even commit serious crimes under your name.
However, all of this can be prevented if you use a reliable identity theft protection service. It provides a set of tools to protect your financial and personal information from being used for illegal activities.
A good identity theft protection service will search the internet and notify you about any unauthorized transactions associated with your name. So you get the chance to prevent any fraud activities before it's too late.
Identity Guard is a leading identity theft protection solution that we are going to discuss today. So let's dive in and find out what it has to offer.
Identity Guard At a Glance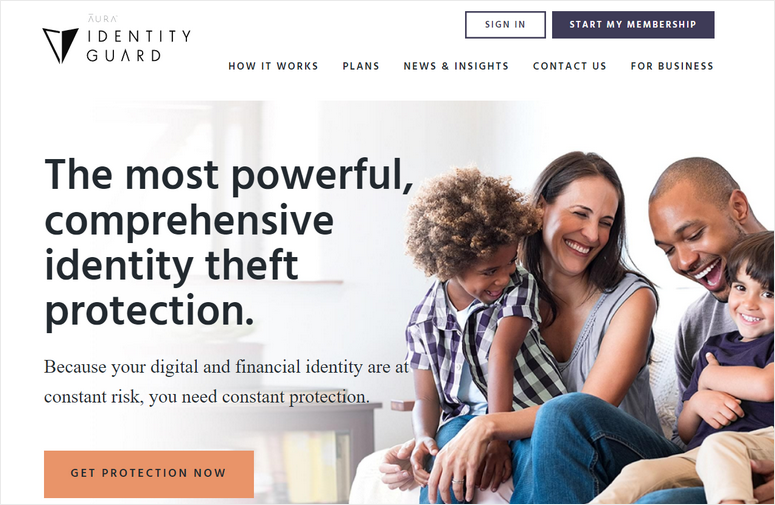 Identity Guard is one of the best identity theft protection services that help you protect your personal information from getting leaked online.
What's great about this service is that it uses IBM Watson artificial intelligence to constantly keep an eye out for potential threats and frauds. It scans the dark web to give you quick alerts about new threats and suspicious activity from your account.
It also offers a wide range of monitoring services that are packaged in different pricing plans for individuals and families. These services include home title monitoring, social media monitoring, criminal & sex offense monitoring, and more.
Additionally, it comes with safe browsing tools which help you make secure online transactions such as shopping and online payments with your debit or credit card.
Identity Guard offers 6 affordable and flexible pricing plans. 3 plans are for individuals that want to protect their information online. Whereas, 3 plans are for families looking for a theft protection solution for multiple members including children. You can purchase a plan for your business and employees as well.
If you choose its Ultra or Total plans, then you can get access to credit monitoring features. This will give you updates and reports for any changes in your credit data. You also get a monthly credit score to keep you in check.
The best part is all the Identity Guard plans come with $1 million identity theft insurance. This will help you recover any financial loss if your identity is compromised.
This is just a brief overview of Identity Guard. Now we'll take a closer look at all the features in our Identity Guard review.
Identity Guard Features
Identity Guard comes with an industry-standard set of identity protection and credit monitoring features. You'll also find tons of additional tools and apps to make your personal and social data secure. 
Depending on which plan you choose, you can get access to different Identity Guard features.
Let's learn about these features to determine if this service is the right fit for you.
1. Constant Identity Monitoring (With IBM Watson)
First off, Identity Guard uses traditional monitoring methods to find out if any of your data has been compromised. It works around the clock and scans any piece of information on the internet.
To make things even better, Identity Guard combines IBM Watson artificial intelligence with its traditional methods to enhance the scanning process. It is an AI-powered supercomputer that can watch over numerous reports, articles, and records to detect anything suspicious.
2. Dark Web Scanning
Identity Guard also offers a dark web monitoring feature for all its users. The dark web is a part of the World Wide Web that is only accessible through some special software.
Users of the dark web stay anonymous to perform illegal activities by using other people's credit and financial information.
To keep you safe from all of this, Identity Guard uses Watson AI and scans the dark web for your personal information like:
Phone number
Home address
Social security number
Health insurance ID number
Investment account number
Driver's license number
Passport number
If it finds any misuse or malicious activity linked with your details, then it notifies you right away.
3. Credit Monitoring
One of the reasons to choose Identity Guard's higher protection plans is its three bureau credit monitoring feature. This means you can monitor your credit changes based on the data from the three major credit bureaus: TransUnion, Experian, and Equifax.
Identity Guard checks with these three credit bureaus for any new activities in your name such as loans and new accounts. It looks over your credit file and notifies you if any changes have been made without your permission.
All of this happens regularly in real-time so you can detect fraud quicker and even prevent financial losses.
With Identity Guard, you can view your credit report from TransUnion, Experian, and Equifax in a single dashboard. It also gives you a monthly VantageScore 3.0 credit score based on TransUnion data.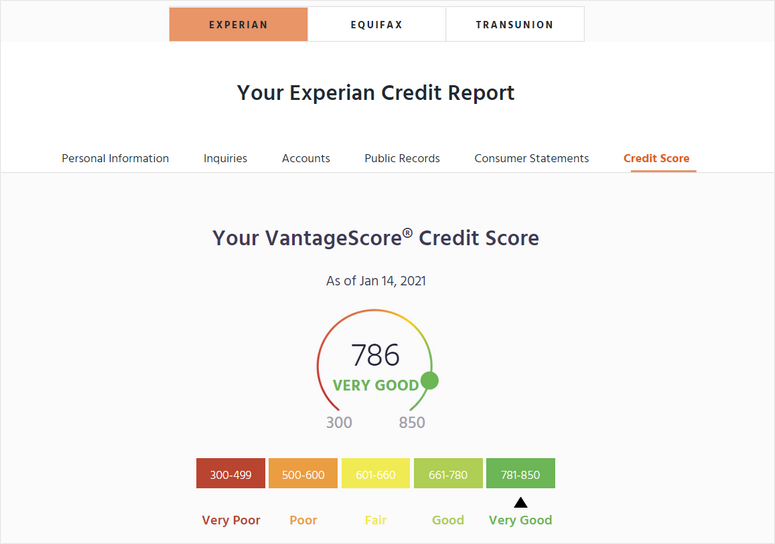 VantageScore 3.0 is developed by these three major credit bureaus for landlords and lenders to help them make their decisions. In simple words, this score helps determine whether a credit applicant is capable of repaying the borrowed money.
The VantageScores range from 300 to 850 and a score closer to 850 means better credit. These scores are based on your payment history, credit balance, credit behavior, and other factors.
4. Financial Monitoring
Besides credit monitoring, Identity Guard keeps track of your important financial accounts and information. It offers other monitoring services such as:
Bank Account Monitoring: Notifies you when there are changes in your savings and checking accounts such as updated email address, mailing address, and more. You also get alerts about bank account takeovers when a new account holder is added to your account.
Credit Card and Debit card Monitoring: Gives you quick alerts about any unusual activity with your debit or credit card. You can register multiple accounts and prevent any bank or credit card fraud in time.
High-Risk Transaction Monitoring: Identity Guard checks if your account details are used for high-risk transactions and notifies you. Some of the examples are wire transfers, tax refunds, payday loans, utility, and cell phone applications.
401k & Investment Monitoring: You can also add your 401k and investment accounts to monitor them with ease.
5. Threat and Fraud Alerts
With IBM Watson artificial intelligence, Identity Guard monitors your accounts, public records, and even the black market to detect any frauds under your name.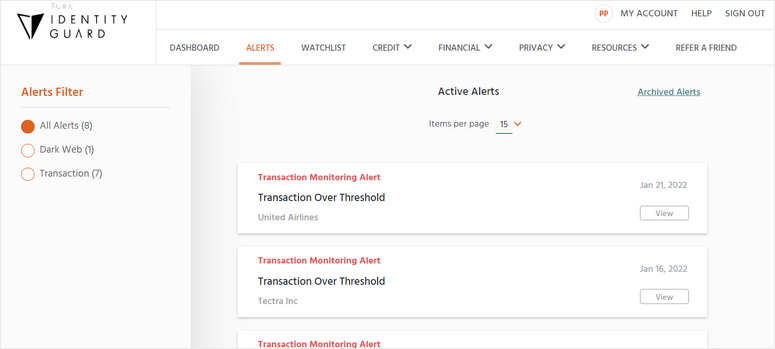 You'll see the alerts as soon as your identity gets compromised. This saves your time as you can inform your bank or credit card company to lock your account as soon as possible.
Identity theft can't be completely prevented. But, a timely response can help you minimize the damage.
You can view these alerts on your Identity Guard dashboard or even in your email. If you want, you can also choose a plan to get notifications on your phone via the mobile app or SMS.
6. Public Record Monitoring
What makes Identity Guard different from other Identity theft services is its unique monitoring features. In addition to credit and financial monitoring, it scans the public records to detect identity theft for: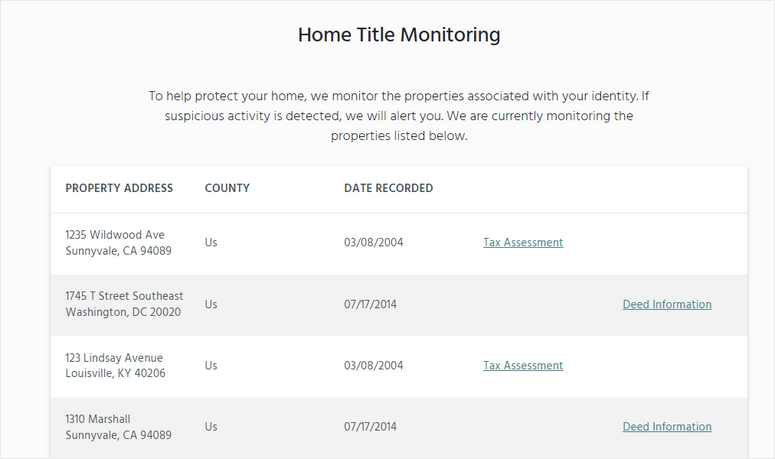 Home Title Monitoring: Checks if there are any attempts to change the ownership of your property without your knowledge.
Criminal and Sex Offense Monitoring: Notifies you right away when it finds that your name is included in a sex offender registry or police report.
USPS (United States Postal Service) Address Monitoring: If someone tries to change your mailing address, then you receive alerts.
7. Risk Management Report
Identity Guard comes with a risk management report section that gives you a score which is measured by how well you manage your risk of identity theft.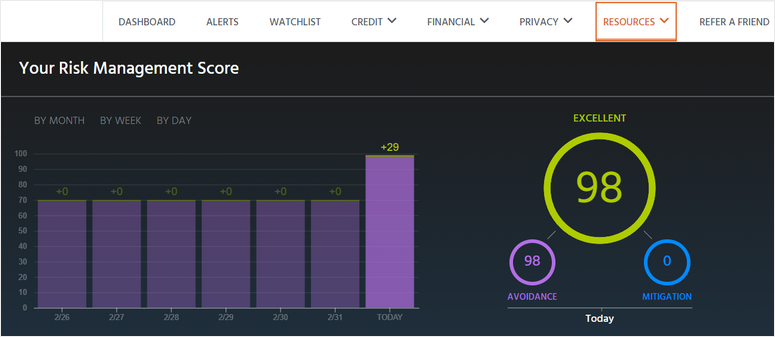 The score ranges from 0-100 where a higher score is better. The score is based on two components:
Migration Score: Reflects how the actions you are taking are reducing the risk of identity fraud. You need to resolve as many threat alerts as possible to improve your migration score.
Avoidance Score: Reflects how your lifestyle is impacting your risk of identity theft or fraud. You need to answer threat questions with relevant answers to improve your avoidance score.
8. Safe Browsing Tool
To make this easier for you, Identity Guard offers a safe browsing extension that you can install on your browser. It is available for all the major web browsers like Safari, Chrome, and Firefox.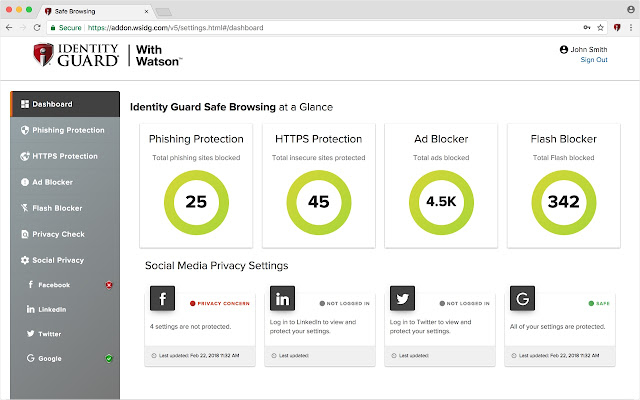 This extension helps you safely browse the internet without compromising your personal information. It prevents any malicious activities such as phishing attacks, advertisements, flash, trackers, and more.
9. Other Identity Guard Benefits
The list for the Identity Guard features doesn't end here. With a top-tier protection plan, you can get access to even more functionalities and tools.
Here are some of the unique features that Identity Guard offers:
Social Media Monitoring: Connect your social media accounts and Identity Guard will assess your online image. It uses IBM Watson AI to evaluate your profile and give suggestions to improve.
Lost Wallet Protection: If you ever lose your wallet, Identity Guard helps you prevent any theft by canceling your cards. So you can prevent unauthorized transactions and check your credit report for any changes.
Password Protection: The users who subscribe to the data breach plan get access to a password manager that stores and encrypts their login and credit card details securely.
Security Freeze: Gives you additional protection against new account opening frauds. You can freeze your consumer reports for credit, bank, and other utilities if you detect any illegal activities linked with your account.
Mobile App: You can download the Identity Guard app to monitor your accounts and get alerts on your iOS or Android devices. Plus, it offers a separate anti-phishing app that protects your phone from phishing attacks and scams.
How Identity Guard Stacks Up Against Competitors?
You'll find many identity theft protection services on the market that offer financial monitoring and theft protection features.
Here are some of the advantages of choosing Identity Guard over other services out there:
1. Easy to Set Up and Use
It is pretty easy to set up your account with Identity Guard. After you choose a suitable plan for yourself, you'll need to enter your contact details and billing information. Then, you'll be able to access your account dashboard.
Identity Guard's user interface is lightweight and easy to navigate. You get a dashboard with each functionality neatly categorized in different tabs and reports.
The dashboard has different tabs for alerts, watchlists, credit reports, and more. So you can easily find what you're looking for without any trouble.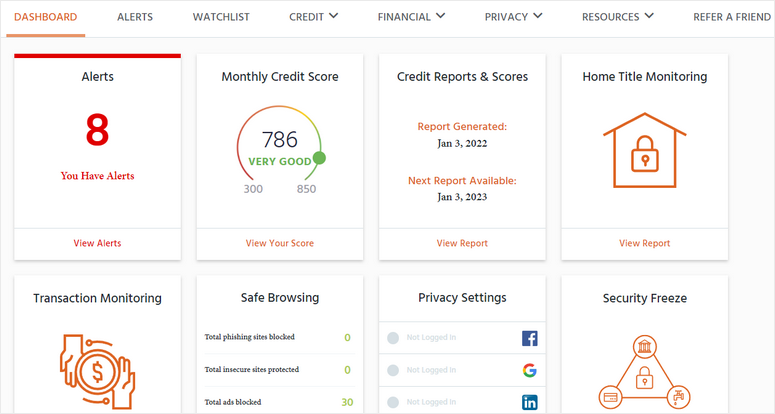 To get insights about your identity fraud risks, Identity Guard will ask you to answer threat questions. This is used to understand your online & offline behavior and calculate your risks.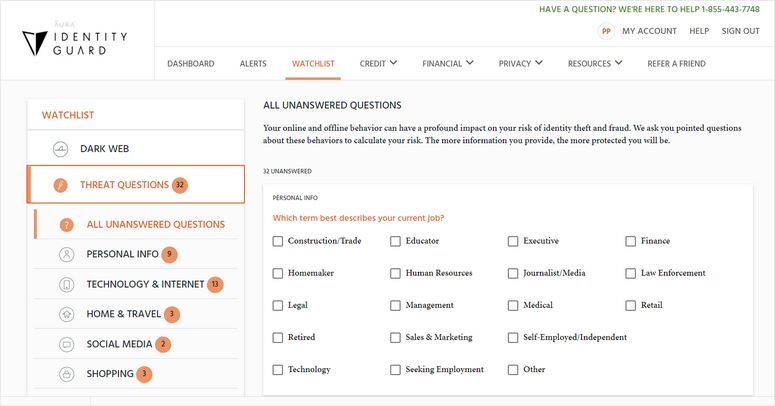 2. $1 million in Identity Theft Insurance
Many identity theft protection services offer reimbursement for stolen funds. However, few of them offer $1 million worth of insurance for all users.
With Identity Guard, no matter which plan you subscribed to, you get access to the $1 million insurance. So if you suffer losses as a consequence of identity theft, then this will help you recover.
Losing your hard-earned money is extremely stressful and insurance won't completely solve your problems. But, it will give you peace of mind and help manage your costs while you're recovering.
This identity theft insurance will pay you for your lost wages, elder, spousal, child care costs, and even travel expenses.
3. Victim Assistance and Recovery
Along with identity theft insurance, Identity Guard offers the white glove resolution service. If you become a victim of identity theft and need any expert advice, you can use this service.
Identity Guard will assign you a US-based dedicated case manager who will guide you through the entire recovery process. You'll get instructions on how to reclaim your credit reports, file a police report, and more.
4. Cheaper Upfront Pricing
Identity Guard offers flexible pricing plans that fit the needs of individuals, families, and even businesses. Although the higher-level plans can be quite expensive, it offers cheaper options as well.
And when you make your payments annually, you get huge discounts. The pricing starts as low as $7.50 per month (billed annually) for individuals.
Identity Guard Customer Support
Identity Guard offers a responsive US-based support team that you can contact over the phone or via email. However, it doesn't offer a 24/7 live chat service for its users.
Apart from this, you can get access to a comprehensive set of FAQs for each feature and functionality. Its online knowledge base includes informative screenshots and troubleshooting guides that are easy to follow.
Identity Guard Pricing
Identity Guard offers 3 levels of pricing plans for different types of users. You can purchase a plan individually or as a family.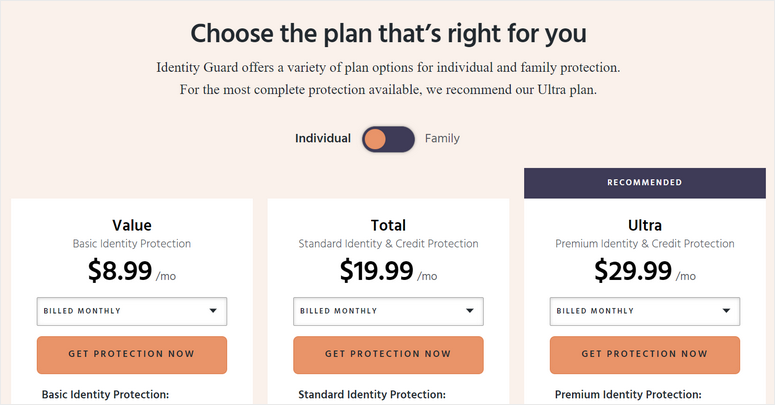 For its Value plans, the pricing starts at $8.99 per month for individuals and $14.99 per month for families. It includes all the basic features such as IBM Watson AI, risk management score, the mobile app, high-risk transaction monitoring, etc.
The Total plans range from $19.99 per month for individuals and $29.99 per month for families. It comes with everything on the Value plan plus 3-bureau credit monitoring, credit and debit card monitoring, bank account takeover alerts, and more.
And the Ultra plans cost $29.99 per month for individuals and $39.99 per month for families. This adds even more features such as home title monitoring, criminal and sex offense monitoring, social insight report, and many more.
Alternatives to Identity Guard
Identity Guard is a complete identity theft solution that comes with tons of credit and financial monitoring options. 
But that doesn't mean it is the only identity theft service out there. You'll find other services that offer more features and tools.
Some of the best Identity Guard alternatives are: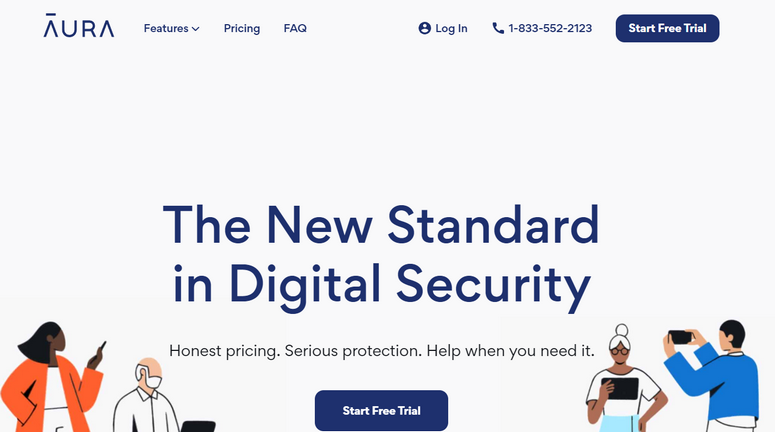 Aura is on top of the list for the best identity theft protection services on the market. It is an all-in-one digital and financial security platform that is easy to use and set up. 
Aura offers a range of features such as dark web monitoring (powered by artificial intelligence), identity verification monitoring, criminal & court records monitoring, and so much more. It scans all the public records and the dark web constantly. When it detects any suspicious transaction under your name, notifies you quickly.
Similar to Identity Guard, it also comes with a powerful fraud protection feature with three-bureau credit monitoring, monthly credit score, the ability to lock your credit profile, and other financial monitoring services.
Highlights:
$1 million identity theft insurance coverage
Home title and address monitoring
Credit monitoring and credit lock
Financial and bank account monitoring
Annual credit report
Digital security services like Antivirus and VPN
and more.
Pricing:
Pricing ranges from $7 per month for the Basic plan to $16 per month for the Ultimate plan.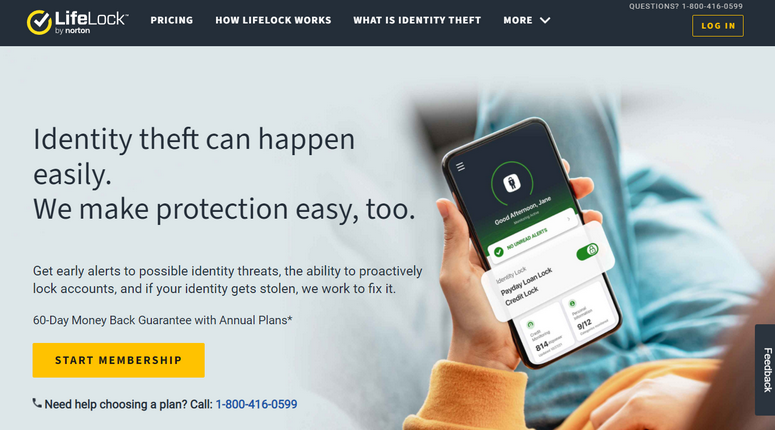 LifeLock is another great alternative to Identity Guard. In 2017, it was acquired by one of the well-known internet security companies, Norton. Together, they offer a comprehensive digital security solution for individuals, families, and business owners. 
With LifeLock, you get access to identity protection features like ID verification monitoring, dark web monitoring, credit monitoring, SSN & credit alerts, Data breach notifications, and more.
It offers identity theft insurance starting from $25,000 to $1 million depending on the plan you choose. To help you recover from an identity fraud loss, it also provides experts assistance and guidance.
Highlights:
Identity monitoring and alerts
Credit monitoring (across 3 credit bureaus)
Privacy monitoring tool
Easy to use mobile app
Data breach notifications
Lost wallet protection
USPS address change monitoring
and more
Pricing:
Pricing ranges from $9.99 per month for Standard to $29.99 per month for Ultimate Plus.
Aside from this, you can also check out IdentityForce, IdentityIQ, and ID Watchdog as an alternative to Identity Guard.
Final Verdict: Is Identity Guard Worth It?
After doing a complete review of Identity Guard, we can confidently recommend it as one of the best identity theft protection services. It offers a set of powerful monitoring and ID theft protection features that help you prevent fraud or illegal transactions on your name.
Some of the notable features of Identity Guard are:
Dark web monitoring
24/7 alerts and updates
Financial monitoring for bank accounts, credit, and debit cards
Risk management score
Credit monitoring with 3 major credit bureaus
Safe browsing extension
Monitoring and anti-phishing mobile apps
Social insight reports
Home title monitoring
Criminal and sex offense monitoring
One of the best features of this theft protection platform is the $1 million insurance for all the pricing plans. This gives you more value for your money.
When it comes to pricing, it offers 3 pricing levels: Value, Ultra, and Total. The prices are affordable for both individuals and families.
So you can purchase a plan for yourself or get a family plan to set up identity theft monitoring for your family members.
And that's all for today! We hope this Identity Guard review helped you find out if it is the right identity theft protection service for you or not.
Next, you may want to check these resources out:
These posts will help you add different levels of security to your website to protect you from hackers and cybercriminals. The last one will help you learn how to easily secure your entire eCommerce website.