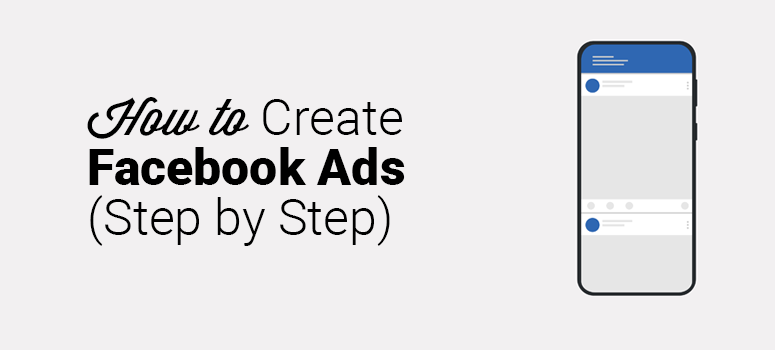 Want to create a profitable Facebook ad?
According to a Wall Street Journal report, Facebook's advertising rates plunged in the past few months as the COVID-19 pandemic led to a drop in demand for the social network's ad inventory. Plus, the cost per mille (CPM) fell 15% to 20% because not many businesses are using it right now.
That means now is the right time to use Facebook advertisement and reach out to more people with a minimal budget.
In this article, we'll explain everything you need to know about Facebook ads and how they can instantly help you achieve your marketing goals.
So let's begin.
Why Use Facebook Ads?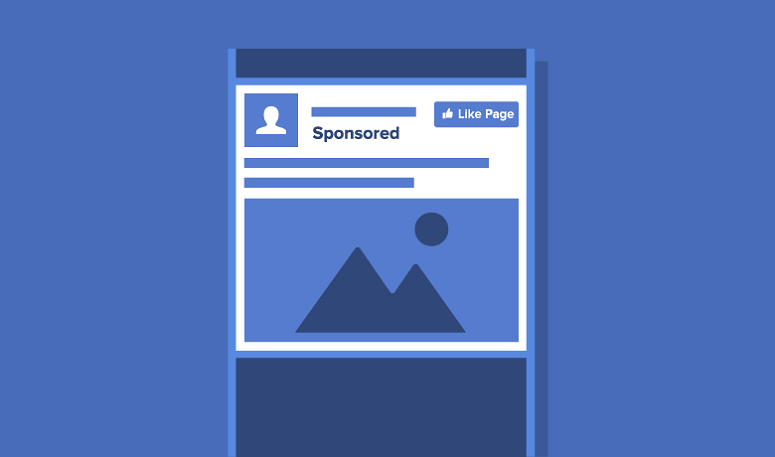 With 1.52 billion daily active users, it's quite likely that your target audience is already on Facebook. All you have to do is to reach out to them with the right campaigns.
However, in an attempt to improve engagement and usability, Facebook has been constantly reducing the visibility of business pages on the users' news feed. In fact, you may have already noticed that only less than 0.5% of your Facebook fans will actually see your business page updates.
Then, how would you reach out to your audience on Facebook?
With Facebook ads.
A few benefits of Facebook ads are:
It's the easiest way to increase your business visibility.
Unlike AdWords, setting up Facebook ads is super easy.
You can set your own budget and decide how much you want to spend on marketing your business.
If you already have an email list, you can target them precisely on Facebook
Who Is Facebook Ads Best For?
Anyone who has a FB page for their business and wants to promote it by expanding their reach can use FB ads.
FB ads work wonders if you have a powerful email list. It helps you target audience based on your list. This makes it possible to reach out to the exact target audience who might be interested in your business.
Benefits of Using Your Email List to Run a Facebook Ad
There are several benefits of running FB ads using an email list. Here are some of them.
You already know your target audience.
These users are already interested in your brand.
Targeting them will encourage them to engage with your brand again.
Creating Facebook Ads Based on Your Email List
You can run your Facebook ads in several ways. You can either log in to Facebook and start setting up an ad or use an all-in-one marketing platform that lets you set it up automagically.
For your Facebook ads, since you're going to target audience based on your email list, it's highly recommended that you use an all-in-one marketing tool that offers both email marketing and Facebook ad setup.
Step 1: Set Up an Account With Sendinblue
Sendinblue is an all-in-one platform that lets you do both email marketing and Facebook ad setup.
Compared to another popular all-in-one marketing tool, Mailchimp, Sendinblue is cheaper and more efficient. Take a look at the best Mailchimp alternatives for more details.
Just go to the Sendinblue and then click on the Signup for free button.
You'll now be on a page where you can enter your company name, email address and password to get started. Once you add all the details click on the Get Started button.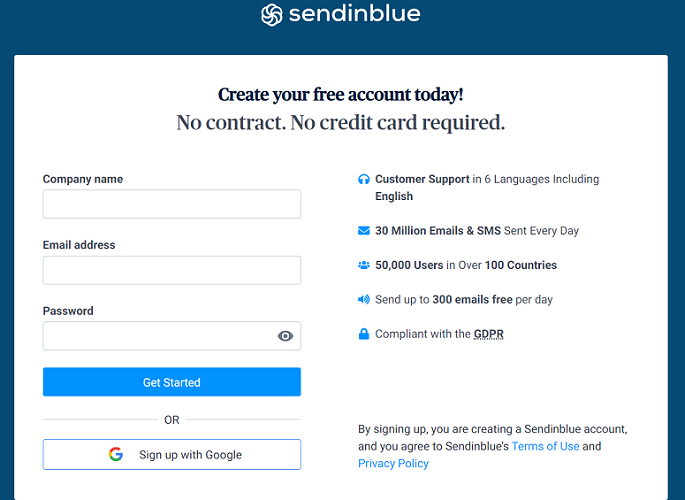 You'll now receive a confirmation email, so go to your inbox and click on the link that you've received. Then complete your profile by adding more details.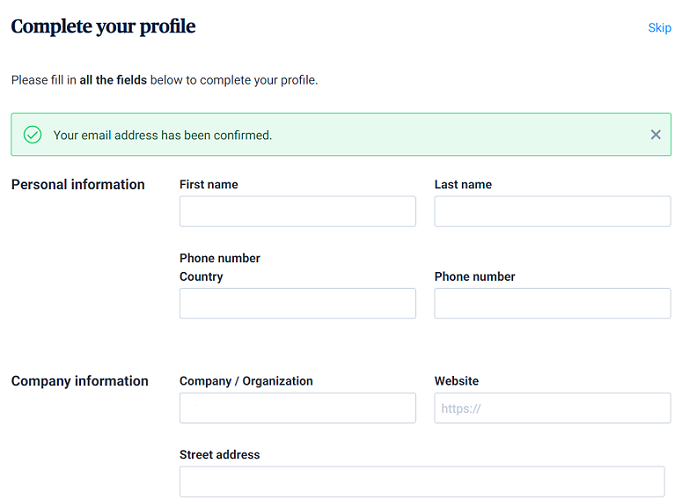 Keep in mind that Sendinblue lets you start an email list for free with limited features. However, to set up an ad, you'll have to sign up for one of their premium plans.
Step 2: Have an Email List First
We're assuming that you already have an email list. If not, go ahead and start building your email list. Here are a few articles that will help you get started.
Setp 3: Connect Your Facebook Account with Sendinblue
The next step is to connect your Facebook account with Sendinblue. For that, you need to click on the Facebook Ads tab on the left-hand side of your screen.

Now click on the Create a Facebook Ad button.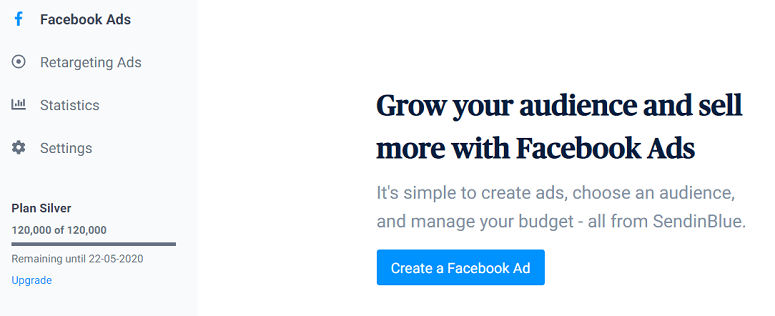 Now you can begin creating your ads. Start by clicking on the Connect to Facebook button.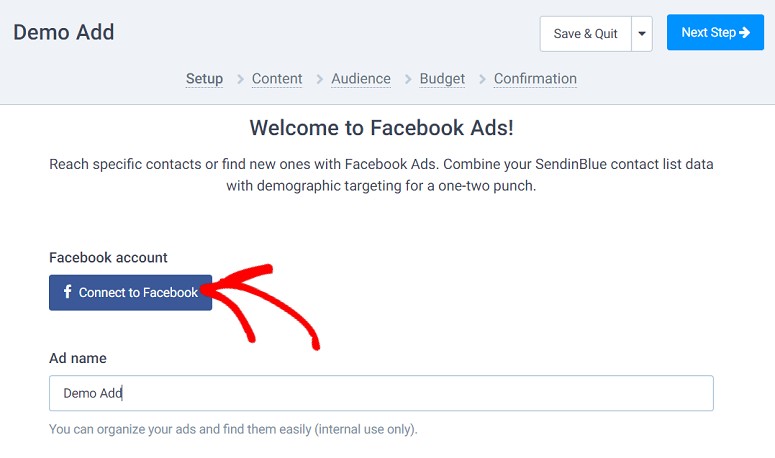 This will redirect you to your Facebook account where you'll have to authorize Sendinblue to access your Facebook ads. Now you'll see 5 different tabs.
Setup
Content
Audience
Budget
Confirmation
Step 4: Creating Your Facebook Ads
Under the setup tab, you can give a name to your ad. The ad name lets you distinguish between each other, so choose the right name for each ad. Once done, click on the Next Step tab on the top right corner of your screen.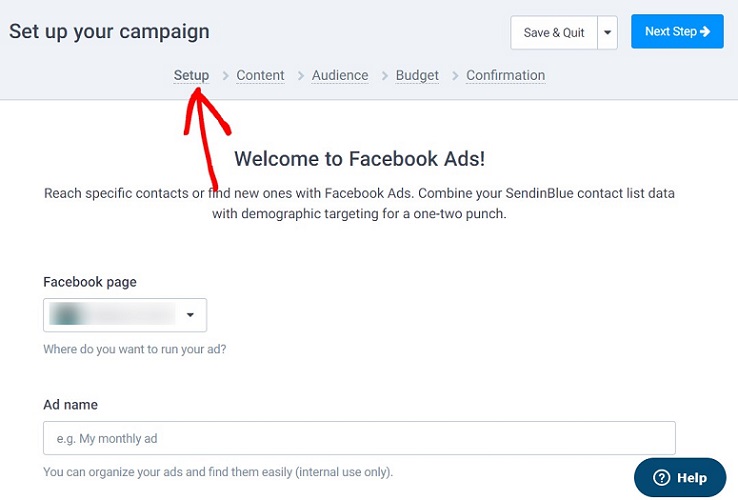 You'll now be on the Content page where you can select a format and add your ad text.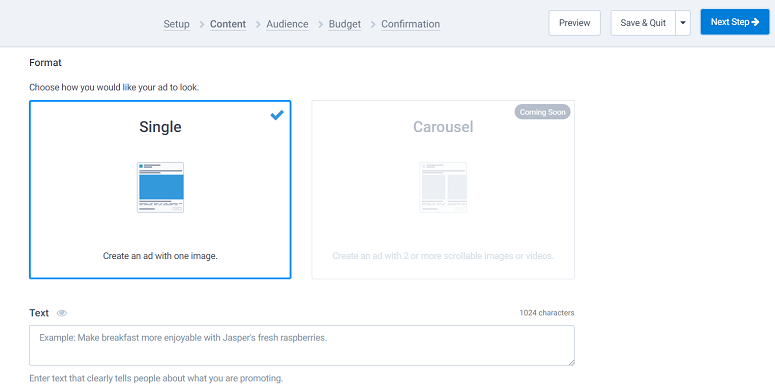 Scroll down the page and add an image and a URL that you want to promote. You also have the option to add a CTA to your ad.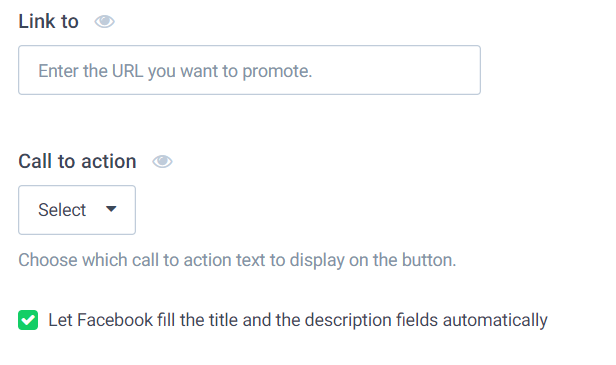 Once everything's added click on the Next Step button on the top right corner of your screen. Now you'll need to select who can see your ad.

You can either target only your email list, target people who are similar to your contacts, or target both your email list as well as lookalikes.
For the sake of this tutorial, let's select Lookalikes. This will expand new options where you can select a country. You also have the option to select a list. Upon doing so it will target all the contacts in your list apart from the once it will target based on the location your select.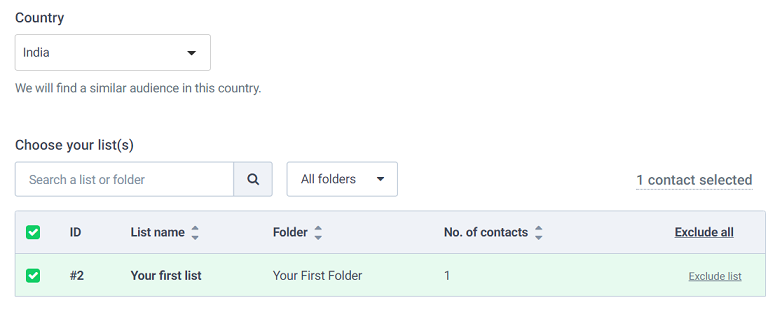 If you only wanted to target a specific segment of your list with your Facebook ads, that's also possible.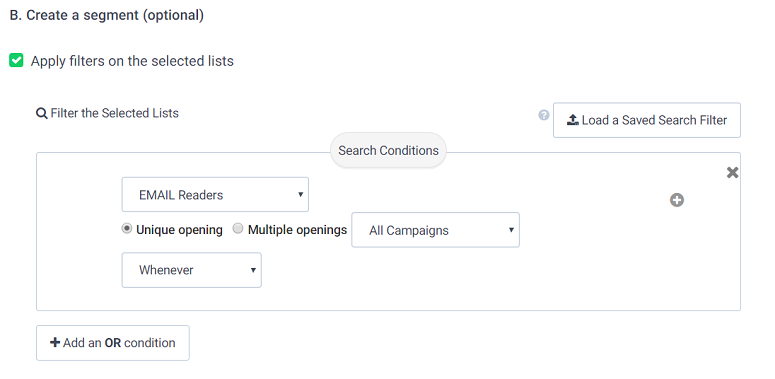 Now move on to the next step by hitting the Next Step button. In the next step, you can set your budget.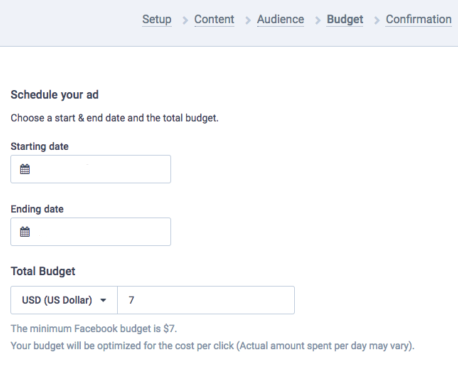 You can also schedule your ad with a start and an end date. Besides, it also lets you set the amount you want to spend on your ad.
Step 5: Confirming and Publishing Your Facebook Ad
Before you publish your ad, doublecheck whether the information you have entered is correct. Once you're all set, hit the Submit and Pay button on the top right corner of your screen.
And that's it. Your campaign should now be live.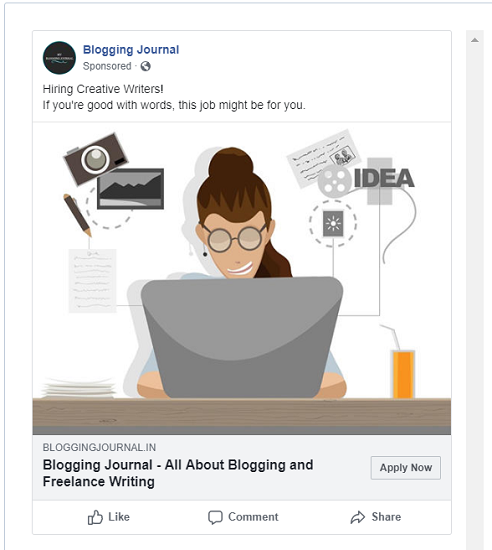 We hope you liked our article on setting up a profitable Facebook ad.
If you liked this article, you might also want to check out the best social media plugins for WordPress.