When working with WordPress, sometimes you may come across a problem that needs information about your WordPress hosting environment for a solution. Finding this information is not difficult, and you can even ask your web hosting provider for specific information. Like what version of PHP, Apache, and MySQL they are using. In this article, I will show a quicker way to get web host system information in WordPress.
First you need to install and activate the System Snapshot Report plugin. After that simply go to Tools » Snapshot page to view your web hosting environment and system information.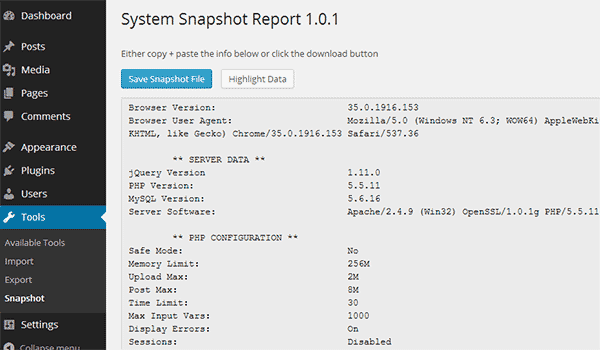 The plugin will show your server information, PHP configuration, and WordPress configuration. You can use this information to troubleshoot problems specific to a particular configuration setting.
Apart from that, it will also show you information about your WordPress installation. For example, what theme you are using, which plugins you have installed, what permalink structure you are using. etc. This information is particularly useful if you want to get help from someone without giving them access to your website.
You can simply copy and paste this information anywhere, or you can click on Save Snapshot File button to download this information in a text file.
Getting Detailed PHP info or MySQL Configuration in WordPress
If the information you were looking for is not available in the system snapshot report, then you can try installing and activating the WP-ServerInfo plugin.
Upon activation, simply go to Dashboard » WP-ServerInfo and there you will find your WordPress system information.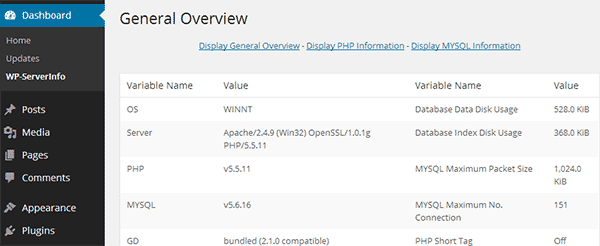 I hope this article helped you find information about your WordPress web hosting environment.
If you liked this article, then join ThemeLab on Twitter and Google+.