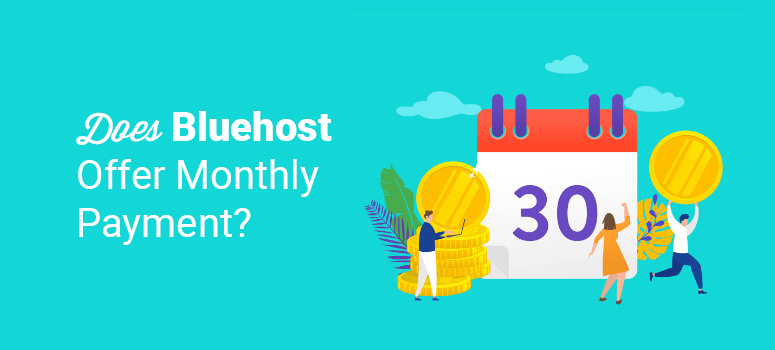 Are you wondering if Bluehost offers monthly payment? If you want to host your website with Bluehost, you've made a great choice. Bluehost is one of the most popular web hosting companies out there, powering over 2 million websites. Bluehost is also the #1 recommended web hosting by WordPress.org, they offer hassle-free WordPress installation, 24/7 support, and more. But if you're a beginner and on a budget, a Bluehost monthly plan seems like the best option for you.
But unfortunately, there is no Bluehost monthly plan. Although Bluehost doesn't offer monthly payment, you can still host your website on a budget. In this article, we'll show you how to get the lowest rate available at Bluehost.
Let's get started.
Web Hosting Monthly Plan Showdown
You might consider looking at some other popular web hosting providers that do offer monthly plans in order to save money. But, while you may be paying a little up front, these monthly plans can cost you more money in the long run. So, let's take a closer look at some web hosting monthly plans.
HostGator is another popular web hosting provider, and unlike Bluehost, they do offer monthly payment plans.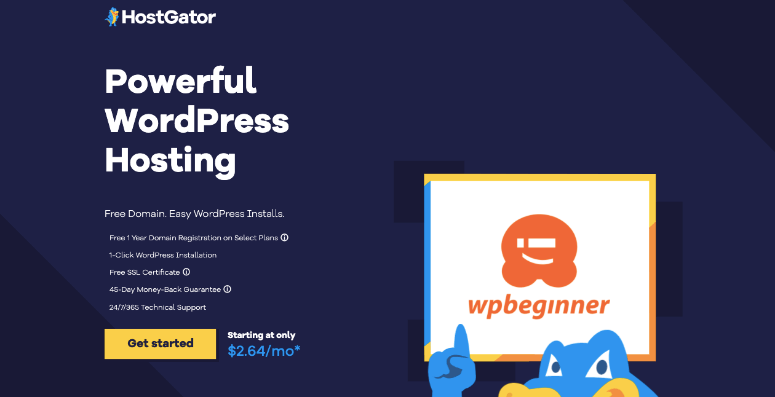 HostGator's most basic web hosting plan, which is called the Hatchling Plan, costs $11.95/month.
If you pay that every month, it works out to be quite expensive. In 12 months, you'd pay $143.40, and in 3 years, you'd pay $430.20.
Instead, it's best to subscribe to a 12-month plan. You'll get the plan at just $4.94 per month which works out to be $101 per year. If you pay this monthly price for 36 months, or 3 years, it adds up to $182 per year.
For more on this, check out our HostGator Review.
Another popular web hosting service that offers monthly payments is GoDaddy. With their most basic web hosting plan, Economy, you can't pay month-to-month. But, if you choose their managed WordPress hosting Basic plan, you do have the option to pay monthly.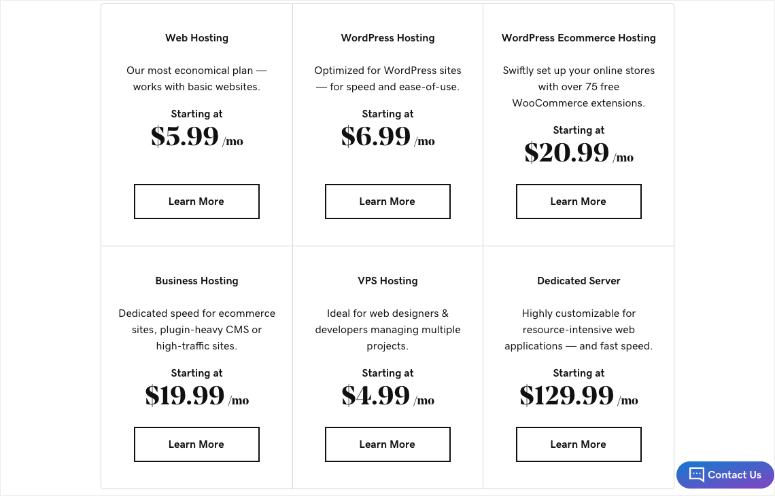 Paying month-to-month with GoDaddy will cost you $12.99/month. Paying this price for 12 months adds up to $155.88. Also to get an SSL certificate for your website, which is one of the prerequisites to make a website because it keeps your customer's data safe, will cost you an extra $79.99 for 12 months. This brings your cost for 1 year with GoDaddy to $235.87.
If you pay this monthly price for 36 months, including the annual purchase of an SSL certificate, it adds up to a whopping $707.61. If that looks expensive to you, there are some great GoDaddy hosting alternatives which can be useful.
The most basic WordPress hosting plan with Bluehost costs $2.75/month for 36 months. While you can't pay the $2.75 each month and have to pay all together, this works out to just $99 for 36 months. That's a savings of $188.64 (70% off) and that comes with a free SSL certificate and free domain name.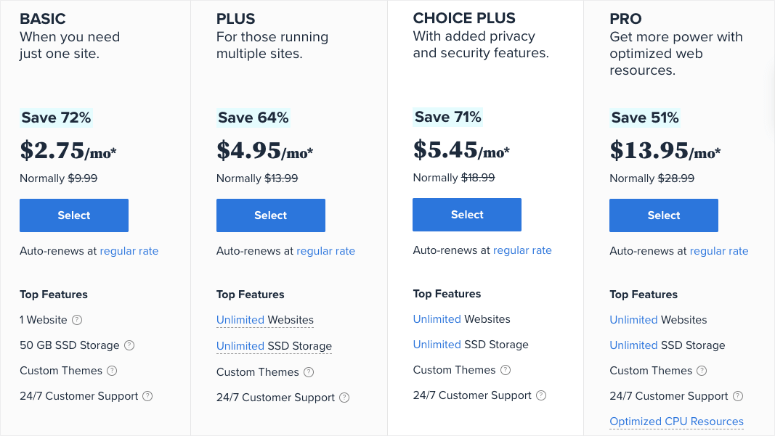 When compared to the other web hosting providers, with Bluehost you'll pay $330 less than the cost of HostGator's monthly payments for 3 years. That's huge savings!
When compared to GoDaddy's month-to-month pricing for 36 months, you'll pay $608.61 less with Bluehost. That's even bigger savings for you.
As you can see, just because you're paying a seemingly low monthly price, doesn't mean you're saving money. That's why we recommend choosing Bluehost.
There's no need for a Bluehost monthly plan when you'll save much more money with Bluehost's 36 month plan.
So, if you want to start a website and choose Bluehost as your web hosting provider, next we'll show you step-by-step how to get the lowest price with Bluehost.
Getting Started with Bluehost
To get started with Bluehost, head to their website, www.Bluehost.com, or click here. Next, click the green Get Started Now button.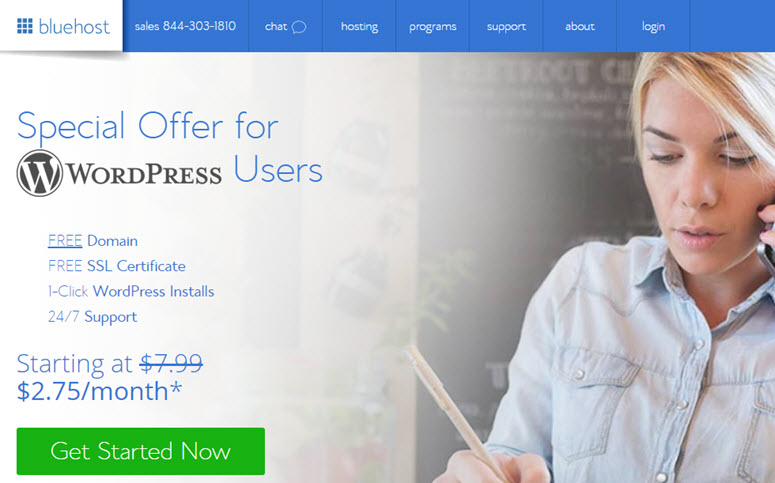 Step 1: Choose Your Plan
After clicking the "Get Started Now" button, you'll be prompted to choose your plan. To get the lowest Bluehost rate, choose the Basic plan. Not only is this plan the lowest priced, but it's also perfect for beginners. You can always upgrade your plan at any time if your needs change in the future.
Click the green Select button to choose the Basic plan.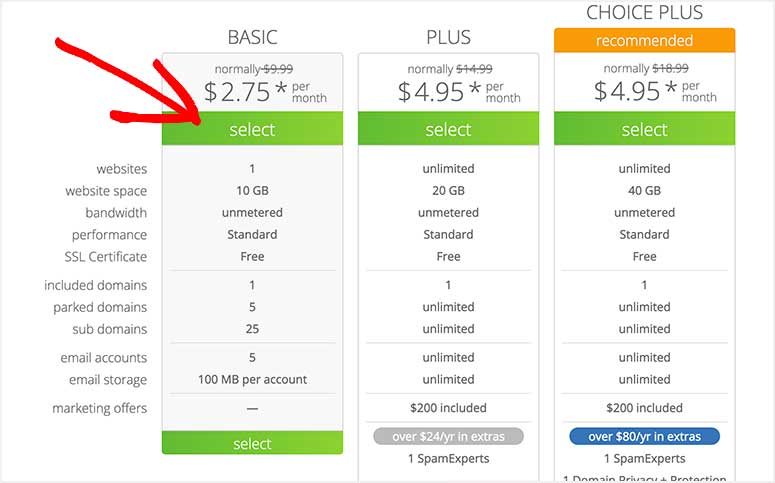 Step 2: Choose Your Domain Name
After choosing your plan, you'll be prompted to pick a domain name. You can either get a new free domain name or sign up with your existing domain name.
To choose a new domain name, simply type the domain name into the box on the left hand side.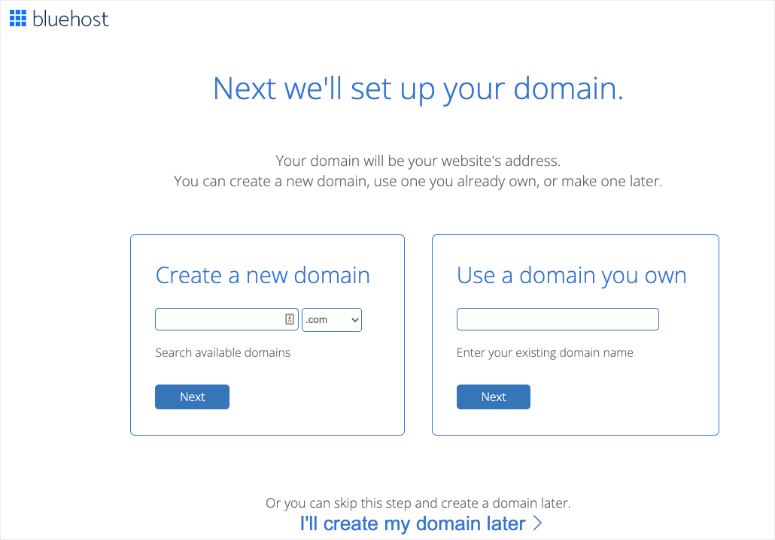 If you need help picking a domain name, check out our post on how to pick the best domain name. When you've chosen your domain name, click the blue Next button.
Alternatively, if you don't want to choose a domain name now, you can click the Choose Later! button at the bottom of the screen, to skip this step for the time being.
Step 3: Add Account Info
Next, you'll need to fill out your account information. This includes your name, email address, street address, phone number, and so on.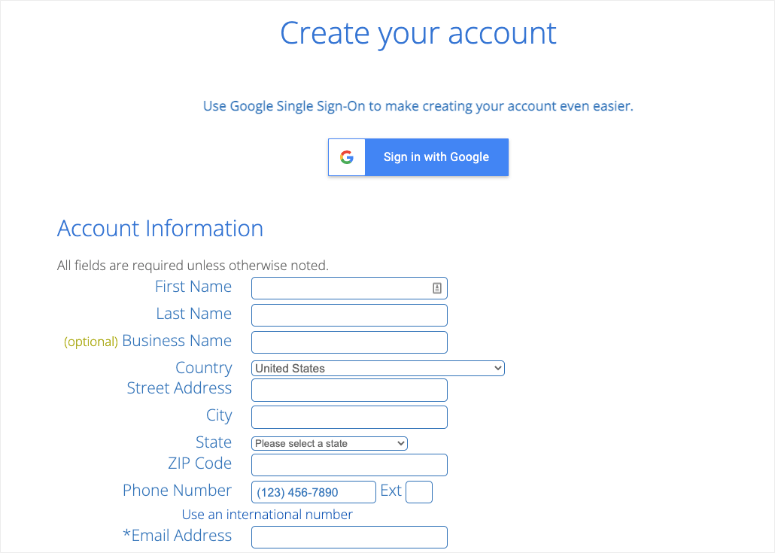 You also have the option of using Google single sign-on to make creating your account even easier.
Step 4: Choose Your Web Hosting Package Options
When you've finished filling out your account information, scroll down to the Package Information section. Here you'll choose the options for your web hosting package.
As we mentioned before, the 36 month plan with Bluehost is what will give you the most savings So, next to Account Plan, choose the 36 month price option from the dropdown list.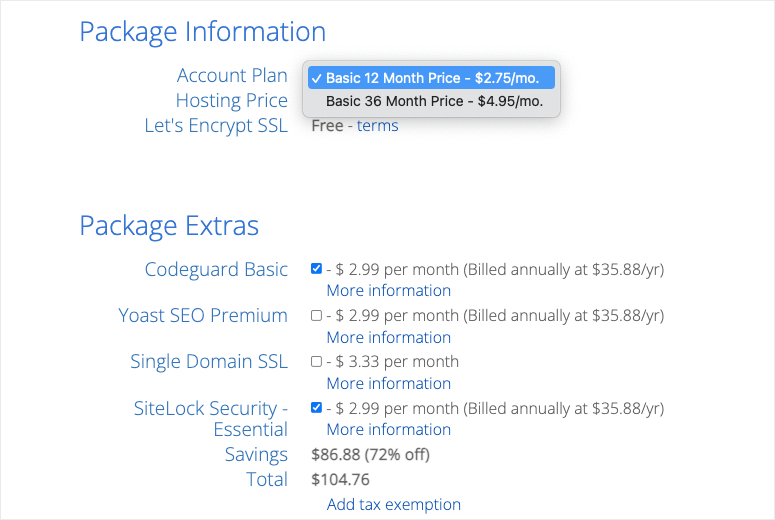 In the section below, you can choose whether or not you want to add any package extras along with your 36 month web hosting plan.
To keep your price as low as possible to start, we recommend not choosing any of the package extras. If you decide you want to add any package extras later on, you can always go back and do so.
Finally, fill out your payment information (either a credit card or PayPal), check the box to agree to the terms of service and cancellation policy, and hit the green Submit button.
That's it! Now you've got affordable web hosting with Bluehost.
Other Bluehost Plan Options
Aside from the least expensive option, which is the Basic plan for $2.75/month, Bluehost provides a number of other shared web hosting plans for growing websites and businesses as well.
The Basic plan is great for beginners because it has everything you need to start a website. The Basic plan is for 1 website, 50 GB SSD storage, unmetered bandwidth, free SSL certificate, 1 free domain, 5 parked domains, 25 sub domains, and standard performance.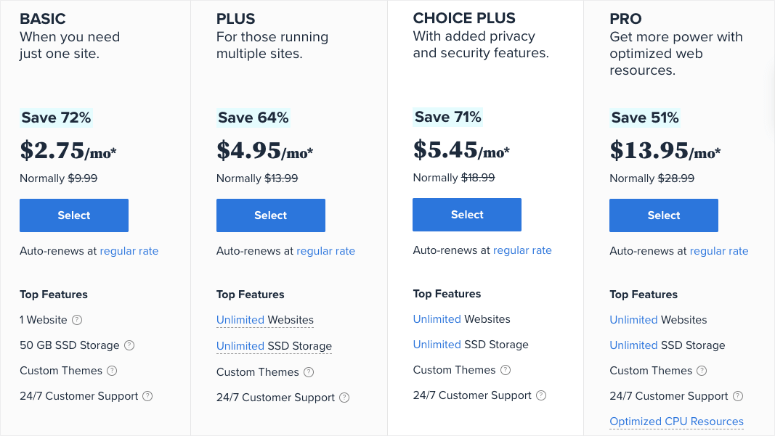 If you want to host an unlimited number of websites, unlimited SSD storage, and unlimited domains, parked domains, and sub domains, you can upgrade to the Plus plan for only $4.95/month or keep an eye on bluehost coupon codes round the year.
The Choice Plus plan for $5.45/month will give you everything that comes with the Plus plan as well as domain privacy and site backup. The highest shared hosting plan, Pro, which costs $13.95/month provides advanced features such as high performance, 2 spam experts, domain privacy, site backup, and a dedicated IP.
Bluehost also offers VPS Hosting and Dedicated Hosting plans as well as eCommerce plans.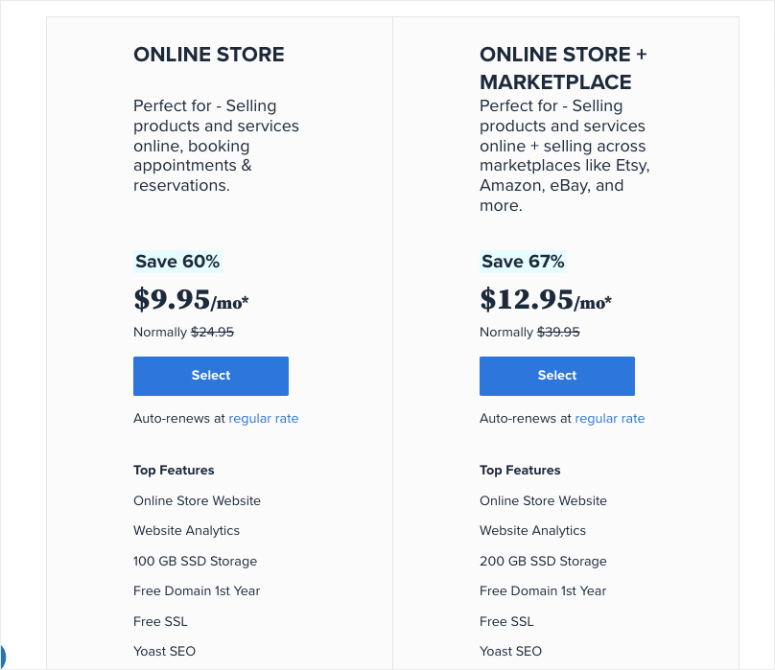 For more information on the difference between shared, VPS, and dedicated hosting, check out our article What is Web Hosting? (Shared vs. VPS vs. Dedicated)
You can also sign up for any of these Bluehost plans risk-free with their money-back guarantee. This gives you the option to try out their service and if you discover it's not right for you within 30 days of signing up, you'll get a refund.
Benefits of Choosing Bluehost
We've already shown you that Bluehost is a super affordable web hosting provider that's great for beginners — even without a Bluehost monthly plan, but you might be wondering what other benefits they offer. We've mentioned a few throughout this article, but let's go over the features and benefits of Bluehost again:
30 Day Money Back Guarantee
24/7 Expert Support
1-Click WordPress Installation, User-Friendly Interface
Free Domain Name and SSL Certificate
Unlimited Disk Storage
Free Drag and Drop Site Builder
3 Different Webmail Solutions and POP3/POP3 Secure Email Support
cPanel Account Control Panel for Managing Your Site
Free Website Scripts (Blog Support, Mailing Lists, Image Galleries, and more)
eCommerce Features (Shopping Carts, Free Generated Certificate, Password Protected Directories, and more)
And Much More
For more information, check out our full Bluehost review.
It's easy to see that even without a Bluehost monthly plan, you can easily afford to host your website with Bluehost. Not only are they affordable but you get a big bang for your buck with all of the standout features they provide.
Get Started with Bluehost Today »
We hope you enjoyed this article and it provided you with all the Bluehost pricing information you need to know. If you enjoyed this post, check out our other post on the Top 10 Web Hosting Companies.