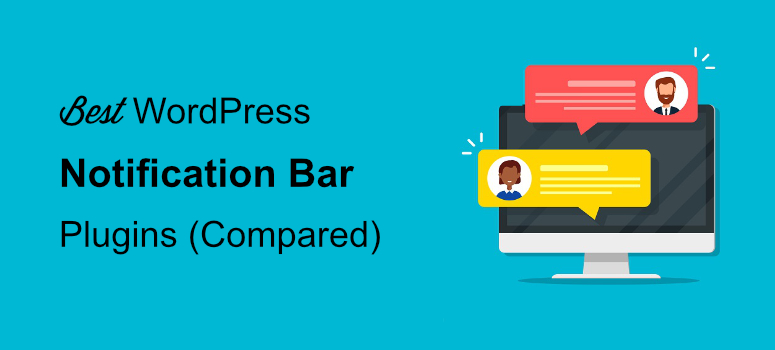 Do you want to add a notification bar to your WordPress website?
Adding notification bars to your site can be a great way to let people know about any important events, products, or services, etc without hampering their browsing experience.
By using a notification bar, you can also increase your sales, boost your visitors' engagement and experience enhanced lead generation for your business.
These are especially helpful if you're running a promotion, launching a new product or hosting a giveaway for your visitors. You can use the notification bar to let people know about it without any extra effort.
In today's article, we'll tell you about some of the best notification bar plugins that come loaded with brilliant features. But before that, let's have a quick look at some of the instances when you can use a notification bar.
Best WordPress Notification Bar Plugins – Some Use Cases
There are several instances when using a notification bar can be helpful to you. Here are a few of them –
display a site-wide message
offer promo codes
create urgency
convert customers to subscribers
promote social media pages and increase followers
improve site navigation with CTA banners
capture emails

and more…

So now, if you're ready, let's check out our list of WordPress notification bar plugins.

OptinMonster is one of the most popular customer acquisition and lead generation software that lets you add various types of notifications to your website. Aside from notifying your visitors about an upcoming event or a promo, it helps you capture leads with tons of targeting options.

You can use it to create lightbox popups, floating bars, slide-in scroll box and a lot more.

It comes with an easy-to-use drag and drop page builder that makes it easy to create and design your navigation bars.

Best of all, you can use it to run time and date sensitive campaigns and display the message to your visitors at the right time to boost conversions. With the countdown timer, you can also create a sense of urgency which in return boost your sales and revenue.

OptinMonster offers several other features like referral detection, geo-location targeting, adblock detection, smart tags option and a lot more.

Thrive Leads is a powerful lead generation tool for WordPress. It comes with dozens of predesigned sticky ribbon templates inside.

The templates are customizable and you can quickly change the text, images, and call-to-action button.

You can choose to optimize the design for mobile and tablets. You could even choose to display the bar only on mobile or only desktop.

The best part is you can target the sticky bar to appear on certain triggers like 'Display immediately on page load". You could also display it all the time and position it to the top or bottom of the page.

Thrive also lets you set up a sitewide notification bar that cannot be closed.

PushEngage is another brilliant WordPress push notification plugin that lets you send push notifications to your visitors automatically.

You can customize these notifications and trigger them based on your customer actions. If a visitor responds to the CTAs that you use on these notifications, you have the option to send them an automatic response as well.

PushEngage works well across different browsers and devices too.

You can easily schedule your notifications at your preferred timings. To make your message more engaging and clear, it lets you use large images and emojis too.

If you want to display a sleek notification bar on your website WP Notification Bar is the best option for you. This is a super responsive, SEO optimized WordPress notification bar plugin that helps you improve your marketing strategies. You can also customize its color to match your overall website looks. You can provide an option for users to hide the notification bar.

Besides, it lets you do a split test to see which version works best for you. You can also track the number of views and clicks that the bar receives over a period of time. The plugin lets you integrate the navigation bar with your favorite email marketing services too.

Hello Bar is a popular notification plugin that comes with amazing features. You can use it to add a notification to your website without coding a single line. And the plugin is super simple and quick to use. So even if you have no prior experience using it, you can handle it like a pro.

Using this plugin you can even add notification sliders and alert bells to your site. If you want to integrate your plugin with an email marketing service provider, that's possible too. It supports various services to make things easier for you. As a gesture of appreciation, you can add a custom thank you page as well. And if you're not sure if your notification bar is good enough to help you convert, go ahead and do a split test.

Themify Announcement Bar is your best option if you want to add a notification bar to your website. It makes working with notifications so simple that you're just going to love it. Whether it's about scheduling your notifications, styling them or displaying it on your site, you can do everything in a jiffy.

It lets you add these notifications to your widgets as a sticky bar or you can even use the shortcode it generates and add it anywhere you want on the site.

It lets you position the bar the way you want. You can also work on its font, color and style and add several scrolling styles to make it look appealing. Besides, the plugin is compatible with various other modern and advanced plugins.

The Foobar Notification Bar lets you add unlimited notification bars, announcements, and cookie notices to your website. You have the flexibility to make it appear different on every page or give a consistent look throughout, whichever you prefer. You can easily customize the width of these bars and use conditional logic for your pages too.

This plugin also comes with advanced features like a color picker that keeps your notification bar blend in with your WordPress theme. Another beautiful option it comes with is the numeric sliders. This comes in handy when you want to notify users with a message that comes with a lot of numericals. To encourage people to share your page, you can add various social icons as well.

WPFront is yet another WordPress notification bar plugin that makes it super easy for you to add notification bars to your website. This plugin is absolutely free. With this plugin, you can position your message bar on the top or bottom of your website. You also have the option to display it when your visitor starts scrolling through the page.

The bar is fully customizable when it comes to its appearance. You can adjust its height and color too. To let it disappear automatically, you can also set a start and set date. This is a great option if you wanted to set up a limited-time discount or flash sale. If you want to make a sticky bar, that's possible too. This ensures that anyone who lands on your site gets to see it even if they scroll down the page.

Top Bar lets you add a notification bar at the top of your website. You can use this bar to display messages along with custom links to your visitors. You can make your messages visible when your visitors are scrolling through the page or make it a sticky one.

It also lets you customize your bar by editing its color. For non-native english speakers, the plugin supports 3 different languages too.

TrustPulse is not a conventional notification bar plugin. It's a social proof tool to add FOMO (fear of missing out) to your site.

TrustPulse automatically tracks what users are doing on your website. Then it displays it in neat non-intrusive popups on your site. So for instance, you could show who last purchased your product like this:

It also lets you set up static clickable messages to alert customers to get them to check out new products, join a flash sale, or leave a product review.

There are options to display it in different corners of your site too:

Trustpulse is powerful and can be used for so many more things than just notification bars. Check out our TrustPulse Review.

So that's it. These are a few plugins that you can check out if you want to add a notification bar to your website.

Verdict: Which is the Best Notification Bar Plugin?

After trying and testing different plugins, we recommend OptinMonster as #1. It's hands down the best plugin to create all sorts of marketing campaigns on your site that are conversion focussed.

You get powerful campaign triggers and targeting rules to get visitors to take action.

We also love Thrive Leads. It's easy to use and if you're already a customer of ThriveSuite, you can create your notification bar right inside the same platform.

Next, you may want to learn more in our guides:

These tools will help you boost leads and conversions on your site. Plus, we've added a guide to help you automate certain tasks to free up your time.