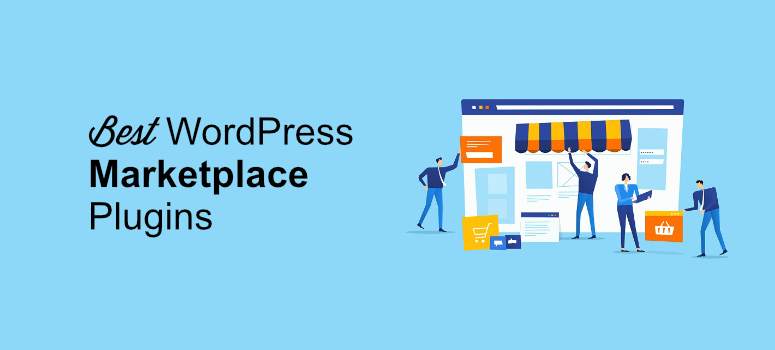 Are you looking for a good marketplace plugin for your WordPress website?
A marketplace plugin can help you create a professional-looking multivendor website like Amazon, eBay, or others with just a few clicks. And the best part is that if you use a marketplace plugin, you won't even need any knowledge of coding to get started.
Instead, you'll just install your plugin, tweak the settings, and you'll be ready to go.
So, in this article, we'll tell you about some of the best WordPress marketplace plugins that can help you create a feature-rich marketplace website without hiring a professional developer.
But before that, let's have a look at the benefits of creating a marketplace website.
Benefits of Creating a Marketplace Website
Creating a marketplace website can have several advantages. Here are some of the biggest benefits:
Sell all kinds of products: A marketplace website lets you sell all types of goods and services. This includes both physical and digital goods.
Offer various product options for customers: You can offer a wide range of products to your visitors without having to manage inventory.
Save money: Unlike other business models, a marketplace website doesn't require you to invest a huge amount of money all at once. Each vendor will manage their own products, so it's easy to get started with a small investment.
Manage your site with ease: You can automate tasks for your vendors without having to do much manually. This decreases the workload for you, and you can use this time to concentrate on other aspects of your business.
Earn commissions: You can earn good commission from your website by allowing multiple vendors to sell their products and services on your website.
Having said that, let's now look at some of the best WordPress marketplace plugins that can help you create a marketplace website without any coding.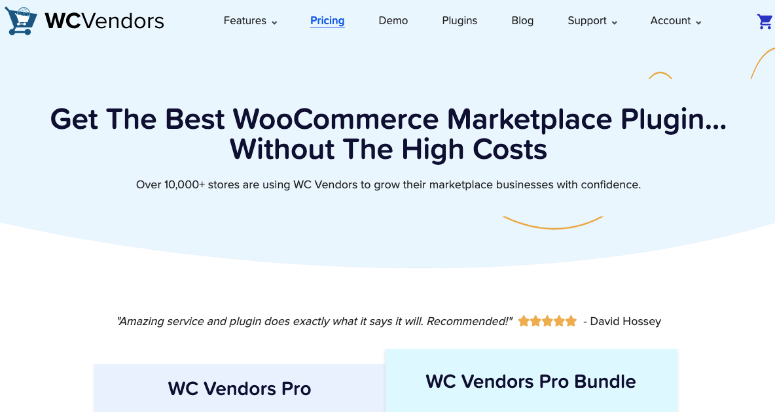 WCVendors is a popular multivendor plugin for WordPress. You can create a full-fledged marketplace on your WordPress site without writing a single line of code.
The integrated frontend dashboard seamlessly blends in with your WordPress theme. Vendors can easily manage their online stores through your marketplace including products, orders, and coupons.
The plugin supports all kinds of products and lets the vendors track their shipping status as well. You can also allow your customers to add an extended order note if they want.
Added to this, there's a social sharing feature that lets vendors and customers to promote products on their favorite platform.
You can set commission rates per vendor, per product, or globally depending on your needs. You can also choose from a fixed fee, a percentage, or a combination of both. Repay your vendors with a tiered commission system based on their product sales, product price, or total sales.
The premium subscription, WC Vendors Pro, comes with added benefits including product SEO, backorders, custom product edit contact forms, reports, order notes, and more.
Get started with WCVendors today.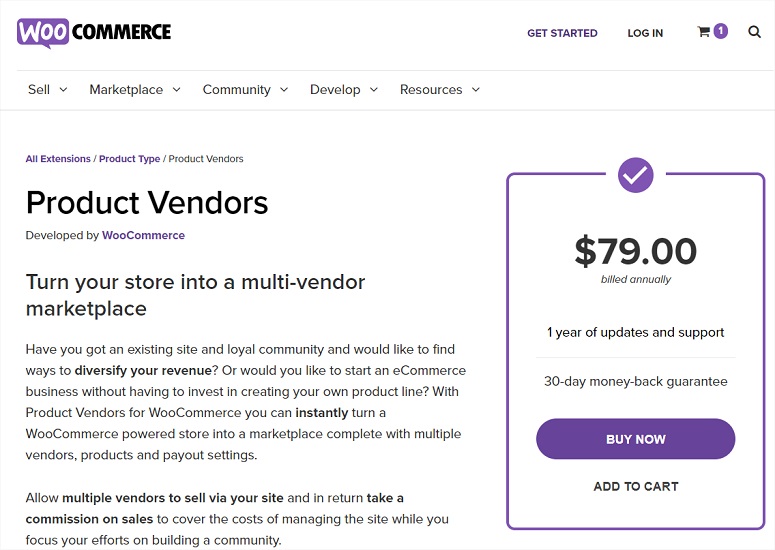 WooCommerce Product Vendors by Woocommerce is a powerful WooCommerce extension that lets you create a multivendor website within a matter of minutes. To use this extension, you'll first have to install the WooCommerce plugin.
With the WooCommerce Product Vendors extension, you can let your vendors control their public profile, manage their products, edit per-product shipping rules, and do a lot more. As the admin, it lets you accept and approve applications from potential vendors, set up one or more vendor admins to manage vendor information, set up each vendor's commission and payout schedule, and other administrative tasks.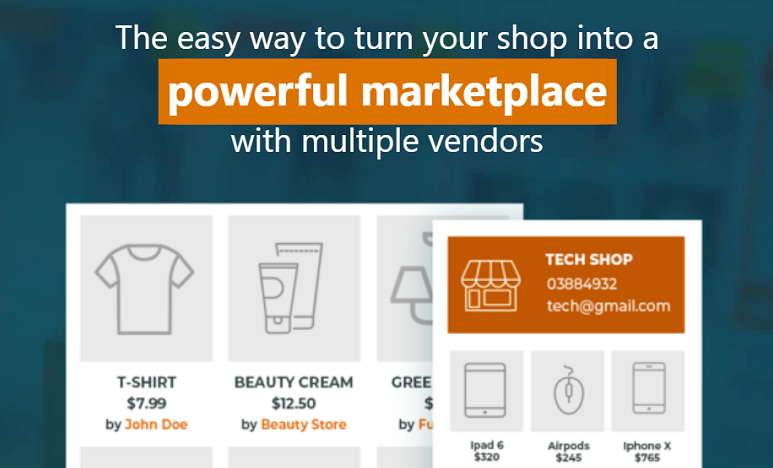 YITH Woocomerce Multi Vendor/Marketplace is a powerful WordPress plugin that lets you turn your eCommerce store into a multivendor site. With this plugin, you can have full control over your website. It offers you the flexibility to monitor your orders, income, reviews, and more.
The multivendor plugin supports both physical and digital goods so you can easily allow your vendors to list any product or service. If you have an international user base, you can use a currency converter to make it easy for your customers to pay in their own currency. The plugin also supports various third-party themes to make your site look more appealing. Plus, it works really well with other major plugins like Yoast, WP User Avatar, and more.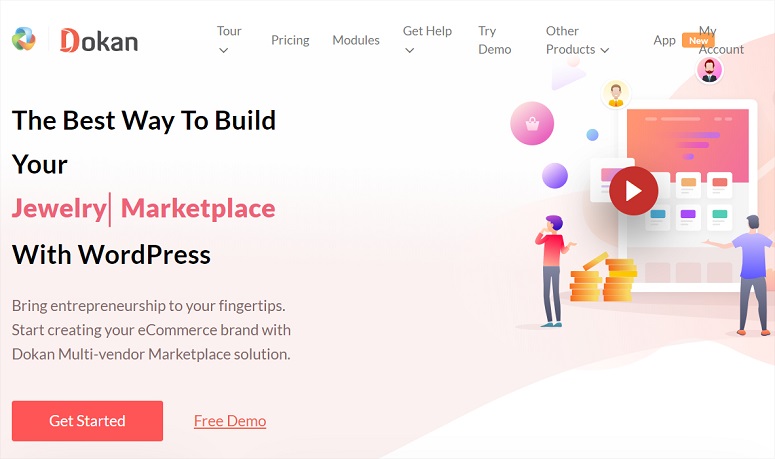 Dokan is yet another amazing marketplace plugin that lets you create a marketplace website like Amazon and Alibaba. Getting started with Dokan needs no professional coding knowledge at all. All you need to do is install the plugin, configure your settings, and welcome vendors to start selling on your website.
It supports various payment gateways like PayPal, Stripe, and others. The plugin is multilingual ready, so you can reach out to customers who are non-native English speakers as well. You can also create a front-end dashboard for your vendors. The plugin offers detailed insight into your store's sales report.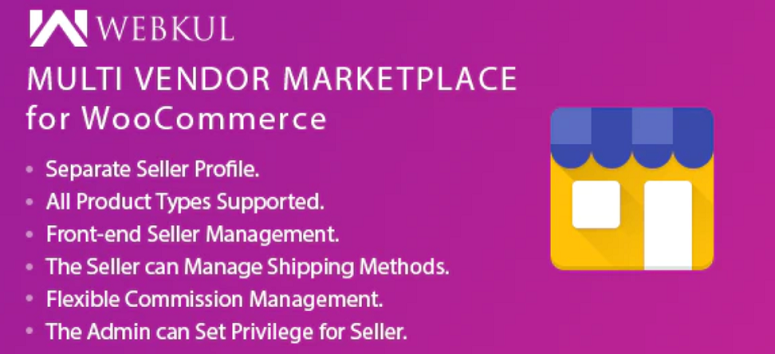 WordPress WooCommerce Multi Vendor lets you convert your eCommerce website into a fully functional multivendor site. With this plugin, you can have a separate profile for your seller as well as for the admin. With the front-end seller management dashboard, each vendor gets the opportunity to manage their own products, coupons, shipping methods, and more.
As the admin, you can manage the product list, seller list, commissions, and other settings. You can also edit or delete products, approve or disapprove sellers, set separate commission rates for different sellers, and have control over the vendors you work with.

WCFM is a free WordPress marketplace plugin that's packed with a lot of powerful features. Just like the other plugins in this article, this one offers a front-end dashboard feature from which vendors can manage their products. The plugin also offers versatile shipping management and commission features.
WCFM supports various payment options like PayPal, Stripe, and others. The plugin is compatible with advanced plugins so extending your website features is only a click away.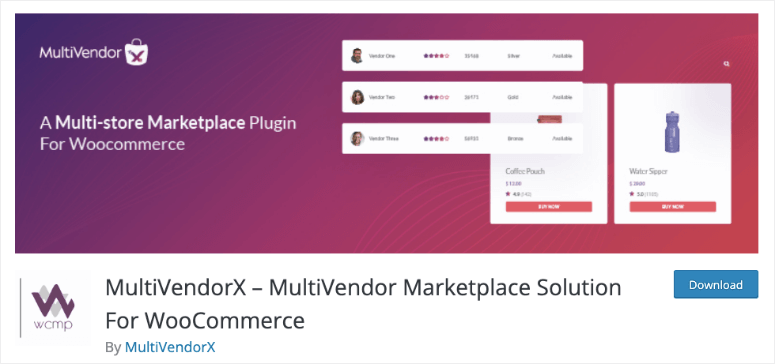 MultiVendorX is another free WordPress marketplace plugin that offers amazing features. With this plugin, it's easy to start a marketplace website like eBay. With it, you can offer flexibility to all your vendors to manage their products, and they can also have a weekly report of their sales.
Vendors can select their preferred mode of payment and can have access to their own ledger book where they can see their transaction history. With several other powerful features, this plugin is one of the best options to try out.
These are some of the best marketplace plugins for multivendors that you can choose from. We hope that after reading this article, you find the best WordPress marketplace plugin for your business.You mau also want to see 6 Best eCommerce Platforms for Multivendor Marketplaces.
We also have this tutorial for you » creating your online marketplace. This resource will have everything you need to get your WordPress marketplace site up and running!