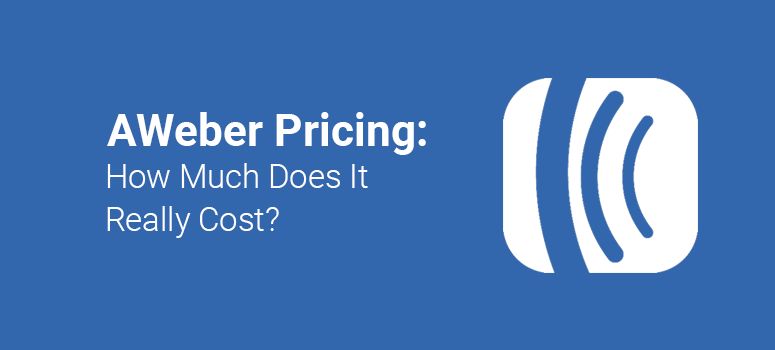 Are you looking for more information on AWeber pricing and plans?
AWeber is a powerful email solution for small business websites. It offers email marketing, email automation, web push notifications, and signup forms.
For all the features that come with AWeber, how much should you pay for an email marketing service? And, is it worth paying the price for AWeber?
In this article, we'll share the complete AWeber pricing breakdown to help select the best plan for your website.
This post won't just share AWeber's pricing structure and payment terms because you can easily find that information on their website.
Instead, we'll compare AWeber's pricing plans to tell you the right package for your email marketing needs.
AWeber pricing is based on the total number of subscribers on your email list. So, we'll share their plans with features to make it more simple for you.
Table of Contents
Quick Overview: AWeber Price
If you're in a hurry and want to take a quick look at AWeber pricing, then you can read this overview section. However, we recommend checking out the full article to better understand how AWeber's pricing breaks down.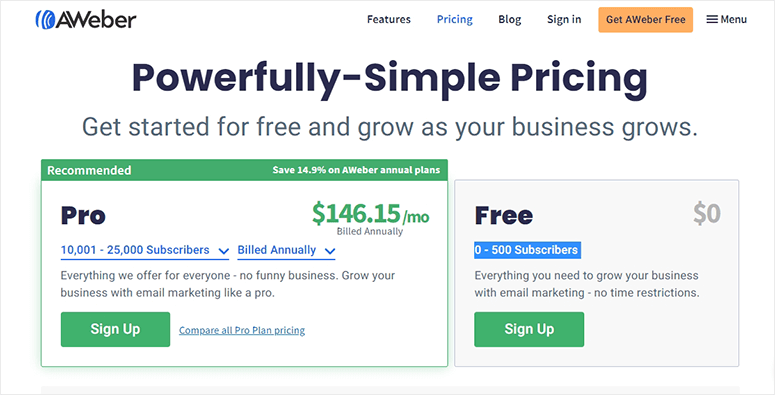 AWeber offers 2 pricing plans: Free and Pro.
You can start with any plan. Both plans offer useful email marketing features, including email automation, drag and drop email builder, email templates, dynamic content, stock photos, segmentation, reporting, and more.
Let's take a look at AWeber pricing plans:
AWeber Free: The Free plan has limited resources to send emails. It lets you add up to 500 subscribers to your email list and allows 3,000 emails per month. You can only create 1 email list to add all your contacts. With the Free plan, you get hundreds of email templates, RSS emails, basic email marketing automation, and so on. It gives you access to add unlimited team members to manage your email marketing.
AWeber Pro: This plan is an upgraded version of the Free plan. It costs $16.15 per month for up to 500 email subscribers. The Pro plan doesn't limit you on anything, which means you can add unlimited contacts, create unlimited email lists, and send as many emails as you want. It provides split testing, behavioral automation, advanced user tagging, custom branding, and powerful analytics reports.
This is a simple overview of AWeber's pricing and plans. You should keep reading below for a complete and detailed analysis of AWeber features according to their prices.
AWeber Pricing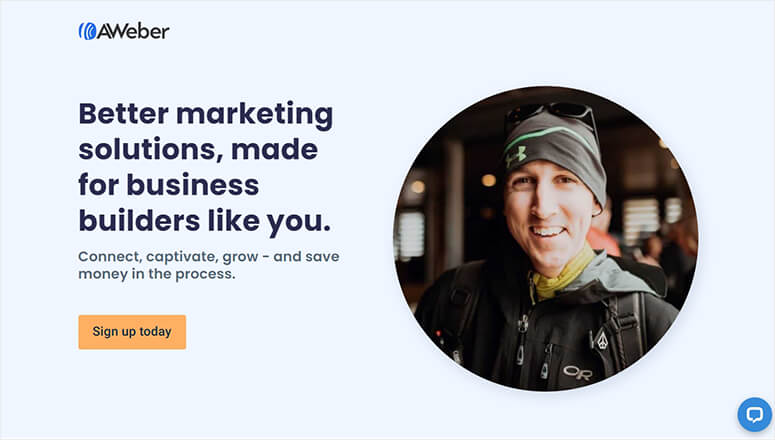 Let's take a look at each of the AWeber pricing plans one by one, starting from the AWeber free trial.
AWeber Free
The AWeber Free plan is a great option to start creating email marketing campaigns. It provides email automation and drag and drop email builder to design beautiful emails without editing any code.
With hundreds of email templates, you can select the best ready-made design that matches your content to quickly send thousands of emails. It also offers stock photos to add to your emails, too.
If you're using any other email marketing service, then the AWeber team will help migrate your contacts, emails, and other data free of charge. You can also access 24/7 live chat support, phone support, and email support with this plan.
AWeber seamlessly integrates with hundreds of apps, and the Free plan works with all of them. However, it may have limited access to eCommerce integrations, and for full access, you need to upgrade to the Pro plan.
This plan may not work in every region of the world. So, if it redirects you to the Pro plan, you need to sign up for their premium service for your email marketing campaigns.
Price: $0 for up to 500 subscribers and 3,000 emails per month.
AWeber Pro
The Pro plan includes everything from the Free plan with additional features. It comes with behavioral automation to understand the users' journey and automate emails based on their actions.
There's no limitation on the number of subscribers, emails per month, or email lists in the AWeber's Pro plan. Unlike the Free plan, it lets you completely remove AWeber branding from your emails, so you can customize it with your business name.
It integrates with all the popular services, including eCommerce apps out of the box. With the cart abandonment feature, you can increase your sales in record time. You can also keep track of your sales to compare the results of your email campaigns.
When it comes to reporting and analytics, the Pro plan offers webpage tracking, email sales tracking, advanced message analytics, and accounts analytics. These reports help create better and result-driven email campaigns.
It has unlimited landing page templates and thousands of stock photos that you can use to design your website's important pages. This way, you can quickly grow your email list and reach a larger audience.
In this plan, you get a split-testing option for the signup form to build an email list. You can test 2 different forms and monitor the results.
Price: It lets you pay monthly, quarterly, and annually. The AWeber Pro plan costs $19 per month for up to 500 subscribers. However, if you select the quarterly payment option, you can save 14% on your total bill. You can also choose to pay yearly and save 14.9% on the total cost.
Here's a clear description of the billing cycles with the total number of email subscribers on your contact list.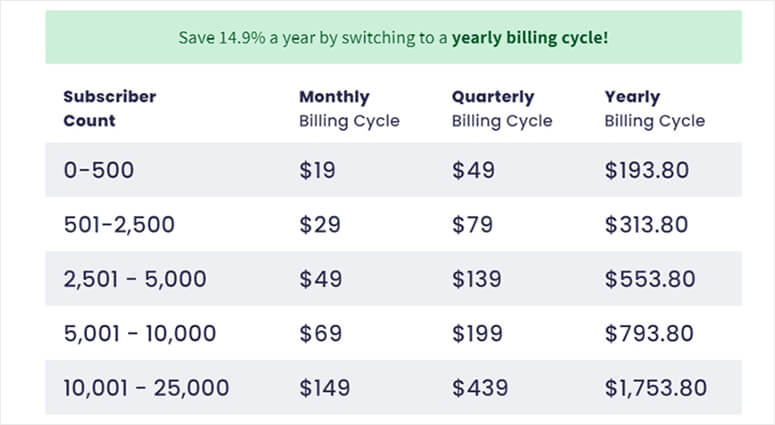 For over 25,000 subscribers, you need to connect with their billing team to get a custom AWeber pricing plan. They're available on live chat and phone service 24/7 round the week.
AWeber Price Comparison
AWeber has 2 options, the Free and the Pro. Their Free plan has a lot of premium-like features and you can check the similarities in the All Features section. We'll talk about the differences in this section.
The Free plan limits you up to 300 subscribers and allows 3000 emails per month. You can only create 1 email list profile enough for the start of your business. However, the Pro plan lets you add unlimited contacts, send unlimited emails, and create unlimited contact lists.
Some other tools that you can find in the Pro plan include email split testing, behavioral automation, cart abandonment, branded click-tracking links, and more. Having the Pro plan, you can also remove the AWeber branding from your emails. These features aren't available in the AWeber Free plan.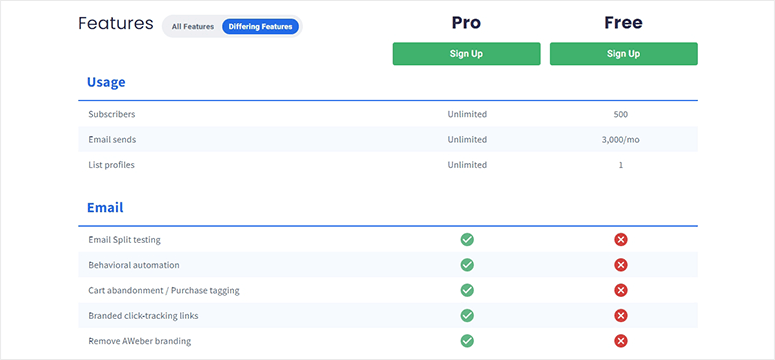 In the Free and Pro plan, you get unlimited landing pages, video landing pages, landing page templates, stock photos, and so on. However, the Free plan comes with AWeber branding on each page, while the Pro plan lets you customize your business name to the pages.
For list building and segmentation, you get signup forms, tagging subscribers, and basic segmentation in both plans. However, the Pro plan has a split testing feature to find out the best signup form for your users. You can also send emails to a custom contact list using the premium plan.

In an email marketing service, reports and analytics are very important to keep your campaigns result-oriented. The Free plan includes message analytics, which isn't enough.
In the Pro plan, you get advanced analytics, users' analytics, webpage tracking, and email sales tracking reports. This makes a difference in your email marketing campaigns.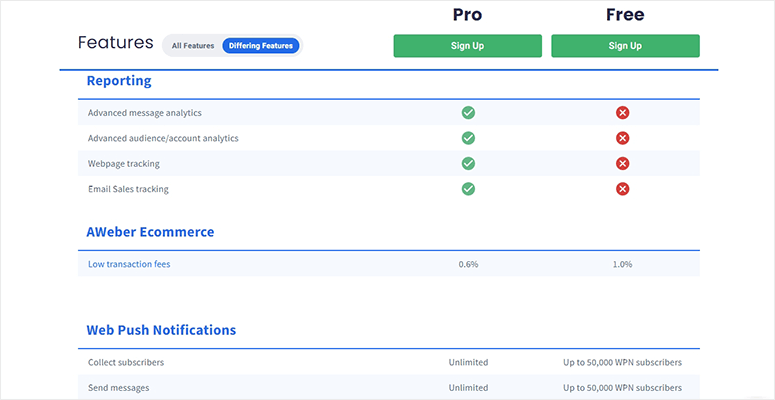 AWeber eCommerce features are also limited in the Free plan, and it has a 1% transaction fee on every sale that you make through your emails. If you switch to the premium plan, you get full support to sell products, track your campaigns, and more.
And, the transaction fee is low.
AWeber Pricing for Nonprofits
If you're a nonprofit or charitable organization and want to send emails to your users, AWeber gives you a great start with 3 months of free service. With a free account, you can send thousands of emails to your subscribers and build email lists.
AWeber also offers a 25% OFF on your invoices after the free period ends. To start with the free account, you need to print their order form, fill in your details, and mail or fax it to AWeber. You also need to attach a valid 501(c)(3) document as proof of your nonprofit business.
Students' Discount
Other than nonprofit organizations, AWeber also offers a 20% discount to students enrolled in an educational program. You need to have a valid .edu or .ac email address to receive the discount on your email marketing account.
This is a great opportunity for all tech-savvy students to start their business at an early age. Start by filling out the AWeber's order form and mail or fax it to them. Once they process your order, you'll get the login information on your email address.
AWeber Alternatives
AWeber offers a forever free plan with no credit card requirement, and it comes with several useful features. However, the free plan has limits on eCommerce marketing campaigns. On the other hand, AWeber's Pro plan is expensive when you add more subscribers to your email list.
If you compare these plans with other email marketing services for small businesses, there are several AWeber alternatives on the market. This includes Sendinblue and Constant Contact.
Sendinblue also offers a Free plan with a limit of 300 emails per day, which means you can send 9,000 emails per month. This is 3x to what AWeber's offers in the Free plan. Moreover, Sendinblue lets you add unlimited contacts to your email lists, while AWeber only allows 500 subscribers. This makes Sendinblue a direct AWeber alternative.
Constant Contact may not offer a free plan. But, it comes with a 60-day free trial and 30-day money-back guarantee on top of it. This means you get up to 90 days to test the service for free. Their premium plans are cheaper and include powerful email marketing features like custom templates, tracking and reporting, A/B testing, eCommerce marketing, automated emails, outstanding customer support, and so on. With these features, Constant Contact is also a perfect AWeber alternative.
Conclusion
AWeber is a popular email solution for startups and small businesses. It also supports nonprofit organizations and students to set up email marketing campaigns at the lowest price possible.
When it comes to features, AWeber's Free plan has several premium options that you can use to grow your business. However, the AWeber Pro plan is expensive when you want to add more subscribers to your email list. As your business grows, you'll need to switch to AWeber alternatives.
That's all for now, but we hope this article helped you understand AWeber pricing.
You may also want to check out our guide on the affiliate marketing to learn how you can make money by adding affiliate partners to your website.