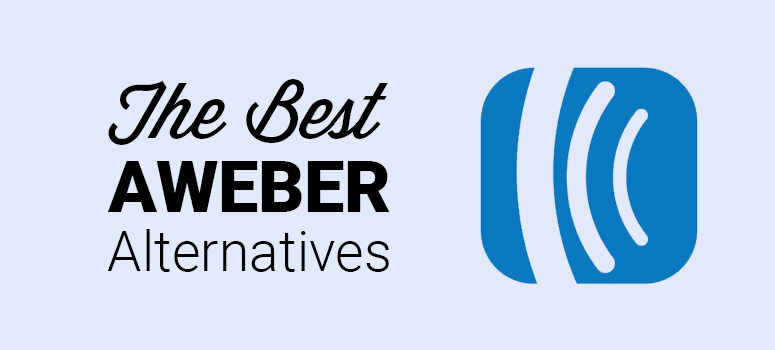 Are you looking for the best AWeber alternatives?
AWeber is a popular email marketing service. It offers useful email features for small businesses, including email templates, dynamic content, behavioral automation, an email builder, and so on.
But with all its advanced features, it may not be the best option for your unique needs.
That's why, in this article, we'll share some of the best AWeber alternatives and competitors for email marketing.
First, though, let's look at why you might want to use an AWeber alternative in more detail.
Why Should You Look For AWeber Alternatives?
AWeber is a well-known email solution for small businesses. It comes with a free plan that lets you add up to 500 subscribers to your contact list and send 3000 emails per month. It has premium-like features and doesn't require credit card details.
The AWeber Pro plan has additional options for email split testing, user behavior automation, eCommerce sales tracking, and more. It also provides unlimited team accounts and free migration.
However, it may still lack a few basic email features that you can find in other email marketing services.
AWeber also becomes expensive when you add more subscribers to your email list, making it out of the reach of small businesses who grow their list faster than their profits.
With so many options on the market, you might want to look for an AWeber alternative with better options and pricing to run your email marketing campaigns.
With that in mind, let's take a look at the most popular AWeber alternatives you can use.
Best AWeber Alternatives and Competitors
Below, you'll find popular email services that can easily give competition to AWeber pricing and features. At the end of this article, you'll be able to choose a solution that can help create email marketing campaigns for your small business.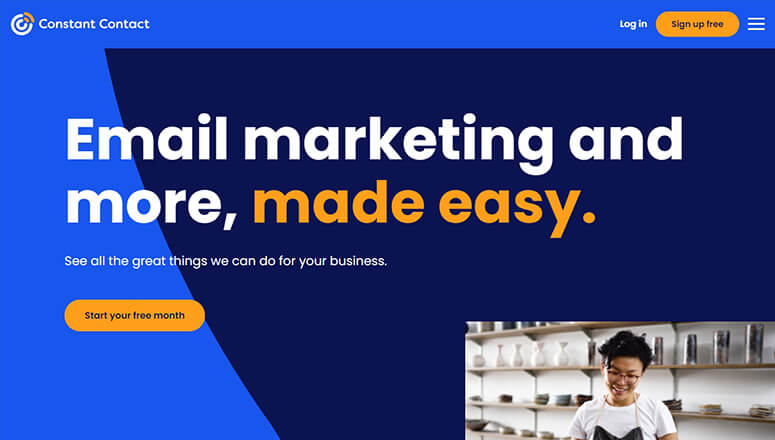 Constant Contact is the most popular email marketing software for small businesses. It comes with highly flexible and easy-to-use features to design your email marketing campaigns.
With a smart drag and drop email editor, you can place your content and images anywhere on the email. It also offers hundreds of email templates that you can customize to send beautiful emails to your subscribers.
Constant Contact has a powerful email marketing automation feature. It keeps your audience busy with continuous automated emails and builds a strong customer relationship that lasts. Automation features include welcome emails to new subscribers, email series, contact list segmentation, resending emails to non-openers, and several list-building tools.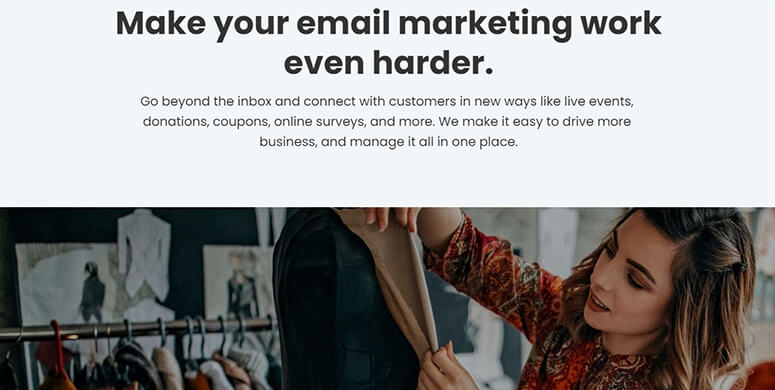 If you're running an eCommerce store, Constant Contact has you covered with its professional eCommerce email marketing tools. It focuses on finding new customers, keeping them engaged with attractive offers and automated emails.
It also comes with real-time email tracking tools to stay ahead of your goals. You'll know total open rates, click-through rates, and email shares in your website's admin dashboard. For more details, you should check out our complete Constant Contact review.
Constant Contact Pricing: The starting price for the basic email plan starts at $9.99 per month.
There's a 30-day money-back guarantee to test the premium services before paying for email marketing. If you want to extend your trial, grab our exclusive 60-day trial deal.
Constant Contact is a direct AWeber alternative with better pricing and features.
Learn more about Constant Contact today!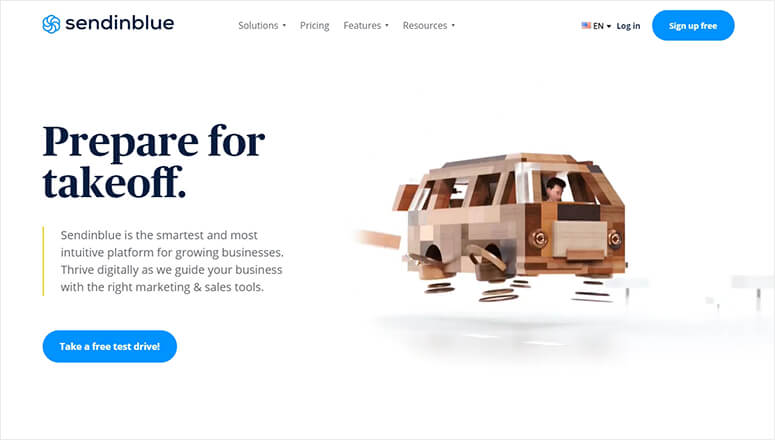 Sendinblue is a smart email marketing service to grow your business. It comes with multiple intuitive tools to reach out to maximum people and build an email list of potential customers.
It provides email marketing, SMS marketing, and live chat services to communicate with customers at the right time with the right message.
Sendinblue has a professional email editor to design and send high-converting emails in just a few clicks. You can start by selecting an email template or build a custom email design yourself.
Use the email editor to drag and drop blocks, styles, and content to your template. Then, choose your contacts from the email list and send emails right away.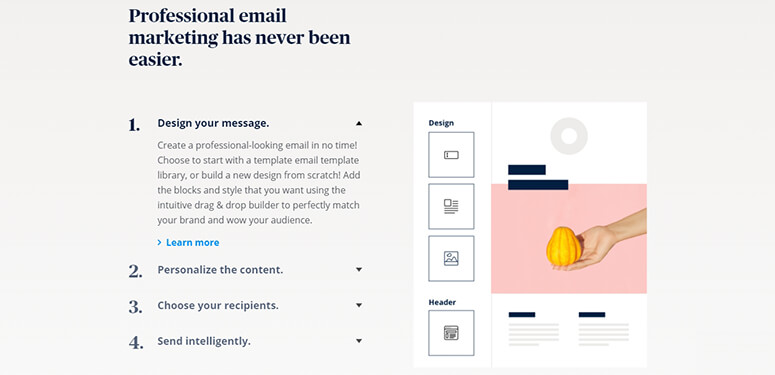 Sendinblue also offers A/B split testing tool and send time optimization option. This helps find the best email opening time, so you'll always send your emails at the right time and get the highest email open rates.
With automated workflows, you can sit back and relax while Sendinblue engages with your customers from time to time. You can monitor the real-time performance of your emails, split tests, and more. Sendinblue also provides advanced analytics to track your conversions. You should check out our complete Sendinblue review for more details.
Sendinblue Pricing: It comes with a forever FREE plan that lets you send 300 emails per day (9000 emails per month) to unlimited contacts. This makes Sendinblue a direct AWeber alternative.
The pricing is based on the total number of emails. The Sendinblue Lite plan costs $25 per month for unlimited email contacts and 10,000 emails. Sendinblue can be your choice over AWeber for email marketing with no daily sending limit and tons of other features.
Learn more about Sendinblue today!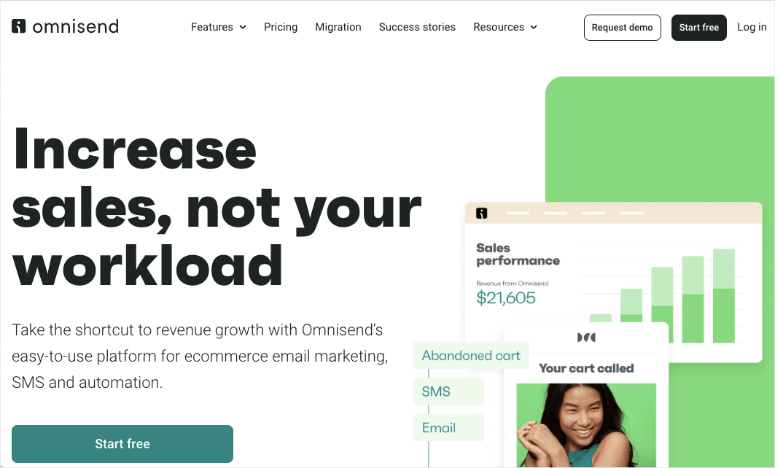 Omnisend is the best option for eCommerce email marketing. It also comes with SMS, transaction emails, cart abandonment emails, and automation tools.
Even on the free plan, you get access to a ton of features. This includes professional-looking email templates, prebuilt automations, and workflows.
Omnisend lets you grow your subscriber list with popups and signup forms. And there's unlimited segmentation options to help you keep your contact list organized.
Added to that, you can view and improve your email performance with statistics and A/B testing.
Omnisend Pricing: The free lite version lets you send 500 emails per month to 250 contacts. You also get up to 60 SMS and 500 web push notifications included. There's no credit card needed to signup.
Paid plans start from $16 per month for 6,000 emails per month and 500 contacts.
Get started with Omnisend today.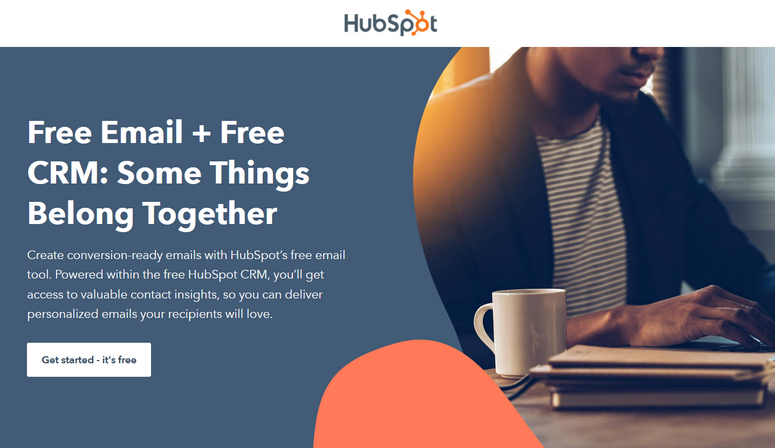 HubSpot combines email marketing with the power of CRM (customer relationship management) software. This gives you access to valuable contact insights so that you can automatically create deeply personalized email campaigns.
It comes with a drag and drop email editor and multiple email templates to get you started. You can customize the layout, calls-to-action, images, and content easily.
Plus, HubSpot can help you create your entire lead generation funnel. Aside from email marketing and the CRM, you can use the free form builder to grow your email list and live chat to engage with prospects in real-time.
Other features include email scheduling, automation flows, A/B testing, email analytics, and more.
HubSpot also offers a free WordPress plugin to easily integrate your email marketing with your WordPress site.
HubSpot Pricing: HubSpot's free plan lets you send 2,000 emails/month to unlimited contacts. For more advanced features and increased limits, premium plans start at around $45/month.
Learn more about HubSpot today!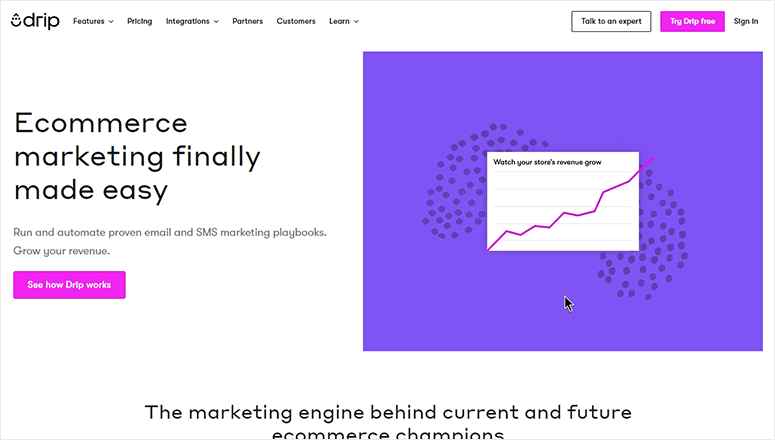 Drip is an ultimate eCommerce email marketing and CRM solution designed to maximize your revenue. It seamlessly integrates with popular eCommerce platforms, including WooCommerce, Shopify, Magento, and more to enhance sales and engagement.
Inside, you'll find custom forms to get new leads and email subscribers. And a powerful email segmentation option to manage your contacts in lists and groups.
Drip also provides an email and SMS automation service. It lets you create and automate your eCommerce campaigns with hundreds of built-in templates that are easy to customize using their email builder.
It provides campaigns based revenue reports, so you'll know exactly which eCommerce marketing campaign is working and where you need to make improvements. You should check out our complete Drip review for more details.
Drip Pricing: Drip offers a single plan at $19 per month for up to 500 contacts. You can sign up for a 14-day free trial to test all features and run premium-like campaigns. In the free trial period, you can send 2000 emails.
Drip's eCommerce features make it a direct AWeber alternative for eCommerce email marketing.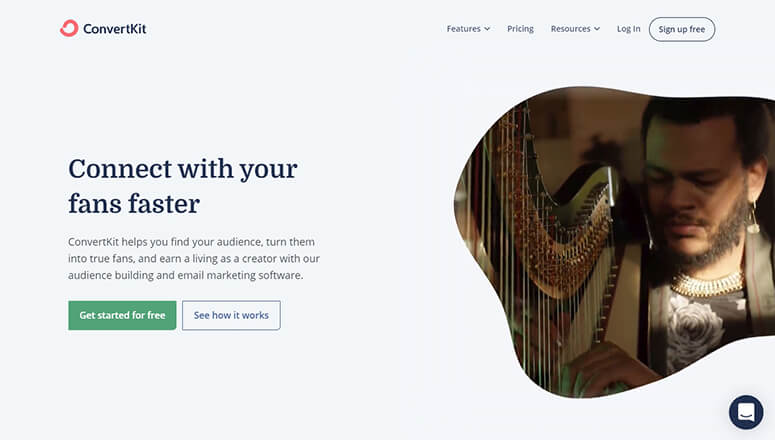 ConvertKit is an excellent email marketing software for small businesses. It's a complete package that helps you find new leads, build an email list, and convert subscribers into customers.
It provides you with email templates and an email designer. You just need to write the content while ConvertKit will take care of the email design and layout. You can also set an email template as the default layout to speed up the email creation process.
With inline styling options, it's easier to add buttons, images, and videos to your emails. It also offers a simple interface for writing email content.
ConvertKit claims 98% of email deliverability, so your emails don't go to your users' spam folders. It lets you send email broadcasts, automated emails, and transactional emails.
ConvertKit Pricing: It comes with a free plan for up to 1,000 subscribers and allows email broadcasts. The premium plan starts at $29 per month and offers free migration from other email services. ConvertKit is a direct AWeber alternative.
Learn more about ConvertKit today!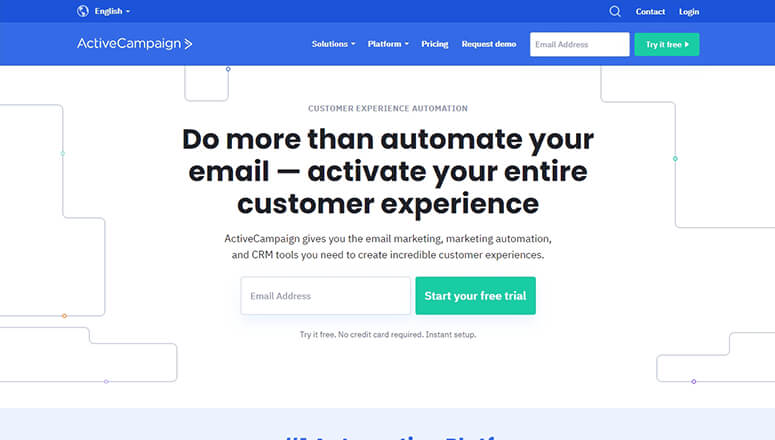 ActiveCampaign is a feature-rich email marketing software. It comes with marketing automation and customer relationship management (CRM) tools to build custom user workflows that helps engage customers and increase your sales.
ActiveCampaign also provides solutions for eCommerce stores, online businesses, B2B companies, and small websites. It works in four steps: First, you reach and engage. Second, you build a relationship. Next, you convert the user into paying customer. Lastly, you provide support to grow your business.
Other features include subscription forms, contact segmentation, event tracking, campaign and automation reports, SMS marketing, landing pages, and so on. It lets you generate custom reports for your email marketing to grow in the right direction.
ActiveCampaign Pricing: The basic plan costs $9 per month for up to 500 contacts when billed annually. It competes with AWeber's basic plan.
Learn more about ActiveCampaign today!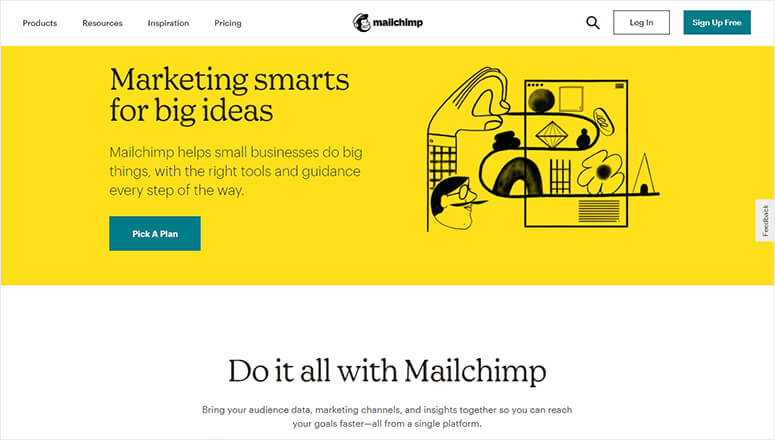 Mailchimp is a popular email marketing solution offering tools and guidance to design your marketing strategies. It provides email templates that you can use to create and send emails quickly.
With the A/B split testing feature, you can identify the best email that works for your users. Mailchimp also has advanced audience segmentation to manage your contacts.
Moreover, it comes with send-time optimization and behavioral targeting tools. This helps in sending the right email at the right time. You should check out our complete Mailchimp review for more details.
Mailchimp Pricing: Mailchimp offers a free plan with up to 2,000 subscribers and basic marketing features. The premium plan costs $9.99 per month and allows up to 50,000 contacts. Mailchimp's basic premium plan is a direct AWeber alternative.
Learn more about Mailchimp today!
That's all for now. We hope this article has helped you find the best AWeber alternatives and competitors for your website's email marketing campaigns.
You may also want to check out our guide on the best WordPress CRM plugins for small businesses.
This will further help you build stronger relationships with your customers that lead to more sales over time.