Twitter is the web's most happening space. This is why most bloggers set up WordPress to automatically tweet a new post. It has also become a common practice to quote an individuals Tweet in the media. You must have seen articles in your favorite online publications with actual Tweets embedded right inside the content. In this article, I will show you how to automatically embed Tweets in WordPress posts or pages.
First thing you need to do is to find out the permanant link of the Tweet you want to embed. This permanent link can be found on the timestamp of every Tweet in your Twitter stream. This timestamp is displayed next to the user's Twitter handle.

Now you need to right click and select 'Copy link location' to copy the permanent link for an individual Tweet.
Open the WordPress post or page where you want to embed the Tweet and simply paste the URL by pressing CTRL+V.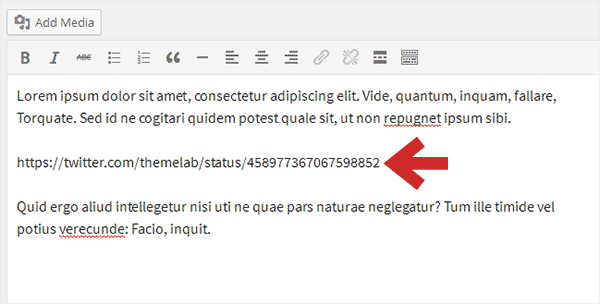 That's all, you can now save your post and then click on the preview button in the post editor. You will see the Tweet automatically embedded into your WordPress post.
I hope this article helped you embed Tweets in your WordPress posts and pages.
If you liked this article, then join ThemeLab on Twitter and Google+.