Ronneby is a multi-purpose premium WordPress theme packed with tons of features, demo layouts, and customization options. Check out our Ronneby review for all the details, and to find out if this popular theme is right for you.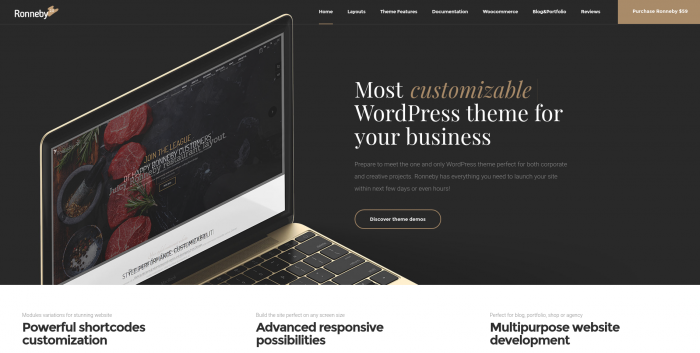 About Ronneby
Ronneby is a premium WordPress theme that's incredibly flexible in design options. You can choose from over 40 demo layouts to import and customize to create your own unique look for your website.
Ronneby is by DFDevelopment, or DFD for short. Ronneby is currently their only available theme. It's among the most popular and highly rated on Themeforest, with over 10,000 sales.
Features of Ronneby
Ronneby comes packed with plenty of features and options. Here are a few of the highlights:
Includes Premium Plugins
Ronneby comes packaged with the drag-and-drop page builder plugin WPBakery (previously known as Visual Composer), as well as the popular slider plugin Slider Revolution.
WPBakery (previously known as Visual Composer) allows you to build pages with a live visual editor, using different "elements" to add content to your page in rows and columns.
The Ronneby theme includes Ultimate Addons for WPBakery plugin, which provides many extra elements you can place on your pages, including:
advanced buttons
lists with icons
portfolio
social sharing
videos
WooCommerce products
…and more
40+ Demos to Import
Ronneby comes packed with so many different ways to configure your settings, no two sites will look the same. But it does make it overwhelming to get started and time-consuming to set up.
To make it easier, Ronneby includes over 40 different demos you can import with one click. The demos include style settings and content for different types of sites, including:
simple blogs
corporate business sites
agencies
portfolios
restaurants
one-page sites
health and fitness sites
law firms
ecommerce shops
…and more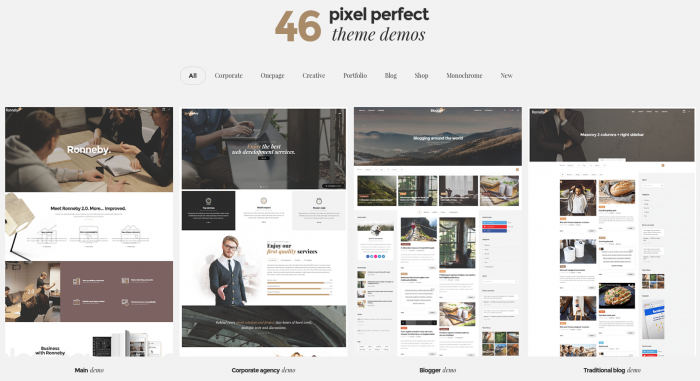 But in order to install any demos, you have to install a plugin first. Inside the theme download zip file, but separate from the theme file itself, is a plugin called Installer Plugin which you have to upload and install separately.
After doing so, you can navigate to Appearance » Installer Panel to get the demos.
Demos can only be installed on a new WordPress installation that has no other themes, content, categories, sliders, or any other type of content already.
Header Styles
Ronneby includes 14 different header styles you can choose from and modify.
If you click on Theme Options » Header Options, you can see all the options.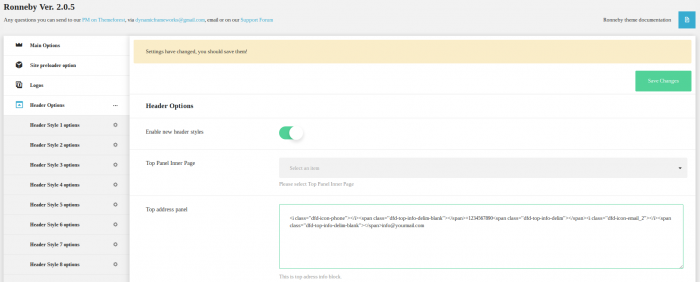 Unfortunately, the interface is not very intuitive. There are no images or previews of what the different styles look like here; only in the documentation. Also, some of the fields have mysterious and unexplained labels — what is the Top Panel Inner Page, exactly? What is all the code in the Top address panel? And it's unclear how to select the header style you want.
While Ronneby says it requires no coding, it seems there are several fields with HTML code, so you would need to know HTML to modify them.
Customizable Design
Ronneby offers a huge amount of options for customizing all the details of your site's design.
However, using the Appearance » Customize menu isn't recommended, though the options are available to access there. The developers ask you to set all the options using the Theme Options menu instead.
Under Theme Options » Blog options, you can select some display options for your blog posts.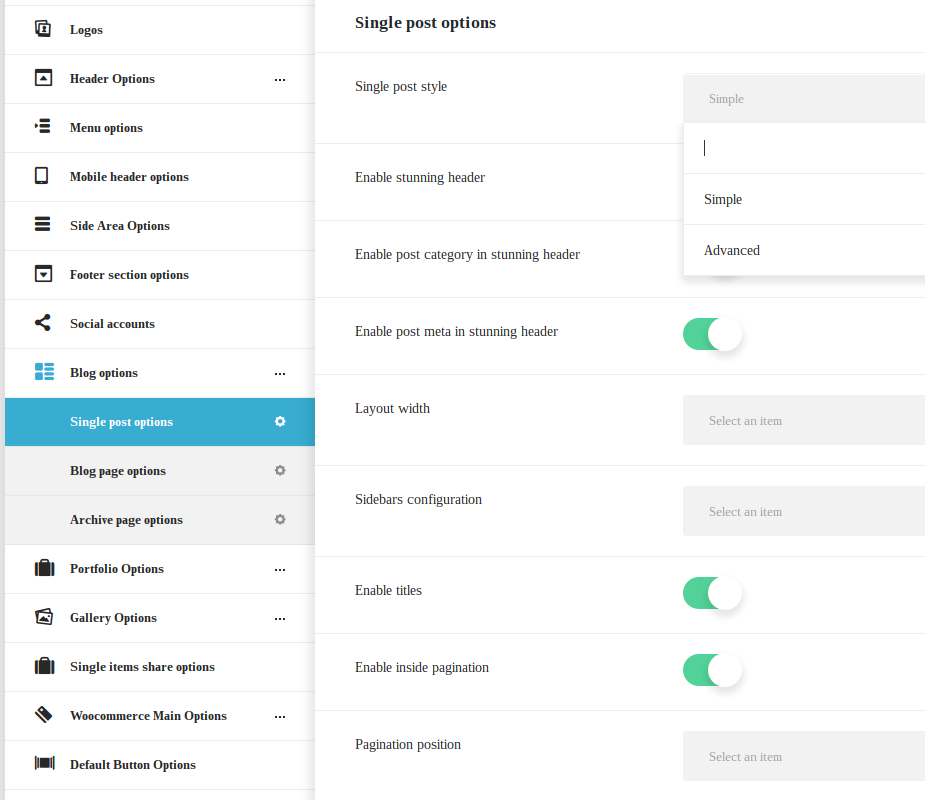 The layout options for your blog are available separately under the menu option Theme Options » Layout Settings.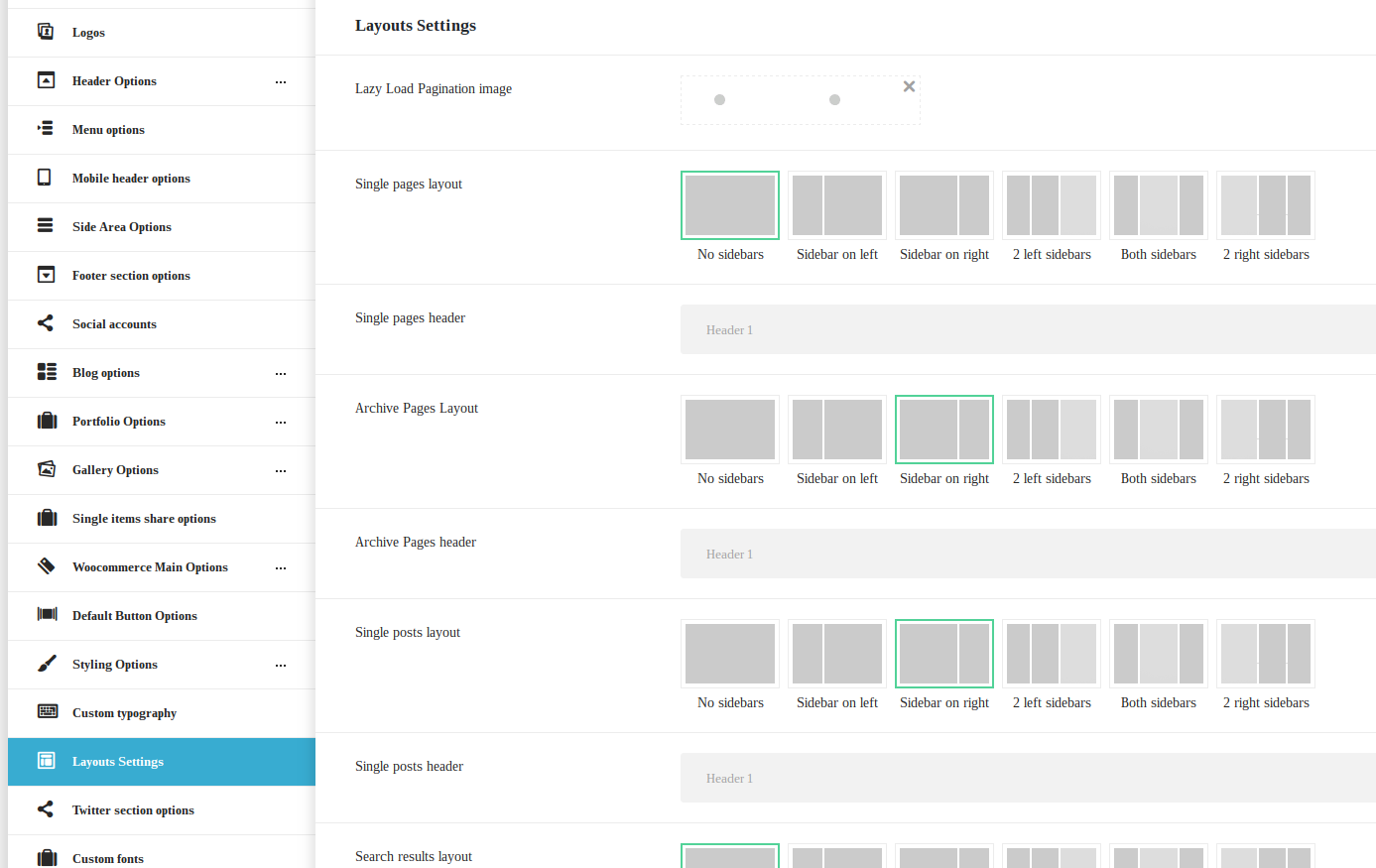 You can customize your site's typography. Under every section, it says "Typography option with each property can be called individually" for some reason, but it would be more useful to have an explanation of where each element can be found on the site.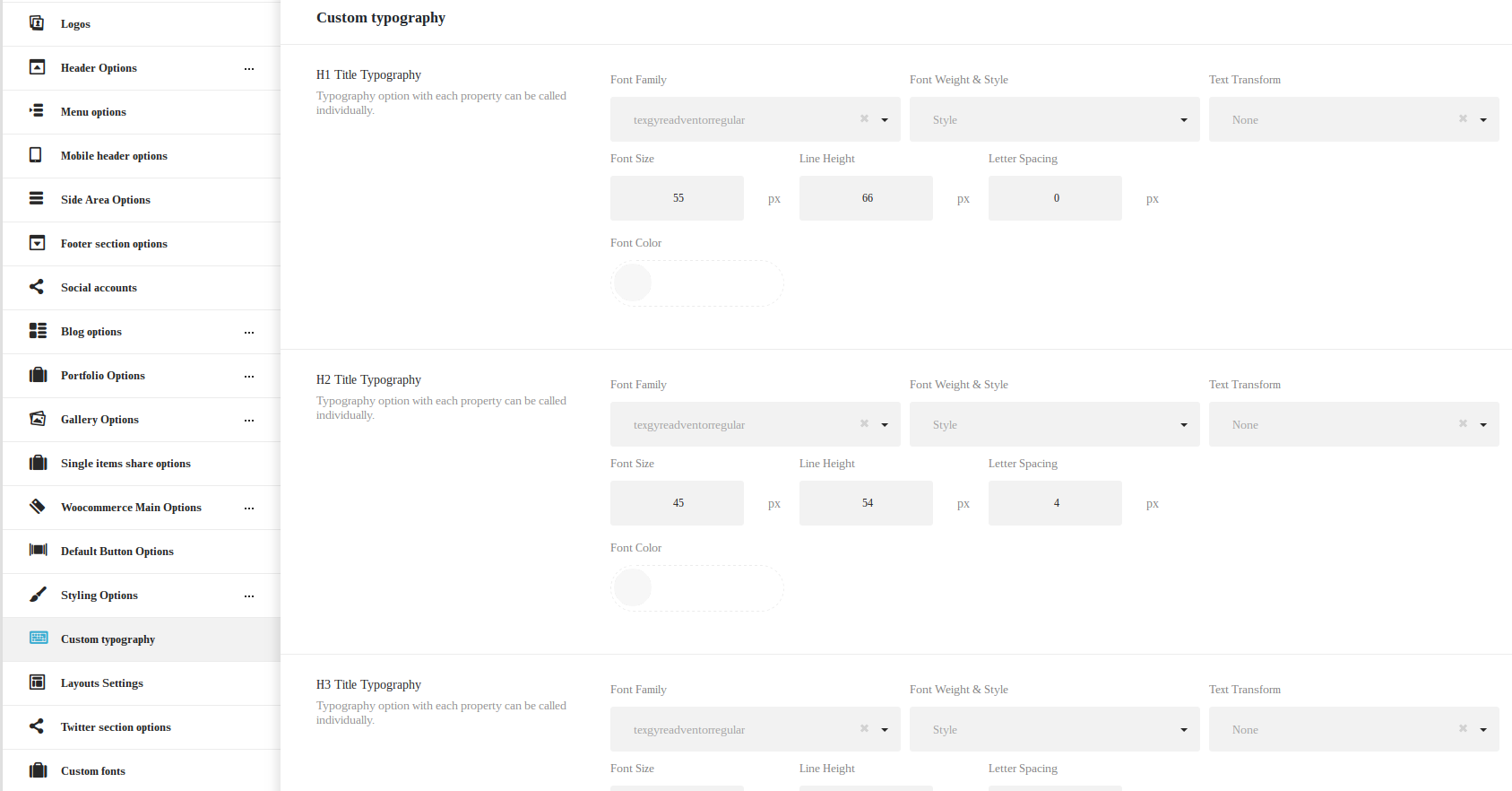 The link colors and other options can be customized under Theme Options » Styling Options » Link Options.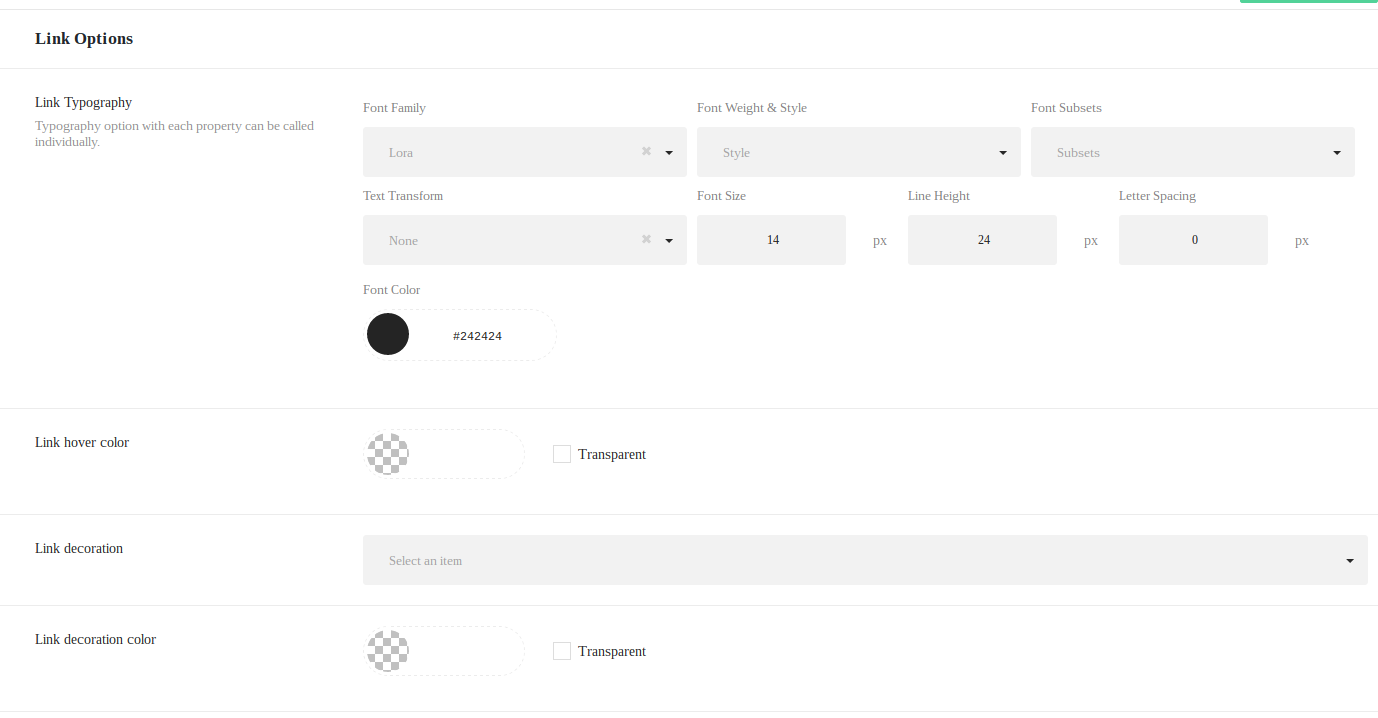 The menu layout doesn't seem to make much sense, though. Why are there separate menu items for Custom Fonts and Custom Typography? Why does the Default Button Options get its own top-level menu item instead of going under Styling Options? Why are Blog Options and Layout Settings separate and so far apart in the menu? It's all a little unintuitive and hard to navigate.
Customizable Responsive Settings
Ronneby has a nice feature where you can customize the responsive settings of your theme to make it more mobile-friendly.
If you navigate to Theme Options » Styling Options » Responsive Options, you can customize some of the widths by screen size: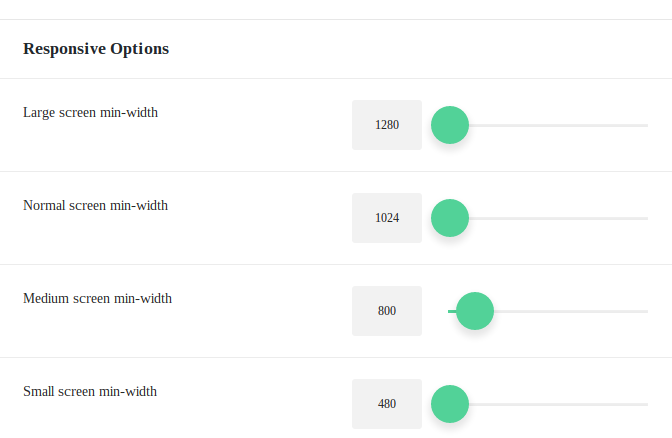 WooCommerce Integration
WooCommerce is a free eCommerce WordPress plugin that allows you to turn your WordPress site into an online store.
Ronneby comes with some built-in templates for designing your WooCommerce shop. You can customize all the display settings under the Theme Options » WooCommerce Main Options menu.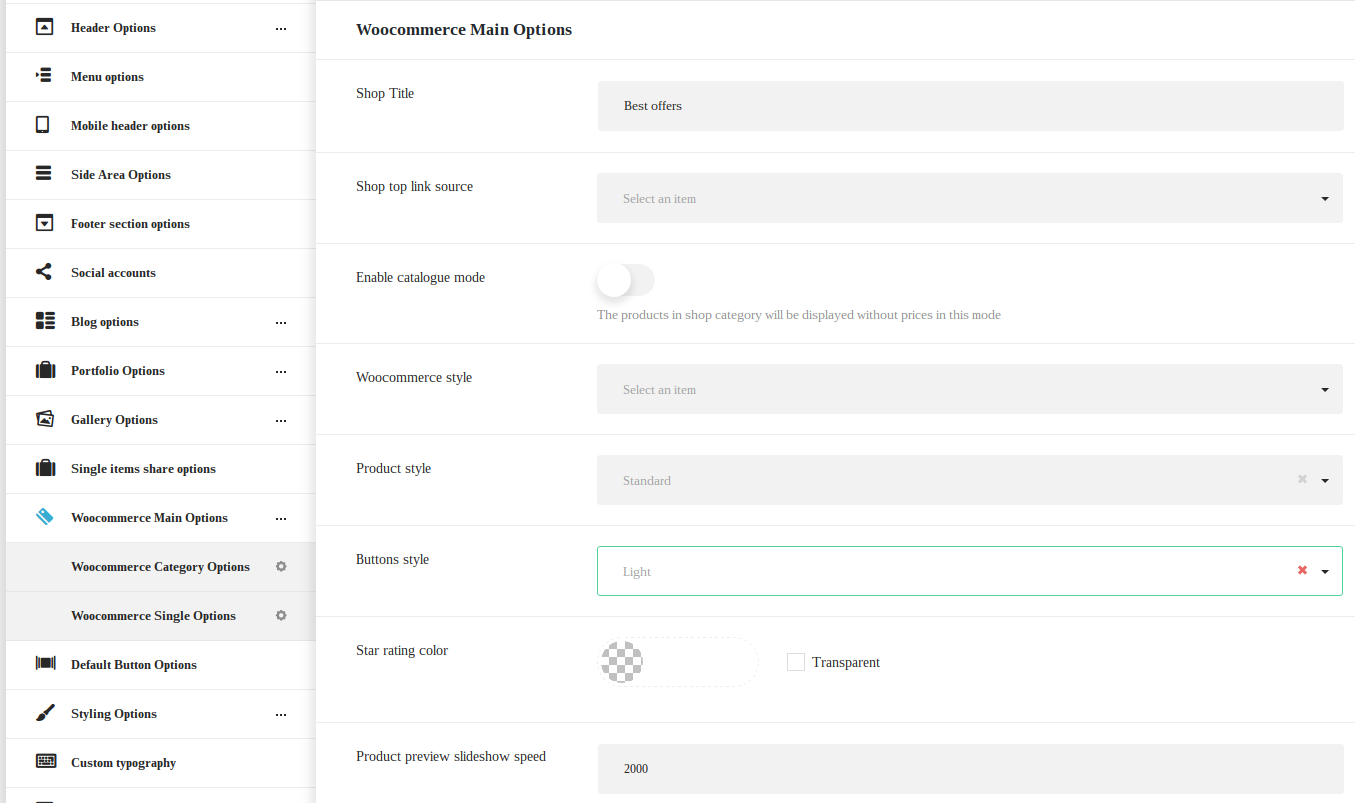 Built-In Image Galleries
Ronneby comes with a built-in feature to create galleries. Click on Galleries » Add New to get started. From here you can build a gallery slider to display on your homepage or other pages.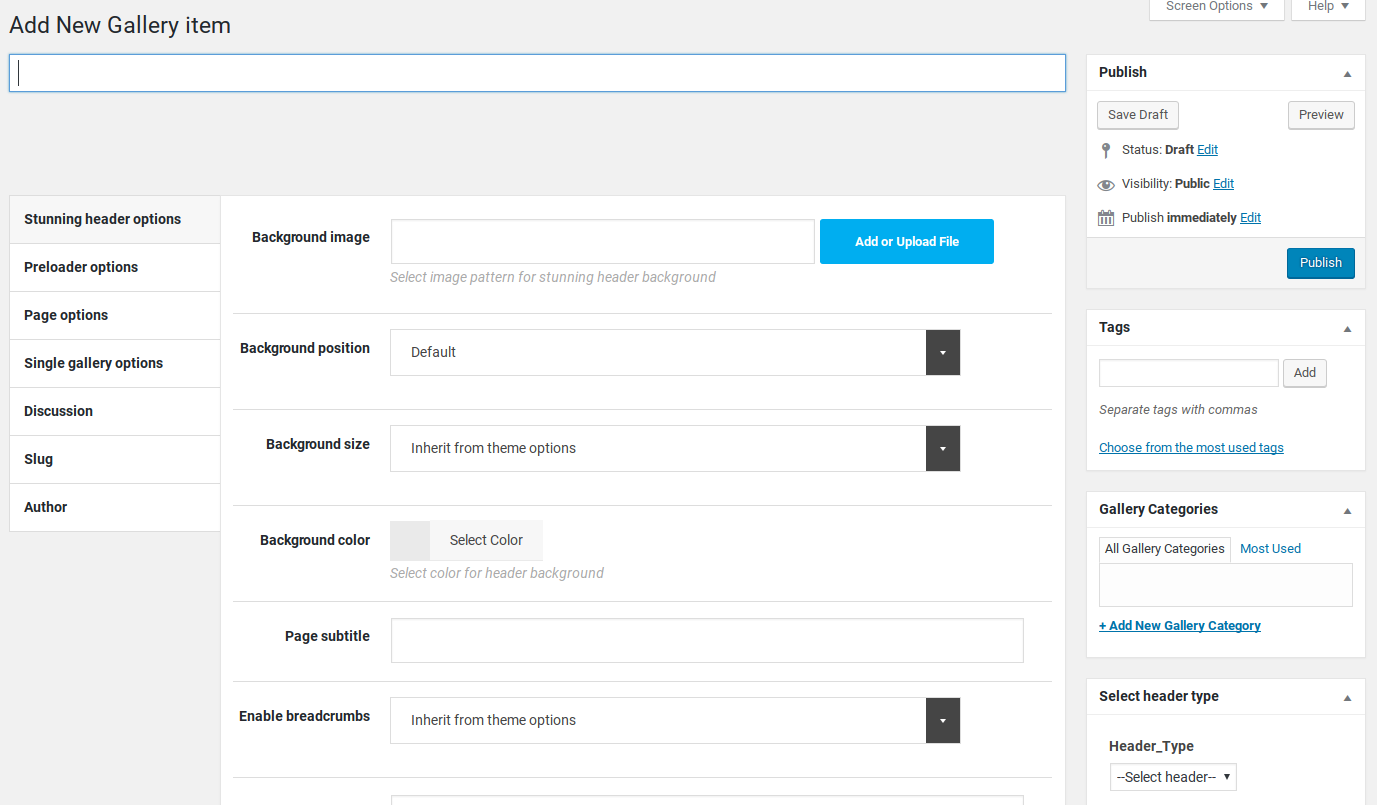 Documentation and Support
Ronneby offers online documentation that covers the basics of getting started and goes over most of the features. Unfortunately, it's not searchable and seems to be missing some information (like how to use the Galleries feature).
There's a support forum available if you need help getting the theme set up. The support staff seems to be very friendly, helpful, and quick to respond. Of all the theme's 5-star reviews, most of them are for the quality customer support provided.
Ronneby Theme Alternatives
Here are our top 2 recommended alternatives for the Ronneby theme: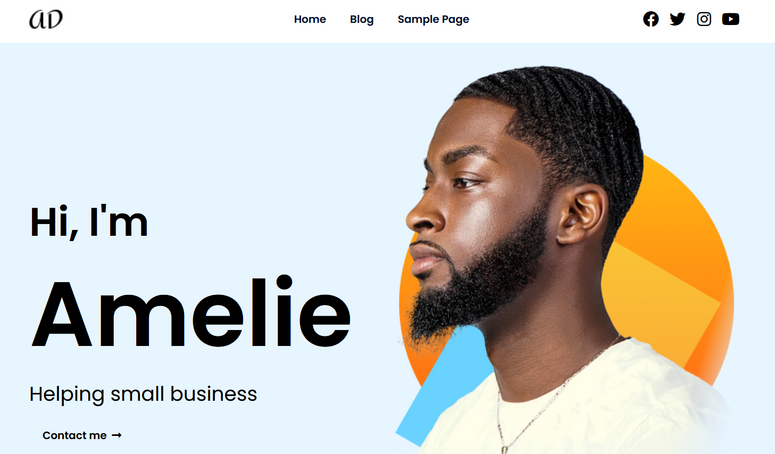 SeedProd is the best website theme builder with built-in theme kits for WordPress.
You can design a full-fledged website or use this WordPress plugin to create stunning pages. There are tons of page templates to give your site a beautiful design in an instant.
You can also quickly customize your pages using SeedProd's ready-made page blocks. Choose from 80+ blocks like contact forms, countdown timers, image carousels, animated headlines, background videos, social profiles, and much more.
SeedProd is also a responsive WordPress theme and it's optimized for speed, so you can ensure your site loads quickly and looks great on all devices.

Thrive Themes is one of the most popular themes for WordPress. You can choose a premade theme and customize it to make a unique design for your site.
It comes with an intuitive drag and drop theme builder that makes it easy for anyone to build a stunning website. The themes are responsive and mobile friendly with 100s of design elements included.
When you sign up for Thrive Suite, you'll also get access to powerful conversion optimization tools. This will help you turn your website into an online business.
Get started with Thrive Themes »
That's all we have for you. Up next, we'll give you our final verdict on Ronneby.
Our Score
The Ronneby theme has a multitude of nice, modern-looking designs, lots of demos, and plenty of options to customize your site for a unique look.
We found the user interface to be unintuitive and difficult to use, and clear explanations of all the features weren't provided. The menu layout didn't make much sense and it was difficult to specific options. It's unclear why menu items like Envato Toolkit and Brainstorm were added to the WordPress dashboard.
We recommend looking at our top WordPress theme reviews to compare Ronneby with other premium themes.
We give Ronneby 4 out of 5 stars. Here is the breakdown of our review scores:
Get Ronneby Now »