Onetone is a free one-page WordPress theme designed for personal or business websites. This popular theme features a homepage with up to 10 sections you can customize, with built-in simple slider and video background features. Read our Onetone review to find out how this popular theme works.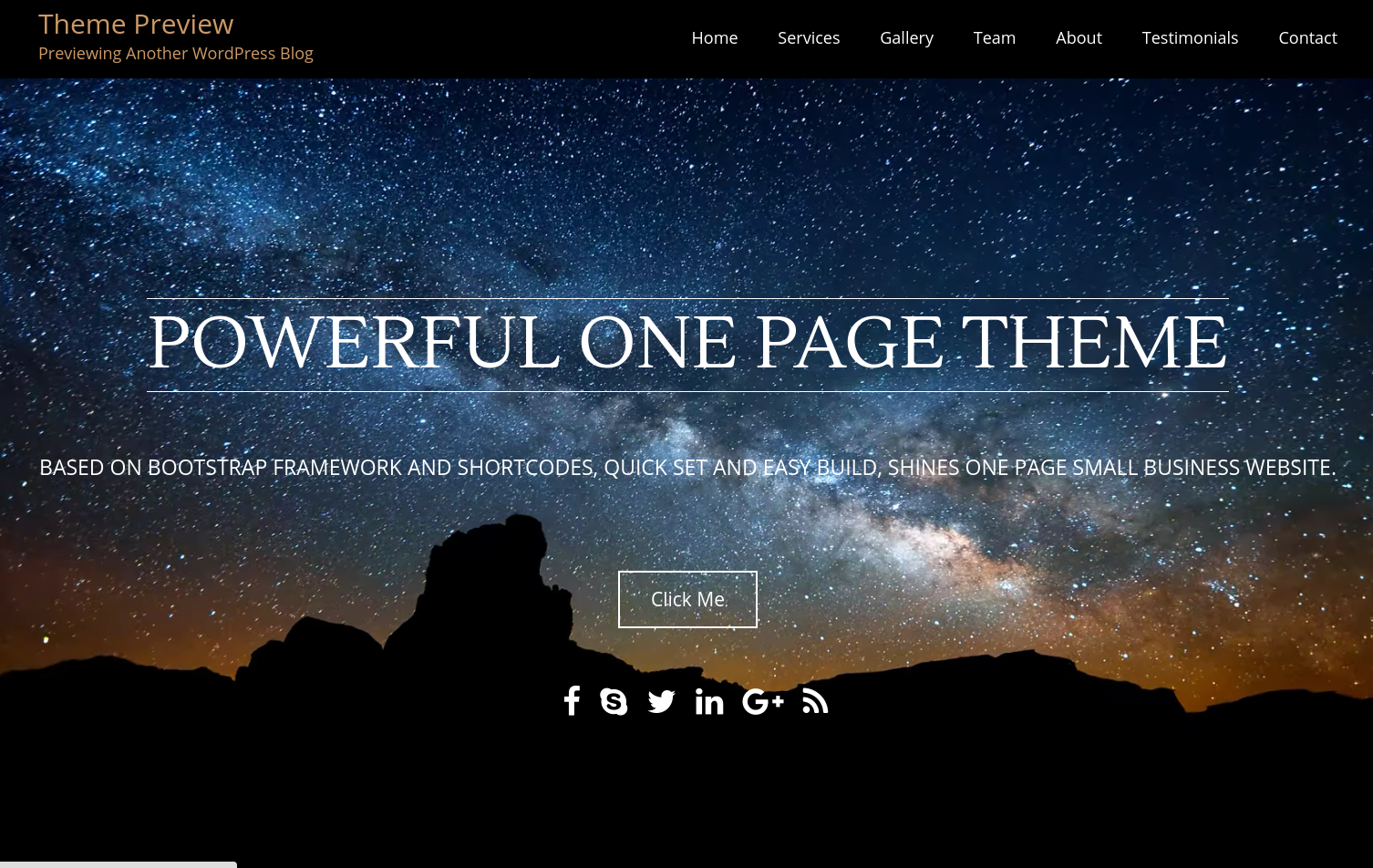 About Onetone
Onetone is a popular free WordPress theme developed by MageeWP. It's among the most popular in the WordPress.org directory with over 40,000 active installs.
Onetone is designed to be a one-page theme, with up to 10 different homepage sections. The header menu allows the user to scroll down to a particular section.
You can also add other pages to the theme (such as a blog), and display a different header menu on pages other than the homepage.
The theme comes with many built-in features such as a simple slider builder and contact form.
Features of Onetone
Onetone offers a variety of built-in features to customize your one page site:
Magee Shortcodes
Immediately after installing and activating the theme, you'll get a message about installing the recommended plugin Magee Shortcodes. (The plugin isn't actually required for the theme to work, so feel free to dismiss the message if you choose.)
Magee Shortcodes is a plugin by the developer of Onetone that gives you access to a huge library of shortcodes.
You can access the shortcodes from any post or page from the visual editor.

A menu will open with all the available shortcodes. They include charts, columns, dropcaps, icons, pullquotes, testimonials, and many more options.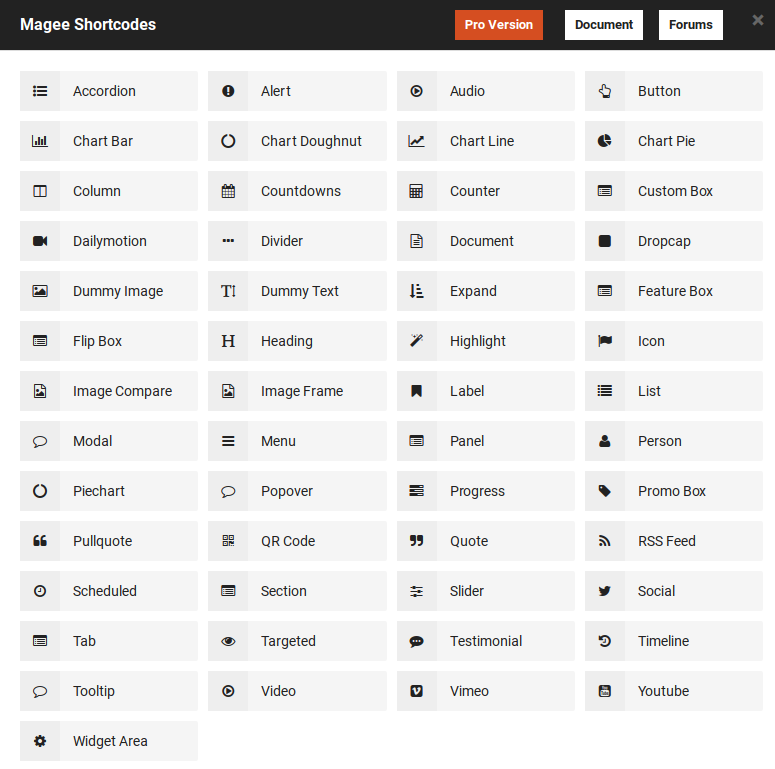 There's a pro version of the Magee Shortcodes plugin that includes even more options, including:
pricing tables
contact forms
portfolio
…and more.
Customizable Design
From the Appearance » Customize menu, you can choose your:
header text and background colors
header image to appear above the menu bar (1120 x 80 pixels)*
*There does seem to be an issue with header images on screens larger than 1120 pixels. The header image aligns to the left instead of stretching to the full width, so your page background image is still visible on the right:

There's also an option to upload a background image. The background image will appear on all pages except the homepage.
You can also navigate to Appearance » Onetone Options » Styling to access more options for customizing your site design.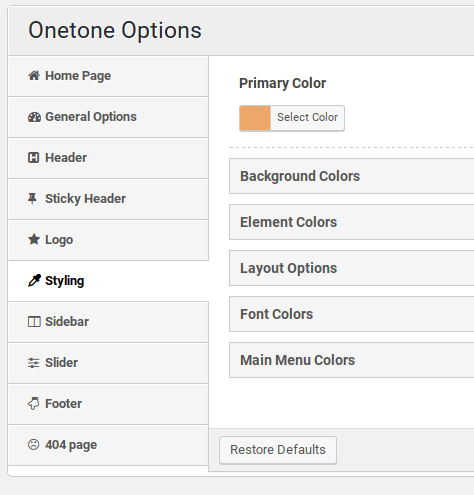 Home Page Content
In order to customize your homepage content, you have to navigate to Appearance » Onetone Options.
Here you can set a video background or slider on your homepage. To edit the slider, go to Appearance » Onetone Options » Slider and you can add and edit up to 5 slides, and change the slide speed.
(If you need an easy-to-use slider plugin with many more options, we recommend Soliloquy.)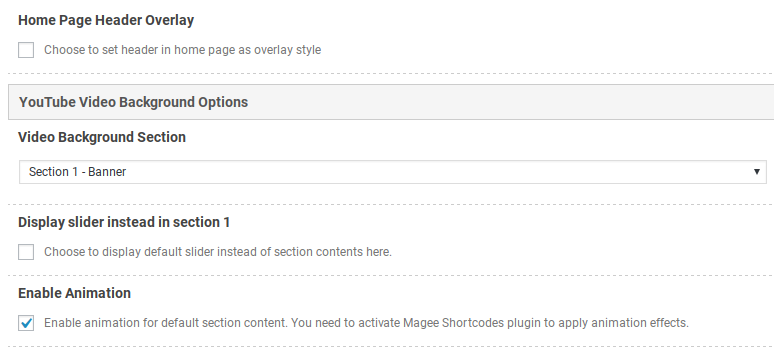 Below that, you can customize each section of the homepage.
For each section, you can customize:
title
text
alignment
fonts
colors
images
custom CSS
etc.
You can also hide any section you don't want to display.
For the contact section, you can use the default form, or use the visual editor to display your own contact form code.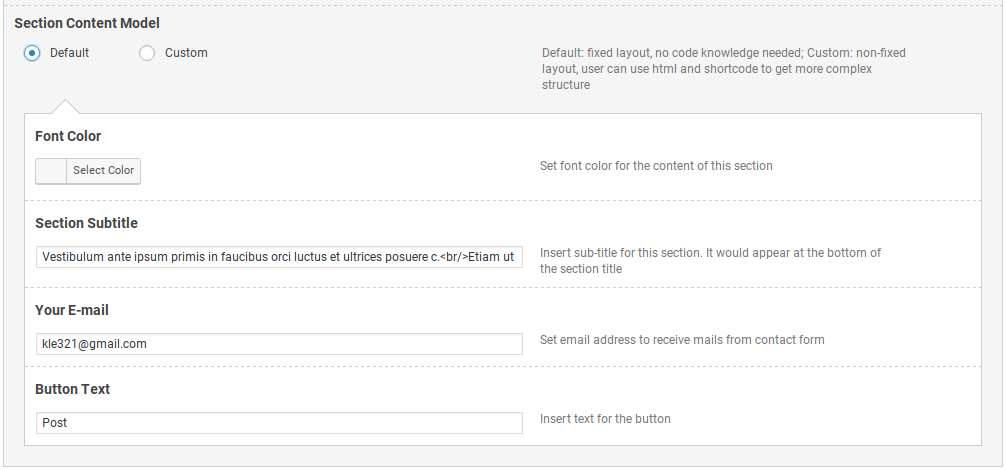 (If you need a contact form that's easier to use, and with lots more options, we recommend the WPForms plugin.)
Magee Slider
The Magee Slider is NOT the homepage slider. You can use it to create basic sliders which can be inserted using the Magee Shortcodes plugin (see above).
To create a slider, go to Magee Slider » Add new. Click the Add New Slide button to start selecting your slides. You can upload new images or select them from your media library.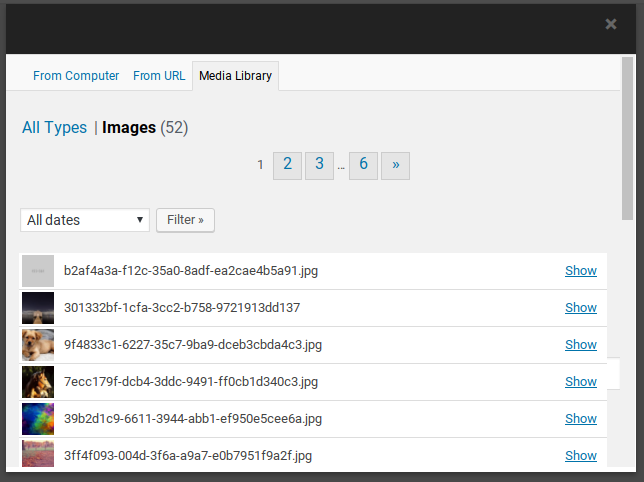 Enter a title and caption. When you're finished selecting slides, click the Publish button.
Menu Locations
Onetone includes three menu locations:
Primary
Home Page Header Menu
Top Bar Menu
If you leave all these locations blank, the default menu will appear as in the demo.
The Primary menu displays in the header bar on all pages except the home page.
Selecting a menu in the Home Page Header Menu location will actually append that menu to the end of the default menu. This may be useful if you want to add extra links, such as a blog link, to the header.
The documentation doesn't specify where the Top Bar Menu location is, and it doesn't seem to affect the header menu on any page.
Widget Areas
There are four widget areas for the four footer columns. You can disable the footer widget area by going to Appearance » Onetone Options » Footer and selecting "No" under Display footer widgets? You can also customize the number of columns here (1, 2, 3, or 4).
There are also a number of sidebar widget areas.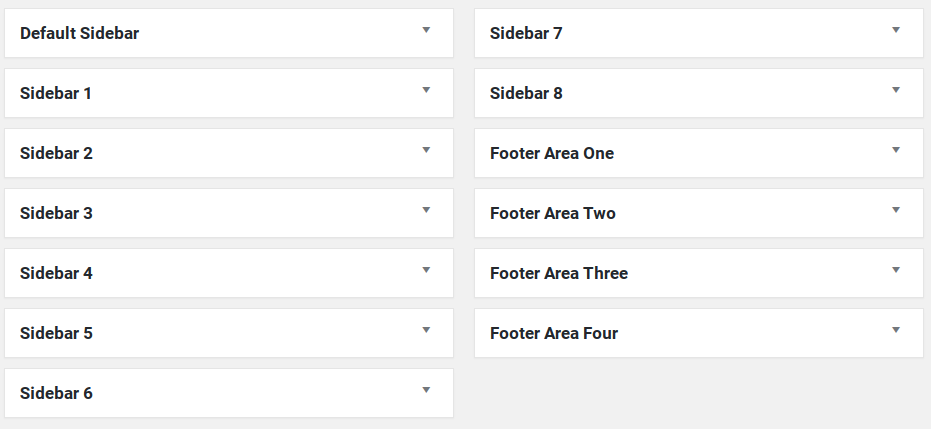 You can choose where to use each sidebar widget area by navigating to Appearance » Onetone Options » Sidebar. For each page/location, you can choose either a left sidebar, right sidebar, or both.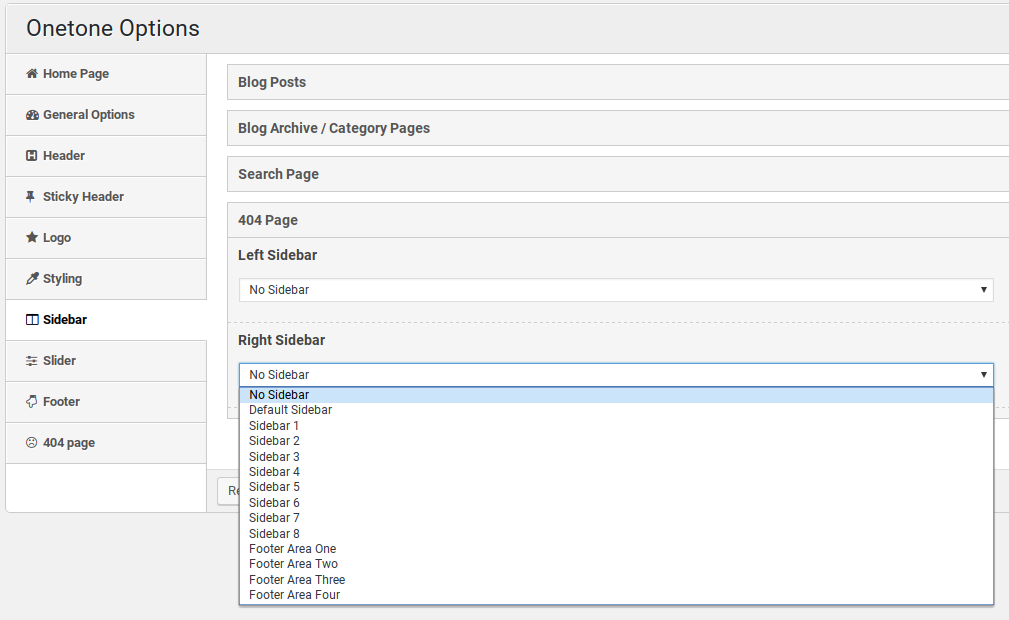 Get More Features With Onetone Pro
There's also a premium version of Onetone available that had more features, including:
WooCommerce support
ability to reorder homepage sections
10+ more shortcodes
access to 600+ Google fonts
portfolio custom post type
6 child themes to quickly change the look of your site: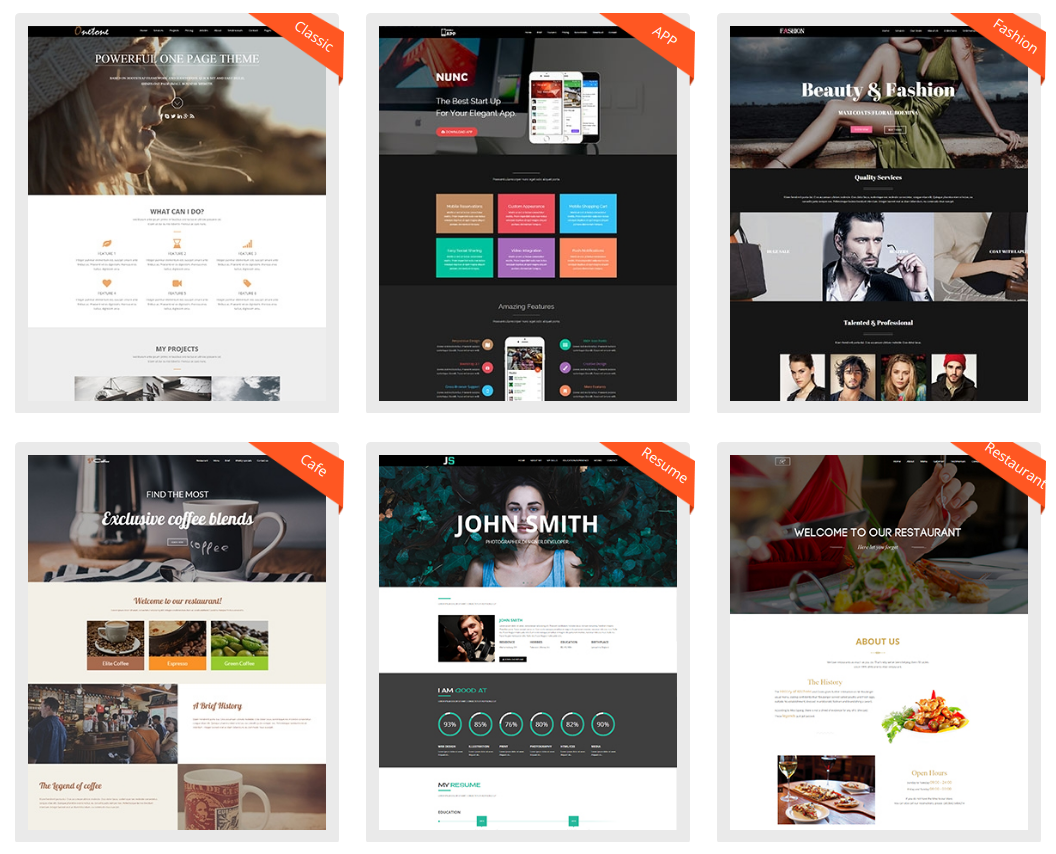 Documentation and Support
MageeWP offers a basic manual for the Onetone theme that goes over how to use most of the features. However, the documentation has grammatical errors and can be hard to understand in places. It's also missing details on some of the features.
Support is available in the WordPress.org community support forums, and also in support forums on the MageeWP website, but it looks like many threads go unanswered by the developer, even on their own site.
Our Score
Onetone is a nice looking basic one-page theme with some simple customization options. The customization interface is not very intuitive, but the manual goes over how to use most of the features.
Because all of your homepage content, sliders, contact form, and other information is entered into the theme options menu, you'll lose all this content if you ever decide to switch themes in the future, so keep that in mind as you consider this theme. Many of its features would be better implemented with plugins.
Users who are looking for more customization options or need better documentation will probably want to look elsewhere.
Our top picks for Onetone alternatives are SeedProd and Thrive Themes. Both themes come with a theme builder to easily customize your website as well.
You may also want to see our list: 21 Best & Creative One-Page WordPress Themes. Once you pick your theme, you can use our guide: How to Make a One Page Scrolling WordPress Website
We give Onetone 3 out of 5 stars. Here is the breakdown of our review scores:
Get Onetone Now »