Nimble is a business WordPress theme by Elegant Themes. With Nimble, you get a versatile homepage layout in which you can add various content areas like blog posts, projects, testimonials and more. In this Elegant Themes Nimble review, we'll explain its features so you can decide if it is the right business WordPress theme you're looking for.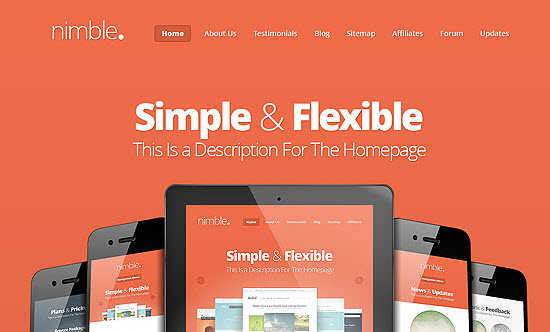 About Nimble
Nimble is a WordPress theme that offers tons of customizable content areas in the homepage. It is released by Elegant Themes, a popular hub for premium WordPress themes and plugins.
With Nimble, you can customize the homepage content areas with ease without having to touch a single line of code. The theme also comes with five unique color schemes to pick from so you can easily style the theme according to your needs.
If you're looking for a simple business theme that comes with pixel perfect responsive layout, Nimble could be the best choice for you.
Let's take a look at its various features.
Featured Slider
Nimble comes bundled with a featured slider option that allows you to highlight your posts or pages on homepage without having any slider plugin installed on your site.
You can customize the slider option by navigating to Appearance » Nimble Theme Options » General » Featured Slider.  Here you can set the number of featured slides to display and toggle on or off the automatic slider animation.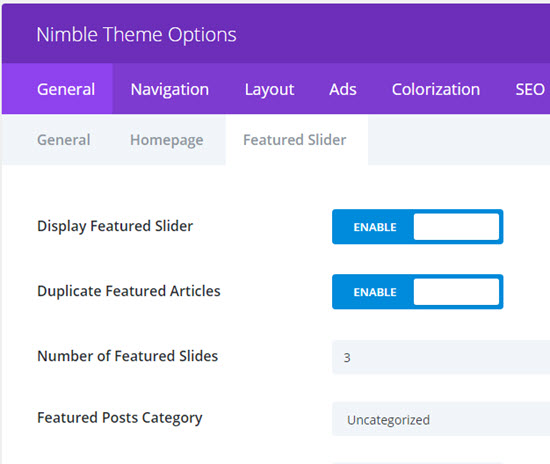 The theme also allows you to customize the content you set in the slider. To do this, you can go to ET Settings in your page editor, which is located below the text editor. Once you selected the checkbox near This Page is Featured, you'll see several fields where you can customize the content of your slider.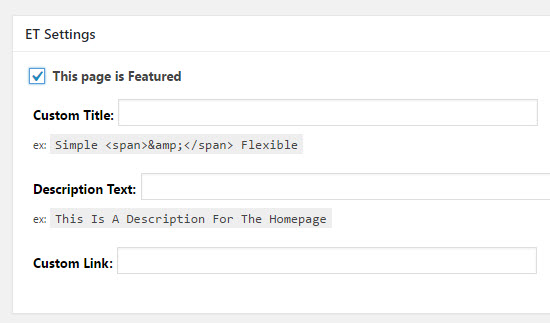 Highly Customizable Homepage
Nimble gives you several customizable content areas on your homepage. They are…
Blurbs below the slider
Recent news / blog section
Feature portfolio
Corporate pricing table
Feature quotes or testimonials
You can enable your preferred homepage content area using the homepage tab in Nimble Theme Options.
Projects Post Type
The recent works/projects content area is managed using a separate post type called Projects. To define an image for each project, you may use the Featured Image option.
Supports Several Templates
Just like any other theme from Elegant Themes, Nimble also supports several page templates. Each template is shipped with several pre-made styles and functions. Selecting a template will automatically give you a corresponding option in ET Page Template Settings.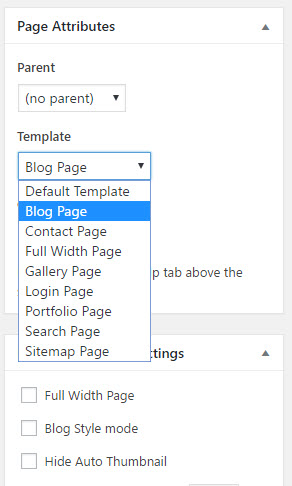 Contact page: You can enable captcha for your contact form and specify Email To
Full-width page: If the full-width template is selected, you don't find any option in ET Page Template Settings. This template simply disables the sidebar.
Portfolio page: This template gives you an option to choose your portfolio page style, like 2-grid, 3-grid, 5-grid with text and 5-grid without text.
Image gallery page: You can select the gallery categories in this template.
Blog page: Here, you can select the number of posts to be displayed.
Login, sitemap and search page: For these templates, no custom option is provided in ET Page Template Settings
More Theme Options
In Nimble Theme Options, you'll find several tabs to customize the features of your theme. Below are a couple of important options.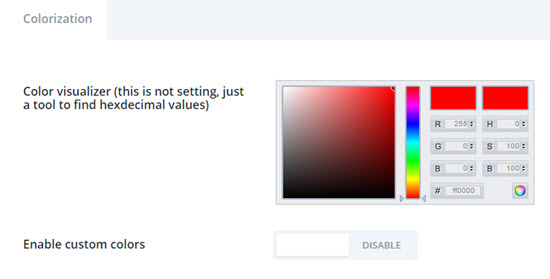 Color Visualizer: Unlike any other Elegant Themes, Nimble Theme Options comes with an additional tab called Colorization. You can customize the color palettes of your website using the Colorization tab. It also gives you a color visualization tool by which you can select the hexdecimal values. Just pick the right hexdecimal values and enter them in the correct fields where you'd like to specify color palettes.
Integration: You can easily add any HTML or tracking codes to the head or body section of your website using the Integration option. This option is handy to add your tracking codes like Google Analytics to your website if you're not using any Google Analytics plugin like MonsterInsights.
Documentation and Support
The documentation gives you a detailed idea of building a beautiful website with Nimble. It comprises useful screenshots and videos that help users to easily get started with Nimble.
To download Nimble, you'll have to join the Elegant Themes club. Their personal plan starts from $69 per year. Once joined, you'll get full access to download any Elegant Themes you want.
To get premium support, you can use the Elegant Themes support forums. Elegant Themes are well-known for the quality and speed of their support.
Our Score
Nimble is a business WordPress theme that gives you a versatile homepage layout with several customizable content areas.
It doesn't come with Divi, the drag and drop builder that lets you easily customize your site the way you imagined without having to hire a developer. However, you can still make use of their extensive list of shortcodes that allow you to easily add custom content modules to your site.
We give Nimble 4.8 out of 5 stars. Here's the breakdown of our scores
Get Nimble Now »
If you liked this article, then please consider following us on Twitter and Facebook. If you have any questions, please let us know by leaving a comment below.