The Elegant Themes DeepFocus theme allows you to transform your WordPress blog into a fully functional online photo gallery. It is one of the best WordPress themes for artists and photographers who want to build an online presence with an engaging homepage featuring their work. In this Elegant Themes DeepFocus review, we'll show you its features and help you decide if it is the best theme for your needs.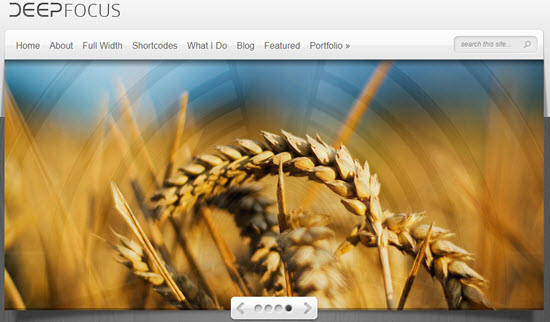 About DeepFocus
The DeepFocus theme comes with a gallery layout that allows photographers to easily build an online presence. It is released by Elegant Themes, a popular premium WordPress themes and plugins hub.
The DeepFocus theme is a lightweight WordPress theme that comes with all the set of features for artists and photographers without any bloat.
It allows you to easily set up a beautiful featured slider on your website without any third-party slider plugin. Just like every theme released by Elegant Themes, DeepFocus is also advertising ready, meaning you can easily monetize your website using ads without tweaking your theme.
Let's take an extensive look at the features of DeepFocus.
Easily Set Up Featured Slider
DeepFocus comes with a featured slider option that lets you easily highlight your posts from a designated category on the homepage. You can adjust the slider settings in your theme panel. The slider also supports 9 different animation types so you can easily grab the attention of your visitors.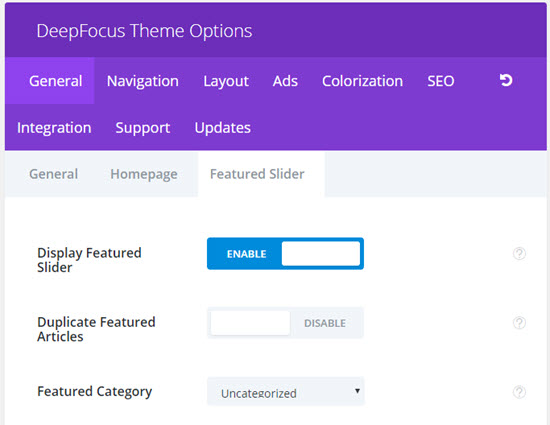 Publish Short Blurbs
The theme also supports short blurbs that can easily be added to your homepage below the slider. The copy of the blurb is populated from pages you specify. Using blurbs is a perfect choice to feature your products, services or convey any other messages to your audience.
You can also add a call to action below every blurb that will take your visitors to the respective page on your site.
Use Page Templates to Create Advanced Layouts
DeepFocus allows you to create advanced page layouts using different templates. Each template is bundled with several pre-made styles and functions. Selecting a template will automatically give you a corresponding option in ET Page Template Settings.
With different templates, you can create galleries, contact pages, blog feeds, sitemaps and more.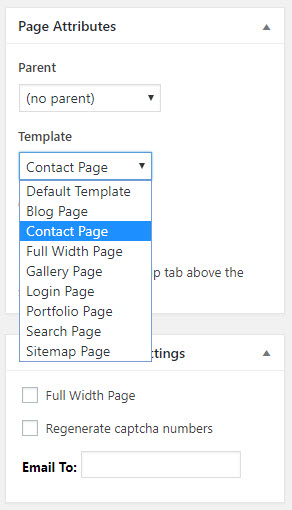 Blog Page: This template gives you an option to enable Blog Style mode and show or hide Auto Thumbnail. You can even select the category and specify the number of posts you'd like to display per page. Using this template, you can also feature blog posts only from specified categories.
Contact Page: No need to install a contact form plugin if you just need to publish a basic contact form on your site. Just choose this template and specify the email address to where the form submissions should be sent. You can also enable regenerate captcha numbers to reduce spam submissions.
Fullwidth Page: To remove sidebar from your posts and pages, simply choose this template. Then the content will be shown in full width.
Gallery Page: You can select the gallery categories in this template.
Portfolio Page: Portfolio template allows you to choose different thumbnail sizes. You can also select the number of posts to be published per page.
Login, Search and Sitemap Pages: While you can customize the content of the pages that use any of these templates, no custom option is provided in ET Page Template Settings when they are chosen.
A Comprehensive Collection of Shortcodes
Just like any other Elegant Themes theme, DeepFocus supports a comprehensive collection of shortcodes to create advanced layouts without having to hire a developer. You can add pre-made design elements to your page layouts without any HTML knowledge.
For example, you can add button varieties, content boxes, image slider, password protected content and much more…
Documentation and Support
The documentation gives you a thorough idea on how to build a beautiful website using DeepFocus. It comprises useful screenshots and videos that help users to set up your website quickly and easily with DeepFocus.
In order to download DeepFocus, you'll need to join the Elegant Themes Club for just $89 per year. After joining, you'll get access to the entire themes and plugins for a year. You can get a lifetime access to their entire theme collections by making a one-time payment of $249.
Using the Elegant Themes support forums is the best way to get premium support. They are reliable because all support requests are usually responded in a timely manner. They are well-known for the quality and speed of their support.
Our Score
Elegant Themes DeepFocus could be the best theme for your blog if you need to showcase your photo gallery while maintaining all the features of a normal blog. The theme uses coding best practices to give faster page loading time and better security to your site.
If you're an artist or a photographer, DeepFocus is a promising solution for your needs.
We give Extra 4.8 out of 5 stars. Here's the breakdown of our scores.
Get DeepFocus Now »
If you liked this article, then please consider following us on Twitter and Facebook. If you have any questions, please let us know by leaving a comment below.