Looking for a WordPress theme that offers unlimited combinations of custom colors? The Chameleon theme was built to be simple and beautiful with loads of color and background customization options. In this Elegant Themes Chameleon review, we'll show you its features and help you decide if it is the right theme for you.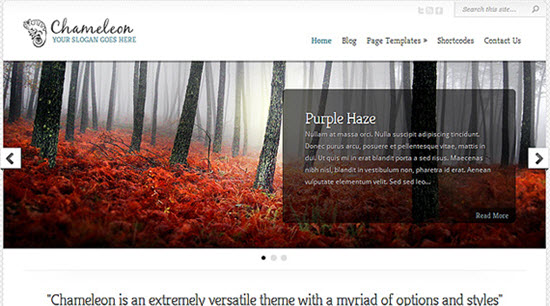 About Chameleon
Chameleon is a WordPress theme by Elegant Themes that comes with an awesome color control panel with unlimited combinations of custom colors. Elegant Themes is your one-stop hub for premium WordPress themes and plugins.
With Chameleon, you can also choose from a collection of different font variations and colors. You can even adjust your body and header font styles independently of each other.
Chameleon makes it super easy to create a website with advanced layouts.
Let's take a detailed look at its amazing features.
Colorization
The main advantage of Chameleon is their Colorization feature. You can find the Colorization tab in Chameleon Theme Options where you can easily customize the color with color visualizer tool. You can enable custom colors for font, link, menus, headings, sidebar links, footer texts, etc.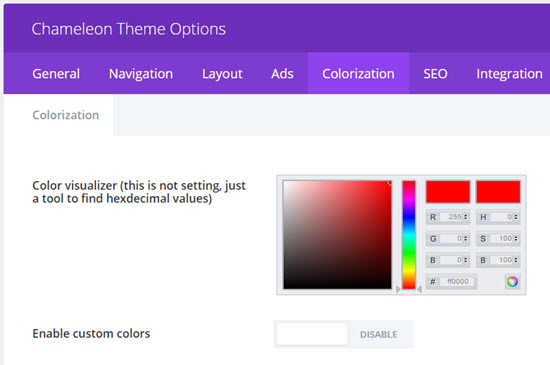 You can also use the theme Customizer to easily experiment with different color options. The Customizer option allows you to choose great color schemes, so you don't have to save/preview along the way.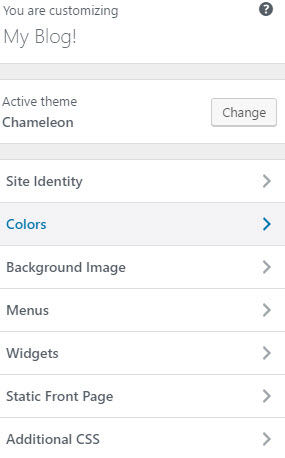 Featured Slider
The theme comes with a featured slider on the homepage. You can set it up by navigating to the Featured Slider tab in General Settings of Chameleon Theme Options.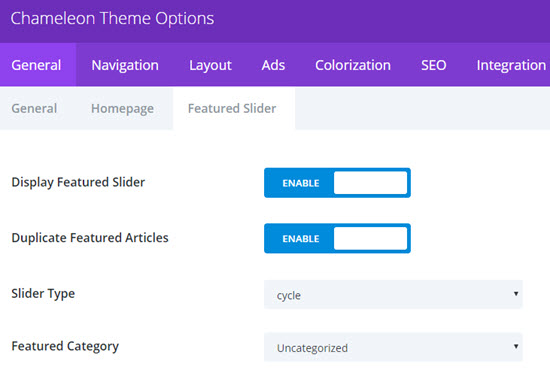 You can choose between three different slider variations: Nivo, Cycle and Roundabout.
Several Options to Customize Homepage
Besides featured slider, you'll find several other content options in homepage. They are:
Media bar
2 Quote Lines
3 Blurbs
Latest blog posts
In your Chameleon Theme Options, you can choose a post category for the media bar. Each item in the media bar is pulled from this specified category. You can choose featured images for these posts, which will be displayed in the media bar.
Using blurbs, you can feature your product or services right on the homepage. With Chameleon, you can feature an image along with the copy in blurbs.
The titles of your latest blog posts will be shown in a small bulleted list on your homepage.
4 Widgetized Footer Areas
Chameleon supports 4 widgetized footer areas. To populate content in your footer, all you need to do is to drag and drop the appropriate widgets to your footer widget area.
The theme comes with 4 additional widgets. They are:
About Me
AdSense
Advertisement
Custom Logo
From the Blog
Create Advanced Layouts Using Page Templates
Just like any other theme from Elegant Themes, Chameleon also supports several page templates. Each template is shipped with several pre-made styles and functions. Selecting a template will automatically give you a corresponding option in ET Page Template Settings.
Contact page: To create a simple contact form, you don't need to install any WordPress contact forms plugin. With the contact page template, you can enable captcha to prevent spam submissions.
Full-width page: If the full-width template is selected, you don't find any option in ET Page Template Settings. This template simply disables the sidebar.
Portfolio page: This template allows you to choose the thumbnail size of your images. You can also decide if you want to choose the description, title, etc. for each portfolio page.
Gallery page: You can select the gallery categories in this template and choose the number of posts per page.
Blog page: Here, you can select the number of posts to be displayed. With this template, you can even hide the sidebar easily by selecting the fullwidth checkbox.
Login, sitemap and search page: For these templates, no custom option is provided in ET Page Template Settings
Documentation and Support
The Chameleon theme provides an extensive documentation that walks you through how to install and configuring the theme. With beautiful screenshots and videos, it gives you a detailed explanation of various features of Chameleon.
To download the Chameleon theme, you'll need to join the Elegant Themes club. Their personal plan starts from $69 per year. After joining, you'll get complete access to all themes.
To get premium support, you can use the Elegant Themes support forums. Elegant Themes are well-known for the quality and speed of their support.
Our Score
Elegant Themes Chameleon is a perfect WordPress theme for those who want to experiment their website with several color schemes with ease. The colorization panel in Theme Options allows you to easily customize your colors with a color picker for every theme element such as fonts, background, links, menus, etc.
The theme is also bundled with easy-to-use font customization option. It allows you to choose from loads of different font variations.
It also supports several page templates and shortcodes, so you can easily create advanced layouts without having to hire a developer.
We give Chameleon 4.6 out of 5 stars. Here's the breakdown of our scores.
Get Chameleon Now »
If you liked this article, then please consider following us on Twitter and Facebook. If you have any questions, please let us know by leaving a comment below.