Do you manage an editorial team for your blog, and find that WordPress is lacking all the features you need? In our Edit Flow review, find out how this free and open source plugin can help you manage your writers and editors, plan your content, and streamline your editorial workflow.

Manage All the Members of Your Team
WordPress out of the box can be used for a simple multi-author blog, but let's face it — the options are limited.
If you manage a much larger team, or if you have several different roles that your team members play, then you need a plugin like Edit Flow to make your life easier.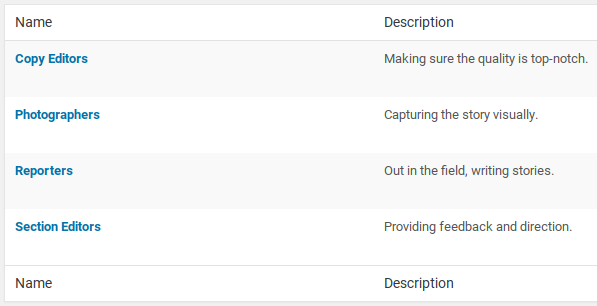 Edit Flow allows you to create custom user groups to organize everyone on your team and make sure they all get access to the information they need. The default groups include Copy Editors, Photographers, Reporters, and Section Editors, but you can customize them however you need to. Users can also belong to more than one group.
Your user groups can be used to manage who gets notifications on what. For example, you could set it up so that writers get notified whenever their posts are published, and editors get notified whenever any writer submits a draft.
Edit Flow will help you make sure that each team member is kept in the loop on exactly what they need to know, without overwhelming them with too many notifications.
Plan Your Editorial Calendar With Edit Flow
As a blog manager and editor, you know that a good editorial calendar is a tool that any professional blog needs. Planning your content ahead allows you to take advantage of relevant events, be strategic about your content, and keep blogging even through setbacks.
Edit Flow allows you to keep all your editorial planning in one place, right in the WordPress dashboard.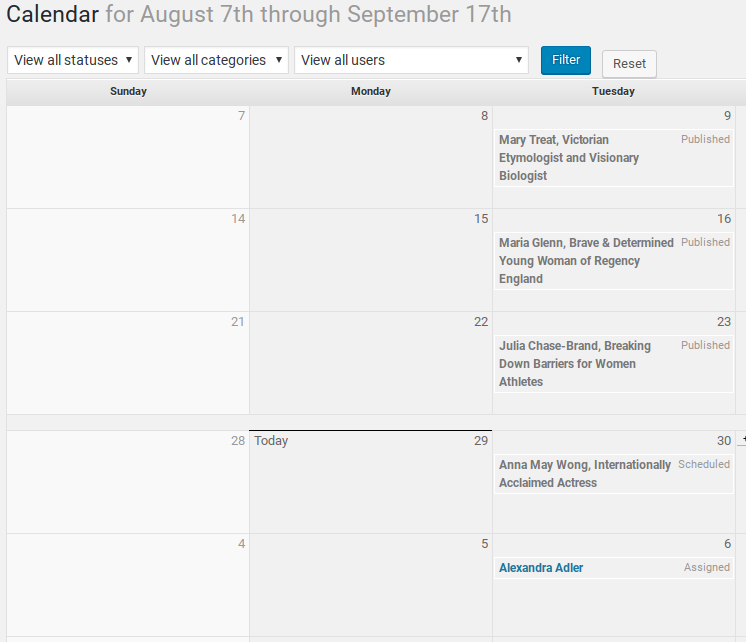 With the calendar view, you can see at a glance what content you have scheduled, and any gaps that may be upcoming.
There's also a more traditional story budget view that allows you to view the details of all upcoming posts by category, so you can see which topics may be over-saturated and which ones you may need more content in.
Using both tools, you can get the big picture on the exact state of your blog for the foreseeable future.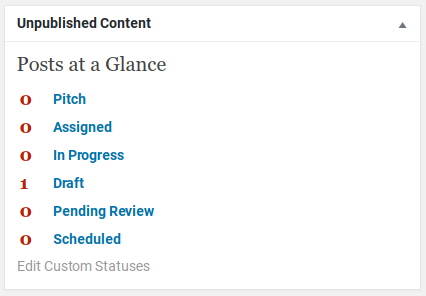 Fine Tune Your Content Machine
As a blog editor, it's a challenge to balance your day-to-day editorial tasks with big-picture strategy and improvements.
With Edit Flow streamlining the process of managing your team, you can focus on fine-tuning your processing and creating better content.
Instead of switching back and forth to email or other apps, you can save time by keeping all the information you need in your WordPress dashboard. Edit Flow includes an "editorial comments" feature so that you can discuss a post and give feedback to your writers right in the post edit screen.
You can also create custom post statuses to match your normal editorial workflow. For many editors, just using drafts isn't enough. Edit Flow allows you to create your own custom statuses instead. The defaults include "In Progress," "Pitch," or "Waiting for Edit," but you can customize them to match your workflow.
Each post also has attached editorial metadata, which you can also customize. This information isn't published with the post, but it helps you and your team keep track of behind-the-scenes data such as draft due dates, required word counts, interview locations or contact details, and more.
Contribute to the Edit Flow Project
Edit Flow is an open source plugin that's maintained by a small team of developers who work on it when they have the time. If you enjoy the plugin and want to contribute, they could use your help!
If you're skilled in coding, you can help out by fixing bugs or helping to develop new requested features. The project is on GitHub, so you can take a look at the code there and see where your unique skills can best be put to use.
Non-programmers can also be a big help to the project by helping out other users. If you're confident in your Edit Flow skills, you can check out the forums on WordPress.org to answer questions and help troubleshoot issues other users are experiencing. If you're looking to help out, you can subscribe to the forum to be notified of all new posts you might be able to help with.
Our Verdict on the Edit Flow Plugin
If you're managing a large team or you have a specific workflow that's a little more complicated than Draft > Publish, you're probably not managing that workflow within WordPress. That's because WordPress out of the box just isn't equipped for a blog like yours with that level of complexity.
It will save you a lot of time if you can manage your writers and workflow within the WordPress dashboard, instead of switching back and forth between WordPress, email, and various other apps.
Edit Flow allows you to keep your entire process in one place, from pitch, to draft, all the way to final edits and publication.
If you're looking for a way to streamline your editorial process, we recommend Edit Flow. It's the most popular editorial WordPress plugin with a strong community backing it.
We give Edit Flow 4 out of 5 stars. Here is the breakdown of our review scores:
Get Edit Flow Now »