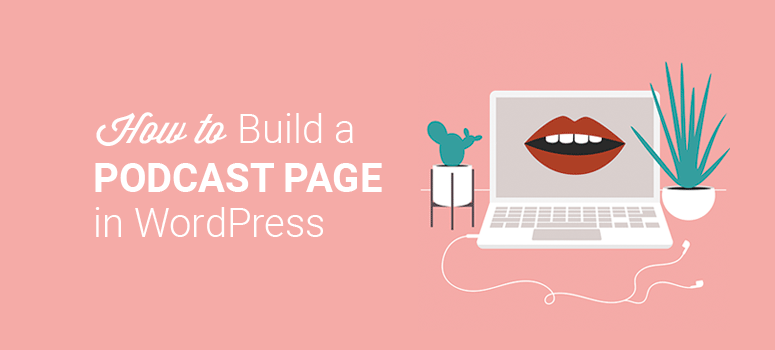 Do you want to showcase your series on a podcast landing page?
A podcast landing page lets you promote a specific event, new episodes, webinar, or entire series. You can use this page to build an email list, share details of your podcast series, and even sell tickets or subscriptions for paid podcasts.
In this article, we'll show you how to easily build a podcast landing page in WordPress to boost subscribers.
What Do You Need to Build a Podcast Landing Page?
If you're building a podcast landing page from scratch, you may be wondering where to start. Manually creating a landing page will require a learning curve and a lot of time.
The other way to set up a landing page is to hire a professional developer. However, it can be expensive to pay a developer on an hourly basis to create and manage your landing pages.
We recommend using SeedProd, the best drag and drop WordPress website builder. It comes with rich features like the landing page builder to create custom pages without writing any code quickly.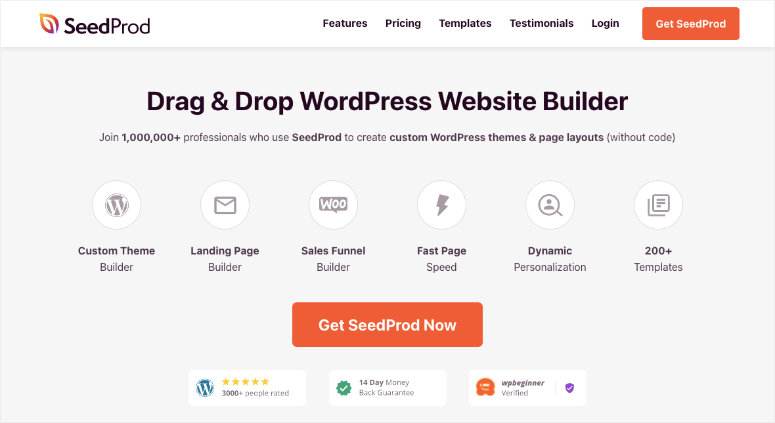 SeedProd is highly flexible and easy to use for beginners. It has all the features that you need to create professional and dynamic landing pages. There are tons of templates that you can use to quickly set up any kind of podcast landing page you need.
Some of the top SeedProd features include:
Maintenance mode
100+ built-in page templates
Inline text editor
Custom blocks
Powerful integrations
eCommerce support
Social share options
SeedProd also offers a lite version which includes many free landing page templates that you can choose from.
Unlike other landing page plugins, SeedProd is affordable for beginners who want to launch a podcast page and build an email list. The podcast page will then help convert your email subscribers into leads and customers.
So without any delay, let's start creating a podcast landing page in WordPress.
Build a Podcast Landing Page to Boost Subscribers
A podcast landing page will make you look professional and turn potential listeners into regular subscribers.
Below, you'll find the step-by-step process to build and publish your podcast landing page.
Step 1. Install and Activate the SeedProd Plugin
The first thing you need to do is create/log in to your SeedProd account and download the plugin.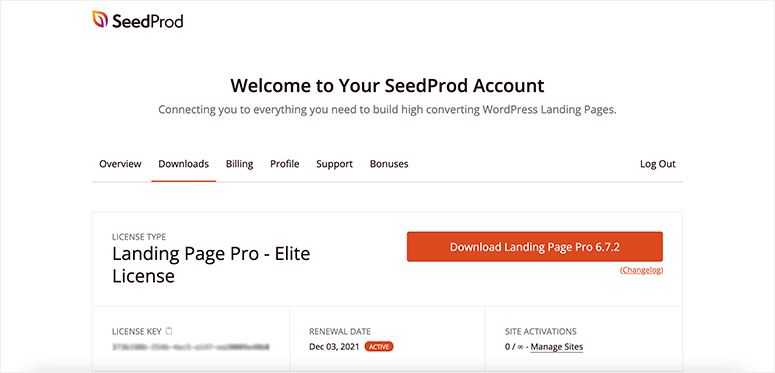 Next, you need to visit the Plugins » Add New page in your WordPress admin area and click on the Upload Plugin button.
Choose the SeedProd plugin file that you downloaded on your computer and click on the Install Now button.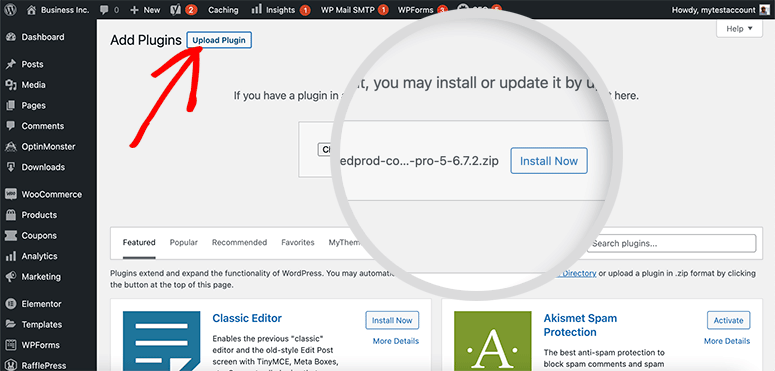 Now click on the Activate button. If you need detailed steps, see our complete guide on how to install a WordPress plugin.
Upon activation, you'll be redirected to the SeedProd license page. You can find the license key in your SeedProd account.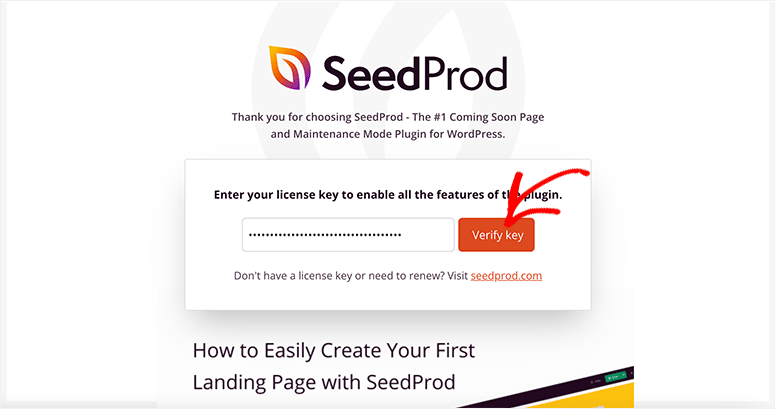 Click on the Verify Key button, and you'll see a success message. The plugin is now successfully installed and connected with your WordPress website.
Step 2. Add a New Landing Page in WordPress
On the same page, scroll down and click on the Create Your First Page button. This will take you to the SeedProd's built-in pages area.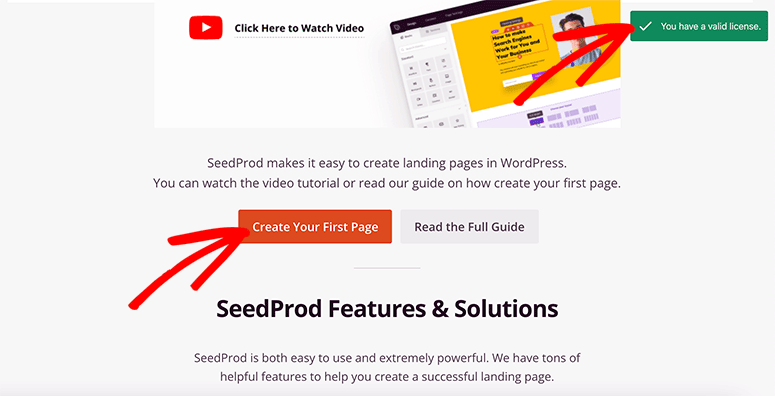 By default, there are four pages that you can enable in 1-click:
Coming Soon Mode
Maintenance Mode
Login Page
404 Page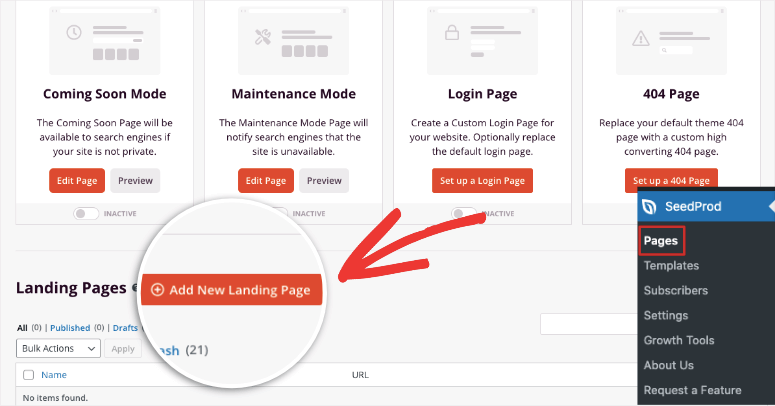 Since you need to create a podcast page, we won't touch these options. Instead, below this, you'll see the Landing Pages section. To create a new podcast page, click on the Add New Landing Page button.
On the next page, you'll find the SeedProd template library. It has several filters that help you select the best template for your needs.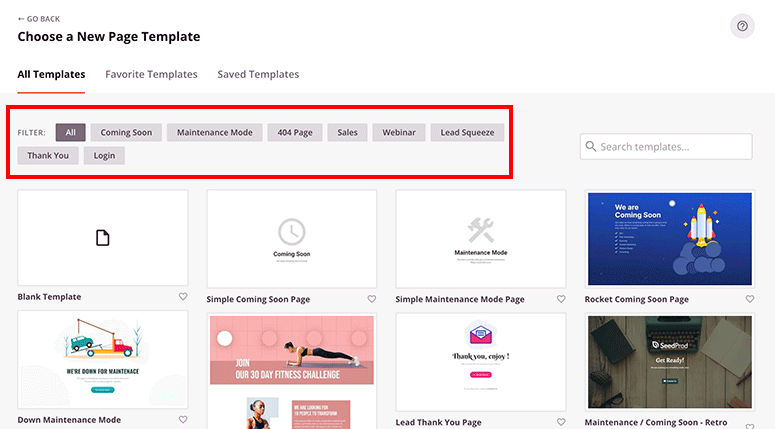 SeedProd comes with a template that's designed specifically for podcasters. Using the Lead Squeeze filter, you'll find a Podcast Squeeze template. Move your mouse over the template and click on the tick button.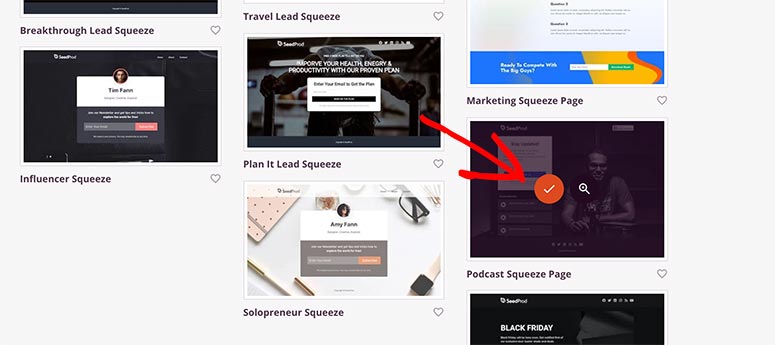 A popup will open where you need to add the page title and page URL. You can change this information later, so feel free to add a name and URL here.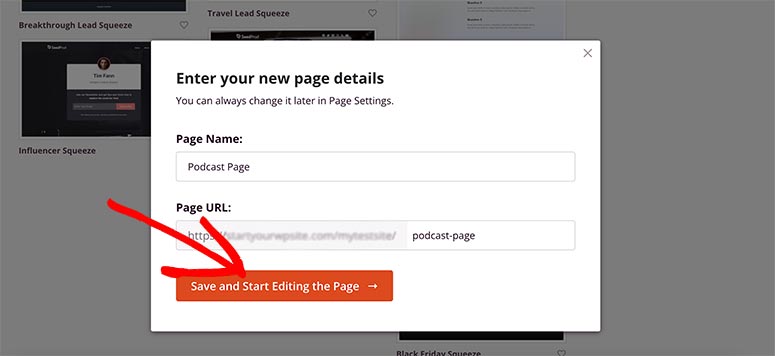 Click on the Save and Start Editing the Page button to continue.
Step 3. Set Up and Customize Your Podcast Landing Page
Now you'll see the SeedProd page builder on your screen that lets you customize your landing page design.
On the left side, you'll find a toolbox with custom blocks and sections to add to your page. And there's a preview of your landing page template on the right side of the screen.
The best part is that you can see the changes in real-time, so you'll know how the page looks when you publish it on your website.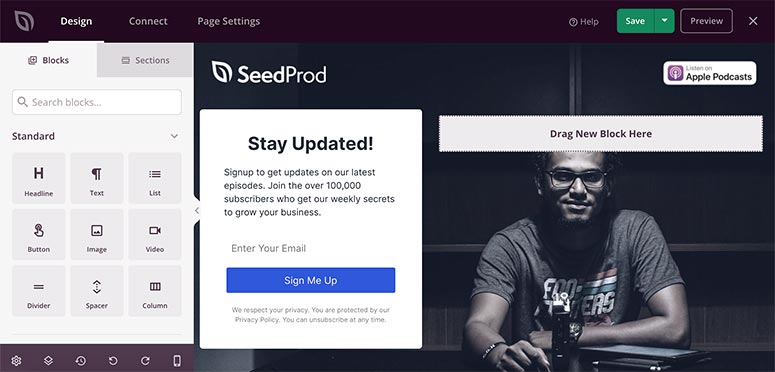 You can click on anything in the live preview, and it'll display the options related to that item on the left side of your screen.
For example, if you click on the logo, you'll be able to replace the default image with your brand name. The settings also include image size, alignment, and link attachment.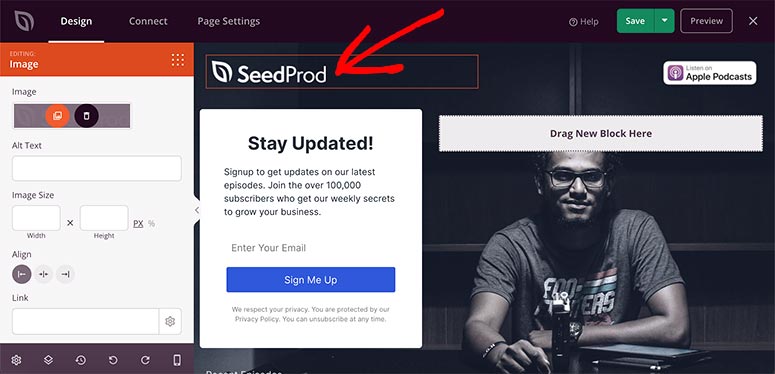 The SeedProd builder has an inline text editor, which means you can click on any text and edit it in the live preview of your landing page template.
You can also customize text settings like font size, font alignment, and more from the left panel.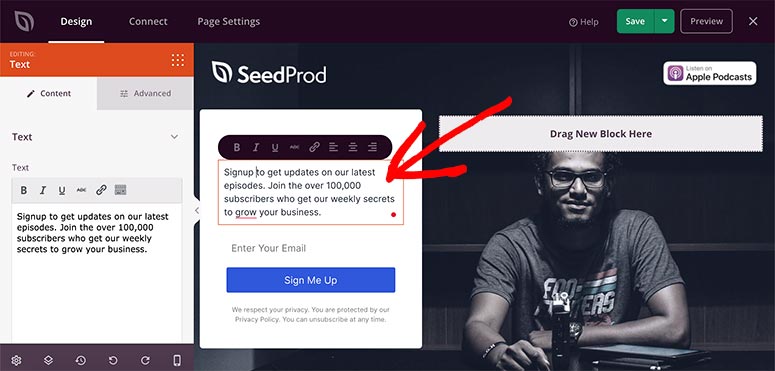 Next, you can head over to the Sections tab in the left panel and click on the Hero section.
It's easy to add a new section to your page. You can move your mouse over a section and click on the plus (+) icon.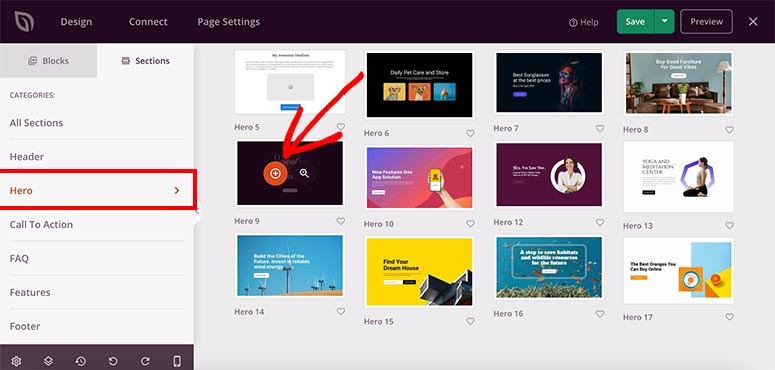 The section will automatically drop at the bottom of your page. You can visit the Layout Navigation settings from the left panel and move the Hero section to the top of the page.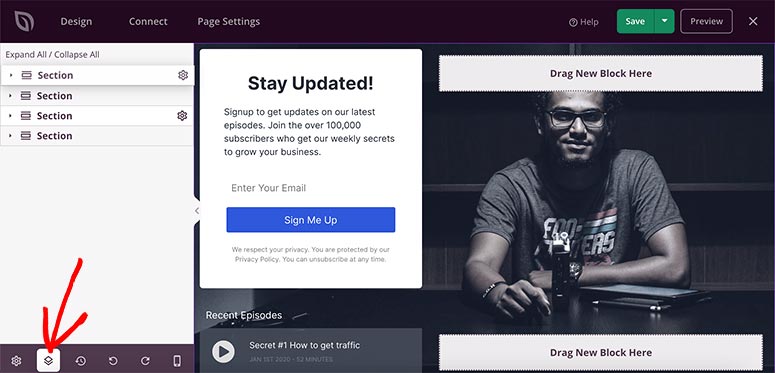 Now you can customize the Hero section as you did previously with the logo and text. Click on anything to see its options on the left side of the screen.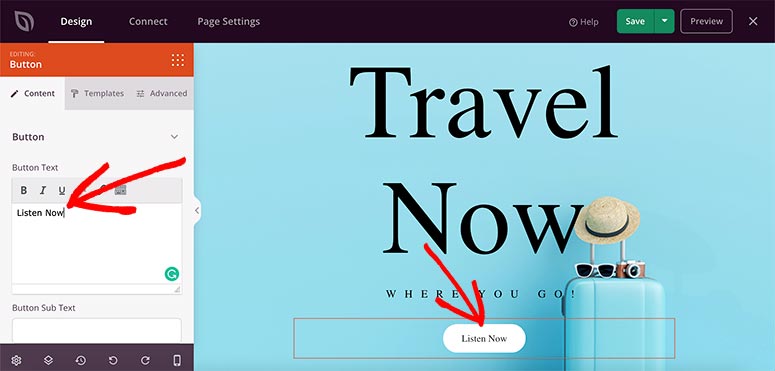 To make it relevant to your podcast, you can replace the background image, text, and CTA (call to action) button text. You can add a "listen now" or "subscribe" button and add a link to the relevant podcast page to get users to take action.
The template offers a built-in section to add your recent podcasts. You can also edit the text and upload podcast episodes.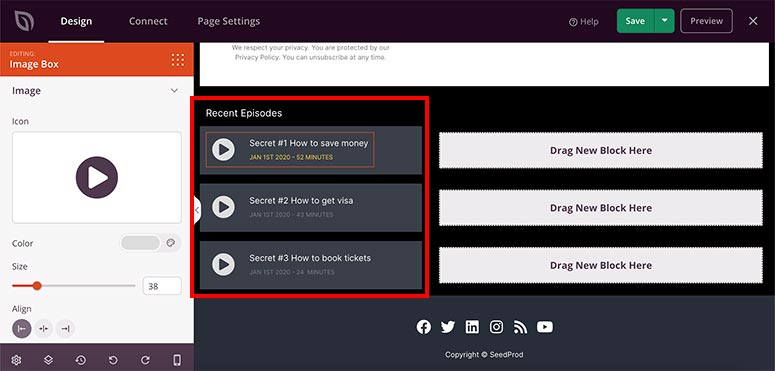 SeedProd is filled with smart features to optimize your page so that you get maximum listeners and subscribers.
For instance, you can add social icons to link to listening platforms like Spotify, Google Podcasts, or Apple Podcast profiles.
You can also add testimonials and ratings as social proof to engage more users on your podcast landing page. You'll need to go to the Sections tab again and add a Testimonial section on the page.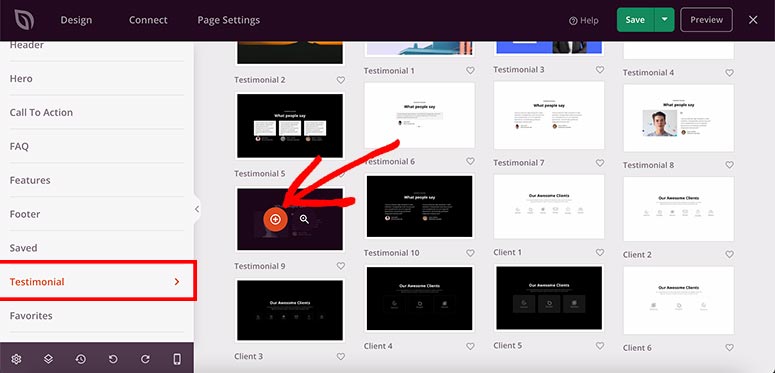 You can select a template for the testimonials and add your content and image to attract new users.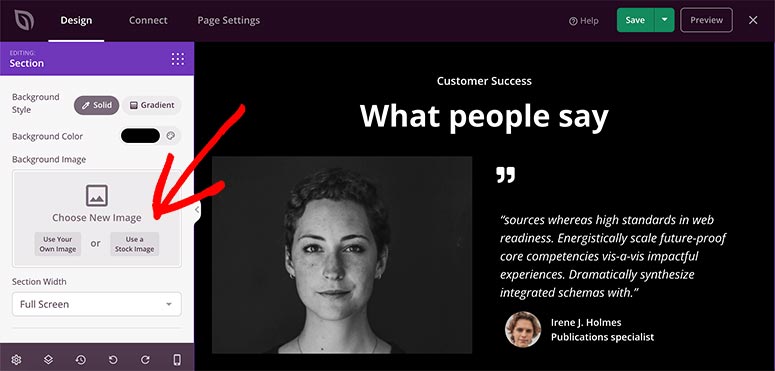 There are many other custom blocks and sections that you can use to build a robust and professional landing page for your podcast. SeedProd makes it easy to explore these options on your own.
You'll find social media shares, countdown timers, optin forms, giveaways, contact forms, and much more.
SeedProd also integrates with WooCommerce. That means you can sell your podcasts and collect payments online.
Once you're done adding all the content to your website design, don't forget to click on the Save button from the top right corner of your screen.
Step 4. Customize Your Landing Page Settings
Now let's customize the Global Settings for your web page. You can click on the spin wheel icon at the bottom left corner to continue.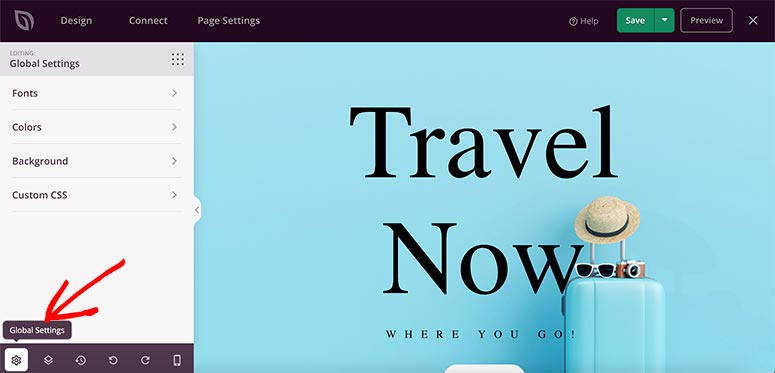 The global settings include:
Fonts: You can change the font of entire landing page or a particular section. It also provides different font themes for your ease.
Colors: This lets you change the colors to match your website template or theme. It includes color choices for header, background, text, link, and more. You'll also get color palettes to choose a full color theme for your page.
Background: In the background settings, you can add an image, video, or solid color as your background. It even lets you create a slideshow to expand the content you display.
Custom CSS: This lets you add custom code to style any section.
These settings will reflect in the live preview so that you can see the changes in real-time.
Next, visit the Page Settings option from the top navigation on the SeedProd builder.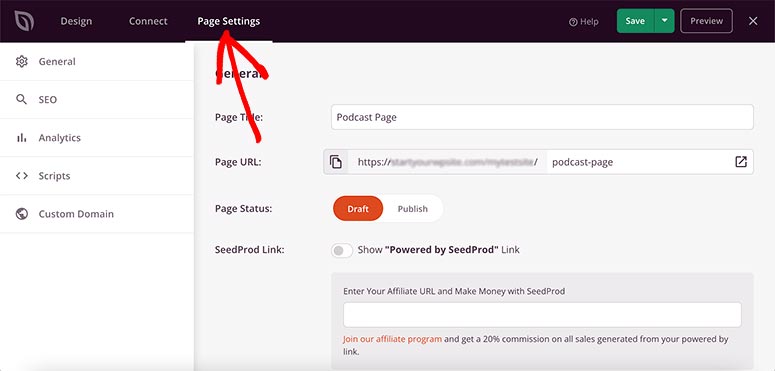 Here you'll find the following settings:
General: If you remember, you added the page title and URL while starting to build the landing page. The general settings include the same with more options like page status, SeedProd link at the bottom of your page, and more.
SEO: This setting will help you connect your landing page with a popular WordPress SEO plugin like All in One SEO. The plugin will help you add recommended SEO marketing tactics to rank your podcast landing page and increase the organic traffic.
Analytics: This page shows the statistics for your page. We recommend using MonsterInsights plugin to track user activity on the landing page and monitor user behavior. MonsterInsights and SeedProd connect with each seamlessly.
Scripts: In this section, you can add custom scripts to customize the design and extend functionality in the header, body, and footer of your page.
All these settings are customizable anytime. For example, if you want to hide the landing page, you can visit the general settings and change the page status to draft.
Step 5. Connect Your Page to an Email Service
An email marketing service can help manage your contacts and send emails to users automatically. SeedProd lets you connect your landing page to your email account so that when you collect emails, they'll be added to your contact list automatically.
You'll need to visit the Connect option from the top navigation menu. There you'll find several email services.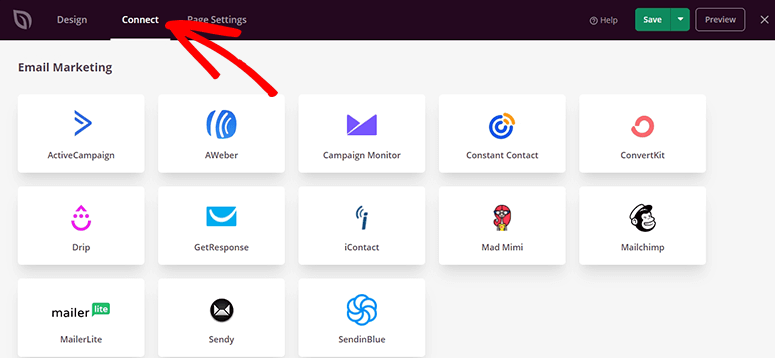 Move your mouse over any service and click on the Connect button. Then click on the Connect New Account button.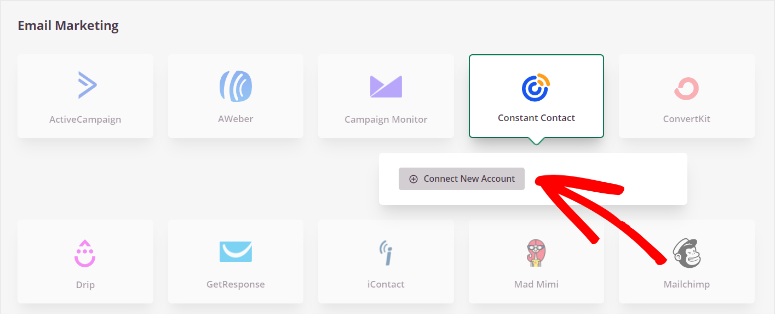 You can follow the onscreen instructions to sign into your email account and integrate it with SeedProd. Don't forget to click on the Save button.
Step 6. Publish and Display the Podcast Landing Page
SeedProd makes it easy to publish the landing page on your WordPress website.
Click on the arrow next to the Save button and click on the Publish option.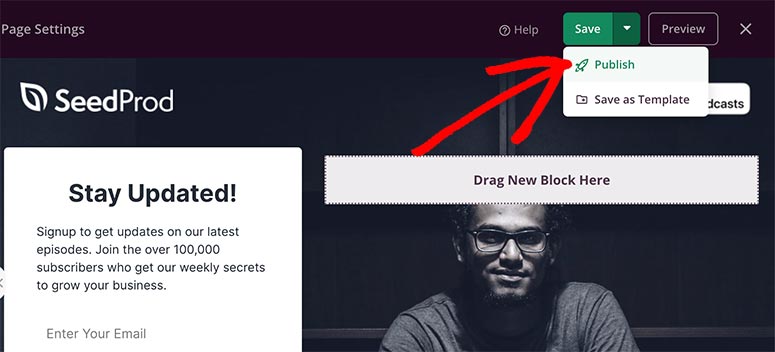 It'll show you a popup where you can click on the See Live Page button to see your podcast landing page in action.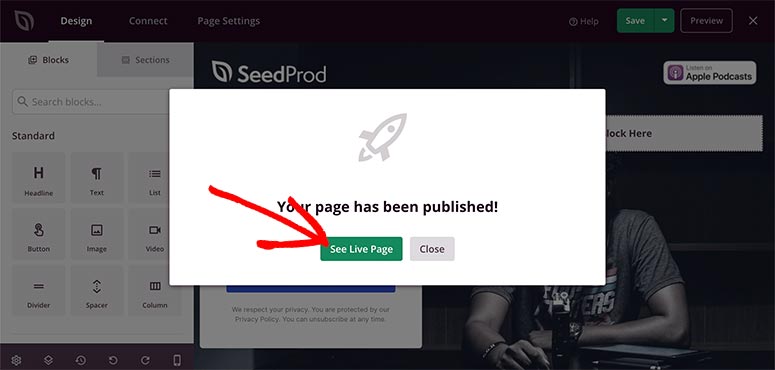 That's all we have for you. We hope this article has helped you learn how to create your very own podcast landing page to boost subscribers and conversions.
Now when website visitors see your podcast landing page, they'll be able to listen to your show, subscribe, and view your podcast profiles instantly.
SeedProd makes it easy to edit the page so you can come back and add latest episodes, subscribe links, and more.
You can continue to use SeedProd to put your Podcast website into coming soon or maintenance mode so your users know that your site is down or under construction. You can also build other landing pages to boost lead generation, subscriptions, and revenue.
With SeedProd, you can create all types of websites for your business. You can also check our guide on how to create an app landing page in WordPress. This will help you promote your app and boost your sales.
Other than this, you'll find plenty of tutorials on the SeedProd website.
Next, you may also want to check out our following guides:
These guides share several resources that you can use to make a website for your podcast series.