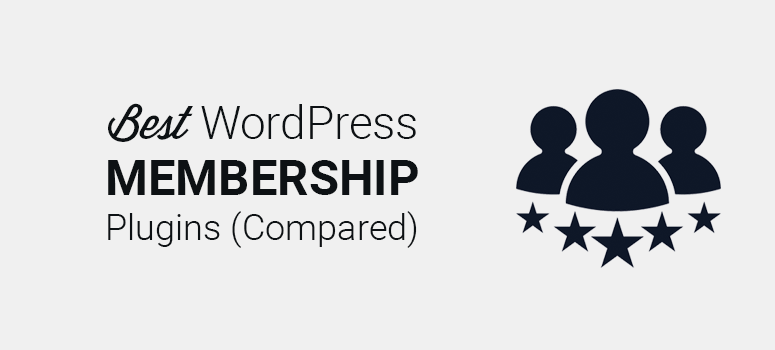 Are you looking for the best WordPress membership plugins?
With a membership site plugin, you can create a premium content library and make it accessible only to your registered members.
Choosing the right membership plugin is crucial for your business because it's hard to back out if your decision turns out to be wrong.
Whether you're interested in generating recurring income, selling online courses, or just building a list of loyal registered members, the following guide will help you choose the best WordPress membership plugin for your requirements.
How to Choose a WordPress Membership Plugin for Your Site
Creating a membership website allows you to limit access to downloads, online content, forums, and support to your registered users only. It requires more or less the same tools that you need to make a website.
Here are a few reasons to create a membership site:
Create a highly engaging email list: You can create a content library and make it accessible only to your registered users. You can add these users to your email list as well. This way you can collect the email addresses of hyperactive users. For more details, check out our guide on how to get email subscribers quickly.
Demonstrate your authority: Creating a membership site and providing great content behind your paywall helps you establish yourself as an authority in your niche. It also helps you foster a good relationship with your members and even lay a foundation for a loyal customer base.
Earn recurring income: Persuade users to pay for the subscription and generate recurring income.
To start with a membership website, you'll need a domain name, a web hosting, and a membership plugin.
We recommend using Bluehost. It's one of the best web hosting services on the market. For IsItWP users, Bluehost offers a FREE domain name, free SSL certificate, and a BIG discount on web hosting.
For more details, you should check out our complete guide on how to create a WordPress membership site.
Next, you need to choose the right WordPress subscription plugin. Before you dive in, below are a few things you need to keep in mind when choosing a WordPress membership plugin for your site.
Ease of Use:
If you don't want to hire a developer to set up your membership site, then you'll need a plugin that is easy to use. Some plugins come with a complete set of features out of the box. While this might sound good at first, the downside is that the user interface will be bloated with too many options that you'll never need.
However, there are a lot of lightweight plugins out there that won't bloat your interface by providing only the important features out of the box. And, if you want additional features, you can easily install the respective addons.
Compatibility:
Before you install the membership plugin on your production site, make sure the plugin is compatible with your existing WordPress membership theme and plugins by testing it on a local WordPress install. If everything goes smoothly, then you can install the plugin on the production site.
Design and Features:
Membership plugins often come with a lot of customizable pricing page templates and other features to make your site look unique. Take a note of the important features you'll need on your site and figure out if the membership plugin you're considering can meet your needs.
Let's compare some of the best WordPress membership plugins free and premium, so you can decide which one is the right choice for your site.
1. MemberPress: All-in-One Membership Plugin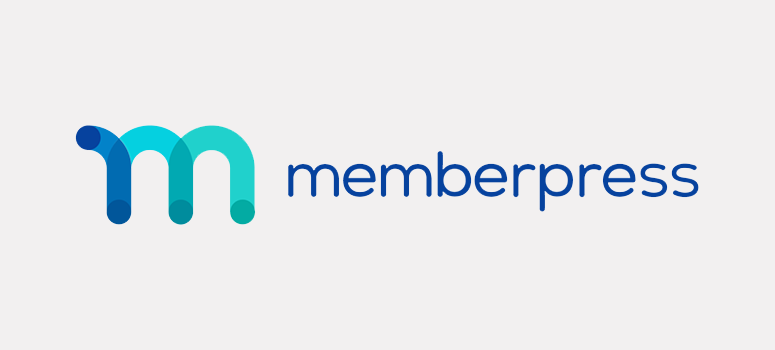 MemberPress is the most complete WordPress membership plugin and comes with all the features you'll need to create a powerful membership site with ease. Unlike other plugins, MemberPress lets you transform your existing website into a fully-featured membership site without hassle.
All you need to do is install the MemberPress plugin on your existing site, enter your payment gateway details, create different membership levels, set up your products, and start inviting your visitors to join your membership site.
With MemberPress, you can restrict access to specific pages, posts, custom post types or any existing files from your regular visitors. The plugin integrates seamlessly with popular email marketing services, like AWeber, MailChimp, GetResponse, etc.
MemberPress offers built-in support for payment gateways like PayPal, Stripe, and Authorize.net. You can also create dynamic pricing pages quickly and easily. This popular WordPress plugin also comes with several pricing page templates to create a unique look.
You can also create, manage, and sell online courses with MemberPress. Using the fully visual drag and drop builder, you can easily build your course curriculum. The built-in MemberPress Courses add-on includes course progress tracking, a Classroom Mode to automatically style your course pages, and other powerful features. It's a membership plugin and an LMS plugin, all-in-one!
Other standout features of MemberPress include:
Content Dripping: Drip content gradually over a period of time, instead of releasing it all at once.
Community Forums: Compatible with bbPress to create your own password-protected community forums.
Coupon Codes: Generate coupon codes to run promotions and giveaways.
Affiliate Program: Compatible with Easy Affiliate to set up your own affiliate program.
The pricing starts at $179 per year for a single site license.
Get started with MemberPress today.
2. LearnDash: Online Course Membership Plugin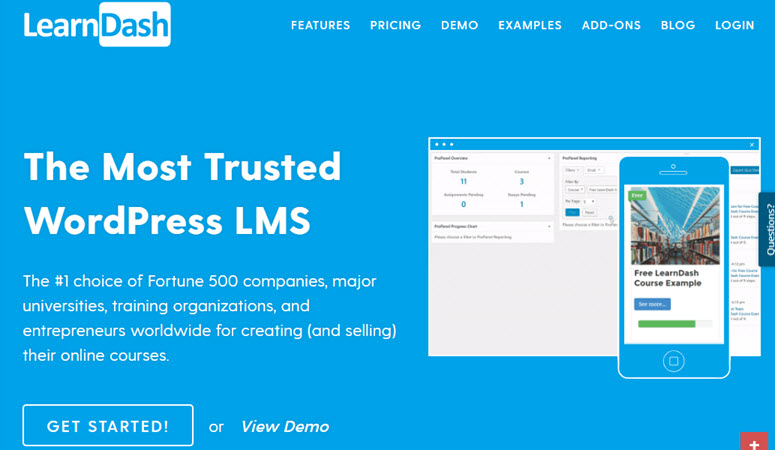 LearnDash was built for creating and selling online courses on your WordPress websites.
It enables you to offer a robust learning experience to your members and supports the latest gamification, social learning, and micro-content trends.
Selling courses has never been easier thanks to LearnDash. A few different ways to sell your online courses are:
Memberships: Provide traditional access to all of your online courses
One-time price: Implement a shopping cart where visitors can buy individual courses.
Subscription: Earn recurring payments through subscription-based selling.
LearnDash allows learners to unlock new courses based on the points they earn as they complete their courses. This allows you to increase retention and make users more engaged in your online courses. You can award highly-customized certificates and badges based on a learner's performance. You can also offer front-end user profiles where members can track their activity.
The pricing starts at $159 per year for a single site license.
Get started with LearnDash today.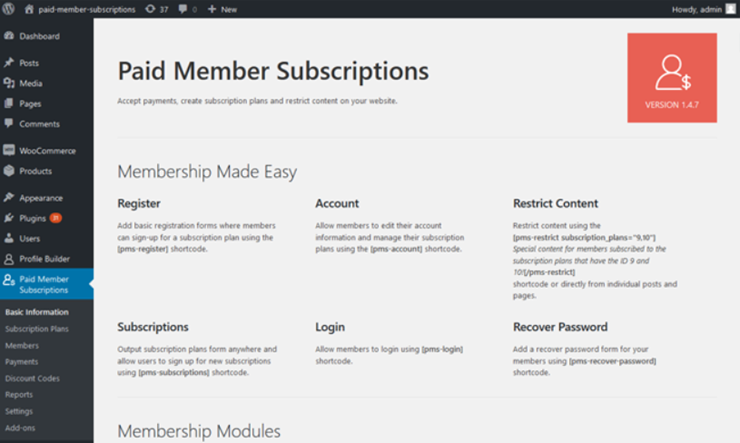 Paid Member Subscriptions is one of the best membership plugins WordPress developers have to offer. It allows you to restrict product viewing, purchasing and offer special product prices to certain members. Think of this plugin as offering Amazon-Prime style eCommerce experience to your users.
With this plugin, you'll be able to manage member subscriptions, grant and revoke access to posts, pages, categories as well as custom post types based on your users' subscription plan.
The best part is that Paid Member Subscriptions doesn't force you into a predefined structure because the plugin seamlessly integrates into your WordPress site and content.
To set up the plugin, you need to:
Specify your PayPal address to accept payments.
Set up subscription plans for users.
Protect your content with a metabox that appears in individual posts, pages, and custom post types.
The pricing starts at $69 for a single site license.
Get started with Paid Member Subscriptions today.
4. Teachable: Standalone Online Course Tool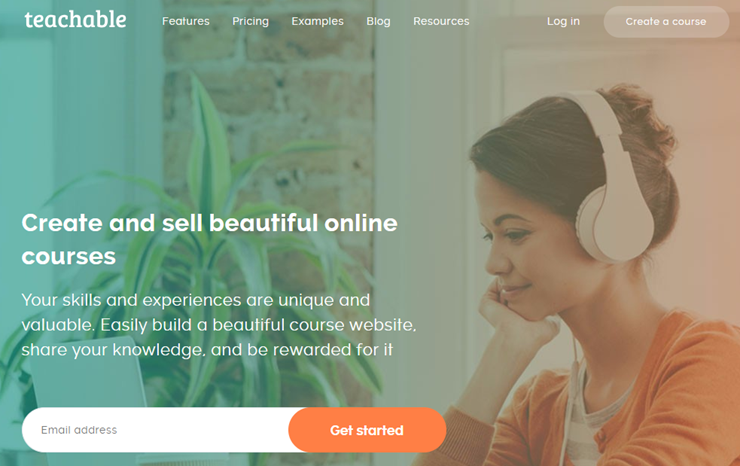 Teachable is an all-in-one platform for creating and publishing beautiful online courses. It's a standalone platform, so you can integrate your online courses into your existing website or host them on Teachable subdomain.
Teachable comes with a powerful editor that enables you to create and launch stunning sales page to convert your visitors into paying users.
Below are a few features that set Teachable apart from its competitors.
Learning tools: Easily create quizzes and discussion forums on your Teachable site. You can also issue certificates of completion to reward your students.
Integrations: Import your content from Google Drive, Dropbox or One Drive. You can connect your website with any online tools that support Zapier.
Marketing tools: To improve your sales, you can create discount codes, affiliate program, advanced pricing options and more.
The pricing starts at $29 per month with a 5% transaction fees.
Get started with Teachable today.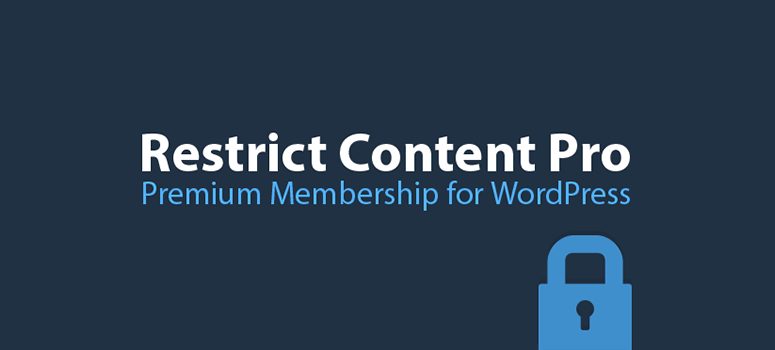 Restrict Content Pro is a light-weight WordPress membership plugin that lets you easily create a fully-featured membership site. Without bloat, it bundles the set of features you'll need for your membership site as addons.
It is built by the same team behind the popular Easy Digital Downloads plugin.
The plugin offers a lot of built-in payment options such as Stripe, Braintree, 2Checkout, Authorize.net, and PayPal. This WordPress membership plugin has a free version in the WordPress plugin repository that comes with limited features.
A few different ways to use Restrict Content Pro are:
Club memberships: Create a premium content library and provide access to members only.
Magazine subscriptions: Generate recurring payments by selling online magazine subscriptions to premium subscribers.
Private forums: Create private forums and limit access to private communities.
Member blogging: On a multi-site network, you can allow paid subscribers to create their own blogs.
And a lot more…
The plugin offers a lite version, which can be downloaded from the official WordPress plugins repository. It comes with the ability to create custom user registration and login forms, and limit access to content with a shortcode.
The premium pricing starts at $91 per year for a single site license.
Get started with Restrict Content Pro today.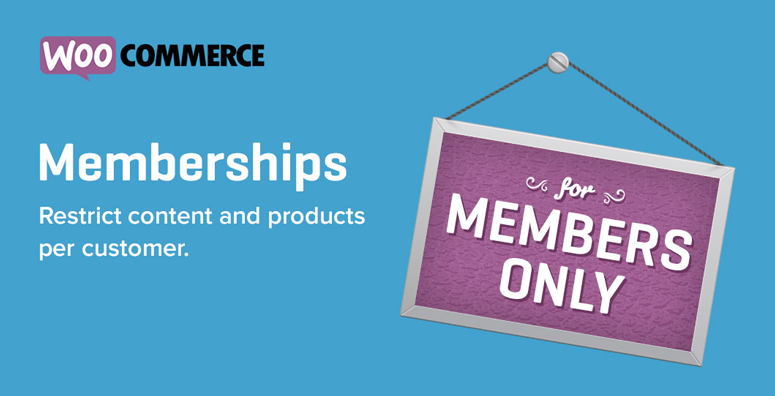 WooCommerce Memberships is an addon for WooCommerce that allows you to limit your content only to the registered members of your site. If you're already selling digital products on your website and want to sell memberships as well, then you should give WooCommerce Memberships a try.
Keep in mind that it's not a single plugin solution for creating a membership site. You'll need to use the free WooCommerce plugin; but, for accepting recurring payments, you'll also have to install WooCommerce Subscriptions plugin.
More benefits of the plugin:
It offers restricted content and products to your registered members only.
You can create special discounts for premium members.
If you're unhappy with your purchase, they offer a 30-day money back guarantee.
The pricing starts at $199 per year for a single site license.
Get started with WooCommerce Memberships today.
7. aMember Pro: Yet Another Membership Plugin

aMember is another comprehensive membership plugin that has been around for over a decade. Before you jump in, keep in mind that aMember Pro is not a native WordPress plugin. It is a membership site software built with PHP that also allows you to integrate it with WordPress.
Since this plugin was not specifically created for WordPress sites, you might find compatibility issues with other WordPress plugins.
Some of the key aMember features are:
It is shipped with unlimited membership levels.
It comes with full-featured membership management.
aMember offers 200+ payment systems (including PayPal, Stripe, and Authorize.net).
The cost of the plugin is $149.36. After purchasing the plugin, you can install it on an unlimited number of sites.
Get started with aMember today.
Which WordPress Membership Plugin is Best for You?
MemberPress is the best WordPress membership plugin you can have on your WordPress site. It's the most comprehensive plugin and comes with powerful LMS functionality. It has powerful integrations, premium affiliate program, coupon codes, and more.
If you want a plugin that focuses on retaining members by providing a robust learning experience, quizzes, and certification, then LearnDash could be the right choice for you.
If you need to offer special pricing for selected members of your WooCommerce store (like Amazon Prime, for example) and show certain pages and products exclusively for them, then Paid Member Subscriptions is the best choice. Don't miss to check these best WooCommerce hosting solutions.
We hope this article helped you find the best WordPress membership plugin for your needs.
If you're looking to create a learning management system, check out the
best WordPress LMS plugins.
This will further help build a learning management system that you can integrate with your membership plugin to sell online courses.