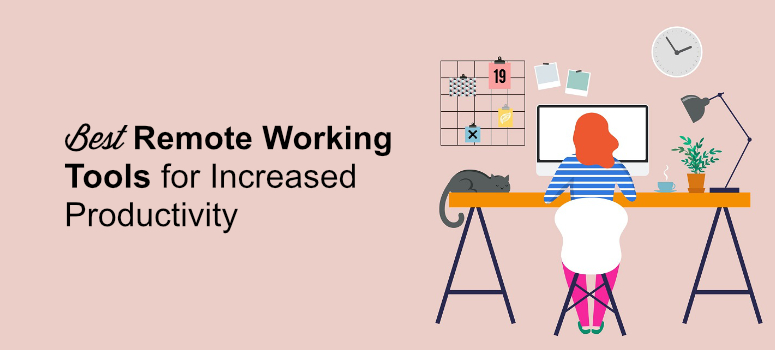 Looking for the best remote working tools for your business?
The remote working option has recently gained momentum and several small and big enterprises are adopting the trend.
Shifting towards remote work means rethinking how your team communicates and connects online. That's why choosing the best remote work tools is important for your team.
In this article, we'll show you some of the best remote work tools that help you stay connected with your team.
This article is categorized into a few different sections:
Communication Tools
Collaboration Tools
Marketing Tools
Communication Tools
If you have several team members working remotely for the same project, connecting with each other via phone, chat, and online conferences ensures everyone is on the same page.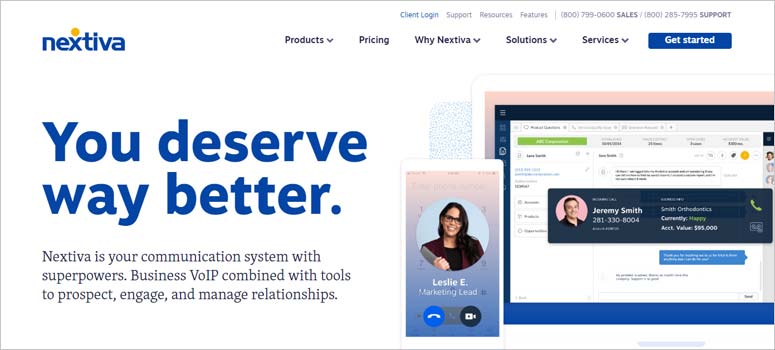 Nextiva is one of the best options for anyone who's looking for a business phone system and an online conference tool. It offers both video and phone conferencing and can be used in desktops as well as on mobile phones.
Nextiva also provides you with a chat option while you're at a conference with your teammates or clients. The best thing is that you can share your screens too. It even has VoIP options with unlimited calling, nationwide unlimited texting, free toll-free number, auto-attendant and more.
Basically it's a complete solution to keep in touch with your teammates and clients.
Your employees can use the toll-free numbers from anywhere to assist your customers and they don't necessarily have to work from the same office. They can also share documents, hold meetings, keep track of important updates without the hassle of the in-person meetings.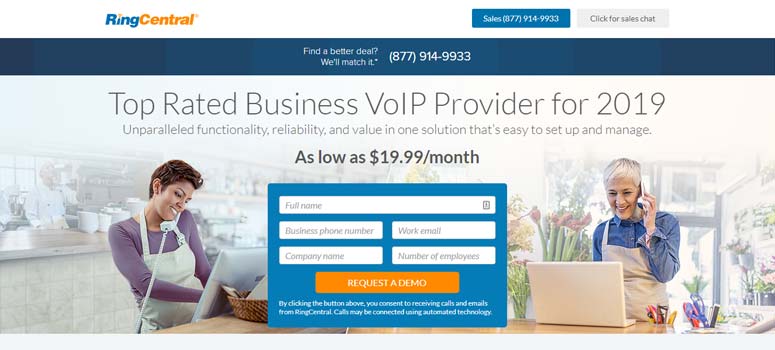 RingCentral is yet another tool for remote working companies. With RingCentral, you can easily hold virtual meetings, set up an outbound customer call center, organize an HD video conference with screen sharing and do a lot more.
You can also fax important documents to your teammates or clients from phone, desktop or tablet that's connected to the internet. So now even if you have a team that's scattered across the world, you can easily connect with each other with RingCentral.

Zoom is an excellent video conferencing service that lets you hold a conference, webinar, create a virtual event, or teach your students online. Zoom offers the best video and audio quality and protects the privacy of its users.
You can opt for the free plan if you want to hold your conferences or events for less than 40 minutes. But for anything beyond that, you'll have to upgrade your plan. With Zoom, hosting and joining a meeting is easy. The host can generate a link and share it with anyone who needs to attend the event. Anyone who has the link can join the meeting or event by simply clicking on it.
Slack is a great tool for remote working companies to stay connected with their teammates. With this platform, you can communicate with your coworkers in real-time.
Slack makes it easy for everyone to stay in the loop of what's happening in the company. You can also have channels based on your projects where you can discuss common goals, purposes, and progress of your work.
Collaboration Tools
Keeping your work organized and collaborate with team members can be one of the biggest hurdles for remote teams. Luckily, we have got a list of remote working collaboration tools that will help you overcome this problem.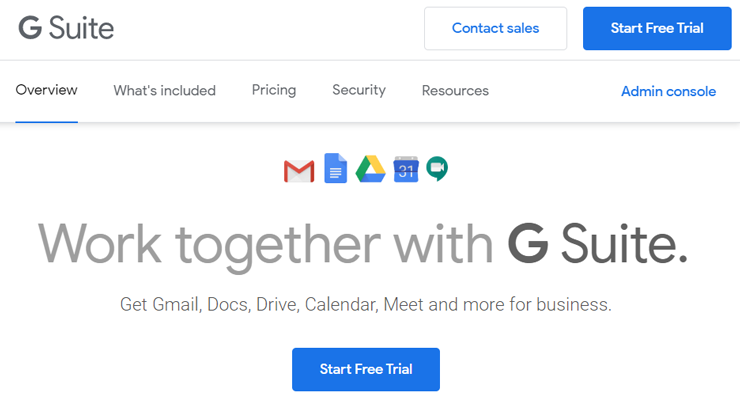 G Suite is a product by Google that offers a host of features and options to make remote working easy. It lets you connect with your team, as well as your clients with professional email addresses, hangout chats and hangout meetings.
You can also easily collaborate with your teammates by creating common sheets, docs, slides, etc. To ensure that you don't miss out on important events, you can use Google calendar which is equipped with auto-reminders. You'll also get unlimited cloud storage with Google Drive depending on your plans.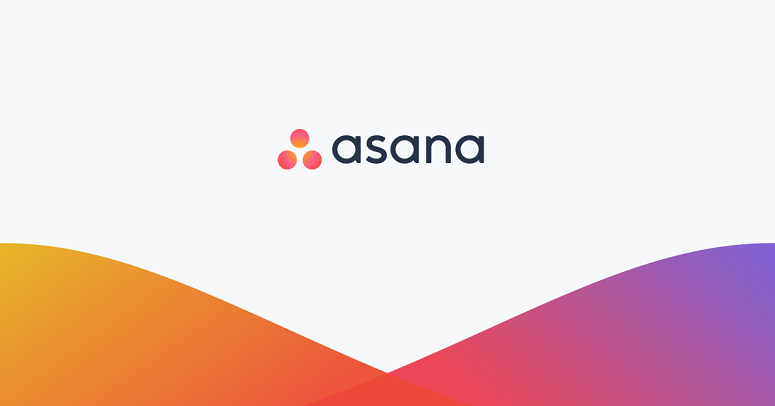 Asana is a project management tool that makes it easy for remote teams to assign tasks to teammates and track their progress. You can create teams based on different projects and add your team members to them. The members can then assign tasks to one another and add descriptions to these tasks.
This makes it easy for others to understand what the task is about. You can also add notes, add subtasks and add a deadline to the tasks. Once a task is completed, you can easily mark it as complete.

Time Doctor is the best time tracking tool for remote teams to know how productive your employees are. It offers a detailed insight into the work done by your employees by monitoring their tasks with the help of screenshots.
Time Doctor reminds users to get back to work if it detects the use of social sites like Facebook, Twitter or any other personal website. It also silently tracks and records the internet and another application usage so you know how productive they have been. So even if you're working from different locations it's easy for you to keep an eye on what exactly your employees are doing.
Marketing Tools
If you're running a business online, you'll also need to get in touch with your customers via email, live chat and SMS. Let's take a look at a couple of tools that help you connect with your customers.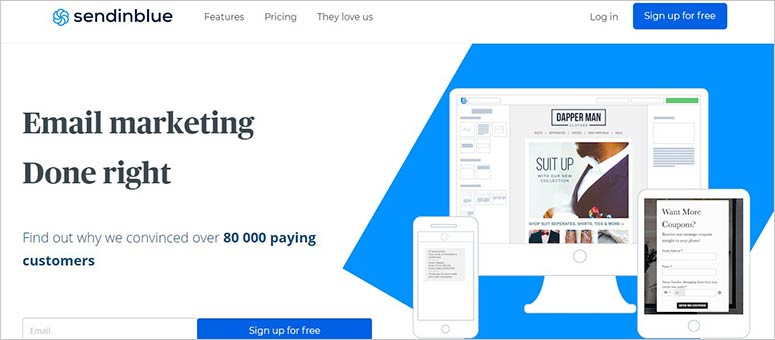 SendinBlue is a feature-rich email marketing solution that's perfect for small businesses, bloggers, etc. Aside from email marketing, it lets you add a live chat box to your website, do SMS marketing and more.
Some of the cool features of Sendinblue are:
Landing page builder
Facebook ads creator
Retargeting pixel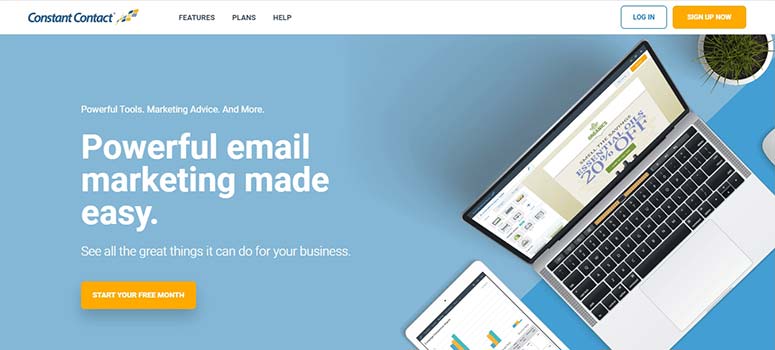 Constant Contact is another email marketing platform that simplifies your email marketing campaigns. When getting started, you'll be prompted to choose your industry and your previous experience with email marketing. Based on your selections, you'll get customized content and promotion ideas that will help you level up your email marketing.
Using this platform you can easily send timely welcome emails, segment your emails to send them to the right client, auto-send your emails to non-openers and do a lot more. Each of these features makes you stay connected with your clients and interact with them better.
Learn more about Constant Contact here.
These are some of the remote working tools that can help you improve your productivity and stay connected with your team members. We hope this guide helped you learn some of the best remote work tools.
If you liked this article, you might also want to check out our article on how to make money online.