So you want to make your old WordPress themes compatible with newer versions of WordPress. With WordPress updates coming out more often, theme compatibility is something on a lot of people's minds.
Some of the best WordPress themes that were created decades ago still work today and there's nothing we need to do to keep them working with newer versions of WordPress. They are built on WordPress best practices and tend to work for a long time without any updates.
That said, it's a safer bet to follow a process where you regularly update your theme when updates are available. Let's break that down so you can understand why and how to go about it.
Why Update Your Theme Regularly?
Updates are really important for the security and performance of your WordPress theme. Theme developers can also introduce new features and fix bugs and security issues from time to time. They release new versions that you can install on your site.
If you skip a bunch of updates and then try to update from say version 2.0 to version 8.6, it could cause your site to break. There can be incompatibility issues with plugins installed on your site and other functionalities/integrations you're using.
If you see an update available, run it as soon as you can.
Keeping that in mind, you should also update your WordPress core installation and WordPress plugins regularly for the same reasons.
In your dashboard, you'll see notifications that a new version is available. You can view the details of the update. If you notice it's a security fix, you should update immediately to avoid malicious attacks.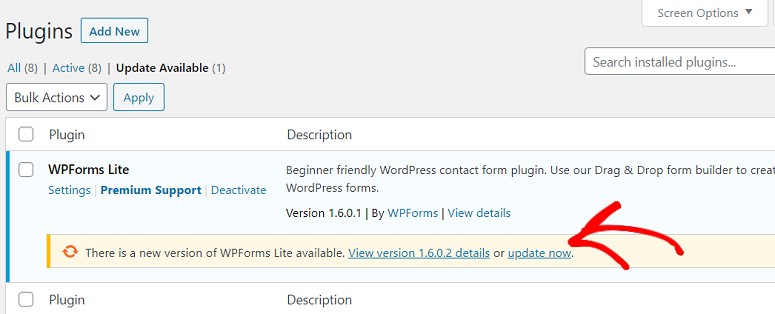 Security fixes are usually rolled out as minor updates. You can enable auto-updates for your WordPress site to update your site without your manual intervention.
With other updates such as new feature being rolled out, we recommend a process where you test the update first.
How to Update Your WordPress Theme
It's best to take a backup of your site, create a staging site and test an update there. Once you know everything is functioning all right, then you can roll out the same update on your live site.
To update a theme, on your WordPress dashboard, go to Appearance » Themes. You'll see if a new update is available. All you have to do is click on the update button to install the new version.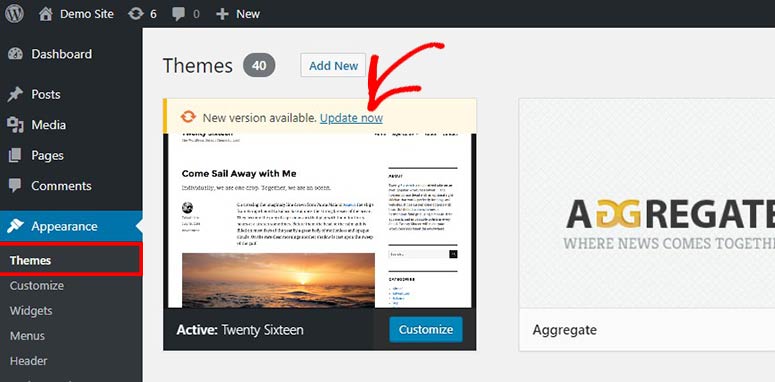 WordPress will then download the theme package, unzip it, and replace the old files with the newer version.
This will overwrite all old theme files on your website. If you manually added custom code to your WordPress theme files, then you'll lose those changes.
What Changes Can You Lose During a Theme Update?
Some of the changes you could lose include:
To avoid this, you'll want to learn how to properly update your theme without losing any customizations.
You may also want to learn more about using a child theme. This will help you always make sure you can update your theme without losing any custom coding or changes you've made to your theme.
What Changes Will You NOT Lose During a Theme Update?
Any changes you make using the built-in WordPress theme customizer will not be lost. You can access this customizer in the Appearance » Customize page. It lets you modify your WordPress theme such as the header image, colors, layout, and custom CSS. Then it stores all changes in the WordPress database.
Any changes to WordPress widgets and navigation menus are also not affected by the theme updates.
If you're using a popular theme like Astra and Ocean WP, you'll get a companion plugin. These plugins let you add extra features to your theme. Any theme changes made using these companion plugins are also not affected by a theme update.
Custom WordPress layouts created using a WordPress page builder like SeedProd, Divi, or Beaver Builder, will not be impacted.
Other features that you have added to your website using a plugin are also safe. For example, your WordPress contact forms, email newsletter popups, Google Analytics, and more.
Now you're all set to update your WordPress theme and keep it compatible with newer versions. If you find that your theme is no longer functioning properly, you could consider switching to a different theme.
Here's a checklist you can follow before you make the switch: 12+ Things You MUST DO Before Changing WordPress Themes.
We also have a roundup of the best and most popular WordPress themes. Make sure you choose a theme and plugins that are backed by an active developer or team that's maintaining the theme regularly. They usually test the themes to make sure it's compatible with the latest versions of WordPress.
You can view these details on the theme or plugin page before you install them on your site.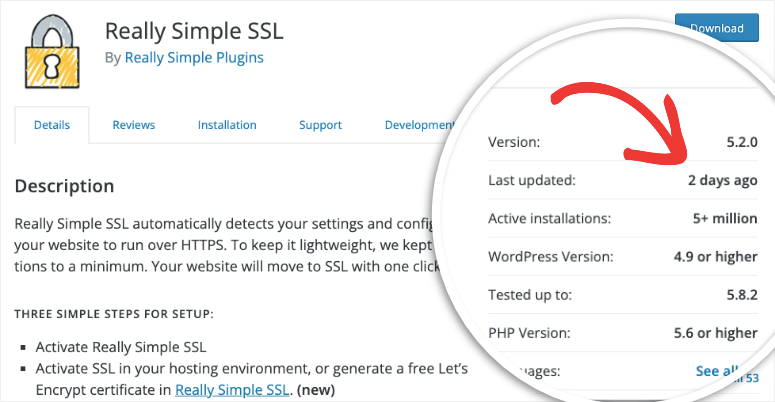 If you see a warning like this that says the theme hasn't been updated in a long time, it's best to look for another one.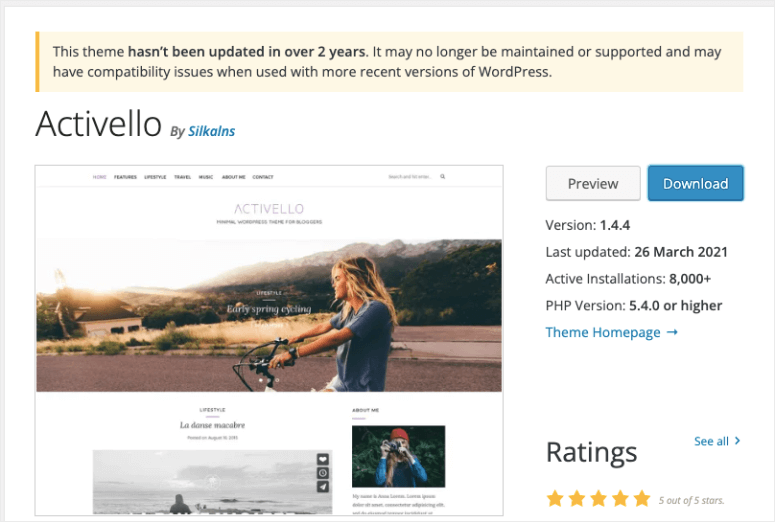 We hope you found this guide helpful. You may also want to see What Exactly is a Widget-Ready WordPress Theme?