Do you want to share your favorite locations with your visitors? If you want to create a full-featured map with multiple markers utilizing Google Maps on your website, you'll need the Google Maps Builder plugin. Find out how it can make map building easy in our Google Maps Builder review.

About Google Maps Builder
Google Maps Builder a simple-yet-powerful Google Maps plugin for WordPress. It allows you to create feature-rich Google maps directly on your site easily without having to touch any code.
This WordPress plugin makes it effortless to add locations on a map by dropping a pin, adding local businesses with Google Places, or adding custom markers with your icon. The most powerful feature is the Mashups Feature which lets you select from multiple data sources, like custom post types, to populate map markers and info window content.
In a nutshell, Google Maps Builder is a lot more than just a tool for adding Google maps. It has advanced features to create all types of maps for WordPress sites.
Why Use Google Maps Builder?
If you want to share multiple locations on your WordPress site, Google Maps Builder makes it easy.
You can use the plugin to create multiple maps as custom post types. Each map can have as many location markers as you want.
For each location marker, you can create titles and descriptions. You can also customize the look of the markers using different letters, colors, shapes, and icons.
The way each map is displayed and used can be completely customized as well. You can control the size and look of the map, as well as the zooming, panning, dragging, and other settings. Google Maps Builder also integrates with Snazzy Maps, a free tool to style Google Maps with different unique looks.
Google Maps Builder would be a great plugin for:
Websites about local communities: share your favorite museums, coffee shops, restaurants, and more.
Businesses with multiple locations: display information about each location on 1 map.
Real estate websites: show local properties or display information about local schools, public transportation, etc.
Travel blogs: share all your favorite destinations from around the world.
Event and conference sites: display nearby hotels, restaurants, etc.
How to Use Google Maps Builder
After installing and activating the Google Maps Builder plugin, navigate to Google Maps » Settings to get started.
It's not required to set up an API key, but it's strongly encouraged by Google. With an API key, you can get the data on your maps' usage. Click the Learn how to obtain an API key link and then click the Get a Key button. Follow the instructions and paste your key into the appropriate field.
Choose your map size settings and whether to geolocate your position when creating maps, and then click the Save Settings button at the bottom.
In the top right corner, you can click the General Options tab for a few more settings.

Here, you can customize the URL slug for your maps, and edit a few more advanced settings.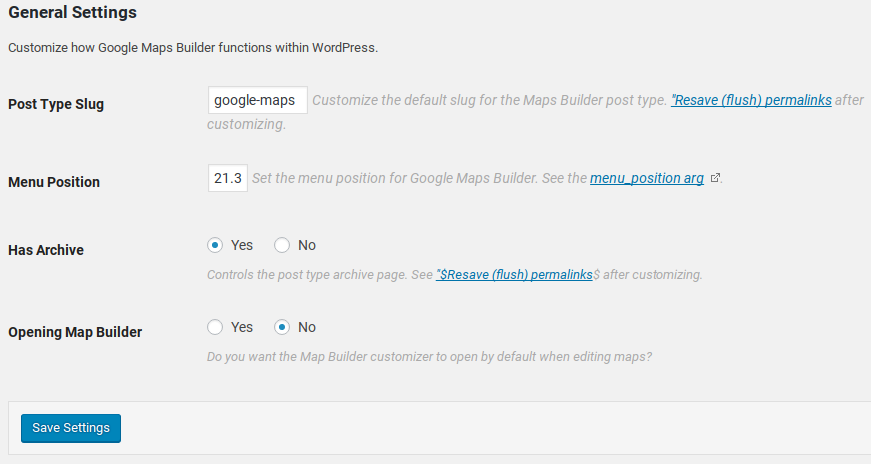 To get started creating your first map, go to Google Maps » Add New.
Maps are created as custom post types, so you can enter a title just like a blog post.
Click the Open Map Builder button in the Publish box to get started.
Under Display Options, you can customize how your map will look.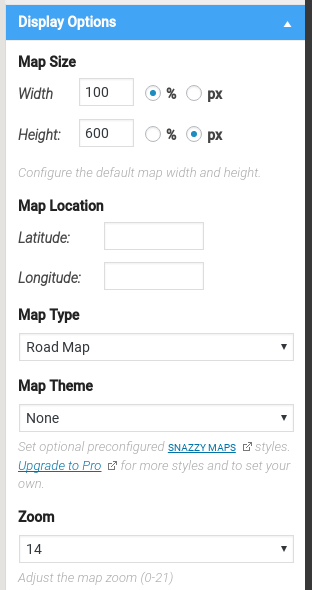 Under Map Markers, you can search for locations or manually drop a marker on the map.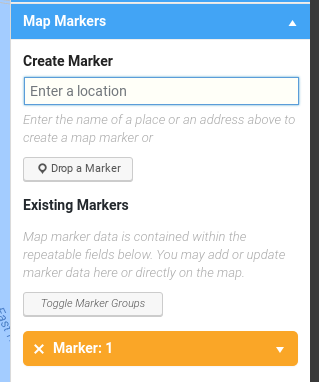 When you click on a location, you can click the Add to Map link at the bottom to place a marker there.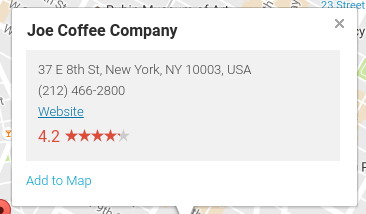 You can customize the title and add a description here.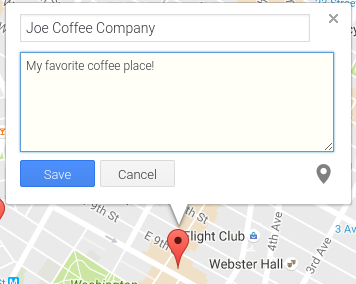 Click the map marker icon in the bottom right corner to customize the icon. You can choose the marker's shape, icon, and color.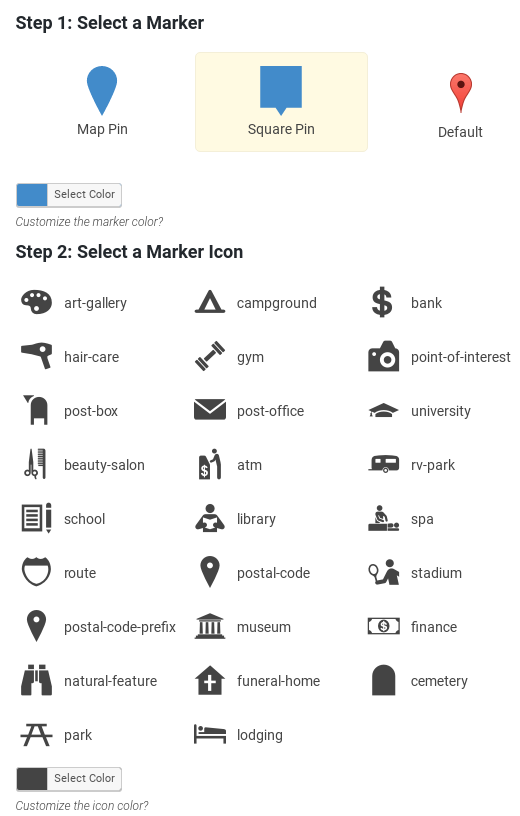 To make changes, just click the marker in the right-hand menu to edit it.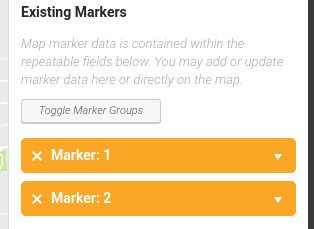 When you're done, click the Publish Map button in the bottom right corner. You'll see a preview of your map below. You can now publish it as a custom post type, and display it with a shortcode. Navigate to Google Maps » All Maps to see a list of all your maps and the shortcodes used to display them.
You can also add a Maps Builder Widget to your sidebar or any other widget-ready areas. Just type in a title, choose a map, and click Save to display your map as a widget.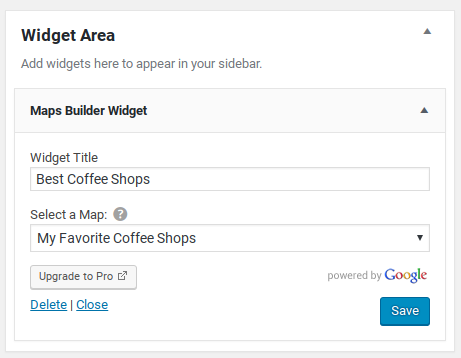 More Customization with Maps Builder Pro
Need even more options to customize your maps? Check out the premium version of Google Maps Builder.
With Maps Builder Pro, you can:
create custom map markers with your own logo
dynamically generate maps by adding locations to your posts and pages
get dozens more Snazzy Theme looks for your maps
create password-protected maps for signed-in users only
create routes and directions with several modes of transportation, including public transit, driving, walking, or cycling
import and export all maps and settings
The developers also have several features planned for release soon, including drawing tools and more advanced widgets.
Documentation and Support
Google Maps Builder was developed and is currently supported by WordImpress.
They have documentation on their official site that walks you through setting up the plugin and getting an API key. They also have walkthroughs and screenshots of all the Maps Builder Pro features, and a demo site where you can see Maps Builder Pro in action before you buy it.
The developers are active in the WordPress.org support forums, and most threads are resolved quickly. Maps Builder Pro users get access to priority support forums on the official site.
Pricing for Google Maps Builder Plugin
Google Maps Builder is a free and premium map builder plugin for WordPress. If you want to make simple Google maps using basic features, you can use its free version; but, for advanced features, you'll need to purchase the premium version.
Google Maps Builder Pro offers 3 pricing plans for single site, up to 5 sites, and up to 15 sites.
The single site plan costs $57.99, up to 5 sites costs $79.99, and up to 15 sites cost $129.99. You can buy 1 plan that suits your needs.
Each plan comes with 1 year of support and updates.
Our Verdict on Using Google Maps Builder
If you need to display multiple locations on your site, and embedding a regular Google Map just won't do the trick, you should give Google Maps Builder a try.
The basic free version of the plugin has great features and is well supported. With Maps Builder Pro, you can create even more advanced maps.
We were impressed with the clean interface and how easy it was to use. The plugin is also fast and lightweight, and won't slow down or clutter up your site.
We give Google Maps Builder 5 out of 5 stars. Here's the breakdown of our review scores:
Get Google Maps Builder Pro Now »