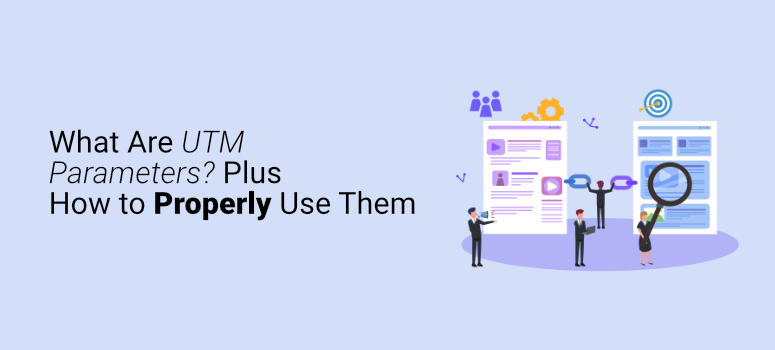 Do you want to learn how to use UTM parameters to optimize your website and drive traffic to your content?
Many website owners use UTM parameters to monitor their marketing campaigns and collect crucial user data. But unless you know how to use them on your website, you won't be able to take advantage of its benefits.
In this article, we're going to discuss UTM parameters, the different ways to use them, and how to create UTM codes in Google Analytics. Let's get started.
What Are UTM Parameters?
UTM, or Urchin Tracking Module, parameters are codes or tags you can add to a URL. They add bits of information to your links so you can collect user data and monitor interactions on your website.
By implementing UTM codes, you can track user activity on your site and measure the effectiveness of your campaigns. This helps you optimize your marketing strategies for better results and increased conversions.
So instead of your URL looking like this:
It'll look like this:
https://yourwebsite.com/?utm_source=twitter&utm_medium=marketing&utm_campaign=onboarding
Now that we know what UTM codes are, it's important to understand how they work so you can use them effectively on your site.
How Do UTM Parameters Work?
Links with UTM parameters are the same as other links but they retrieve important information. When a user clicks your link, the attached tags are sent back to Google Analytics to retrieve and store that data.
Thanks to UTM parameters, you can collect valuable information from your links including referral traffic, the number of visitors, keywords, the number of clicks, and much more.
There are 5 parameters you can add to your URLs:
Source (utm_source): Identifies where the traffic originates from
Medium (utm_medium): Identifies the medium of your traffic
Campaign (utm_campaign): Identifies a campaign by name, product, or keyword
Term (utm_term): Tracks keywords during a paid ads campaign
Content (utm_content): Collects details about your ad through A/B testing and helps optimize them further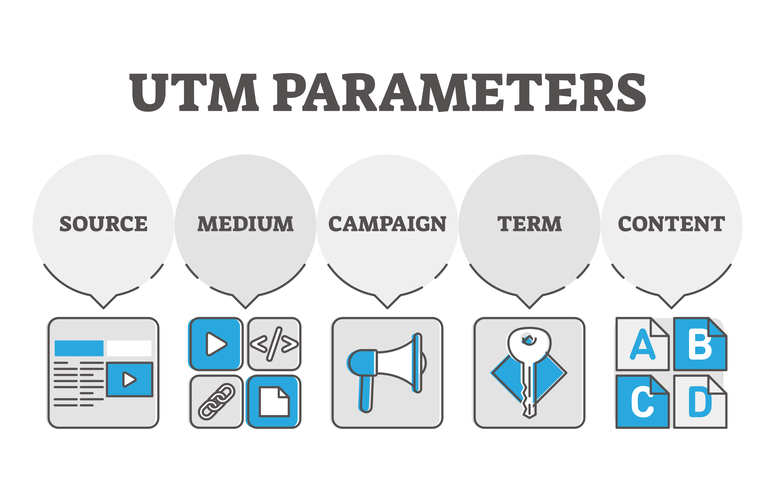 But now that you know more about creating UTMs, let's look at how you can actually use them.
How to Use UTM Parameters
There are a few different ways you can use UTM parameters on your website to boost conversions.
1. Run A/B Testing
Thanks to A/B testing, it's possible to compare two different versions of the same content or campaign to measure its performance. This allows you to refine your social media marketing strategy and use tactics that work for your specific audience.
When compared side by side, it's easier to understand the motives behind users' actions and tells you more about what they want.
For example, let's say you want to test the effectiveness of adding a poll to a promotional post on social media. You can use UTM codes to run an A/B test and compare the two outcomes.
Create two of the same post and add a poll to one. When you tag each post with an appropriate campaign content UTM code, you'll be able to see which one performs better and produces more traffic for your site.
2. Refine Marketing Strategies
UTM parameters give you detailed insight about your visitors, how they use your site, what content they're most drawn to, and much more. This information helps you refine your marketing strategies so they pull more conversions and build your brand.
It's easier to cater to your audience when you know more about them, and using analytics is a great way to learn more about your users.
From email to social media, your marketing campaigns need to be valuable and targeted towards your users. With the data from UTM parameters, you can build campaigns that grow your email subscriber list and generate more revenue.
3. Assess Social Media ROI
Adding UTM parameters to your links on social media helps you determine which campaigns are most effective and will help you reach your goals the fastest. This allows you to further refine your social media marketing strategy to receive the best results and grow your business.
You can use the data to optimize your campaigns and measure their return on investment (ROI). You can use the campaigns that bring you the best results to improve future campaigns that boost your conversions and lead more traffic to your website.
4. Monitor Email Marketing Performance
It's important to monitor your email campaigns to track their effectiveness with subscribers and increase conversions. Adding UTM parameters to the links in your newsletters gives you insight about your users and how they interact with your emails.
The results will tell you what users respond to and what content they aren't interested in so you can target them effectively.
Now that we know why using UTM parameters is important and how to use them, let's look at how to create them.
How to Create UTM Codes in Google Analytics
There are two ways to create UTM codes for Google Analytics. The first method is to create them manually. However, this can become a long process that makes it easier to make errors.
This could cause misinformation in your data and failure to optimize your content and campaigns.
For the second method, you can use a Google Analytics plugin.
That's why, in this tutorial, we're going to create UTM codes using MonsterInsights.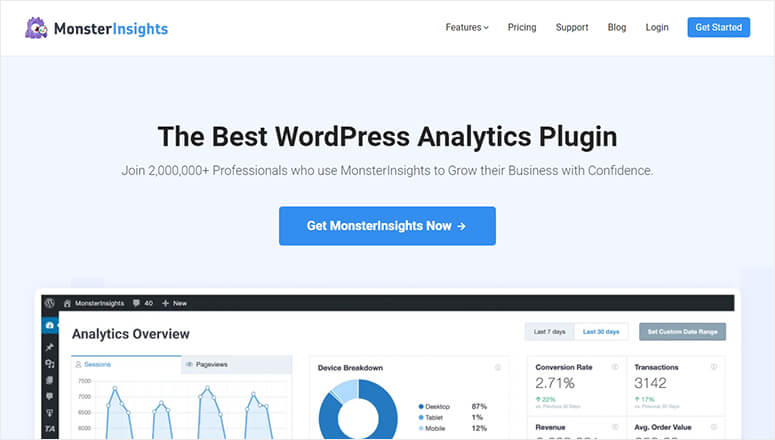 MonsterInsights is the best Google Analytics plugin on the market for WordPress. In just minutes, you can easily create UTM codes for your website that improve your marketing strategies and drive traffic to your site.
It comes with a campaign URL builder that only requires you to fill out the fields and copy the custom URL.
Let's see step-by-step how to create UTM codes with MonsterInsights.
Step 1: Enter Your Site Information
For the first step, you'll need to download and install MonsterInsights to your WordPress website. If you need help, check out our post on how to install a WordPress plugin.
Once it's activated and ready to go, click on Insights » Tools from your WordPress dashboard:

You can now see the MonsterInsights URL builder where you'll fill out your site information. Website URL and Campaign Source are required, but the rest are optional.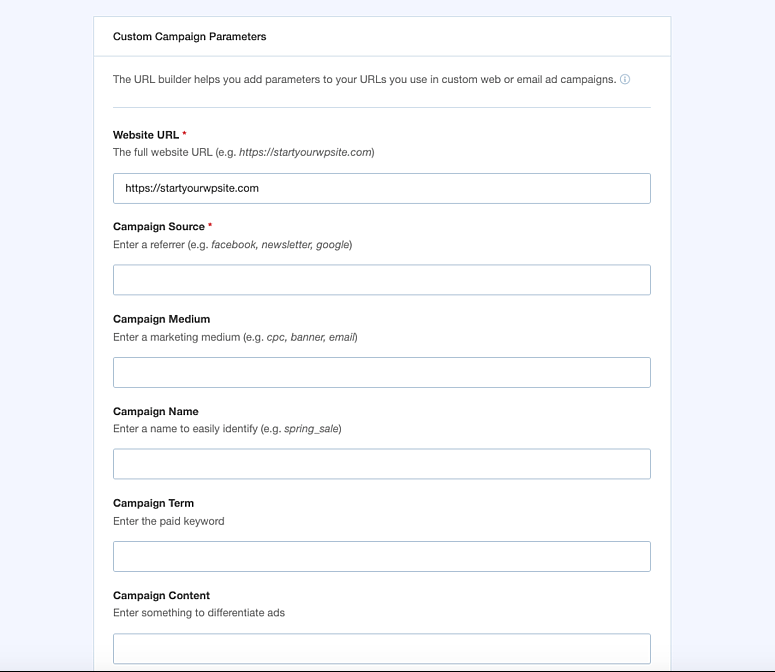 Website URL: In this field, you can enter the website URL you want the link to go to.
Campaign Source (utm_source): Enter the source of your traffic such as Facebook, push notification, email list, and so on.
Campaign Medium (utm_medium): You can enter the medium where the campaign URL will be used such as Facebook ads, email, ads, etc.
Campaign Name (utm_campaign): You can specify the campaign with a name. Example: spring_sale
Campaign Term (utm_term): This optional field is a good idea to use if you're running a paid search campaign. It identifies the keywords of your ads. Example: running+shoes
Campaign Content (utm_content): You can use this field if you're A/B testing the performance of your campaign. This optional parameter is used to differentiate ads that point to the same URL. Example: logolink or textlink
Use Fragment: When you check this box, your UTM codes will be built using fragments instead of queries (for example, http://www.example.com#utm_source=google instead of http://www.example.com?utm_source=google). This method isn't recommended, but available for those who prefer it.
When you're done entering your campaign information, scroll to the bottom and click Copy to Clipboard. This will generate your new URL containing your UTM codes: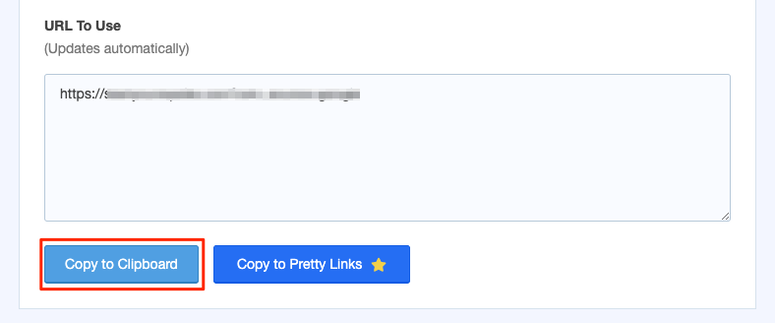 Once you've copied the code, you can now add it to any marketing campaign to start collecting data and monitoring user activity on your website.
Step 2: Track Your Campaign Performance
After implementing UTM parameters into your campaigns, you'll want to track their performance. You can refine your marketing strategies, build your brand, and generate more traffic by learning about your visitors through your website.
That means you'll want to use Google Analytics to view your reports and create a plan for increased conversions.
From your Google Analytics dashboard, click Acquisition » Campaigns » All Campaigns: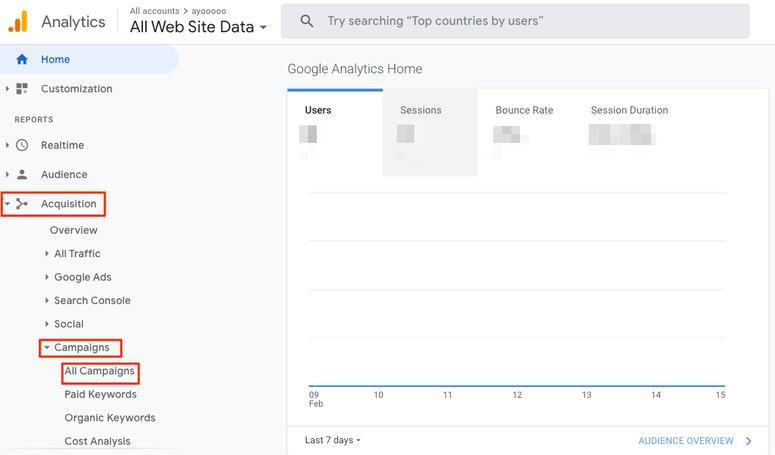 Here, you'll see reports in full detail with information including the number of users, the number of sessions, bounce rate, average session duration, goal conversion rate, goal completion, traffic sources, and more.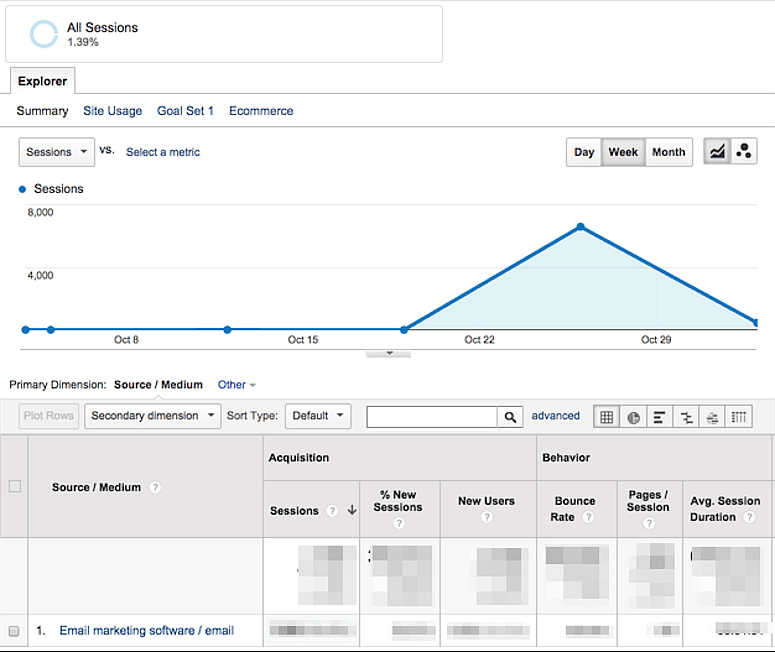 With Google Analytics and MonsterInsights, it's easy to retrieve valuable user information through your links using UTM parameters. Monitoring user activity and campaign performance are crucial to growing your business and driving traffic to your website for increased engagement.
Using the data you receive, you can optimize your marketing strategy and start boosting conversions instantly.
We hope you enjoyed this article. Feel free to check out our post on the best plugins for WordPress. It's packed with resources to help you build a website that boosts conversions and grows your brand.