It seems like there's a new "coming soon" or "maintenance mode" theme or plugin coming out every day. Haven't we seen enough of them?
Note: I use "theme" and "plugin" interchangeably a lot in this post. Depending on your site, it may make sense to get your "coming soon" type page up with either a theme or a plugin.
I also may use "coming soon" and "maintenance mode" interchangeably a lot, as the functionality used to accomplish these tasks are pretty similar.
Anyway, this is what I think about them.
Limited Innovation
Seriously, what else are you going to put in a "coming soon" theme besides the following?
A short description or intro video of what's coming soon
A fancy JavaScript countdown of some sort
Social media links
Newsletter subscription
Feed subscription
Any other ideas? I'd love to hear them in the comments.
Limited Shelf Life
The point of a "coming soon" or "maintenance mode" theme/plugin is to be, well, a placeholder for something else a lot more useful in the future.
I realize pre-launch marketing and lead generation is a big deal. It can really make or break a product. There are some really crucial things you can do with "coming soon" themes:
Lead generation
Email list building
Social media traction
Basically, you can utilize "coming soon" themes to build your brand before anything substantial has really launched.
With that said, I still don't think a lot of that time, money, or thought should be invested in the web template you use as a placeholder for your future site/product launch.
That time, money, and thought, could be better spent on: social media campaigns, developing content strategy, and most importantly, the launch of the actual site you are announcing.
And remember, you can always do all that lead generation, list building, social media and brand building stuff after you launch your site.
Do We Really Need More [Insert Any Type of Theme Here] Themes?
That's a good point. The market is pretty saturated with pretty much any type of WordPress theme as it is. We already have a ridiculous amount of:
News/magazine themes
Corporate/business themes
Gallery/portfolio themes
Good ol' blog themes
And everything in between
The difference is, those types of themes are an actual end product. "Coming soon" themes are merely a temporary transition point.
We can discuss overall WordPress theme market saturation in a future post, if you'd like. But that's not really the point of this particular post.
But, but… you made a coming soon theme!
Yes, you're right, I did release a "coming soon" style theme earlier this year called IceChimp.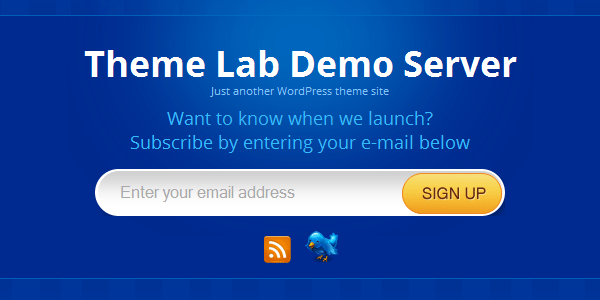 Although it does integrate pretty well with the MailChimp WordPress plugin, chances are there's some other similar product that does the same thing. I didn't really look though.
Overall, to be honest, it introduced hardly any new and innovative stuff to the WordPress community. I never expected it to.
Mostly, I considered it personal practice developing with WordPress' Theme Customization API, which I used to handle a bunch of options in the theme, including a color style changer.
Maybe a developer downloaded the code, checked out how I did stuff, and used it to develop their own "customized Theme Customizer" (say that three times fast) for their own project. That would've been cool.
But still, I never intended or expected IceChimp to become any kind of "game changer" in the world of "coming soon" themes, if there even is a such thing.
Why Do People Still Make "Coming Soon" Themes?
In short, they're (relatively) easy to develop. Take a look at WordPress.org's Theme Review page. A huge chunk of that stuff would not apply to a one-page template like a "Coming Soon" theme.
There's no Theme Unit Test to worry about
No WordPress generated CSS classes to style for
No extensive documentation needed (hopefully)
Basically, it's an easy way to get your foot in the door of the WordPress community. Even though it will probably go largely unnoticed (see market saturation note above), everyone has to start somewhere.
That's fine, but a new developer would probably be better off developing something designed to actually display a wide variety of content in a fully-featured WordPress theme, rather than a one page "coming soon" template.
Also, if you're a commercial theme club, aiming to be a one-stop shop for all of your customers WordPress theme needs, it might be helpful to have one or two "coming soon" themes/plugins in your WordPress product portfolio.
That way, a customer wouldn't have to look elsewhere for a "coming soon" template if they're just looking to get a quick site up really quickly. That makes sense.
Conclusion
Yep, this post is a bit ranty, but I'd be interested in hearing your thoughts on the subject.
What do you think about "coming soon" themes?
Do you think there's any room for innovation? If so, how?
Are "coming soon" pages in general that particularly useful anyway?
Sound off in the comments.