So you see a theme you like on our free wordpress themes page, but have no clue how to even install WordPress in the first place? Not to worry, we've written a little tutorial, complete with screenshots, so even a total newbie can figure it out! After five easy steps you'll have a freshly installed WordPress installation, ready to start blogging.
There are a few ways of installing WordPress using autoinstaller scripts such as Fantastico, but in this tutorial we will be focusing on installing WordPress the old fashioned way – manually. This tutorial assumes you already have WordPress hosting configured for the URL you plan on having your installation of WordPress set up.
Step 1: Download WordPress
This may seem pretty obvious, because it is. First step, navigate on over to the download page at WordPress.org. Do not download WordPress on any other third party site. At WordPress.org you can be assured you're getting the latest stable version direct from the official website.
It's your choice, download either the .zip or .tar.gz file, both contain the same files. You'd probably rather download the .zip if you're a Windows user. Once you have extracted the files you'll be ready to upload the files to your hosting account. Go ahead and click the link below to see the next page in the tutorial.
Step 2: Extract the files
Okay, so you should have extracted all the files in the latest.zip or latest.tar.gz and have them all ready to go in a nice directory on your local machine. I use Windows XP, and it should look something like this.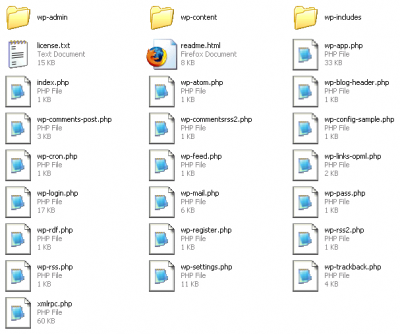 Please note some of the icons may look slightly different for you depending on the default programs you've chosen for the filetypes.
Next you'll need an FTP client to upload the files to your web host. If you still don't have a host at this point, we highly recommend HostGator for affordable shared and reseller solutions. They even have Fantastico on all accounts, so you don't even need this manual installation tutorial. Okay, enough plugging HostGator, back to the FTP client. We recommend using either FileZilla or SmartFTP. Both are free and relatively straightforward to use. Make sure you download the Client and not the server. We'll be using FileZilla for the next part of our tutorial.
Step 3: Upload files to your host
Using FileZilla, it's easy to upload files directly from your computer to your hosting account. Open it up, type in your login details at the top and click the Quickconnect button.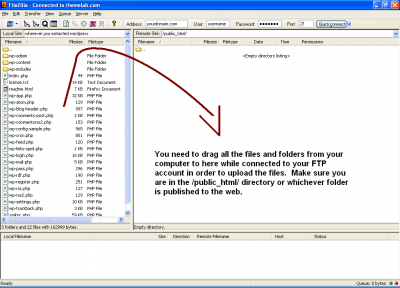 So far you should have a screen like you see above. Make sure you're uploading within the public folder, which is usually called /public_html/. If you want to install to a subdirectory, that's fine as well. Once you've uploaded all the WordPress files and folders in the same structure as in the .zip or .tar.gz file, you're ready to set up your database.
Step 4: Set up the database
This is where it may get a little tricky. We'll be using cPanel for the example. When you login to your cPanel account, you should see something like this below.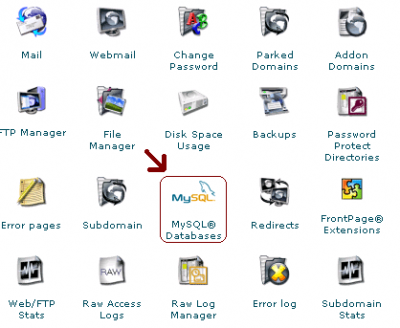 Different versions may differ, the important thing is to navigate to the MySQL® Databases page. You should now be at a page which looks like this.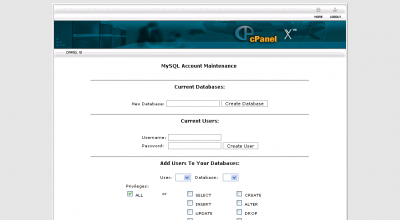 On this page you will create the MySQL database, and the user that connects to it. Please note that this not related to the WordPress admin login, we'll get to that step next. First, type in the name you want to call your database. For this example, we'll simply call it wordpress. The next step is to create a user which will connect to the database. For purposes of the example we'll use dbuser as the username and you can use your imagination for the password. Please make sure you write down the password you use temporarily, because it is needed for the next step. You'll then need to add that user to the database you just created with All privileges. You should now have something that looks like this.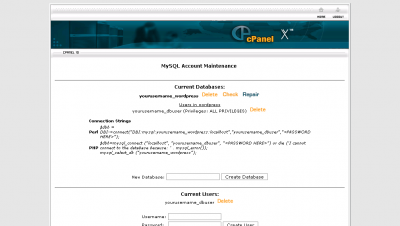 Notice the prefix of yourusername_ in the database name and username. This is your username for your hosting account. You will need to use the database name and username as you see it on this page, or it won't work. Next we will actually start installing WordPress via the web-based installation script.
Step 5: Install WordPress …finally
We're almost done now. You've already uploaded the WordPress folders and files to your hosting account and set up the database. Now it's time to navigate to the URL you've installed it on via your web browser. If everything was uploaded properly, you should see a page like this.

Yes, that's right, you're supposed to see an error. Why? Because WordPress doesn't know how to connect to the database you've just created. Go through the create a wp-config.php file through a web interface page and enter the database details. You probably won't need to edit the last two fields.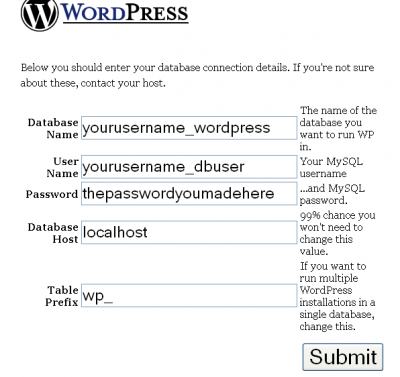 Hopefully there won't be any errors. If there are you'll need to create a wp-config.php file manually. After the database has been configured to work with WordPress, it's smooth sailing. Everything past this should be relatively straightforward. Just type in the title of your blog, your e-mail, and you're done. Your username should be admin and your password will be automatically generated for you. Go ahead and login and change this if you want.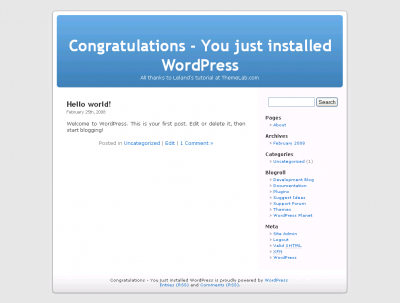 You should have something like this as your final result. If you're still having problems, feel free to post in our general support forum for help.