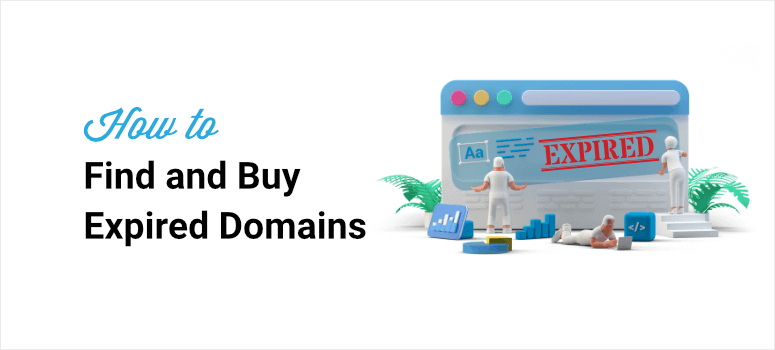 Do want an easy way to find and buy expiring domain names?
You may have your eye on a specific domain name for your brand, or maybe you want to flip a marketable domain and make a profit.
When domain names expire, they don't go on the market immediately. Depending on the domain registrar and their policies, it could take a few weeks to a few months before it's up for sale again. Instead of tracking it every day, we'll show you easier ways to claim the domain name before someone else does.
In this guide, we'll show you 2 ways you can secure expiring or expired domain names. First, let's be clear on what we mean by expired domain.
What is an Expired Domain Name?
An expired domain name is one that has not been renewed by the owner. The registration contract is terminated and the domain name is available to others to register.
When you register a domain name, you don't buy it forever. You simply claim the domain for a set number of years. You need to pay for the domain every year that you want to own it.
If you fail to pay the renewal fee, the domain registration will expire. Then, the domain name is placed back on the market so that someone else can use it.

But the thing is domain expirations aren't that simple.
The site owner could have domain expiration protection. This will keep the domain registered for up to a year beyond the renewal date in the current owner's name.
Domain registrars usually grant a 30-day grace period if owners miss the renewal date.
After the renewal grace period, they offer a redemption grace period. This allows domain owners to reclaim their expired domain. They'll need to pay a redemption fee to get it back.
You might have to wait a while before you can register an expiring domain name. Below, we'll show you the different stages of expiring domain names so that you'll know when is the best time to buy them.
What Happens to an Expired Domain Name?
Expired domains usually go through 4 stages:
1. Expired Status & Grace Period
Domains that aren't renewed first go into "expired" status. The domain registrar will pause all services but the owner has time to renew it.
This period can vary between 10-45 days.
During this period, the owner simply needs to pay the renewal fee to keep the domain.
If you want to find out the expiry date of a domain name, you can check the WHOIS database. Simply type in the name and you'll see the domain details including the expiry date.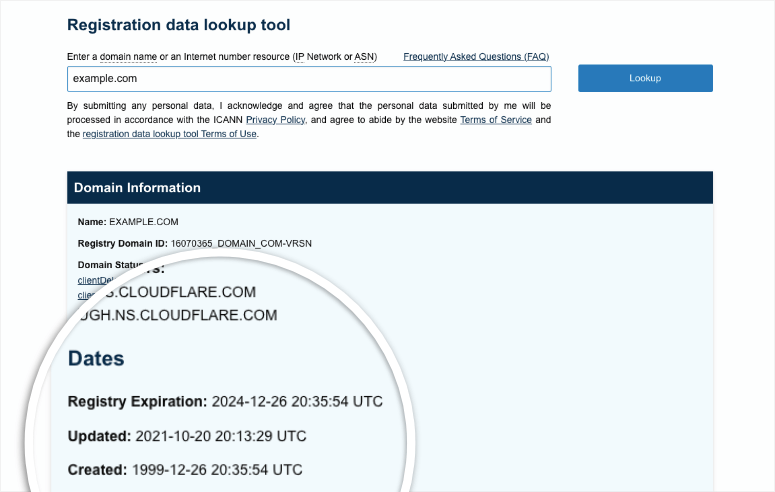 2. Domain Redemption Period
If the domain owner fails to renew the domain name during the grace period, it passes into the redemption zone.
The domain registration is canceled but it's inaccessible to the public market. So no one will be able to register it.
If the domain owner chooses to renew the domain during this period, they'll have to pay a redemption fee + renewal fee to get back the domain name. For instance, Bluehost charges $70 redemption fee + the normal renewal fee.
3. Domain Auction or Public Market
Once the redemption period expires, the domain is now free to be auctioned to the highest bidder. GoDaddy Auctions is one of the most popular places to bid on domains.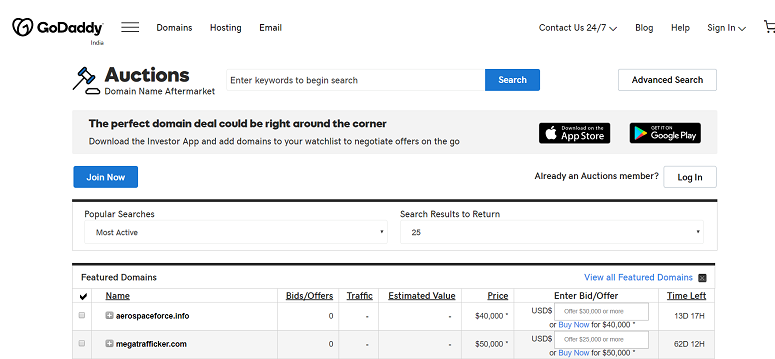 It could also just be released for registration on the public market.
These periods could vary so much that it's hard to figure out when exactly you'll be able to register the domain.
Now what you need to know is that domain registrars may not immediately release the domain to the public. If it has high value and high demand, they allow people to place backorders on the domain name.
4. Backorders
You can think of a backorder like pre-ordering a product before it's launched. So before the domain goes back on the public market, you can place a backorder.
Once the redemption period is over, backorders will get the first preference.
You'll receive a notification as soon as it's available to you so you can register it immediately. Or if there are more people interested, then you get to participate in the auction for it.
Now you know the different stages a domain name goes through before you can actually claim it. If you're going after a valuable domain name, chances are you might have to fight for it or negotiate a reasonable price with the seller.
Up next, we'll show you the best ways to register expiring domain names.
How to Grab an Expired Domain Name?
There are many domain marketplaces that let you find domains that are pending delete or about to expire. Two of the best methods to grab expiring domain names include:
1. Placing a Backorder on an Expiring Domain
Expiring domains can still be renewed by the current owner but during this period, you can place a backorder on the domain. Think of it like calling dibs. If the previous owner fails to renew it, you'll be the first on the list to get a chance to register the domain.
Keep in mind that there can be multiple backorders placed especially if the domain name is a highly-sought after one. In that case, the domain goes up for auction and is awarded to the highest bidder.
We'll show you how to place a backorder with Network Solutions, the world's first domain registrar.
Step 1: Visit the Network Solutions website and open the Search Expired Domain tool.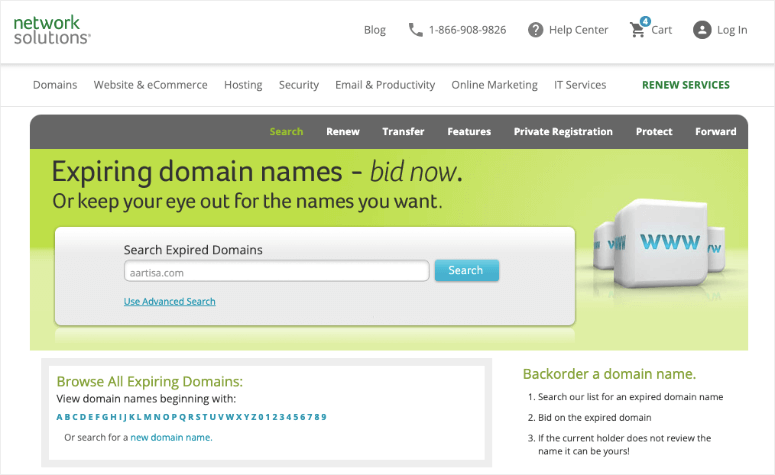 You'll see a search bar where you can search for the domain name you want. You can also browse through a list of all expiring domain names.
Step 2: When you hit the 'Search' button, Network Solutions will display a search results page along with an option to place a bid.

You can also see a list of domains that are expiring today. This will let you get on the backorder train early on.
You can bid on any of these domains or even select multiple domains. All you have to do is choose the domain name and hit the "Bid Now" button.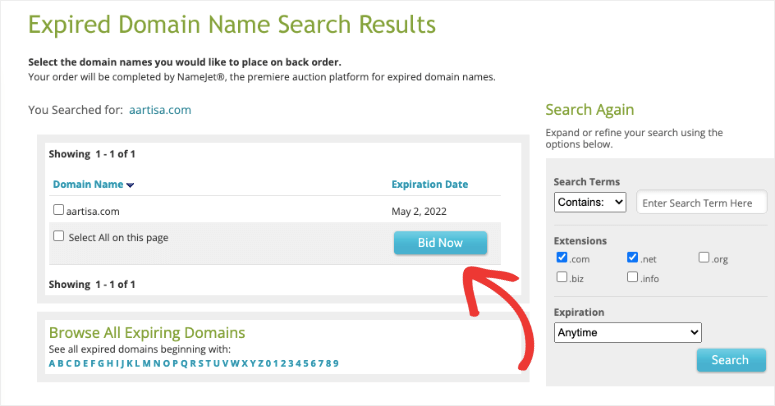 Step 3: On the next page, you'll see a redirect to NameJet, simply click on the Continue button.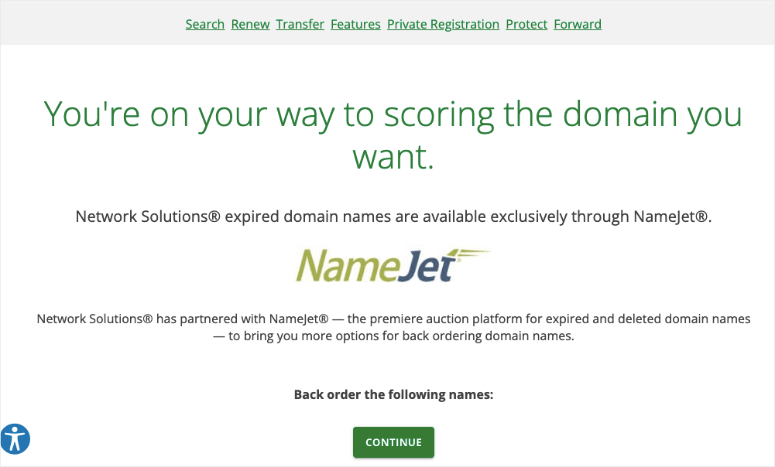 NameJet is a premiere auction platform for expired and deleted domain names. NameJet will give you a number of options to place your backorder.
Step 4: On the NameJet page, you can place your bid for as many expired domain names as you want. You'll need to sign up for a free account first. Then you can make the bid payment.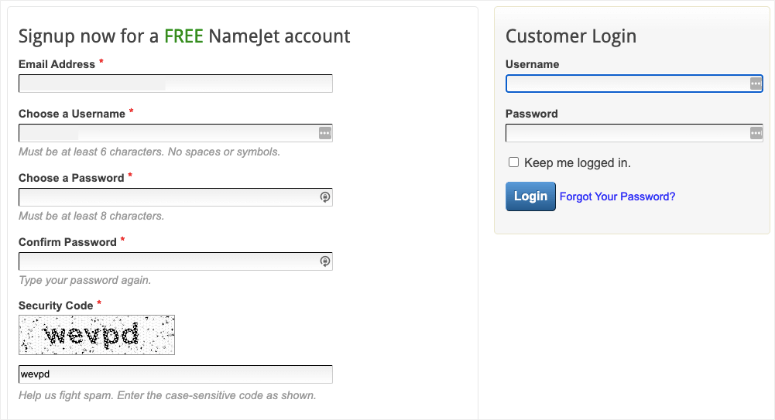 If you want to remain anonymous, NameJet lets you add a bidder alias. This will act like a unique ID for auction bid history.

Now there's one important thing we feel you need to know here. NameJet (like all other domain auctions and registrars) will ask you for your personal information such as your contact number, email, and physical address. If you successfully buy an expired domain name, this information will be added to the WHOIS database which is a public record maintained by ICANN.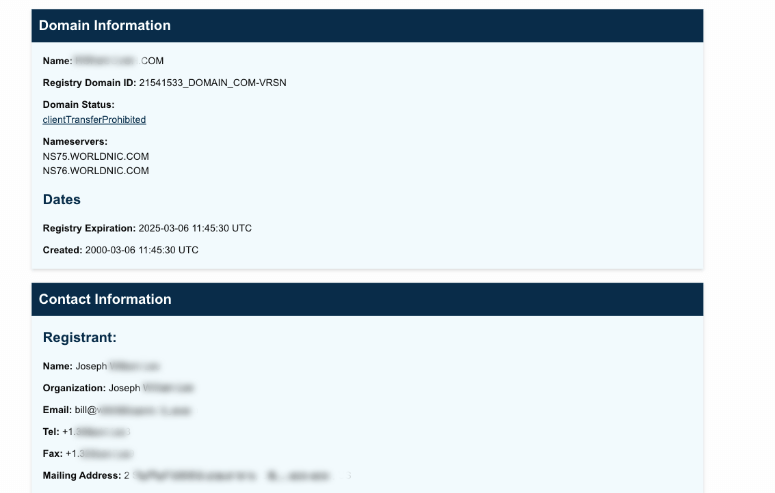 Anyone can use the WHOIS Lookup tool to find information on a domain owner. To hide your information, when registering a domain name, make sure you opt for domain privacy protection.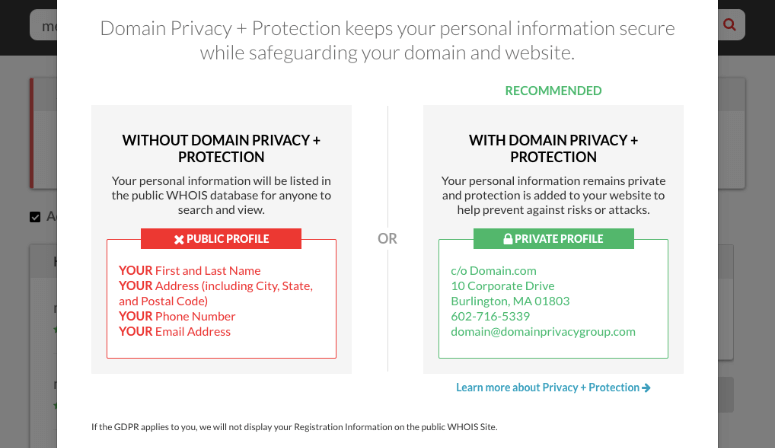 Once your account is created, you'll have easy access to place a backorder bid on any domain name that's expired.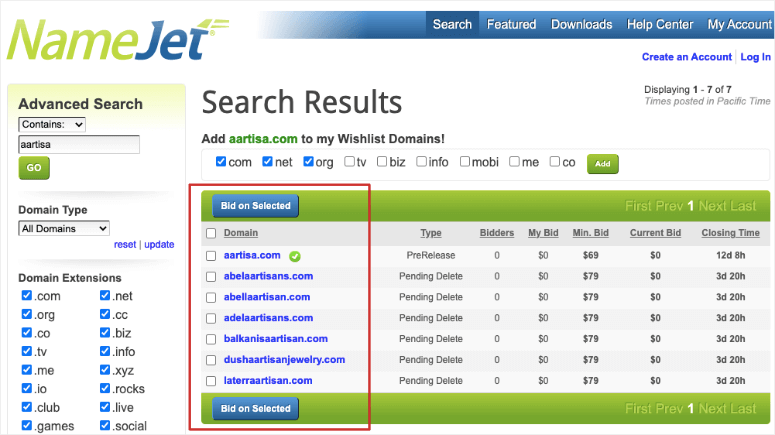 Now you may want to know how the bidding process works here. You can place a backorder on the domain name with a minimum bid.
If you're the only person to bid, you'll get the domain (1-year registration) at your bidding price. There are no more costs added.
If there are multiple backorders, the domain goes to a 3-day private auction Your backorder payment is used to place the opening bid. You can continue to bid on the domain name and the highest bidder will win.
2. Use a domain broker
Domain brokers help you buy and sell domain names by finding the right buyer and the right price. They negotiate deals on your behalf and take a commission for their services.

You can use domain brokers to help you get expired or expiring domain names, and just about any taken domain name, as long as the owner is willing to sell.
If you're going after a domain name that's in high demand, you're better off using a domain broker than a backorder. They'll use their network and expertise to get the domain. So you'll have a much better chance of securing it before someone else does.
Domain brokers charge an upfront fee to start the process. When the domain name is sold, they take a commission on the selling price.
Some of the best domain brokers include Sedo, Grit Brokerage, and Godaddy.
See our list: 10 Best Domain Name Brokers (Compared)
Should I Buy an Expired Domain Name?
Before you decide to buy an expiring domain, you should always check the domain history. You can use tools like DomainIQ where you can type in the domain name.
Then, you'll see all the details about the domain including its registered owner, domain age, SEO value, domain/page authority, and what the domain is associated with.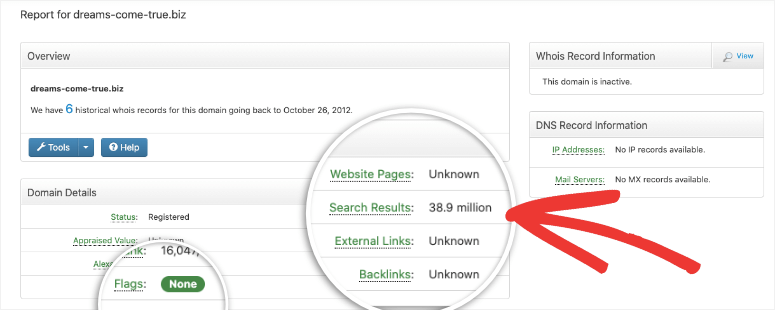 Expired domain names can be very valuable if the domain name is short, marketable, and brandable.
By checking its history, you'll see if the domain name was used for a good website. You can also check if the owner had built up its SEO (search engine optimization) profile. This can help you get to the top ranks of Google fast. You can piggyback on the high domain authority, existing backlink profile, and page ranks.
You can also use a tool like the WayBack Machine to see what the old website looked like This will show you whether the domain was used for anything spammy and fraudulent so that you can stay away from it.
Expired Domain Names vs. Dropped Domain Names
An expired domain is when the domain owner fails to renew the domain either on purpose or accidentally.
Dropped domains haven't necessarily expired. The owner may have deleted or dropped them from their profile well before their expiration date. There could be a number of reasons for this. The domain owner may have wanted to clean up their domain list, or was no longer using it and saw no need to keep it.
These dropped domain names are available for registration at the normal domain registration fee.
Alternatives to Expired Domain Names
Sometimes, even though you placed a backorder, participated in an auction, or used a domain broker, you may not get the domain you want. It can also take a lot of time.
The only option left might be to look for other domain names. You can use our Free Domain Name Generator powered by Nameboy to help you choose an available domain name.

You simply need to type in the domain name you want and if it's available, you'll see it on the results page along with an option to View details.
You can find high quality domain names and a variety of domain extensions that you can choose from. The generator only shows you options that are available for registration right away. That way, you won't have to spend time choosing a domain name that's already taken.
Not sure which domain extension to pick? See How to Choose the Best Domain Extension (TLD).
Then you can register the domain with BlueHost – one of the best web hosting providers in the world.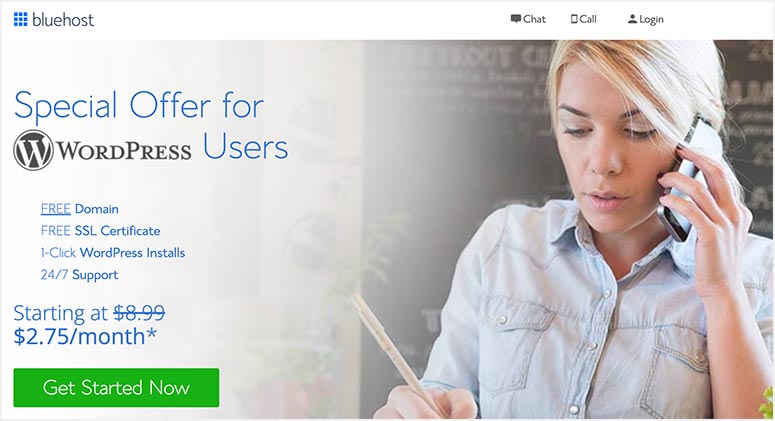 When you sign up for one of their hosting plans that start at just $2.75 per month, you'll get a free domain name for 12 months, free SSL, and free CDN.
Get this exclusive Bluehost Deal
When you register a new domain name, if you want to make sure you never accidentally forget to renew it on time, you can turn on auto-renew on your domain.
A few days before the expiry date, the domain registrar will prompt you via email that your domain name is set to automatically renew. At this time, you can cancel the renewal if you wish. If not, the domain registration will renew and you'll be charged to your stored payment method.
That's all we have for you today! We hope you found this guide helpful in getting the domain name you want.
You'll also want to see our guides on How to Pick the Best Domain Name (9 Tips and Tools) and How Much Does a Domain Name Cost? (Expert Answer).
These posts will give you more direction on getting the perfect domain name and extension at the right price. If you've successfully registered your domain, then you might be ready to set up a new site. We have a step by step tutorial for that: How to Make a Website (In 5 Easy Steps). This will show you how to easily create, customize, and manage a WordPress site.