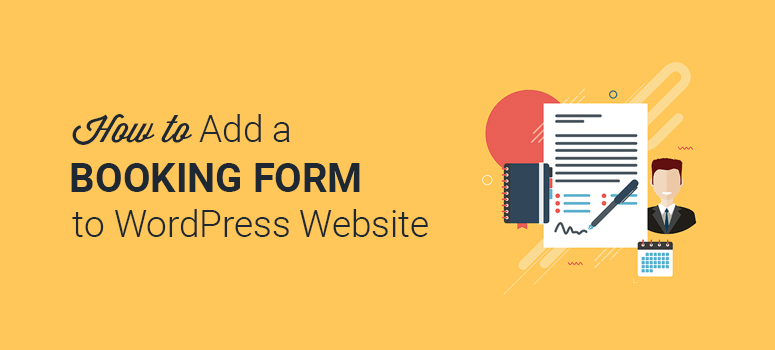 Do you want to add a custom booking form in WordPress?
A booking form is the best way to manage your online appointments. You can add custom fields to collect user information before they visit you.
Manually creating a booking form will require a lot of effort and time. However, several WordPress form plugins offer built-in booking form templates.
But how can you use a form plugin without any professional coding experience?
In this article, we'll show you how to add a custom booking form to your WordPress site without editing code.
What Do You Need to Add a Custom Booking Form in WordPress?
You may already know that there are many WordPress form plugins on the market. We recommend using WPForms, the best and most beginner-friendly contact form plugin for WordPress.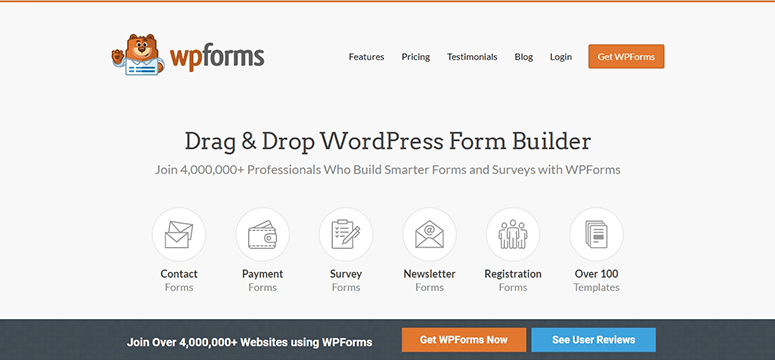 WPForms is super easy, and it comes with a drag and drop form builder to customize your forms on the go. You don't need to hire a professional developer or write any code to add a custom booking form to your WordPress site.
The plugin offers a built-in booking form template with basic fields and labels. You can launch the form template and customize it with the WPForms builder to get customer bookings online.
Ready to see how fast and easy it really is? Let's get started.
Adding a Custom Booking Form to Your WordPress Site
We'll show you the step-by-step process to easily add a custom booking form to your WordPress site.
Step 1. Install and Activate the WPForms Plugin
The first thing you need to do is to install and activate the WPForms plugin.
For more details, you should check out our guide on how to install a WordPress plugin.
Upon activation, you need to visit the WPForms » Settings page from your WordPress admin and enter the license key.
You can find the license key on your WPForms account.

Click on the Verify Key button, and you'll see a success message.
Step 2. Add a New Form in WordPress
Next, you need to go to WPForms » Add New from the WordPress admin area. This will open the WPForms setup page.
You can enter a name for your booking form and select the Simple Contact Form template.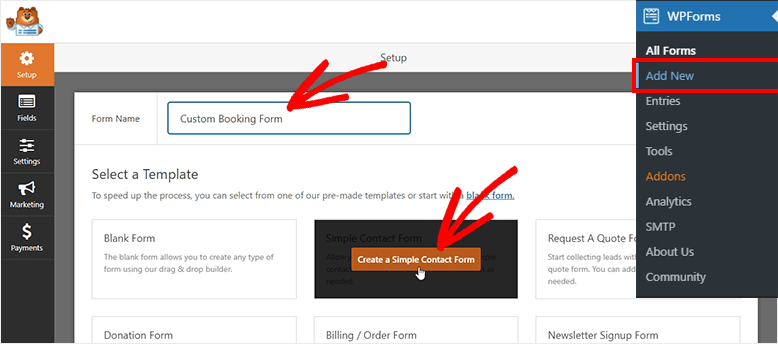 It'll take a few seconds and launch the form template on your screen. You can see the form fields on the right side and editing options on the left side.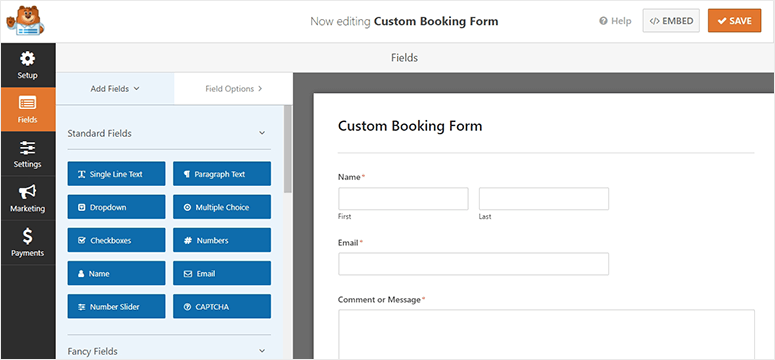 By default, the simple contact form includes name, email, and comment or message fields. This information is usually enough for a booking.
However, you can also add more fields to your custom booking form to get other details from customers.
Step 3. Add Custom Fields to Your Booking Form
WPForms has dozens of custom fields that you can drag and drop from the left side to your form template on the right side of the screen.
For example, you can choose the Multiple Choice field and drop it on the right side.
Now it'll show the customization options for this specific field on the left side. You can add a label and choices for customers to choose a service.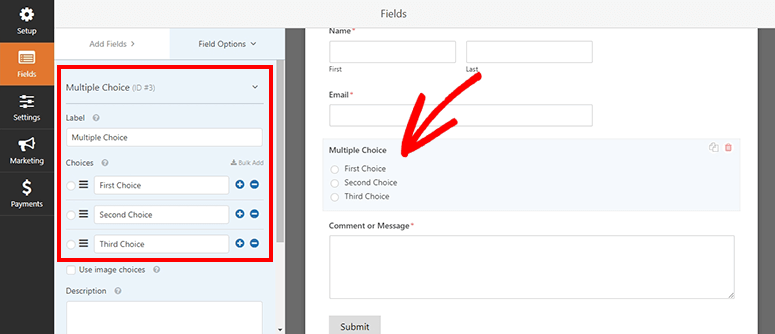 This way, you'll know which service customers are looking for before you speak with them personally.
The multiple choice field will let customers select one option at a time. You can also use the Checkboxes field to allow customers to select more than one option.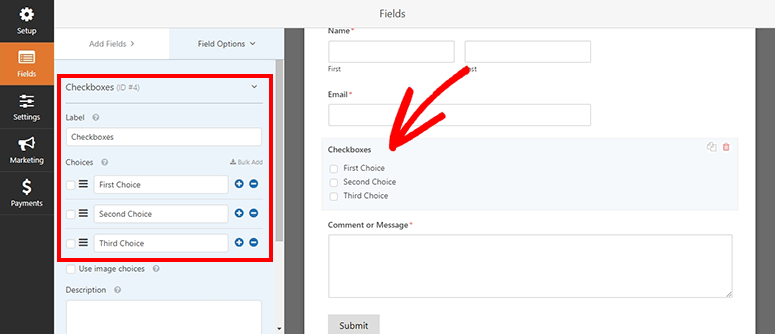 To make it more interesting, you can add a Date/Time field in your custom booking form.
This is super helpful. It lets you specify your available dates and times, so there are no risk of overbookings.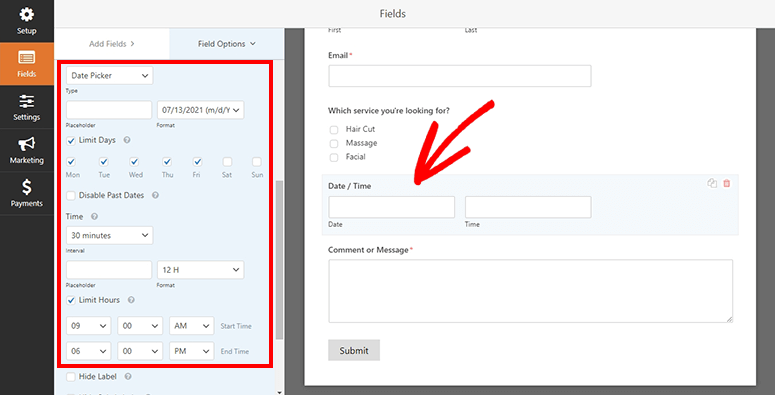 Don't forget to click on the Save button to store your settings.
Step 4. Manage Custom Booking Form's Settings and Notifications
From the extreme left navigation menu, you can visit Settings » General to customize the basic settings for your client booking form.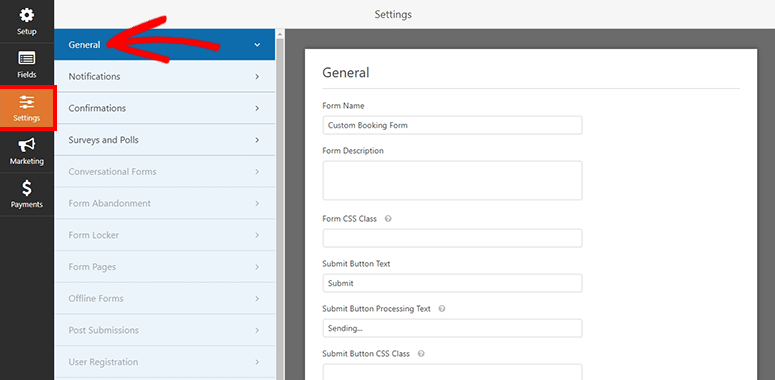 This includes form name, form description, submit button text, submit button processing text, and more. Click on the Save button.
Next, you should visit the Notifications tab from the left side. This is where you can set up notifications for your custom booking form.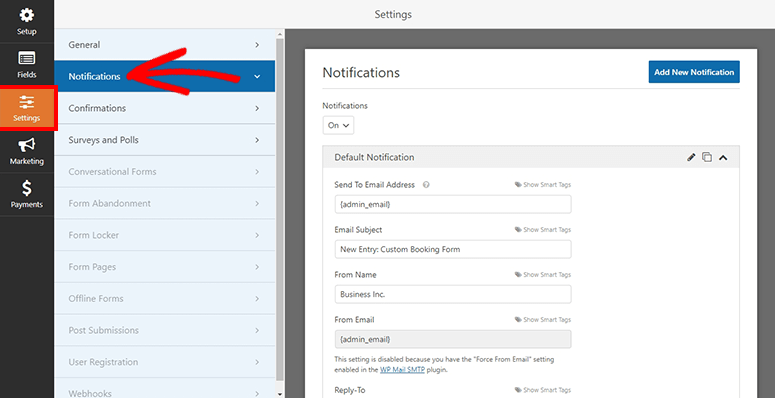 It lets you send a notification to clients when they submit the booking form. This notification is a confirmation of their booking on your website.
For each submission, you'll also get an email notification.
Step 5. Set Up Confirmations for Your Booking Form
You can visit the Settings » Confirmation tab. This offers 3 types of confirmation options.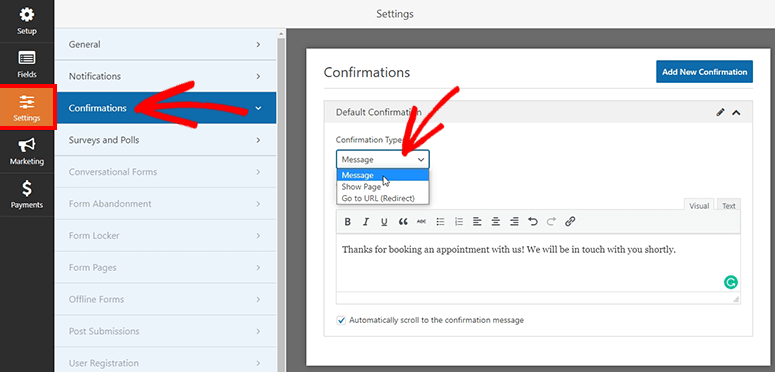 Message: Upon form submission, you can display a custom message to users. This message tells customers that the form has been submitted successfully.
Show Page: You can create a custom thank you page and redirect customers to engage users further on your website.
Go to URL (Redirect): You can add an URL to redirect users to a different website.
Select your option and add the custom message. Now, click on the Save button to continue.
Step 6. Display the Custom Booking Form in WordPress
Your booking form is now ready.
You can exit from the WPForms builder, and you'll be redirected to the WordPress admin area.
From there, you can go to Pages » Add New and click on the plus icon in the WordPress block editor.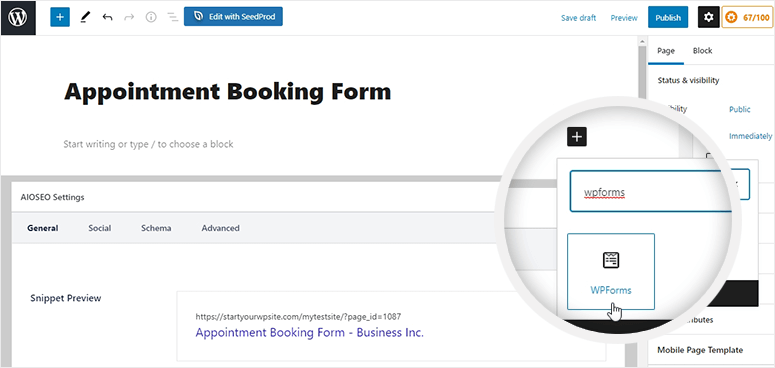 Search for WPForms custom block and click on it. Then, you can select the custom booking form from the drop-down menu.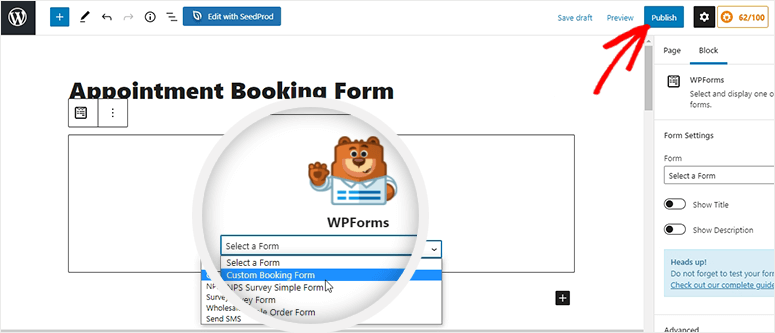 Click on the Publish button and visit your website to see the custom booking form in action.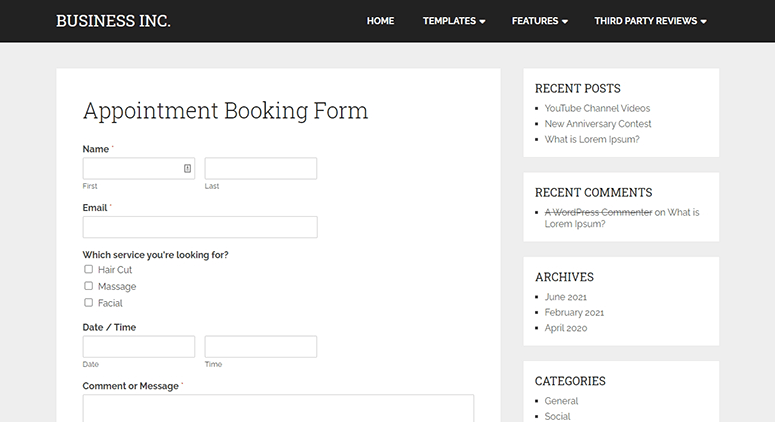 You can then customize the booking form whenever you need. It's easy with the WPForms builder.
And that's all for today! We hope this article has helped you learn how to add a custom booking form to your WordPress site. If you want, you can also check out our guide on how to create a travel booking form with WPForms.
Next, you may want to check out our guide on the best WordPress booking plugins.
This will further help you compare WPForms with other booking plugins on the market. We fully recommend WPForms as the best contact form plugin for beginners.