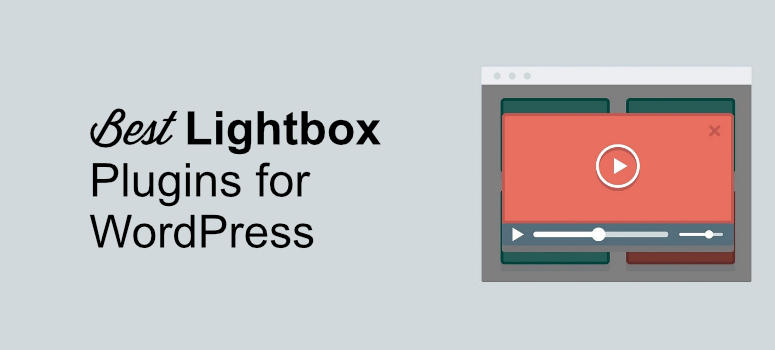 Are you looking for a lightbox plugin for your WordPress website?
Adding a lightbox popup to your website is a very effective way of increasing your conversion rates. It helps you remove all distractions from your visitor's screen by highlighting a single piece of content or call to action.
So instead of being distracted by the other information on your site, your visitors can totally concentrate on what you want them to see.
This is a great way of optimizing your conversion goals.
You can use lightbox popups to promote a product, highlight a sale, increase your subscribers, or any other action you want your site's visitors to take.
In this article, we'll tell you about the top lightbox plugins for WordPress that you can use on your website. But before that, let's make sure we're on the same page as to what a lightbox is and why you need to use them.
What Is a Lightbox and Why Use It
A lightbox is a popup window that can be displayed on your website to show users a message or promotional deal. You can use these popups to display images, videos, special offers, or anything that you want them to notice.
Lightboxes typically come in 2 forms:
Popups
Image/Video galleries
But both work in the same way. When you display a lightbox on your website, the rest of the screen becomes darker, and the user's eye naturally goes to your image or text.
This makes it perfectly clear what you want users to see or do next, which is why it's a great conversion optimization tool for your business.
These popups can also engage your visitors with something different from what they were previously looking at. It's a great way of retaining them on your site for longer and enticing them to explore new content. This will also help you reduce your bounce rate, which, in turn, improves your SEO efforts.
Now, let's check out some of the best lightbox plugins for your WordPress website.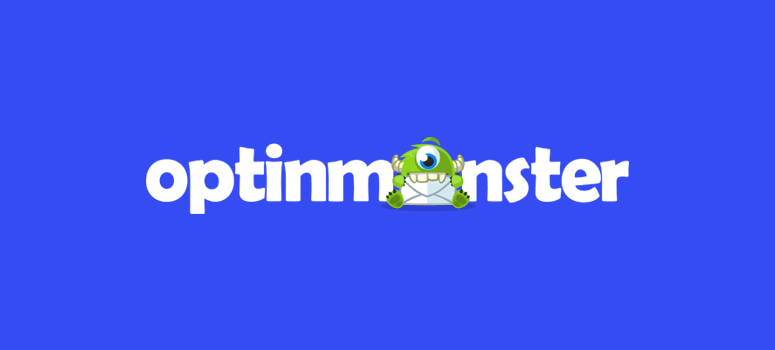 OptinMonster is the most powerful customer acquisition and lead generation software on the market. It lets you create beautiful lightboxes without any coding.
It also offers great features to make sure your popups stand out. You can display the popups in the form of a lightbox, a floating bar, an inline form, fullscreen overlays, side scroll-in boxes, and more.
To help you get started quickly, OptinMonster provides you with over 50 pre-built templates. Each of these templates is ready to be used and is fully customizable. Their drag and drop builder makes the plugin super flexible in terms of any customization you want to do.
Plus, with its advanced targeting features, you get to control when, where, and to whom your pop appears.
Check out this detailed review to learn more about OptinMonster.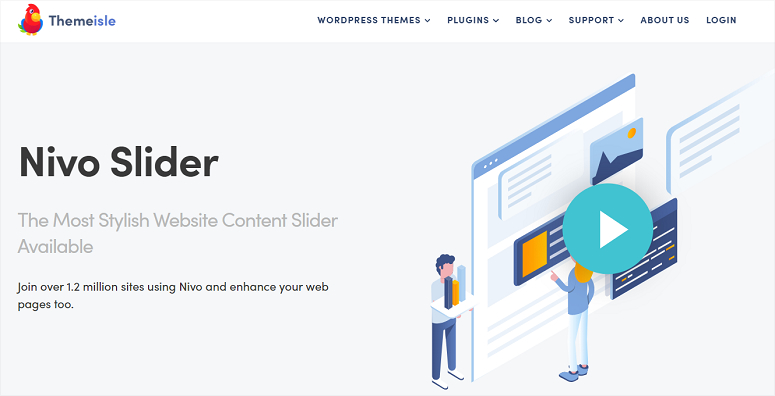 Nivo Slider is another WordPress plugin that lets you add beautiful sliders to your website. Each of these sliders is fully customizable. You can use them to showcase your images, blogs, galleries, or anything else that you want to display.
The plugin works beautifully with all themes and other plugins that you may have installed. That means you don't have to change anything to use it. You can create your sliders from your media galleries and blog posts too.
You don't need any professional skills to use this plugin. It's super handy, so you can easily use it on your site.

NextGen Gallery is a wonderful lightbox plugin for photographers and other creative minds who want to display their work in an impressive way. It offers you 12 different gallery types to make your images look unique. You can also choose whether you want to allow commenting on these images or not.
To protect the images from theft, it offers the image protection feature. You can also show your captions whenever a visitor hovers over the images. NextGen is ready for eCommerce too. To easily accept payments, it supports various payment options like PayPal, Stripe, and others.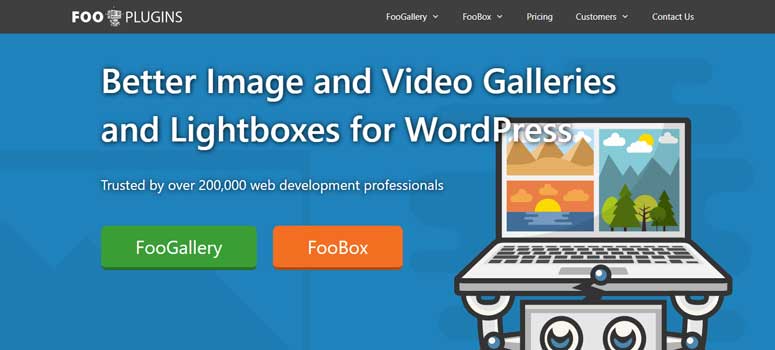 FooBox is another lightbox plugin that lets you add responsive media lightboxes to your WordPress website. With this plugin, you can let your visitors share your lightboxes on social platforms to attract more traffic.
You can also use these lightboxes to share video content. The videos can be opened from popular hosting sites like YouTube and Vimeo. All your images and videos can be displayed in the form of a gallery. To make it easier for your visitors to view your content, you can also enable the auto-play option.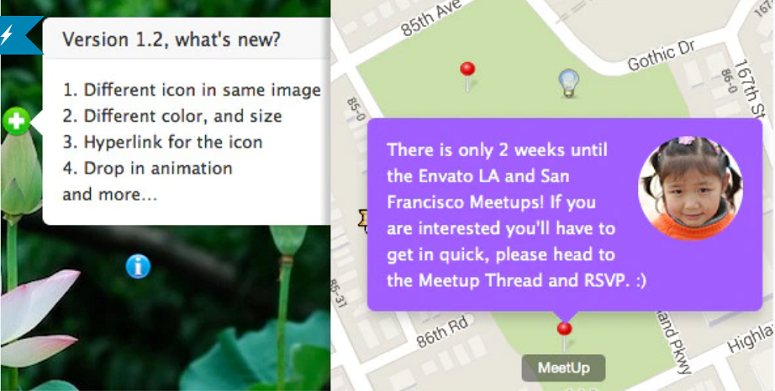 Image Map HotSpot is another lightbox plugin that lets you display a popup when users click or hover over your maps. Visitors can easily drag the icon and drop it in their actual positions on the map.
It offers 4 different popup styles. You can display it in the top, bottom, left, or right of where the visitor is positioned in the map. The plugin is easy to handle, and it supports images too. Plus, it looks good on all screen sizes.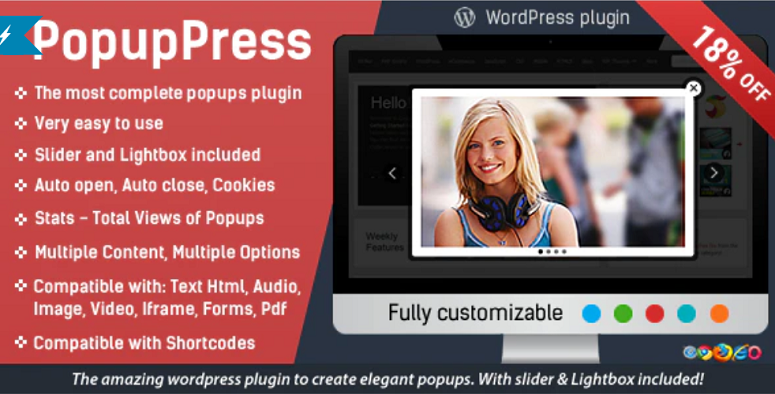 Popup Plugin for WordPress is a great option when it comes to adding lightbox popups to your website. You can use these popups to highlight important content on your site.

WP Video Lightbox is a lightbox plugin that lets you embed videos on your website in the form of responsive popups. You can also use it to display your images, YouTube & Vimeo videos, and more in a lightbox overlay.
To make your popup more engaging, it supports animation too. You can work on the speed of these animations to make it slow, fast, or normal. It even lets you auto-play your sliders so that you can set your own slider timing.
Apart from that, WP Video Lightbox offers different themes for your lightbox, so you don't need to design it from scratch.

WP Featherlight is a super light and responsive lightbox plugin that makes it easy to add lightbox popups to your website. When you install the plugin on your website, it will automatically display all standard WordPress images and galleries in a simple, minimalistic lightbox popup style.
It also lets you add lightbox videos, iframes, and ajax content with WP Featherlight by adding data attributes to your content. You don't need any configuration for this plugin. Just install it, and you're good to go.

Simply Gallery Blocks is another amazing lightbox plugin that lets you display images from your posts and pages in the form of a customizable lightbox. The plugin is compatible with the latest version of WordPress.
This plugin works wonders for photographers, artists, writers, content marketers, or any creative person who wants to display their work in a unique way. The plugin supports automatic slideshow and multi-touch support. You can also attach captions and alt tags to your images. To make your work visible to more people, you can also add social share buttons for easily enabling sharing.

Media Slider is a free lightbox plugin that lets you create beautiful and responsive sliders for your images, videos and written content. Using this plugin, you can also add multiple media files to your sliders.
It lets you create your sliders directly from the plugin admin dashboard, and you can copy the slider generated shortcode to the page where you want to display it.
And there you have it! These are some of the best lightbox plugins that you can try out on your website.
We hope this article helps you find the best lightbox plugin so you can create some really cool and unique popups for your visitors.
But as your site becomes more popular, you may want to make your site safer for your users. For that, you should check out this resource on the best security plugins.
This resource has everything you need to make your site more secure as your content gets more popular.